Dieser Beitrag ist auch verfügbar auf:

Deutsch (German)
Rhubarb Bread Pudding is a simple old-fashioned traditional German dessert that is a great way to use leftover bread. The best breakfast or sweet main to feed a crowd on a budget. Jump to Recipe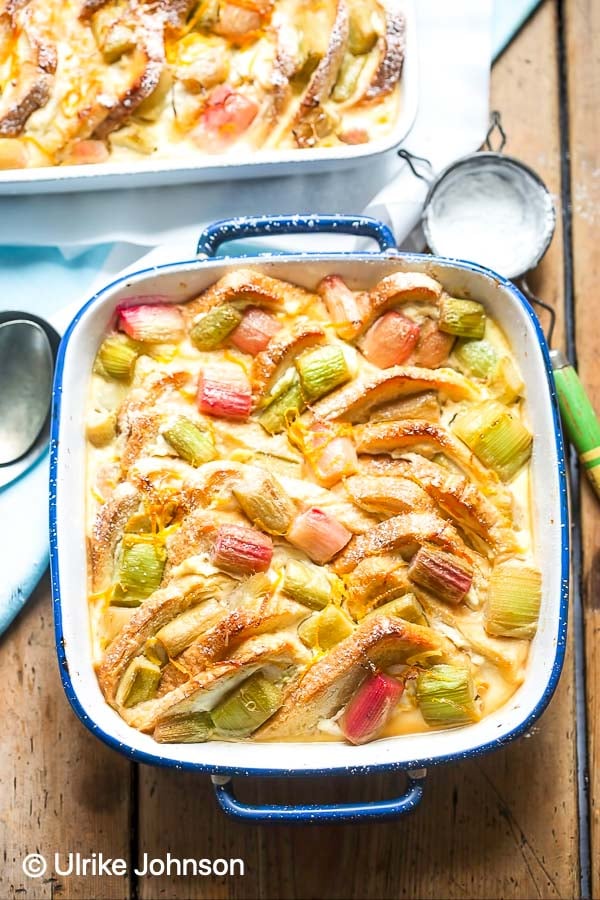 This recipe for Rhubarb Bread Pudding is an old-fashioned German rhubarb dessert which I learned to make when I was a child.
In Germany there tends to be a lot of leftover bread always, so bread puddings and bread and butter puddings were on the menu very often. Such a simple, cheap and delicious way to feed a whole family on a budget without anyone complaining.
The rhubarb pudding is made with day-old bread or white toast and a vanilla and lemon-scented egg custard mixture.
Some recipes add whipped egg whites to give the rhubarb pudding a fluffy, souffle-like texture but we skip this for simplicity's sake.
The rhubarb bread pudding would be excellent with a scoop of rhubarb ice cream, rhubarb-strawberry ice cream or a homemade vanilla sauce or creme anglaise.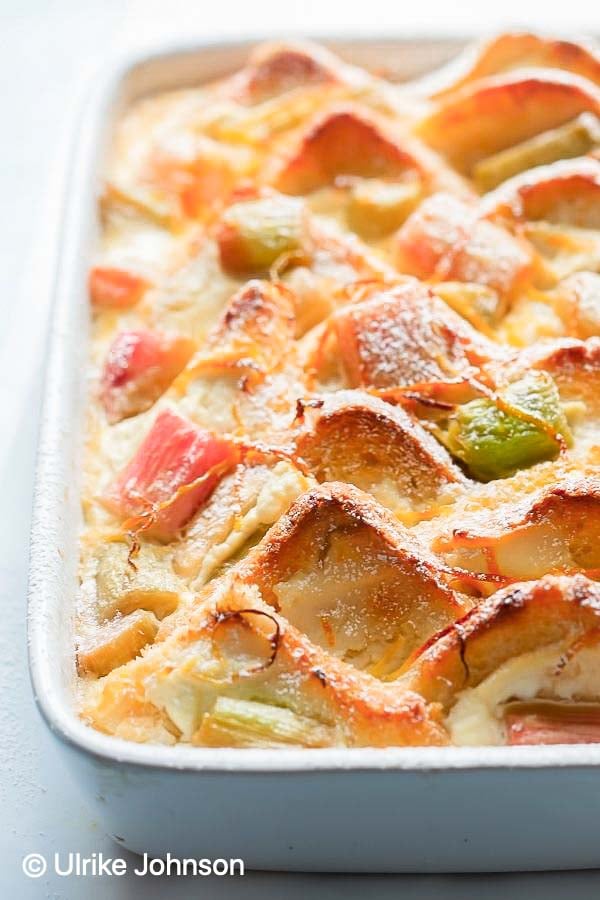 Can bread pudding sit overnight before cooking?
Yes. This Rhubarb Bread pudding may be made a day ahead of time, then refrigerated overnight and baked before serving. Alternatively, you can bake it ahead and keep it in the refrigerator for one day then reheat it in the oven.
However, if you make this ahead of time, I recommend toasting the bread. It adds flavor but most importantly gives it body to stand up to the liquid overnight. Nobody liked mushy bread pudding.
How do you fix dry bread pudding?
To fix an overly dry bread pudding, simply add a sauce when serving. For this rhubarb bread pudding, I recommend a custard sauce, or a cream or toffee sauce. Even Salted Caramel would work well here.
Pour the sauce or cream over the dish just before serving. Another alternative to revive dry bread pudding is to serve it with a scoop of vanilla ice cream.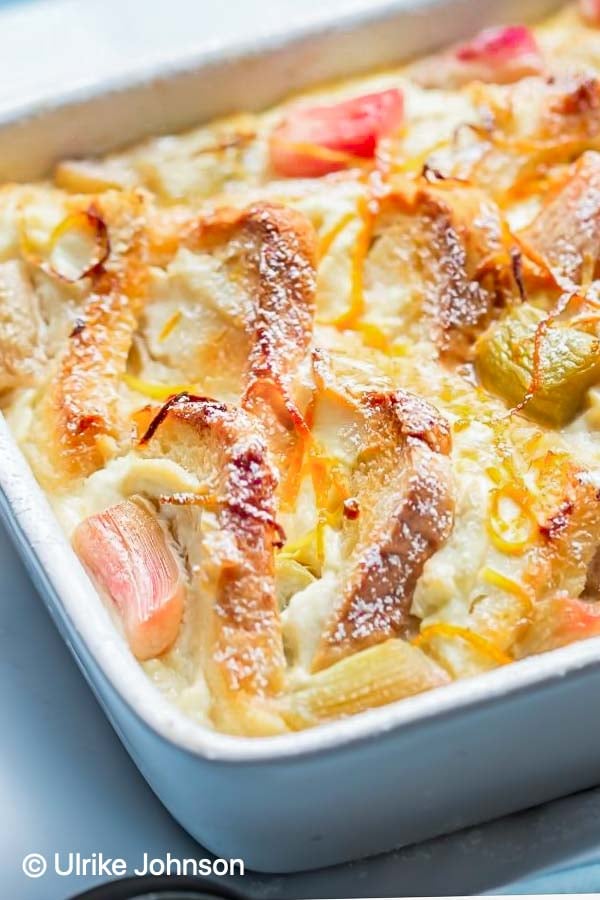 Storing and reheating:
You can freeze leftover bread pudding and thaw it. To thaw, place the bread pudding in the fridge until thawed through,
For reheating, choose either the microwave or the oven.
For the microwave, heat it up in intervals of 10-20 seconds at a time until warm.
For reheating the rhubarb bread and butter pudding in the oven, pop it into the oven at 350 degrees for about 10 minutes.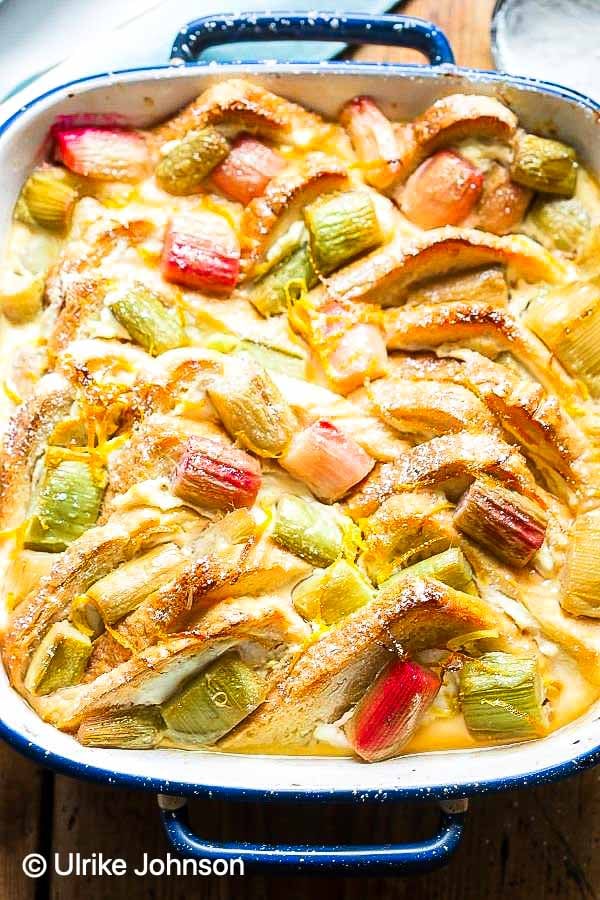 What goes well with bread pudding?
This tasted great as is with a dusting of icing sugar. If you want, serve this rhubarb bread pudding with a quick creme Anglaise or vanilla sauce
Here is a quick vanilla sauce recipe
1/2 cup whole milk
1/2 cup whipping cream
1 pinch salt
2 tsp vanilla bean paste or 1 vanilla bean, scraped out
3 large egg yolks
3 Tbsp white sugar
Combine the milk, cream, salt, and vanilla in a heavy saucepan over medium heat and bring the mixture to a simmer. Remove the pot from the heat.
Whisk egg yolks and sugar in a medium bowl to blend. Gradually whisk hot milk mixture into yolk mixture. Return the custard to the saucepan. Stir over low heat until custard thickens and leaves a path on the back of the spoon when the finger is drawn across it. This should take about 5 minutes. Make sure not to boil the sauce.
Tips:
Use slightly stale bread for this recipe or leftover brioche or any kind of yeasted loaf. If you only have fresh bread around, cut the slices and you can place them on a baking sheet in a 350 F. oven for a few minutes to dry them out a bit.

Do taste the rhubarb once it's cooked down and add a bit more sugar if you find it too sour.
For more rhubarb recipes, try my vegan rhubarb cake, rhubarb ice cream or my German Rhubarb Meringue Cake
★ Did you make and love this rhubarb bread pudding recipe? Give it your review below! And make sure to share your creations by tagging me on Instagram!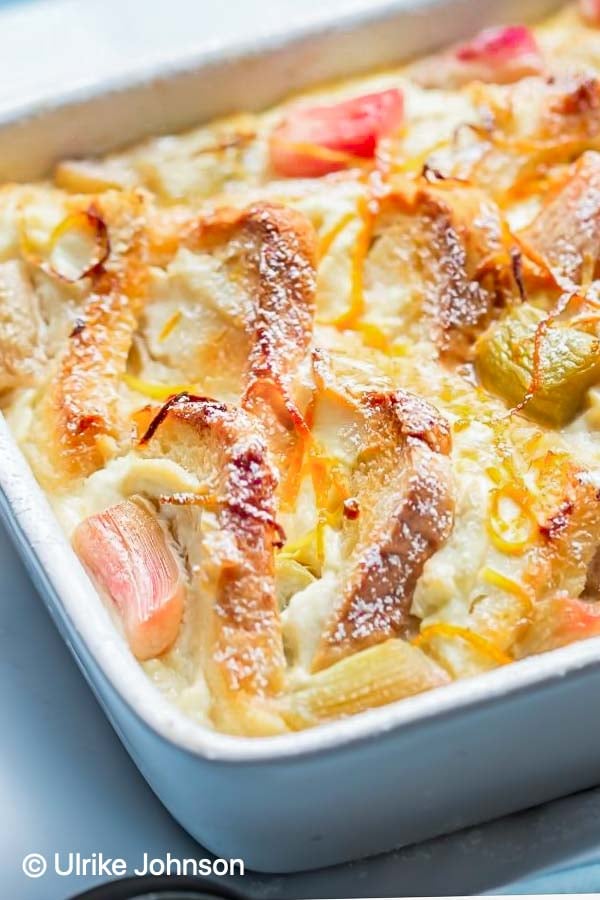 Rhubarb Bread Pudding
Rhubarb Bread Pudding  is a simple old-fashioned traditional German dessert that is a great way to use leftover bread. The best breakfast or sweet main to feed a crowd on a budget.
Ingredients
300

g

rhubarb about 6 stalk

50

ml

white wine

5

tbsp

sugar

1

teaspoon

lemon zest

8

slices

toast or old brioche or challah

1

vanilla bean

or 2 tsp vanilla paste

200

g

heavy cream

4

eggs

1

pinch

nutmeg

1

pinch

salt

butter for the casserole dish

Icing sugar for dusting
Instructions
Wash the rhubarb. Cut off the woody ends and peel the rhubarb stalks, then cut into pieces about 5cm long and then into thin strips.

Rub the lemon zest into the sugar with your fingertips.

Bring the rhubarb to a boil along with the wine and 2 tablespoons of lemon sugar and simmer over low heat for 8 minutes.

Preheat the oven to 180 degrees, grease a casserole dish and place the slices of white bread in - a bit like roof tiles.

Cut the vanilla pod lengthways and scrape out the pulp with a sharp knife.

Whisk the cream with the eggs, vanilla, salt, nutmeg and the remaining lemon sugar and pour evenly over the bread slices.

Spread the rhubarb strips on top and bake the bread pudding in the oven on the middle rack for about 25 minutes. Dust with plenty of powdered sugar and serve warm with vanilla sauce.
Recipe Notes
Vegan version
Simply use plant milk and instead of the eggs, you can make a vegan egg substitute. To do this, mix 2 tablespoons of chickpea flour with 50 ml of water per egg. So 8 tablespoons of chickpea flour with 200 ml of water and 2 pinches of Kala Namal for the egg taste.