Dieser Beitrag ist auch verfügbar auf:

Deutsch (German)
Try this best ever carrot banana muffins recipe made with grated carrots and overripe bananas and topped with German Quark Frosting! They make for great snacks and are a delicious way to have the flavors of carrot cake AND banana bread.Jump to Recipe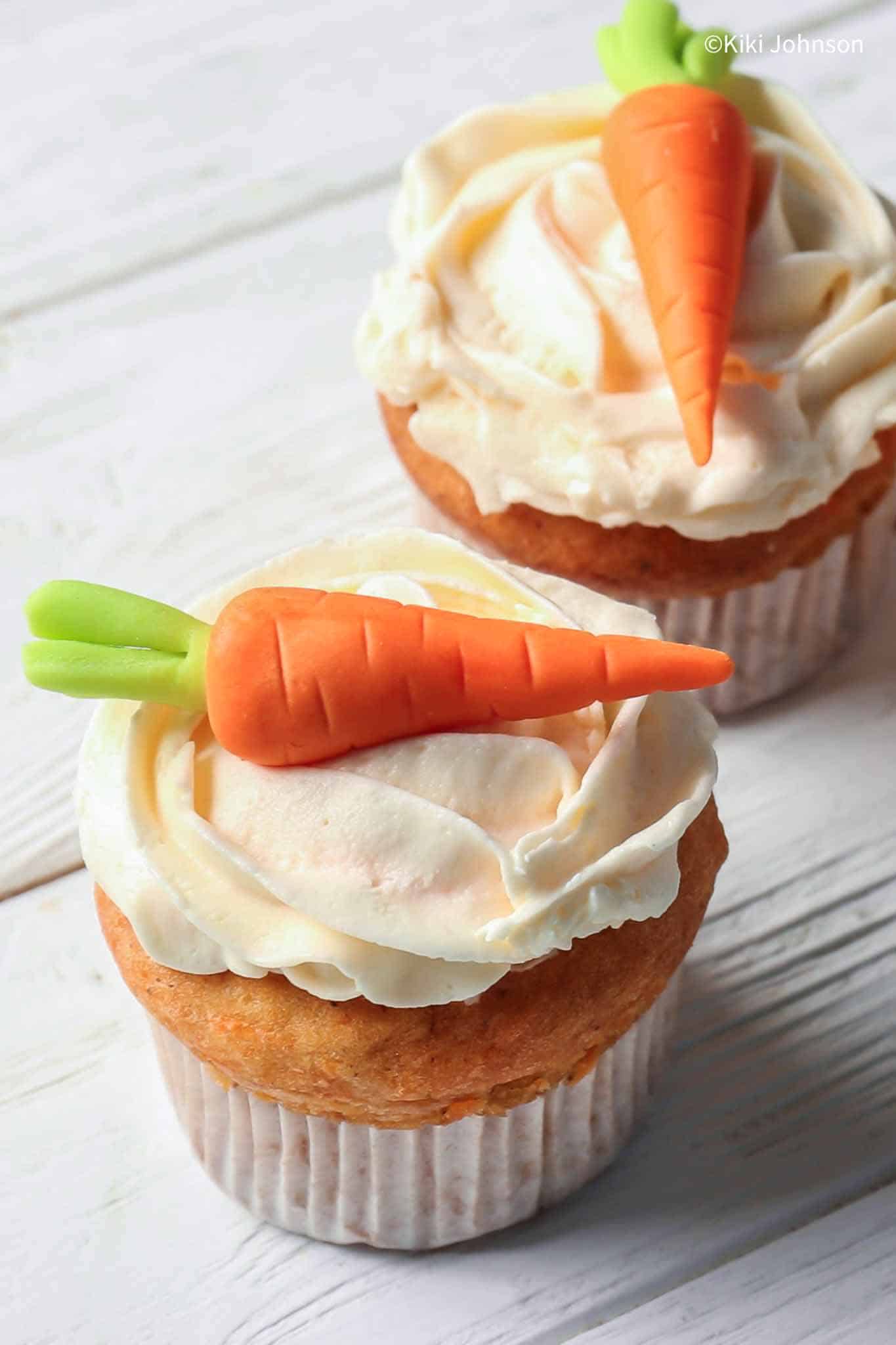 These Carrot banana muffins with Quark Frosting are the perfect sweet treat or snack that you can enjoy any time of year but especially around the Easter holidays. They are easy to make and with that German Quark Frosting perfect for those who are looking for a healthier Easter treat.
These fluffy banana carrot muffins are not your average muffin! My Carrot Banana Muffins combine all the flavors we love about banana bread AND carrot cake into a light, fluffy, and moist muffin that is perfect for the Easter holidays!
Made with shredded carrots, mashed banana and coconut oil, they are super moist and make for a great breakfast for the whole family!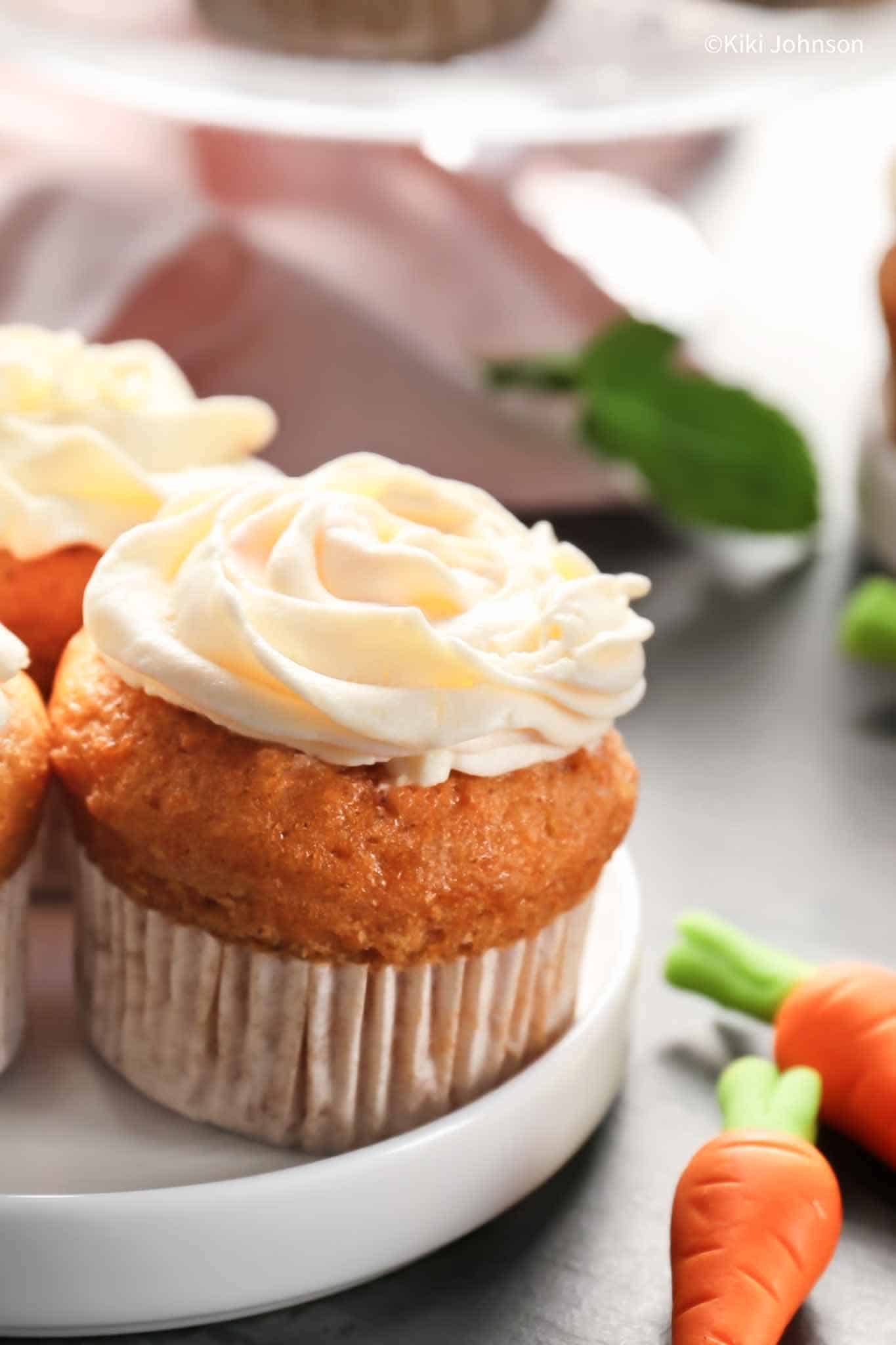 This Easter season I am trying a couple of new recipes and as you have so loved my Carrot Cake Without Cream Cheese Icing, I wanted to show you another Easter classic without the traditional frosting.
Quark Frosting for cupcakes without Cream Cheese
German Quark frosting is a delicious and healthier option for topping for all your favorite muffins and cupcakes. It is easy to make and pairs well with a variety of flavors, like my German Muffins, my Rhubarb Cupcakes or my Peach Cobbler Muffins.
This quark frosting whips up light and fluffy and I love its slightly tangy taste that complements the sweetness of our delicious banana carrot muffins.
It is also much lower in fat and calories compared to traditional buttercream frosting, making it a lighter dessert option for the holidays.
You can also customize the flavor of the quark frosting by adding different extracts, like coconut extract or vanilla extract. You could also add some ground cinnamon to the frosting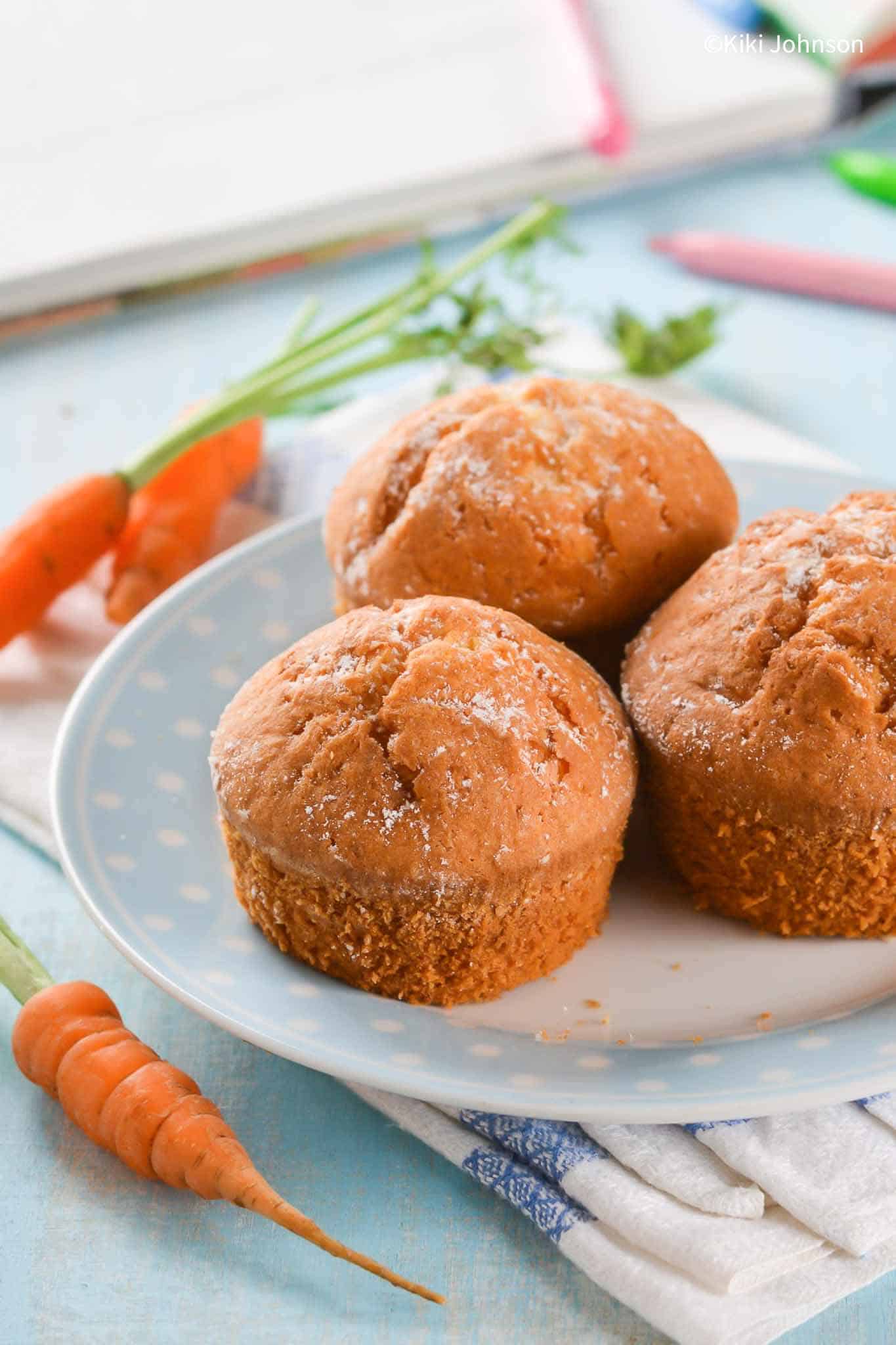 You could really eat these carrot muffins just as they are without frosting. The texture is just so perfect. I like mixing my cupcake and muffin batters by hand to have more control and avoid overmixing. Plus I just don't want to drag my hand mixer out constantly.
The mashed banana and coconut oil contribute to a super moist texture. I like using coconut oil instead of vegetable oil but you can also use sunflower oil or melted butter in these.
And if you'd like, you can throw a big old handful of chopped nuts or coconut inside the batter. The frosting itself is flavored with a hint of vanilla and in my attempts to be crafty I put small marzipan carrots on top.
You can buy them online or make your own using my tutorial on how to make marzipan.
How do you grate the carrots for these banana carrot muffins?
I use the large holes of a box grater and I found it works perfectly. For this recipe you do not need to squeeze out any of the excess moisture before adding the grated carrots to the muffin batter.
Make Banana Carrot Muffins Vegan
You could make these vegan using flax eggs instead of regular eggs and make your own vegan buttermilk. To do so substitute almond milk for buttermilk. Then stir a tsp of vinegar into your measured out almond milk and let this sit for 5 mins.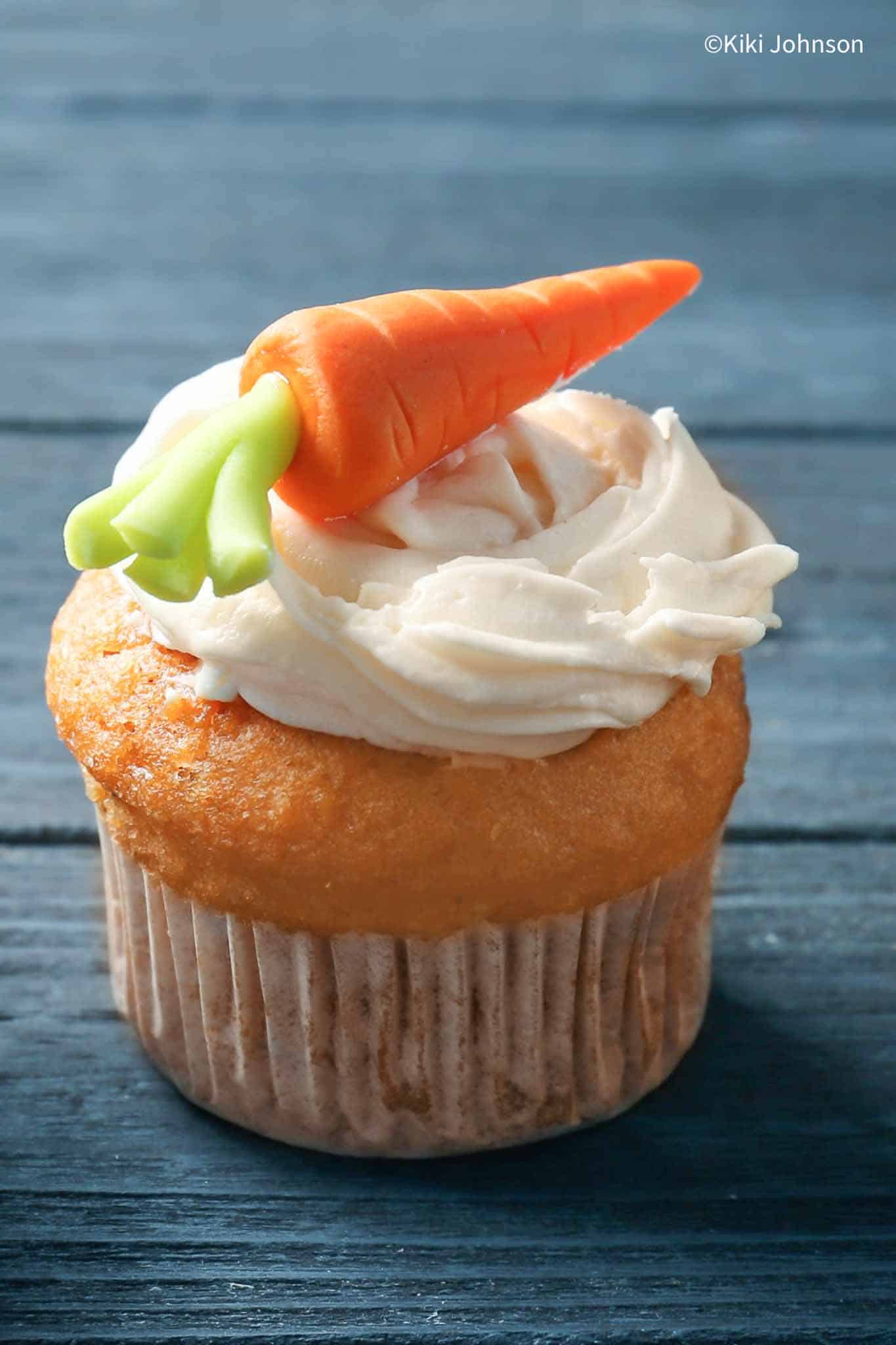 Make Healthy & Glutenfree Carrot Banana Muffins
To make these healthy banana carrot muffins, use xylitol instead of white sugar in the batter and use regular whole wheat flour or even oat flour instead of the white flour. You could also use golden brown sugar ir your favorite unrefined sugar like coconut sugar.
For gluten-free muffins, use Bob's Red Mill glutenfree flour. You can substitute 1/3 of the amount with almond flour.
Here are some tips for making perfect muffins every time:
Use the correct amount of leavening agents: Baking soda is our leavening agent here. Measure it out precisely. Using too much or too little can affect the texture and rise of your muffins.
Don't overmix the muffin batter: Mix dry and wet ingredients in a separate bowl. Overmixing can cause gluten to develop in the batter, resulting in tough and dense carrot banana muffins. Mix the batter just until the dry ingredients are incorporated, and don't worry about remaining small lumps.
Fill the muffin cups properly: Fill each muffin cup about 2/3 to 3/4 full to ensure even baking and rising. Using an ice cream scoop or a measuring cup can help you distribute the batter evenly.
I like baking them in a silicone muffin pan as they make for easy release but you can also use muffin liners.
Bake the muffins at the correct temperature and time: Oven temperatures can vary, so make sure to preheat your oven to the right temperature. Bake the muffins for the recommended time, and test for doneness by inserting a toothpick into the center of a muffin. If it comes out clean, the muffins are done.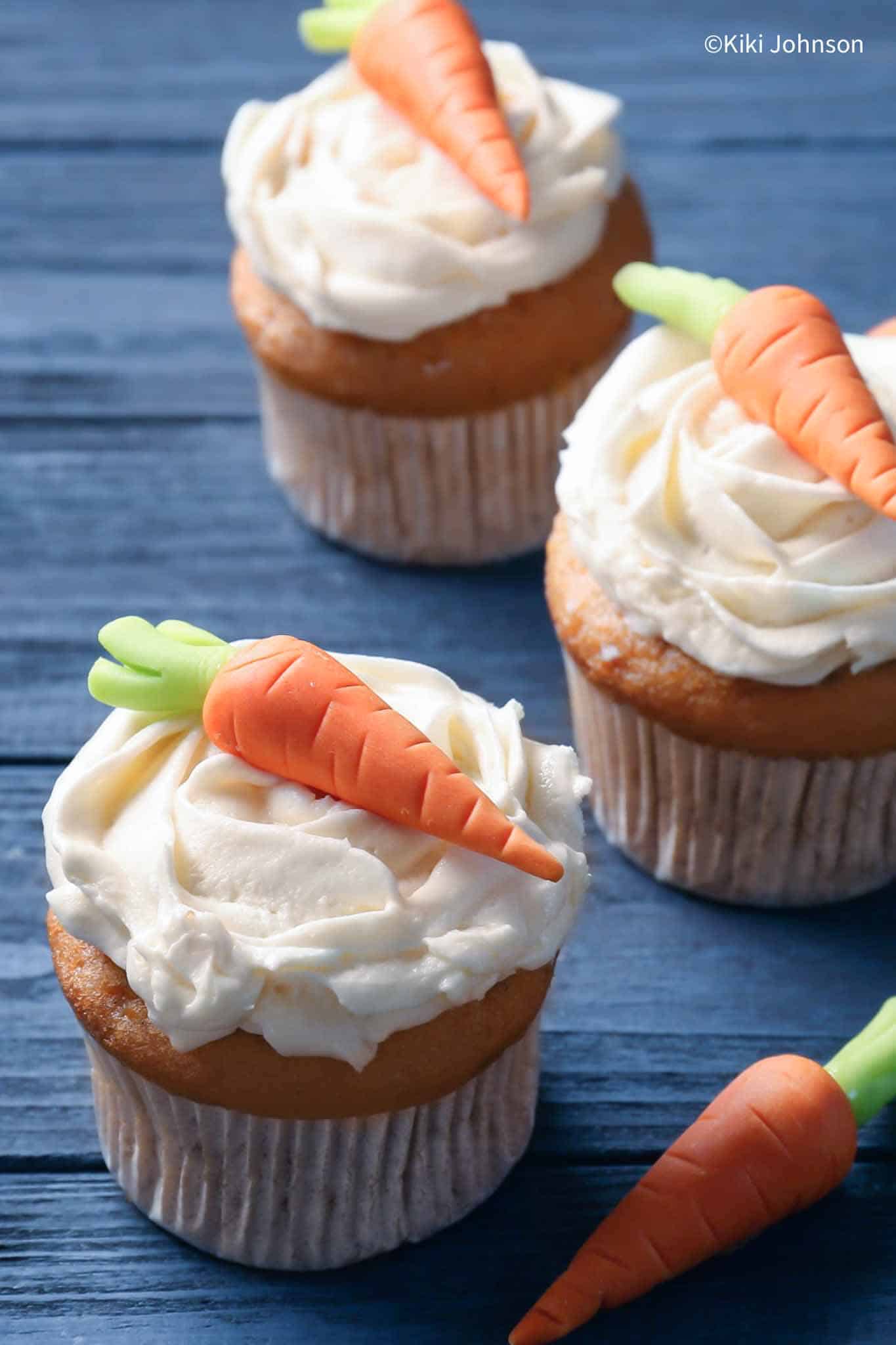 Storing:
You can make the muffins ahead of time. Cool the muffins completely: Before storing muffins, always make sure they are completely cooled. If you store them while they are still a bit warm, condensation can form inside the container and make the muffins soggy.
Store the cooled muffins in an airtight containe to prevent them from drying out. You can use plastic containers, resealable freezer bags, or even wrap them in cling wrap.
To keep your muffins fresh and moist, you can add a slice of bread to the container. The bread will absorb any excess moisture of the muffins and keep the muffins from getting stale.
Storing frosted muffins can be a bit trickier than storing unfrosted, as the frosting can get messy or become too soft if not stored properly. As the frosting contains dairy, I recommend to refrigerate them in an airtight container. To keep the frosting from getting messed up or sticking to the lid, cover the container loosely with plastic wrap. This will create a barrier between the cupcakes and the lid of the container.
Avoid stacking the cupcakes, as this can smudge or flatten the frosting. Instead, place them in a single layer in the container.
More Easter treats:
Award Winning Carrot Cake Recipe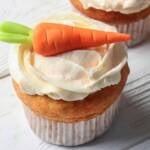 Carrot Banana Muffins with Quark Frosting
Try this best ever carrot banana muffins recipe made with grated carrots and overripe bananas and topped with German Quark Frosting! They make for great snacks and are a delicious way to have the flavors of carrot cake AND banana bread.
Ingredients
2

cups

all-purpose flour

2

teaspoons

baking soda

1/4

teaspoon

salt

1

teaspoon

cinnamon

if, you want, also 1 tsp ground ginger

1/2

cup

coconut oil

measured solid then melted and cooled

1

cup

granulated sugar

3

large eggs

3

bananas

mashed

2

cups

freshly grated carrots

2

teaspoons

vanilla extract

3/4

cup

buttermilk
For the frosting:
1/3

cup

butter softened

3/4

cup

/ 100 g powdered xylitol* or powdered sugar

1

tbsp

cornstarch

1

tbsp

vanilla extract or a few drops of butter-vanilla flavoring

1

cup

- 200 g quark
Instructions
Preheat the oven to 360 F/ 180 C  and line a muffin tin with paper liners !

Mix the dry ingredients for the muffin batter in a bowl! In a second bowl, cream the eggs and sugar with a hand mixer until white and fluffy. Add the oil and blend until well blended.

Now add banana puree, grated carrots and vanilla. When the batter is mixed, we add half of the dry ingredients. Now stir the dough with a wooden spoon! Now add the buttermilk - then the 2nd half of the dry ingredients. Stir again until well blended!

Fill your molds 2/3 full and bake the muffins for 20 minutes! Check for doneness (see tips)

Leave to cool down completely after baking
For the frosting
Using a hand mixer, cream together the softened butter, powdered xylitol or icing sugar and cornflour.

Stir in the vanilla and quark.

Place the frosting in the fridge for at least 60 minutes to set. As soon as the frosting has become firm enough, it can be filled into a piping bag and piped on the cooled cupcakes Decorate with chopped nuts or marzipan carrots.