Dieser Beitrag ist auch verfügbar auf:

Deutsch (German)
Today's divine Rhubarb Ice Cream is the perfect ice cream flavor to kick-start the season of frozen treats.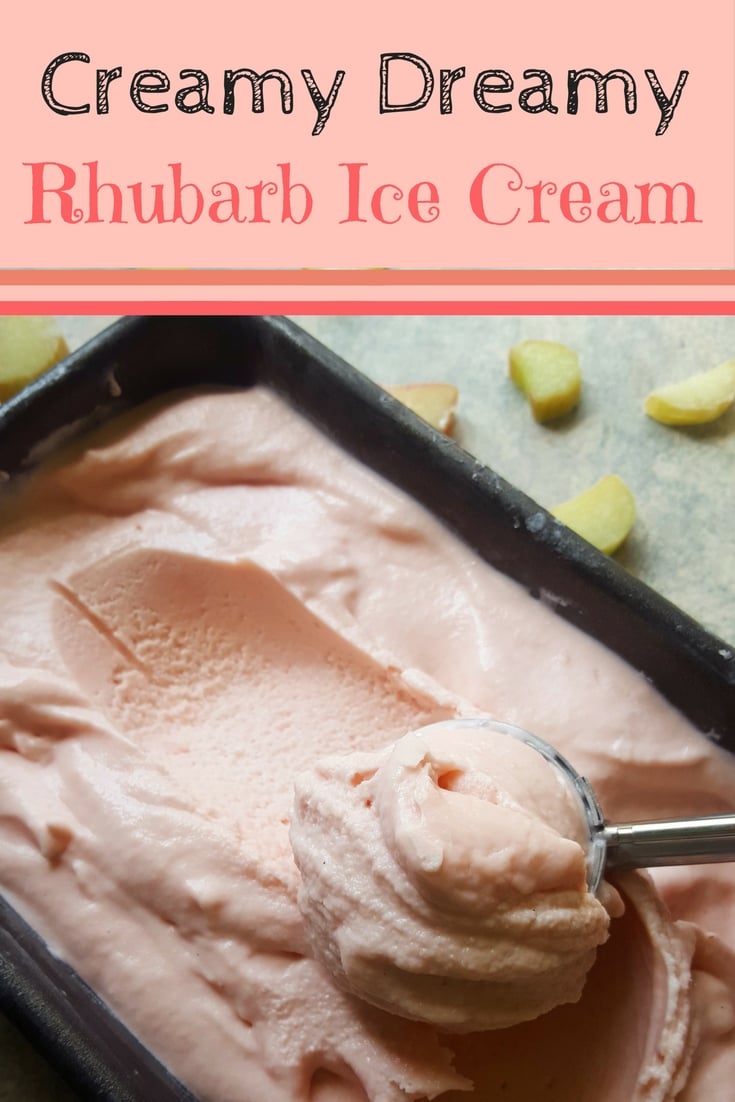 Disclaimer: I am a participant in the Amazon Services LLC Associates Program, an affiliate advertising program designed to provide a means for us to earn fees by linking to amazon.com and affiliated sites
Let's kick off ice cream season with this dreamy Rhubarb Ice Cream recipe!
I love ice cream parlors. I come from a country where they are the center of social life. Getting ice cream is not only the ultimate expression of summertime relaxation but also a social event!
The ice cream parlor would be the place where you meet your girlfriends to have a coffee, a scoop of ice cream and a glass of prosecco while catching up on the gossip.
There is always outdoor seating making it THE spot for people watching and a great first date location for those too young to get drinks at a bar.
On our last trip to Cochrane, AB -or shall I say on our last pilgrimage to MacKay's Ice Cream Parlour, we got to try their strawberry rhubarb pie ice cream.
I really liked it but it didn't really stand a chance hidden under big scoops of Maple Bacon and Chocolate Ice Cream.
You all know what happens at the bottom of your ice cream cup on a very hot day. With rhubarb being such a subtle flavor, I didn't taste it at all.
This Homemade Vanilla Rhubarb Ice Cream will be your new favorite frozen treat!
I still really loved the idea of incorporating rhubarb into ice cream though and wanted to make a pure straightforward Rhubarb Ice Cream.
When I found this recipe, which also happened to use my all-time favorite ice cream base, I was sold!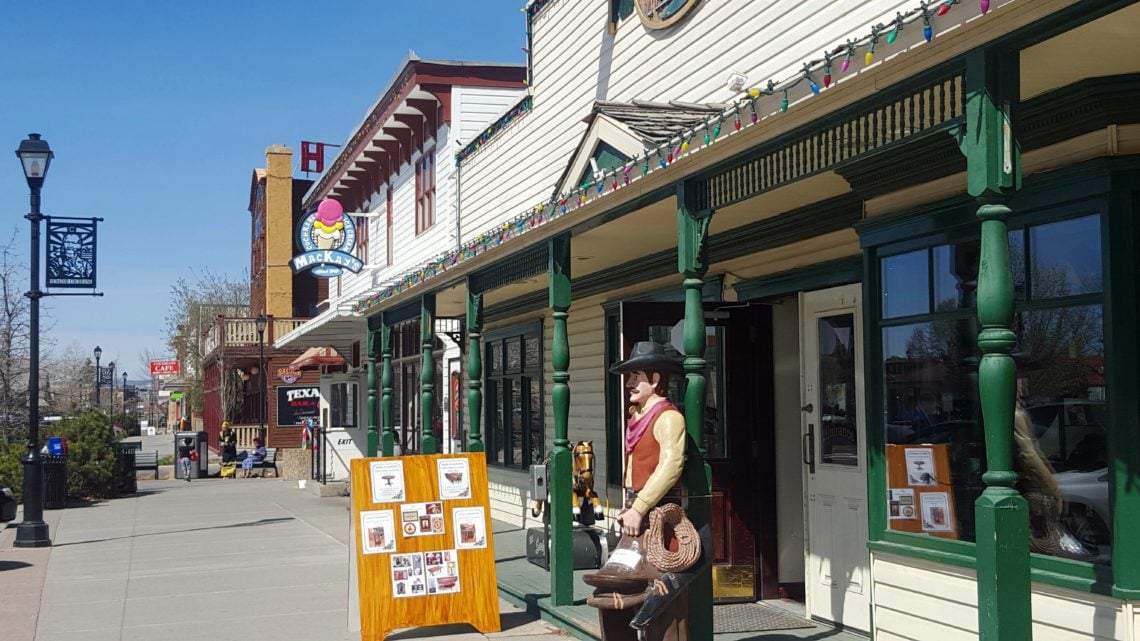 How to make the best rhubarb ice cream:
The recipe for this pretty pink rhubarb ice cream is pretty straightforward and you might even have most of the ingredients waiting in the fridge already.
I all starts with Jeni's Ice Cream Base
, which I use for all of my homemade ice creams now. It's the best and easiest way to achieve a professional look and texture at home!
Note that you do need an ice cream maker for this rhubarb ice cream recipe!
For our Rhubarb Ice Cream, we start by making a vanilla infused rhubarb jam which is absolutely addictive by the way!
Rhubarb and vanilla just belong together! Not eating this rhubarb jam by the spoonful is the hardest part of this recipe! Be strong, store it in the fridge to cool.
We' re gonna mix it with the cooled ice cream base later and you'll be soon rewarded for your patience!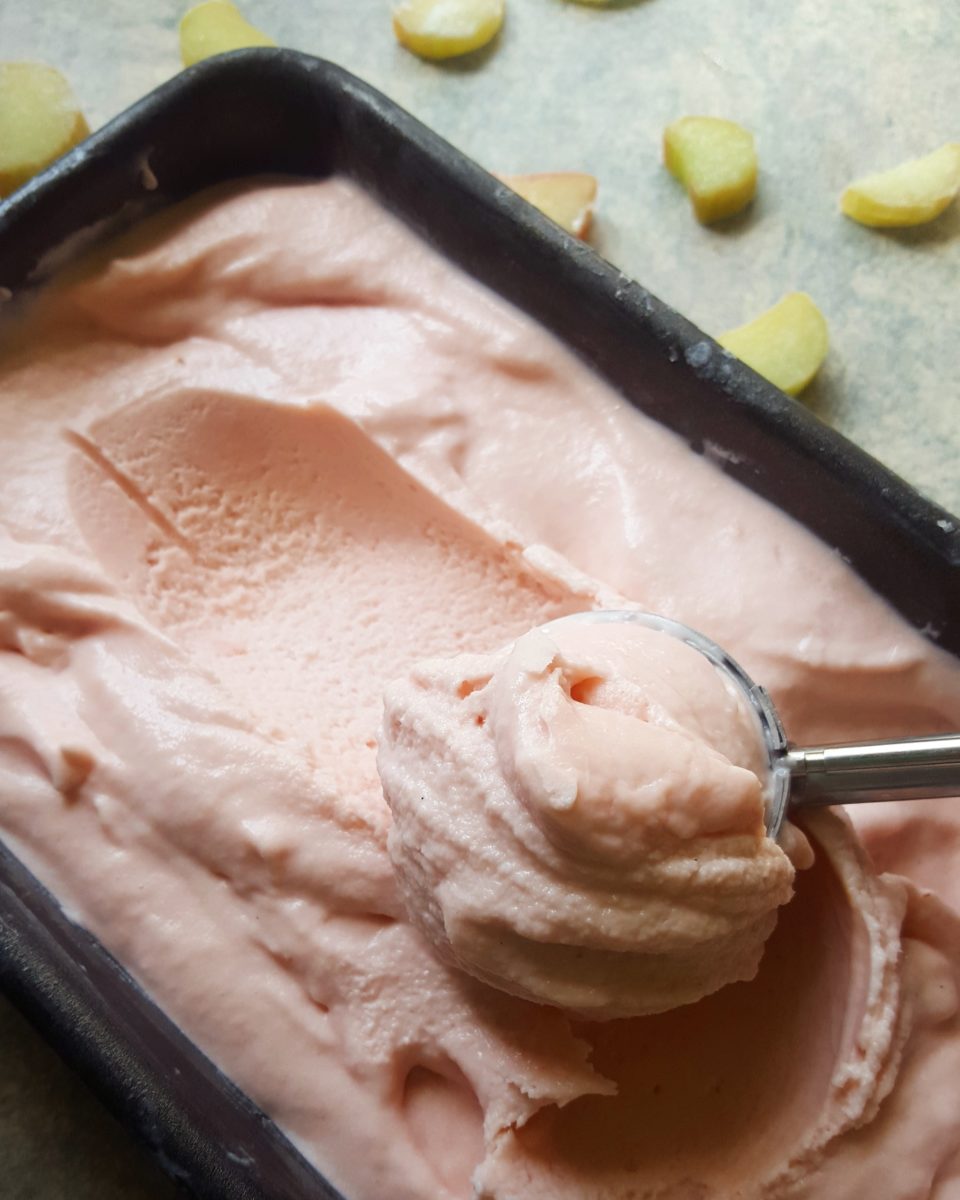 Rewarded with this creamy dreamy rhubarb ice cream!
First, I was not sure whether the subtle rhubarb flavor would come through strong enough in cold ice cream but let me tell you it does!
A Rhubarb Lover's Ice Cream Dream!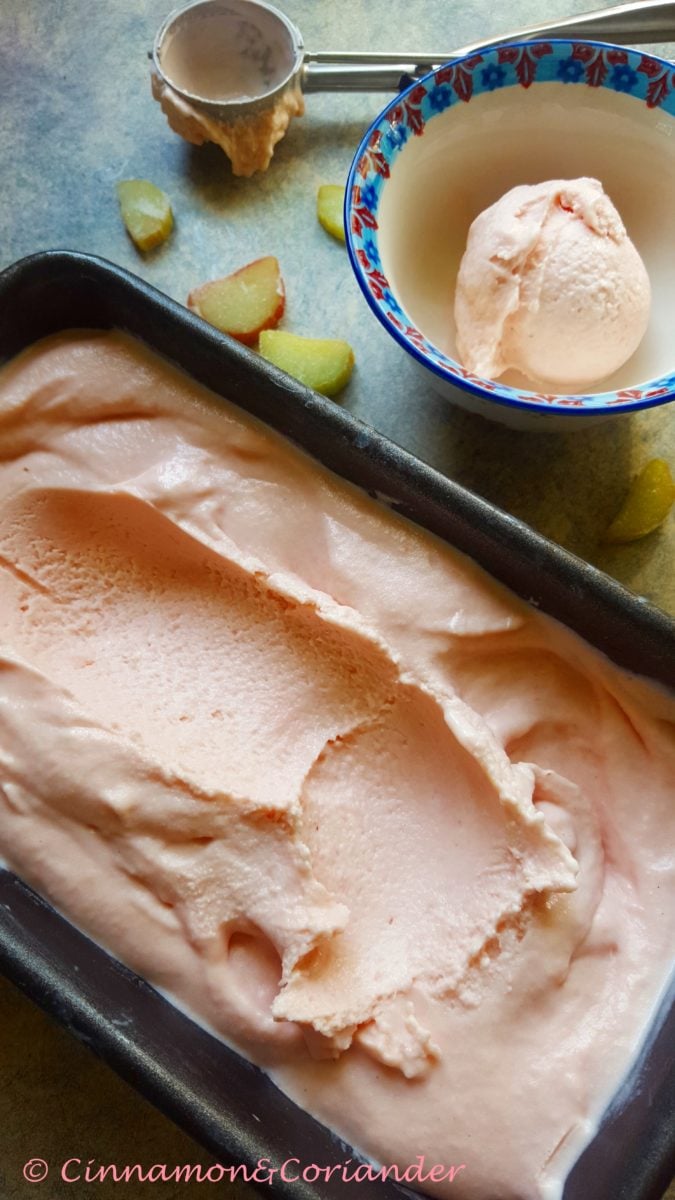 I love the contrast between the creaminess and the tanginess of the rhubarb in this refreshing ice cream! It's like the perfect mix!
More ice cream recipes:
If you love this ice cream base as much as I do, check out this recipe for Rhubarb Strawberry Nice Cream and Toasted Basmati Rice & Coconut Ice Cream .
My product recommendations:
Disclaimer: I am a participant in the Amazon Services LLC Associates Program, an affiliate advertising program designed to provide a means for us to earn fees by linking to amazon.com and affiliated sites
★ Did you make and love this rhubarb ice cream recipe? Give it your review below! And make sure to share your creations by tagging me on Instagram!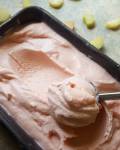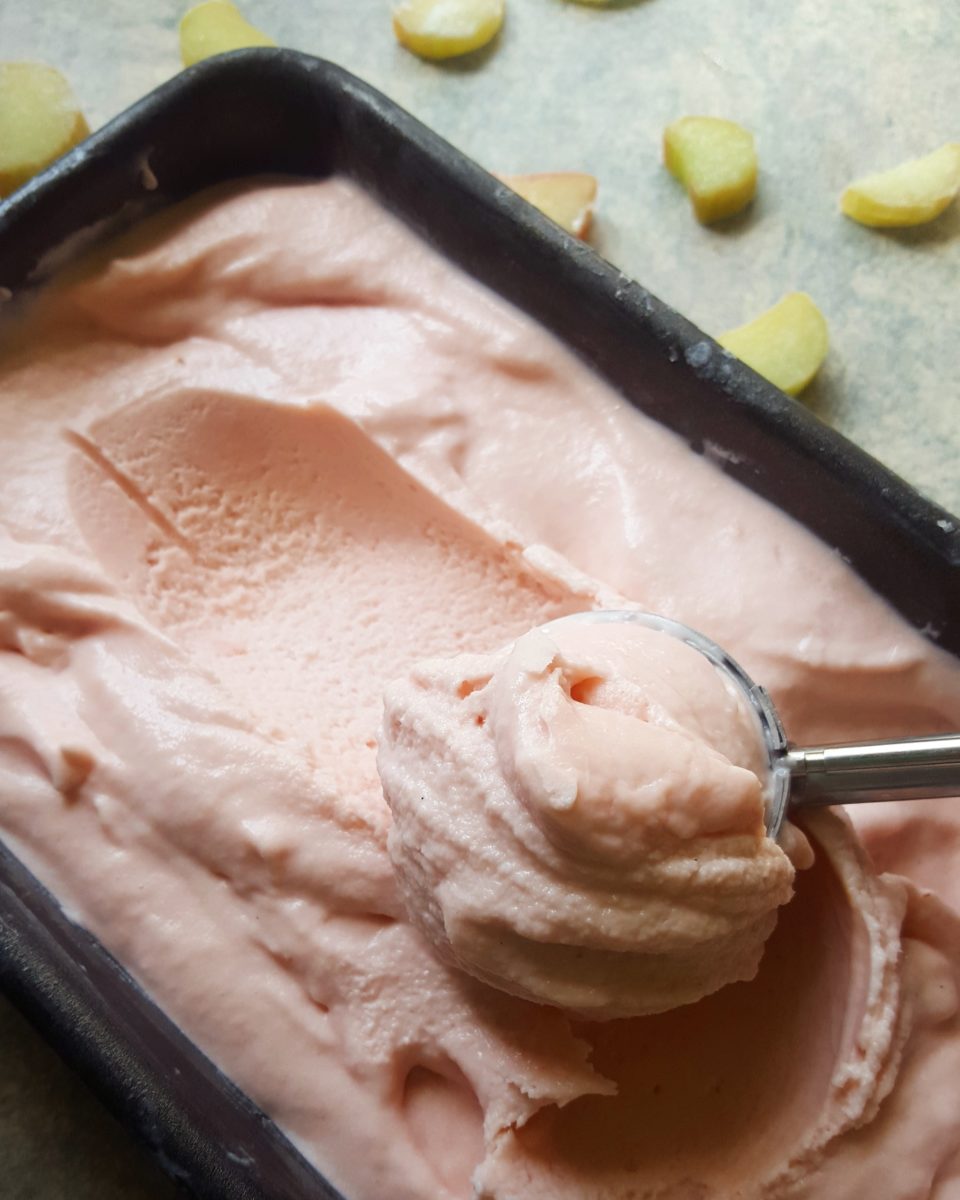 Rhubarb Ice Cream
Creamy, melt in your mouth ice cream thanks to Jeni Britton Bauers Ice Cream Base! A rhubarb vanilla jam infuses the ice cream with lovely rhubarb flavour!
Total Time
1
hour
5
minutes
Ingredients
For the base
2

cups milk

4

tsp

cornstarch

1 1/4

cups

heavy cream

2/3

cup

sugar

2

tbsp

light corn syrup

1/4

tsp

kosher salt

3

tbsp

cream cheese

1.5 oz, softened

1

x

recipe rhubarb jam

see below
Rhubarb Jam
450

g

rhubarb*

to yield about 3 1/2 to 4 cups once chopped

3/4

cup

sugar

1

vanilla bean
Instructions
For the jam
Wash and slice the rhubarb and bring it to a boil with sugar, the scraped out vanilla pod and the vanilla caviar. Let simmer covered for about 5 minutes. Lift the lid, take the immersion blender to it to make it smoother and let simmer until the rhubarb has reached a jam like consistency. Let cool in the fridge.
For the ice cream base
In a bowl, stir together 1⁄4 cup milk and the cornstarch; set slurry aside. In a 4-qt. saucepan, whisk together remaining milk and the cream, sugar, syrup, and salt; bring to a boil over medium-high heat. Cook for 4 minutes; stir in slurry. Return to a boil and cook, stirring, until thickened, about 2 minutes.

Place cream cheese in a bowl and pour in 1⁄4 cup hot milk mixture; whisk until smooth. Then whisk in remaining milk mixture. Pour mixture into a plastic bag; seal, and submerge in a bowl of ice water until chilled or just chill it in the fridge overnight.

The next day, puree your jam with the ice cream base using an immersion blender. Pour the mixture into an ice cream maker and process according to manufacturer's instructions. I did this in two batches as my ice cream maker has a 500 ml limit. Transfer ice cream to a storage container and freeze until set.
Recipe Notes
Store the ice cream in a sealable plastic container.