Dieser Beitrag ist auch verfügbar auf:

Deutsch (German)
With this Pumpkin Cake Cheesecake, you can have two cakes in one! Creamy cheesecake with a pumpkin swirl baked into it – better than Cheesecake Factory Jump to Recipe.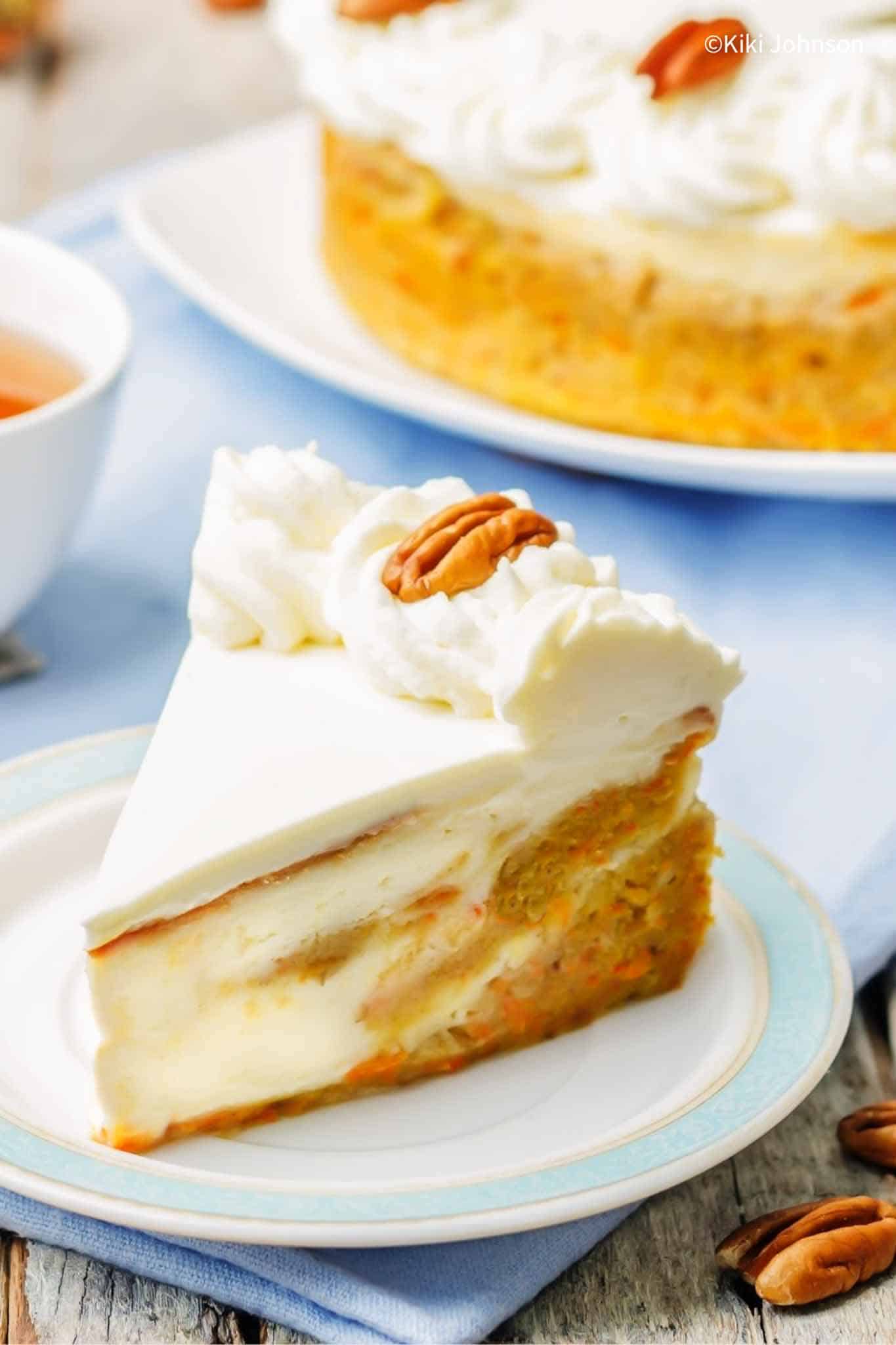 This Better-Than-The-Cheesecake Factory Pumpkin Cake Cheesecake is for people like me, who can get bored quite quickly by a piece of cake!
With this autumnal Cheesecake with a pumpkin swirl directly baked into the cheesecake, this was certainly not the case! Lovers of all things pumpkin pie and pumpkin spice will be all over this recipe.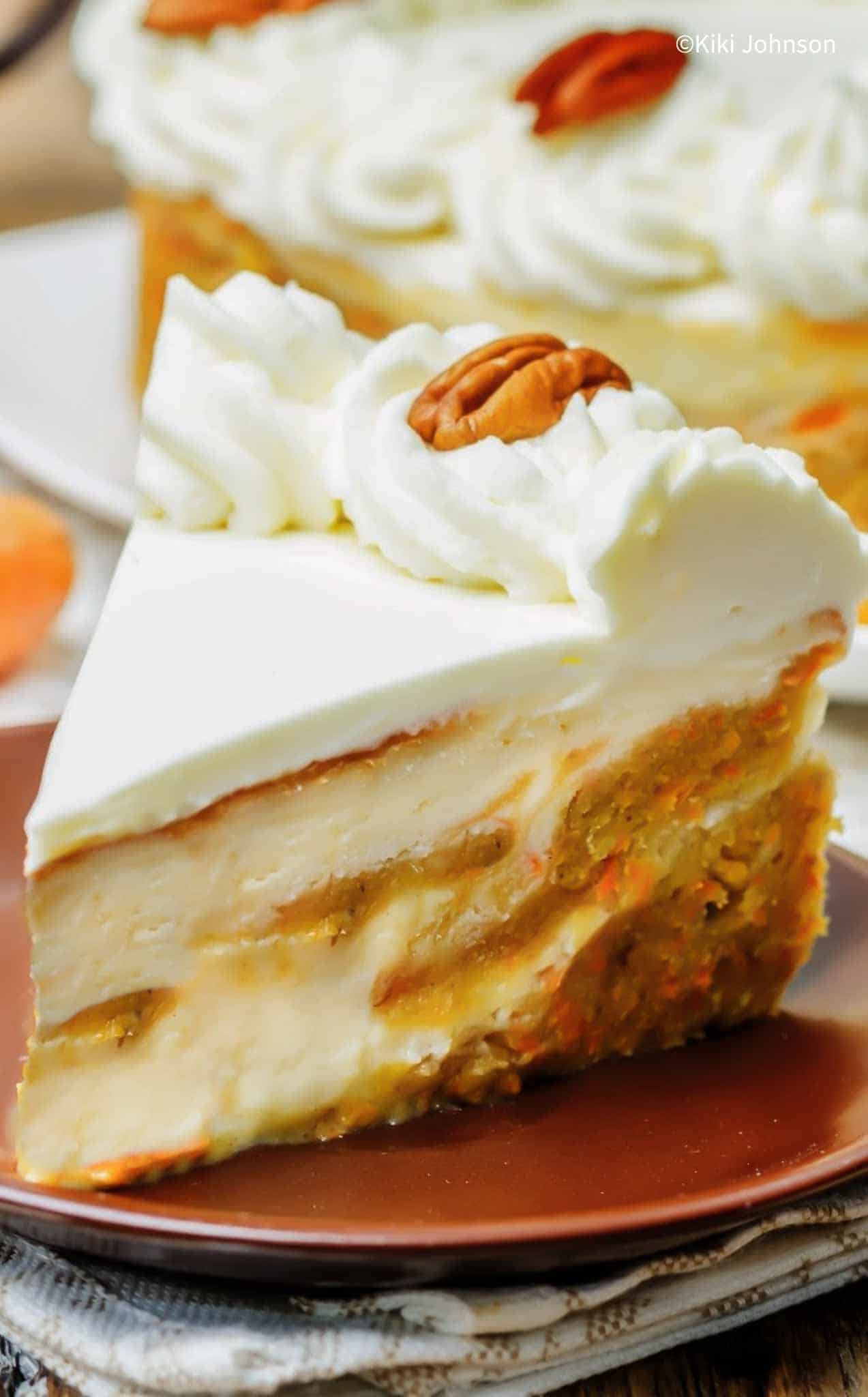 Here you get big scoops of spiced pumpkin pound cake dough baked into a New York Style Cheesecake.
And now imagine all of that covered with a generous amount of cream cheese frosting and some roast pumpkin seeds on top!
Fall flavor explosions with every bite !!!! You got to try this pumpkin cake cheesecake.
By baking the cheesecake in a water bath it gets especially moist and delicious and gives it that texture we love about cheesecakes from the cheesecake factory.
I found this delicious pumpkin swirl cheesecake on Sally`s Page and fell in love immediately!
Even though making two different kinds of dough can seem a bit of a fuss, I´d say it´s totally worth it! And hey – at least there´s no crust to worry about as you just use your pumpkin cake batter to cover the springform pan!
Guys this Pumpkin Swirl Cheesecake is seriously addictive and the cake part is incredibly aromatic and moist! And it gets better the longer you let it rest in the fridge! I recommend you make it a day ahead of time and let it rest in the fridge overnight.
Tips for making this cheesecake:
Room Temperature Ingredients:Ensure all dairy ingredients (cream cheese, eggs, sour cream) are at room temperature for a smooth batter.
Avoid Overmixing: Mix until just combined to prevent cracks and maintain a creamy texture.
Water Bath: Use a water bath while baking to prevent cracking and ensure even cooking.
Cool Gradually: Let the cheesecake cool in the turned-off oven with the door ajar to prevent sinking and cracking.
Chill Well: Refrigerate for at least 4 hours, but overnight is best for the perfect texture.
For more delicious recipes for pumpkin pie and pumpkin spice season, also try my Starbucks pumpkin scones and my pumpkin pie without condensed milk.
★ Did you make and love this recipe for pumpkin cake cheesecake? Give it your review below! And make sure to share your creations by tagging me on Instagram!
Pumpkin Cake Cheesecake
With this Pumpkin Cake Cheesecake you can have two cakes in one! A autumn spiced pumpkin Cake AND a creamy & rich Cheesecake!!! What's not to love here ??
Cook Time
1
hour
5
minutes
Total Time
1
hour
28
minutes
Ingredients
CHEESECAKE

16

ounces full-fat cream cheese

448g, softened to room temperature

3/4

cup

granulated sugar

150g

1/4

cup

plain yogurt or sour cream1

60g

1

tsp

vanilla extract

1

tbsp

all-purpose flour

8g

3

large eggs

PUMPKIN CAKE

3/4

cup

canola or vegetable oil

180ml

1

cup

packed light or dark brown sugar

200g

2

large eggs

1

tsp

tvanilla extract

1 1/3

cups

pumpkin puree

318g, canned or fresh

1

cup

all-purpose flour

125g, measured correctly

1

tsp

baking soda

1 1/2

tsp

ground cinnamon

1

tsp

pumpkin pie spice

or 1/2 tsp nutmeg, 1/4 coves, 1/4 allspice

1/4

teaspoon salt

CREAM CHEESE FROSTING

4

ounces full-fat cream cheese

112g, softened to room temperature

2

tbsp

unsalted butter

16g, softened to room temperature

2

cups

confectioners' sugar

240g, sifted

1

tsp

vanilla extract

1/8

tsp

salt

1-2

tbsp

milk

15-30ml

chopped pecans

optional
Instructions
Adjust oven rack to the lower third position and preheat your oven to 350F degrees.

Spray a 9-inch springform pan with nonstick cooking spray.

Wrap aluminium foil on the bottom and tightly around the outside walls of the springform pan.
Start with the cheesecake
Beat the cream cheese and granulated sugar together on medium speed in a large bowl - about 3 full minutes until the mixture is smooth and creamy.

Now add the sour cream or yoghurt, vanilla, and flour and beat until combined.

On low speed, add the eggs one at a time, beating after each addition until just blended. Do not overmix the filling after you have added the eggs.
Now for the pumpkin cake
In a medium bowl, whisk the oil, brown sugar, eggs, vanilla, and blotted-dry pumpkin together until combined and uniform in texture.

In a large bowl, whisk the dry ingredients - the flour, baking soda, cinnamon, pumpkin pie spice, and salt together. Pour the wet ingredients into the dry ingredients and whisk until no large lumps remain. Avoid overmixing the pumpkin cake batter.

Spread 1 and 1/2 cups of the pumpkin cake batter over bottom of prepared pan. On top of the pumpkin batter, drop large spoonfuls of the cheesecake batter. Top with large spoonfuls of remaining pumpkin cake batter. Repeat with remaining cream cheese batter.

Place the springform pan into a large roasting pan and place into the oven. Fill with about 1 inch of hot water. The foil wrapped around the pan will prevent water from leaking inside.

Bake for 65-75 minutes or until the centre is almost set.

If you find your edges are browning to quickly, loosely place aluminium foil on top of the cake as it bakes. Once your cake is done, turn the oven off and open the door slightly.

Let the cheesecake sit in the oven for 1 hour. Remove from the oven and allow to cool completely at room temperature. Refrigerate for at least 6 hours or overnight
Make the cream cheese frosting in advance or shortly before serving
Beat the cream cheese and butter together on medium-high speed in a medium bowl until smooth and creamy. Add the confectioner's sugar, vanilla, and salt. Beat on low speed for 30 seconds, then turn up to high speed and beat until smooth and creamy.

Beat in 1-2 Tablespoons of milk, depending on how thick or thin you want the frosting. Spread onto chilled cheesecake. Top with pumpkin seeds.

Cut into slices and serve cheesecake chilled. Cover leftover cheesecake and store in the refrigerator for up to 4 days.
Recipe Notes
Pumpkin is an extremely wet ingredient and you should make sure to blot your puree dry. Otherwise, the dough will weigh down your cake and even make it soggy. Before adding the pumpkin to the mixing bowl place your measured out pumpkin into a bowl lined with a paper towel. Place two more paper towels on top of it. Blot the pumpkin dry. Squeeze out some moisture. Then add the blotted-dry pumpkin to the wet ingredients as instructed.