Dieser Beitrag ist auch verfügbar auf:

Deutsch (German)
This Cranberry Pumpkin Scones recipe will be your new favourite fall treat for pumpkin season! Paired with a cream cheese icing, these moist and flaky Cranberry-studded scones taste even better than Starbucks' Pumpkin Scones!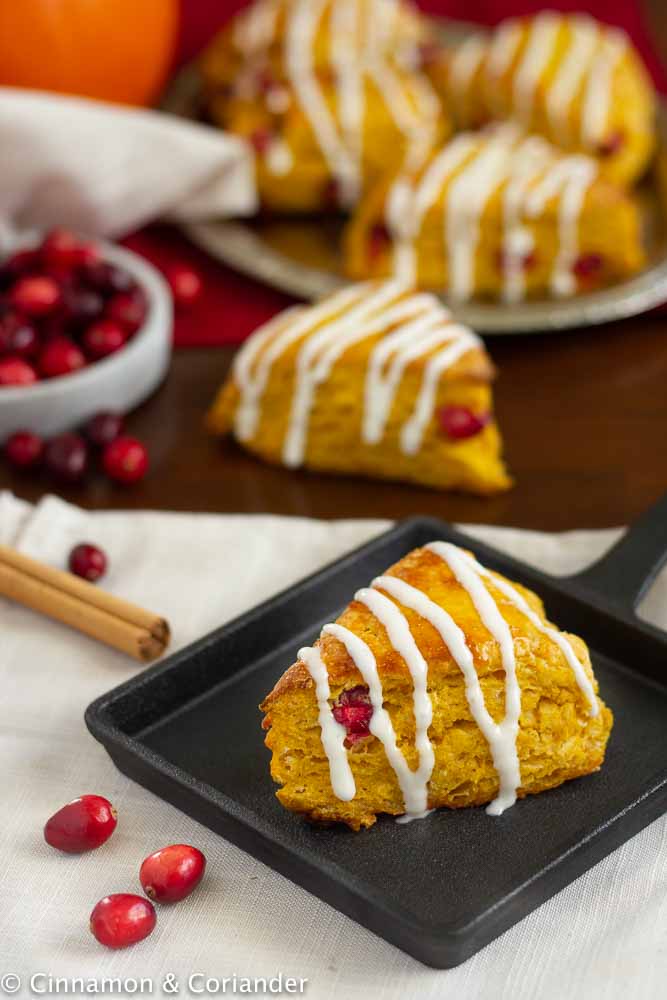 It's Thanksgiving weekend in Canada and we are SO excited! My Wild Rice Stuffed Acorn Squash is baking in the oven as we speak and there's a giant Salted Caramel Apple Pie cooling on the counter!
But today is not the first day of indulging. We actually had a HUGE bake-off yesterday as I wanted to create the perfect pumpkin scones recipe for you lovely pumpkin spice addicts!
We loved the result so much, that I had to sit down and write this post immediately. There are scones crumbs on my keyboard right now. No kidding.
Honestly, between my Maple Latte and this Cranberry Pumpkin Scones recipes, the only reason for going to Starbucks these days is the reliable Wifi and the admittedly superb people watching opportunities.
Why these Cranberry Pumpkin Scones are even better than Starbucks':
These easy cranberry pumpkin scones are the perfect way to make a foggy fall morning a bit brighter.
Packed with pumpkin flavor and pumpkin spice like cinnamon, ginger, cloves and nutmeg, these tender and moist scones are the definition of fall coziness.
The spiced cream cheese glaze is the perfect finishing touch. As this pumpkin scones recipe uses only a little sugar, it adds just the right amount of sweetness. It also gives our homemade scones this coffee-shop look, that we are after.
How to make this Starbucks Copycat Cranberry Pumpkin Scones recipe: 
This recipe is really easy and the only part that requires a bit of concentration is the folding. But I've got a great step-by-step guide plus recipe video for you to help you with that!
Preheat the oven to 375 F and line a baking dish with some parchment paper.
Cut the pumpkin or squash into cubes, aiming at about 350 g. Drizzle with 2 tsp of honey and coconut oil and roast for 30 minutes or until tender. Remove from the oven and let cool. After roasting, it will only weight about 250 g.
Let cool and puree the pumpkin with sour cream, milk, vanilla, and maple syrup until you have a smooth and not too thick paste.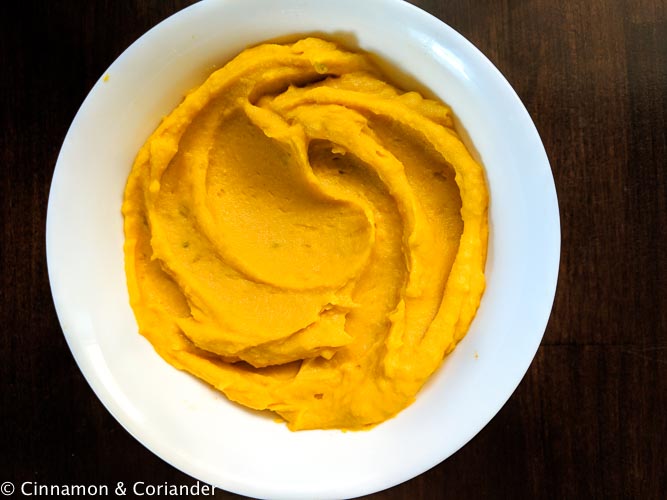 Chill this homemade pumpkin puree and grate your cold butter. Place the butter in the freezer an mix your dry ingredients. Preheat the oven to 400 F and prepare a baking sheet with some parchment paper.
Now we fold wet into dry ingredients until the pumpkin scones dough comes together and dump it onto a floured countertop.
For the folding process, make sure to watch the recipe video. It's easy, I promise! Have your cranberries ready and press them into the dough while folding.
Pat the dough into a round disk and cut into 6 to 8 wedges, place on the parchment paper and brush with some egg yolk. These need to bake for 15 minutes for 8 wedges, and 18 minutes for 6!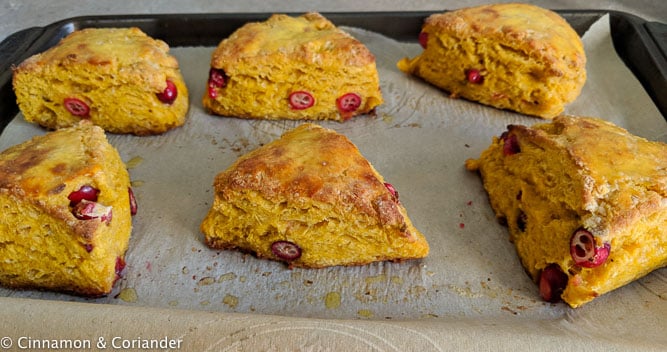 You can eat them as they are or glaze them with some homemade cream cheese icing, which is what I did!
Baker's Tips for the perfect Bakery-Syle Pumpkin Scone:
Don't use canned pumpkin puree. It just doesn't taste as good as homemade puree from roasted pumpkin or squash.
Chill everything. I mix the dry ingredients first and put the bowl in the freezer while prepping the rest.
Grate the cold butter straight from the fridge and pop it in the freezer so that the grated butter firms up. This helps create those flaky layers.
Use your hands to combine the dry ingredients and the butter is with your hands. Then use a rubber spatula to stir in the pumpkin puree.
FOLD, don't knead the scones dough – When the dough in the bowl is just about mixed with plenty of flour at the bottom, pour it out onto a work surface and fold it over itself a couple of times.
Don't overwork the dough! Handling the dough too much will result in a dry and tough scone.
Pop the scones into the freezer while your oven preheats.
When brushing with egg wash, make sure it does not run down the sides as this will mess with your rise.
Can I make this Cranberry Pumpkin Scones recipe ahead of time? 
Yes, you can! The pumpkin puree can be made up to two days in ahead and stored in an airtight container in the fridge.
The scones can be shaped the night before and stored unbaked in the fridge overnight. Wrap the tray in cling film and brush with the egg yolk the next day. Then, just pop them into the oven in the morning.
Alternatively, you can freeze them and bake them from frozen, allowing for about 3 to 4 minutes more time to bake.
For more pumpkin desserts, make sure to try my Pear and Pumpkin Pie as well as my Healthy Pumpkin Bars!
★ Did you make and love this pumpkin scones recipe? Give it your review below! And make sure to share your creations by tagging me on Instagram!
Cranberry Pumpkin Scones Recipe
This Cranberry Pumpkin Scones recipe will be your new favourite fall treat for pumpkin season! Paired with a cream cheese icing, these moist and flaky Cranberry-studded scones taste even better than Starbucks' Pumpkin Scones!
Total Time
1
hour
10
minutes
Ingredients
120

g

cold butter

250

g

oven roasted pumpkin or squash

peeled and cooled

100

g

sour cream

140

ml

milk

1

tsp

vanilla extract

3

tbsps

maple syrup

270

g

flour

1

tbsp

baking powder

1/4

tsp

baking soda

1/4

tsp

salt

1/2

tsp

cinnamon

1/4

tsp

ground cloves

1/4

tsp

ground cardamom

1/2

tsp

ginger

powder or freshly grated

1/4

tsp

nutmeg

freshly grated

1/2-3/4

cup

fresh cranberries
For the cream cheese icing
50

g

cream cheese

softened

1

tbsp

butter

softened

50

g

icing sugar
Instructions
Grate the butter with a box grater and place in the freezer to firm up.

Puree pumpkin, sour cream, milk, vanilla and maple syrup until smooth and refrigerate.

Preheat the oven to 425 F and line a baking tray with parchment paper.

In a separate bowl, mix the dry ingredients. Chill until you are ready to shape the scones. Take half frozen butter out of the freezer and toss with the flour using your hands. Take chilled pumpkin puree and fold under using a rubber spatula.

Stir just until the dough comes together, then transfer to your countertop. Fold the dough a couple of times to make it come together a bit more.

With a rolling pin, or your hands, roll or pat the dough into an improvised rectangle. Using a bench scraper, fold the right third of the dough over the centre, then fold the left third over so you end up with a roll.

Fold the top third down over the centre, then fold the bottom third up so the whole thing is reduced to an (awkward) square. Press the square down and roll it out again and top with half of your cranberries. Press them into the dough, then repeat the folding process once more, pressing more cranberries into each new layer you create until none are left.

After the 2nd fold, pat the dough into a disk and cut into 6 or 8 wedges using a very sharp knife. Do this in clean decided cuts without moving the knife. If you use a cookie cutter, don´t twist it around!


Place the baking tray in the freezer for 5 to 10 minutes while your oven comes up to temperature.

Brush the tops of your pumpkin scones with whisked egg yolk.

Bake the scones for 14 minutes, if you have 8 scones, and more like 18 minutes for 6 scones. Let them cool down to room temperature before glazing.

For the cream cheese icing, whisk together butter, cream cheese, a pinch of salt and the cinnamon. Sprinkle in the icing sugar and continue to whisk until smooth. Chill, if needed, then fill into a piping bag and decorate the pumpkin scones with the icing.
Recipe Video