Dieser Beitrag ist auch verfügbar auf:

Deutsch (German)
Vegan Banana Cinnamon Rolls with Chai Spice – Banana Bread meet Cinnamon Rolls in this easy vegan cinnamon bun recipe that is perfect for a cozy winter or fall morning. Egg and dairy free.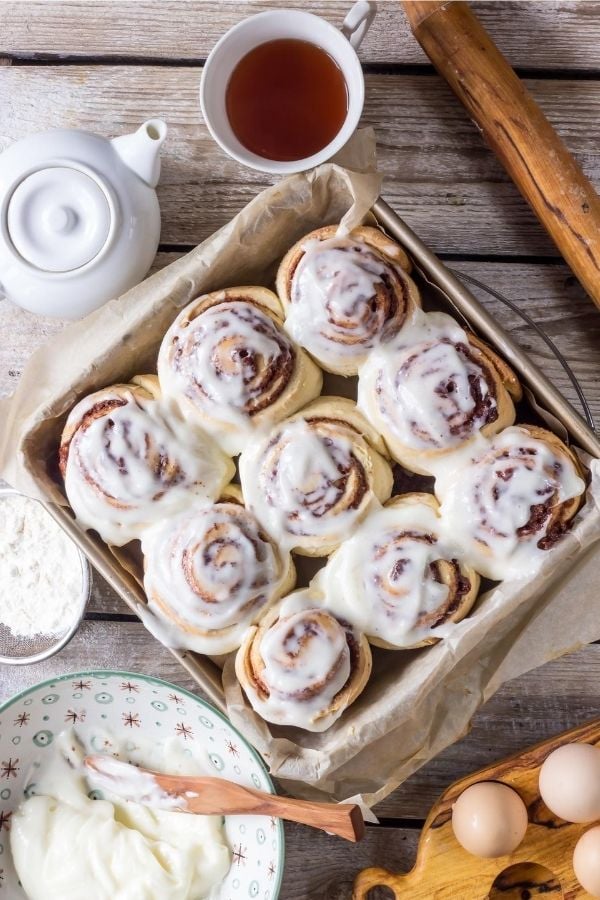 Vegan Banana bread cinnamon rolls – these easy vegan cinnamon buns are a different way to use up brown bananas! Picture soft, fluffy cinnamon buns with a sweet chai-spiced brown sugar filling! These vegan sweet buns are great for breakfast, brunch or afternoon tea!
Got overripe bananas? Make Vegan Banana Cinnamon Rolls!
Living in Mexico, we get bonkers good bananas but boy they turn brown on me in no time at all. As there is only as much Vegan Banana Bread I can go through, I had to come up with another vegan banana breakfast recipe that uses up those overripe bananas. Enter these banana cinnamon rolls.
These vegan banana bread cinnamon rolls are soft and fluffy – just like the ones from Starbucks, but made without egg or dairy! They have a mild banana flavour, a sweet fragrant brown sugar and chai spice filling and a delicious vanilla coconut glaze. They are perfect for an indulgent sweet breakfast or as a special brunch treat, or just for snacking on while sipping on your afternoon tea, all cozy and curled up with a good book.
Can they be frozen?
Yes, the vegan cinnamon rolls can be frozen. Allow them to defrost at room temperature then reheat them in the microwave for 10-20 seconds before serving.
Tips:
I highly recommend using the gram measurements rather than the cup conversions. Cups are simply not accurate enough for baking.
You can make the dough ahead of time and refrigerate it overnight for the first rise. The cold risen dough will be easier to roll out and the slow and cold rise in the fridge results in a better flavor.
As the dough is quite soft and sticky dough, I recommend you make it in a stand mixer
The dough should be soft and sticky, don't be tempted to add more flour as this can result in dry cinnamon rolls.
More vegan breakfast and brunch recipes:
★ Did you make and love this vegan banana cinnamon rolls recipe? Give it your review below! And make sure to share your creations by tagging me on Instagram!
Banana Bread Cinnamon Rolls (Vegan)
Vegan Banana Cinnamon Rolls with Chai Spice - Banana Bread meet Cinnamon Rolls in this easy vegan cinnamon bun recipe that is perfect for a cozy winter or fall morning. Egg and dairy free.
Total Time
1
hour
5
minutes
Ingredients
Dough:
500

g

all purpose flour

4 cups

8

g

instant yeast

2 1/4 tsp

1

tsp

salt

50

g

sugar

1/4 cup

240

g

mashed ripe banana

1 cup - (from two large but make sure to measure it out)

about 160 ml

2/3 cup lukewarm non-dairy milk (I used coconut)

60

g

vegan butter melted

1/4 cup
Filling:
120

g

2/3 cup light brown soft sugar

1

TBSP

+ 1 tsp ground cinnamon

1/4

tsp

ground nutmeg

1/4

tsp.

black pepper

1/4

tsp

ground cloves

1/2

tsp

ground ginger

1/4

tsp

ground cardamom

60

g

vegan butter softened

1/4 cup
Glaze:
130

g

icing sugar

1 1/4 cups

1 1/2

Tbsp

non-dairy milk

coconut milk

1/2

tsp

vanilla extract
Instructions
To make the dough, place the flour, sugar, salt and yeast in the bowl of a stand mixer fitted with a dough hook and mix to combine.

Add the mashed banana, melted butter and most of the coconut milk and mix to form a rough dough. Add the rest of the milk as needed to form a soft, slightly sticky dough.

Knead with the stand mixer on a high speed for about 5-10 minutes, until the dough is smooth and stretchy. The dough should be a bit sticky, but if it seems too wet you can add a little extra flour. If you don't have a stand mixer it can be kneaded by hand on a lightly oiled surface but it is quite a messy job.

Place the dough in an oiled bowl, cover and place in the fridge to rise overnight. (Or in a warm place until doubled in size - 1-2 hours.)

For the filling, mix together the light brown sugar and the spices in a bowl and set aside.

Punch down the risen dough and give it a brief 30 second knead to knock out any air bubbles.

Roll the dough out on a floured surface to an approx 30x45 cm / 12x18 inch rectangle and spread the softened butter evenly over the surface.

Scatter over the cinnamon chai spice sugar mixture and press it down gently.

Roll the dough up tightly from one of the long edges into a sausage and trim off and discard the ends.

Use a sharp knife to slice the roll into 9 even slices then arrange them cut side down in a 23cm/9inch square tin lined with baking parchment.

Cover loosely and set aside to rise for 30-40 minutes until puffy. Meanwhile, preheat the oven to 180C/350F/gas mark 4.

Once the buns have risen, bake for 30-40 minutes, until the internal temperature reaches 94C/201F on a probe thermometer. Cover them loosely with tin foil partway through baking if the tops start to colour too much.

Leave to cool in the tin for 30 minutes then carefully lift them out using the baking parchment and place on a wire rack.

To make the glaze, sift the icing sugar into a bowl and gradually stir in the milk and vanilla until it forms a thick but pourable glaze. Drizzle the glaze over the tops of the buns and serve.
Recipe Notes
Store any leftovers in an airtight container for up to two days.
I highly recommend using the gram measurements rather than the cup conversions. Cups are simply not accurate enough for baking.
You can make the dough ahead of time and refrigerate it overnight for the first rise. The cold risen dough will be easier to roll out and the slow and cold rise in the fridge results in a better flavor. 
As the dough is quite soft and sticky dough, I recommend you make it in a stand mixer