Dieser Beitrag ist auch verfügbar auf:

Deutsch (German)
When I think back on my honeymoon in Costa Rica, one of the first pictures that pops up in my mind is the one of my husband and I sitting in our guesthouse's lush tropical garden and stuffing our faces with this incredible Coconut Crusted French Toast. La especialidad de la casa… The house special! The bliss of being able to tuck in again with no worries about the fit of the wedding dress !! Pure bliss!
Honestly, I am glad I did not find out about this exotic twist on my husband's favorite breakfast during the pre wedding phase! It's easy to make and incredibly addictive!
Slightly crisp from the coconut coating on the outside, tender and custard-like in the middle..heaven on earth! Ever since we had our first bite of this exotic breakfast treat I knew that this was gonna be something I would want to recreate as soon as we get home. And indeed, after only a week back in Canada, I had my recipe perfectionized! I give you Coconut Crusted French Toast in all its glory..moist, decadent and exotic.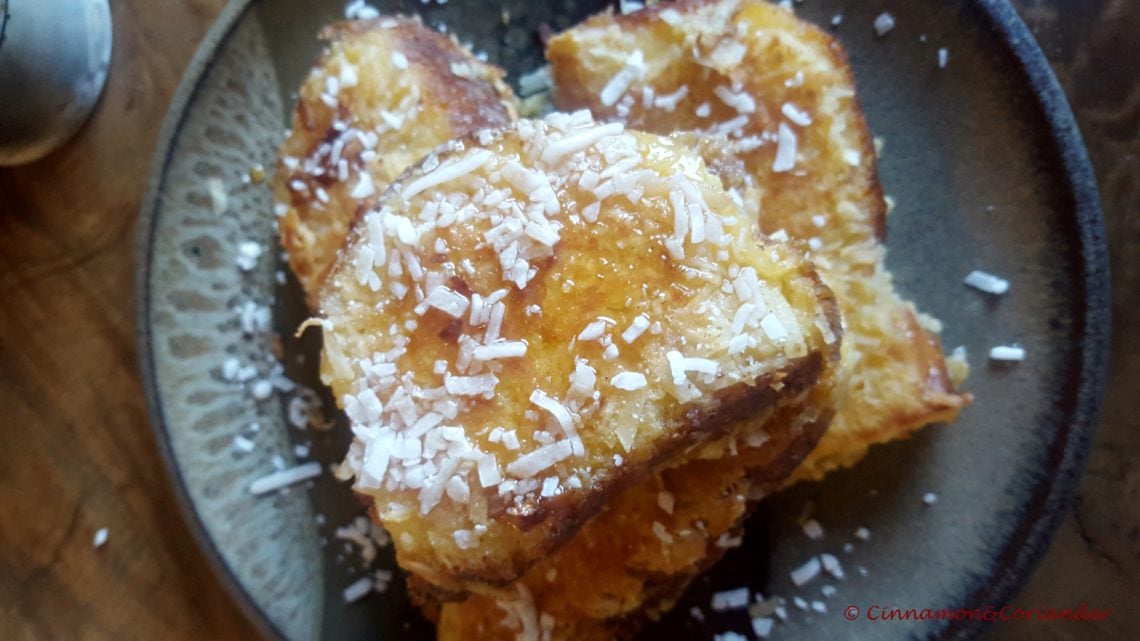 This is the ultimate treat for coconut lovers. Indeed, we incorporate a lot of coconut flavour by adding coconut milk, extract and sweetened shredded coconut!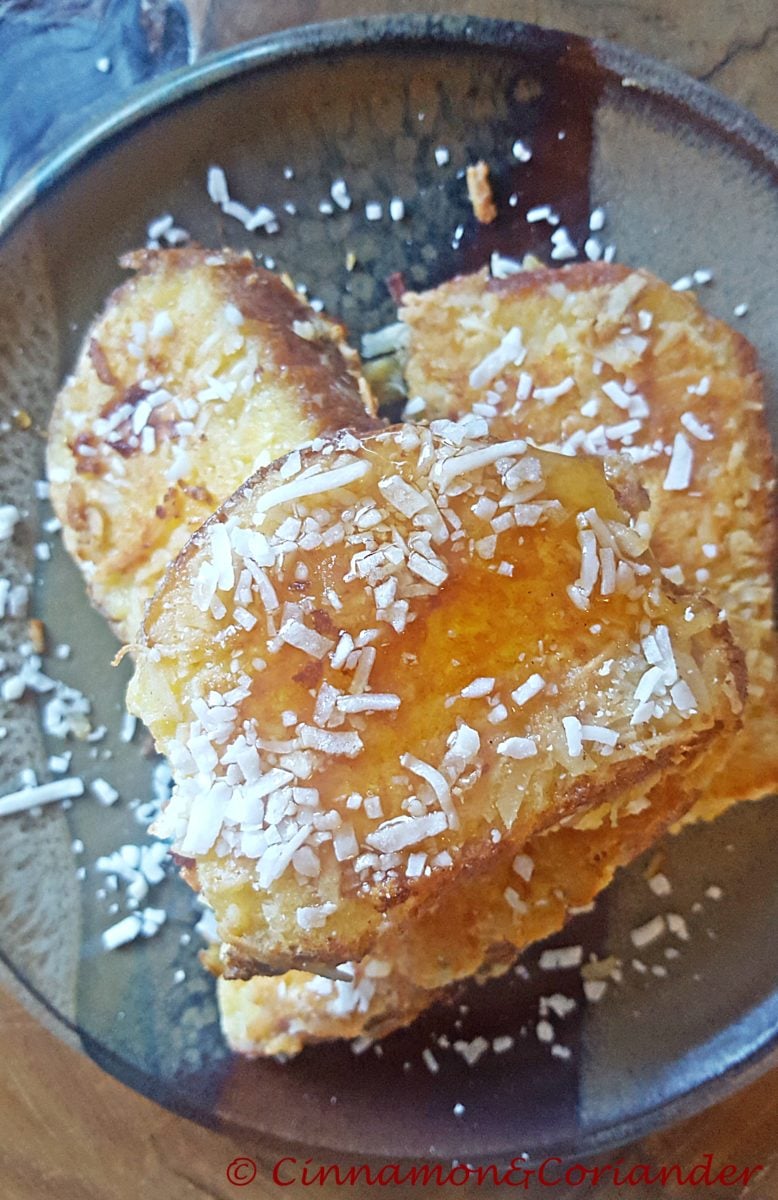 My bread of choice for French Toast would always be brioche. I had some leftovers from this Brioche Loaf . If you haven't tried it yet you should really give it a shot. It's simply the best ! Have it freshly baked on Saturday Morning and use up the leftovers by making Coconut Crusted French Toast on Sunday! That would be what I call a perfect weekend!
Simply crack some eggs in a bowl and mix them with coconut milk, extract and a bit of vanilla. I also added a splash of rum. I can't help it…coconut and rum are such good friends! Soak your brioche in this divine marinade and coat it with sweetened coconut flakes. A layer of eggmixture on top of the flakes prevents them from falling of while frying. Serve your Coconut Crusted French Toast fresh out of the pan with maple syrup! Perfection!
My sweetest honeymoon memory. Well, apart from this adorable little baby tucan.
Coconut Crusted French Toast
This Coconut Crusted French Toast is the perfect breakfast or brunch treat any time of the year! The Coconut Flavor comes from coconut cream, extract and shredded coconut!
Ingredients
3

large eggs

3/4

cup coconut milk

full fat

1

teaspoon coconut rum

1/4

tsp coconut extract

1/4

teaspoon vanilla extract

pinch of salt

1, 5

cups shredded sweetened coconut

6

small or 3 big slices of French bread

2

Tbsp of Butter
Instructions
1. In a shallow dish, whisk together the eggs, coconut milk, coconut extract, vanilla extract, rum and salt. Place the shredded coconut on a plate. Dip both sides of each slice of bread into the egg mixture. Dip both sides of the coated bread into the shredded coconut. Drizzle a little egg mixture on top of the coconut to make it stick to the bread.

Meanwhile, heat a large non-stick frying pan or a griddle to medium to medium-high heat, melting the butter in it. Fry the slices of brioche until golden brown on one side and then turn and cook the other side. Don't let your pan get too hot or the French Toast will burn before it's done inside. Serve immediately or keep Coconut French toast warm in a 250 degree F oven.

3. Serve with butter, pure maple syrup, and fruit.