Dieser Beitrag ist auch verfügbar auf:

Deutsch (German)
My Caramel Pear Pumpkin Pie with a layer of caramelized pears is a fruity twist on the classic and honestly the best Pumpkin Pie I have ever had! The perfect pie recipe for Thanksgiving or any other festive gathering during Pumpkin Season! 
This coming Monday we celebrate Canadian Thanksgiving! And as we all know, Thanksgiving without Pumpkin Pie just does not feel right. At least that's what my Canada-born husband taught me, comparing a Thanksgiving without Pumpkin Pie to a German Christmas without Mulled Wine and Stollen. Message received.
The thing is, though I DO like Pumpkin Pie, I sometimes find the texture a bit blah and would just crave a couple of chunks here and there – some fruit maybe?
I know I am pushing my luck a bit and purists would consider this pie recipe a bit of a barbarity. Ok, here it comes: I smuggled a hidden layer of caramelized pears into our Classic Pumpkin Pie. Naughty pears – cooked in brown sugar, butter, pear schnapps and a symphony of autumn spices.
The idea for this non-traditional Pumpkin Pie came to me while watching Nancy Fuller do something similar with apples and decided to make my own version using those too-firm-to-eat pears, I got at the market the other day. Everyone loved the result so much that it was declared the best pumpkin pie ever. Or at least this year's favourite! I just had to sahre the recipe with you.
Why this Caramel Pear Pumpkin Pie is secretly the best Pumpkin Pie ever:
I know, a classic is a classic and everyone claims to have found the best pumpkin pie recipe out there, but give this one a change. Trust me, you'll be surprised!
Let's talk about the layers of this pumpkin pie for a minute. On top of the Caramelized Pear layer, we find our Classic Pumpkin Pie Filling, so pumpkin pie lovers will get what they came for! But here's the thing: Even if you have Pumpkin Pie – Haters in your family, this recipe might still be worth trying. I am pretty sure it has conversion potential.
For the Pie Crust, I used my go-to recipe for All Butter Pie Crust. Keep in mind, that we only need a single crust, so either halve the recipe or store the other half in the freezer for the next pie!
The combination of the flaky, all-butter crust, the creamy and rich Pumpkin Pie Filling and the sweet, fruity pears is simply divine! For my pear filling, I used firm pears as they will keep their shape better when caramelized – we don't want pear mush, but texture!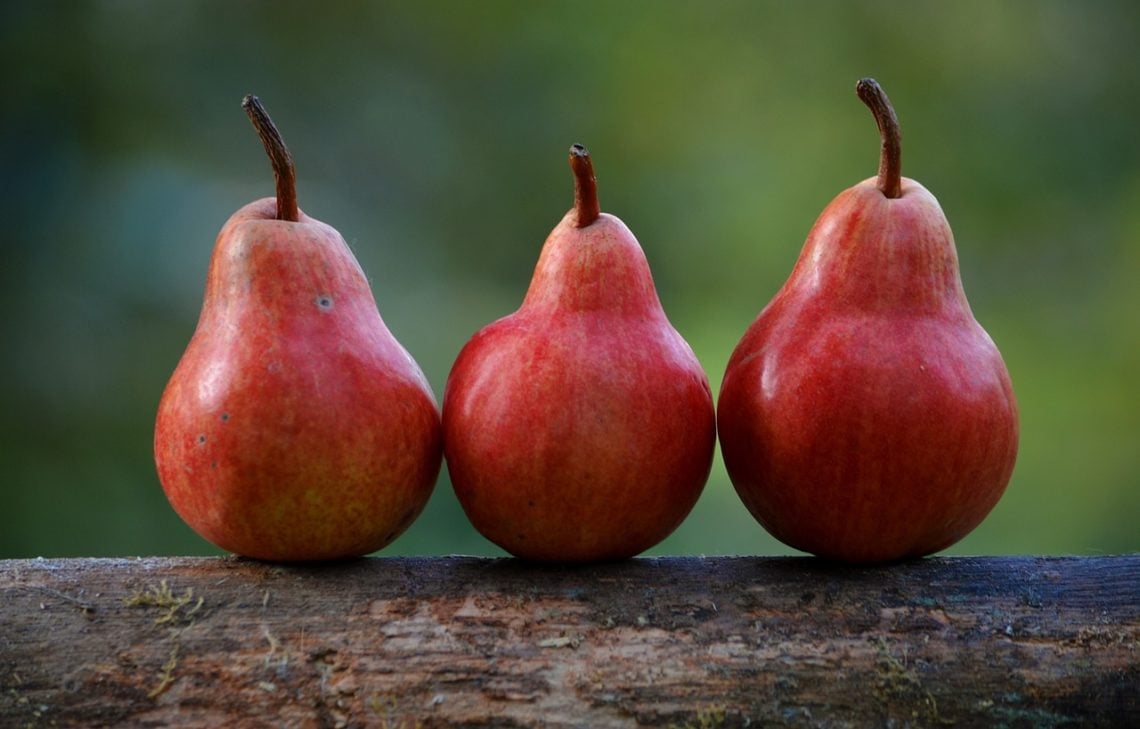 Tips on how to make the perfect Pumpkin Pie Filling:
To get the perfect texture and taste, we puree ( I know, sounds ridiculous) the pumpkin puree in a food processor together with the sugar and spices. That takes care of the stringy bits.
Instead of transferring the pumpkin pie filling straight from food processor to pie plate, I recommend cooking the pumpkin-sugar-spice-mix on the stove-top for only a couple of minutes!  You'll end up with a richer, more complex flavor.
Even though canned pumpkin pie filling is super convenient, you might want to consider making it from scratch for a less watery and more flavourful pumpkin pie.
Variations on this Caramel Pear Pumpkin Pie Recipe:
You can use apples instead of pears for a Caramel Apple Pumpkin Pie.
Feel free to add some rum raisins or cranberries soaked in Grand Marnier to the pear filling. It makes this pie even more festive and autumnal.
Of course, this Pumpkin pie recipe works just as well with store-bought pie crust.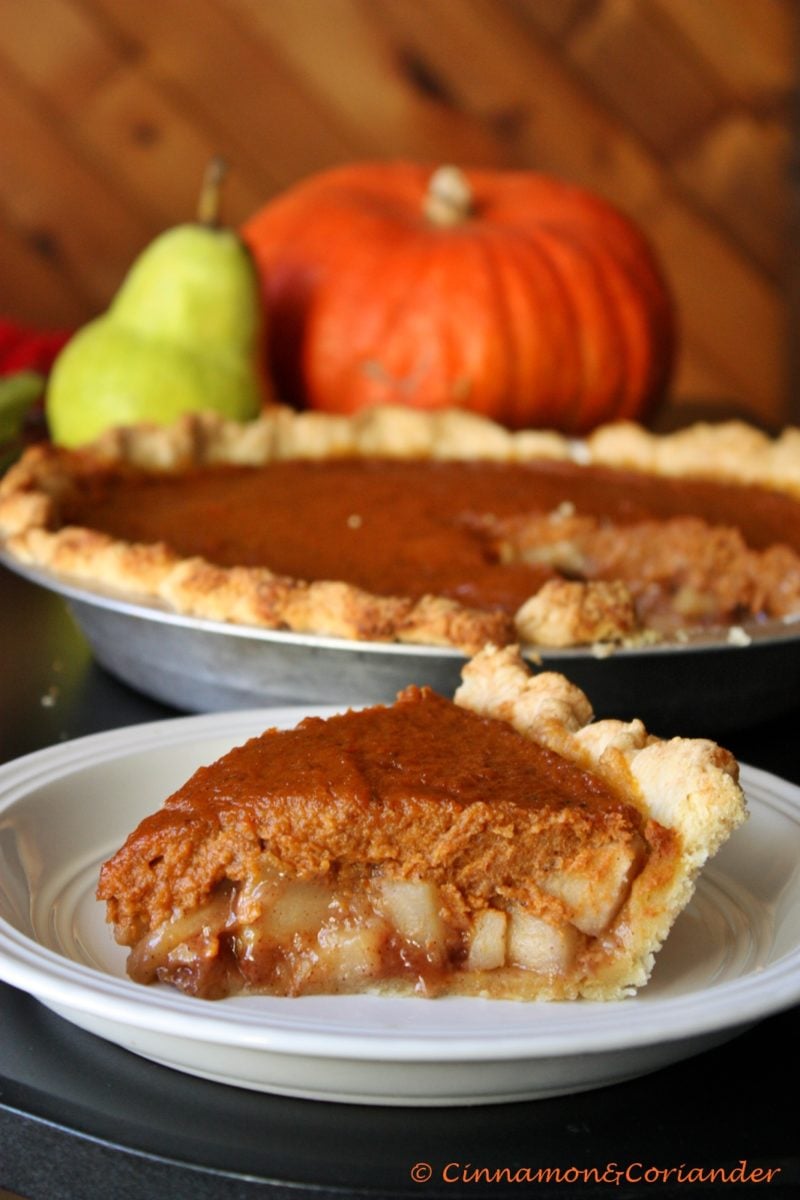 FAQ:
Can I Make this Pumpkin Pie Filling with fresh Pumpkin?
Absolutely and I actually recommend it as homemade pumpkin pie filling makes the absolute best pumpkin pie ever! All you need is one sugar pumpkin. Alternatively, you can use kabocha or Hokkaido squash! They are even sweeter and nuttier tasting than pumpkin.
Preheat the oven to 375 degrees F. Remove the stem from the pumpkin and scrape out the insides, discarding all the seeds. Cut the pumpkin or squash in half and lay the pieces cut-side down on a rimmed baking sheet lined with aluminum foil.
Rub some canola oil or coconut oil all over the skin and bake until super tender, about 1 hour. Let cool and prepare the pie crust. Scoop out the pulp from the roasted pumpkin and puree in a food processor until smooth. Done! Simply measure out 15 ounces and use as described in the recipe. Best Pumpkin Pie EVER!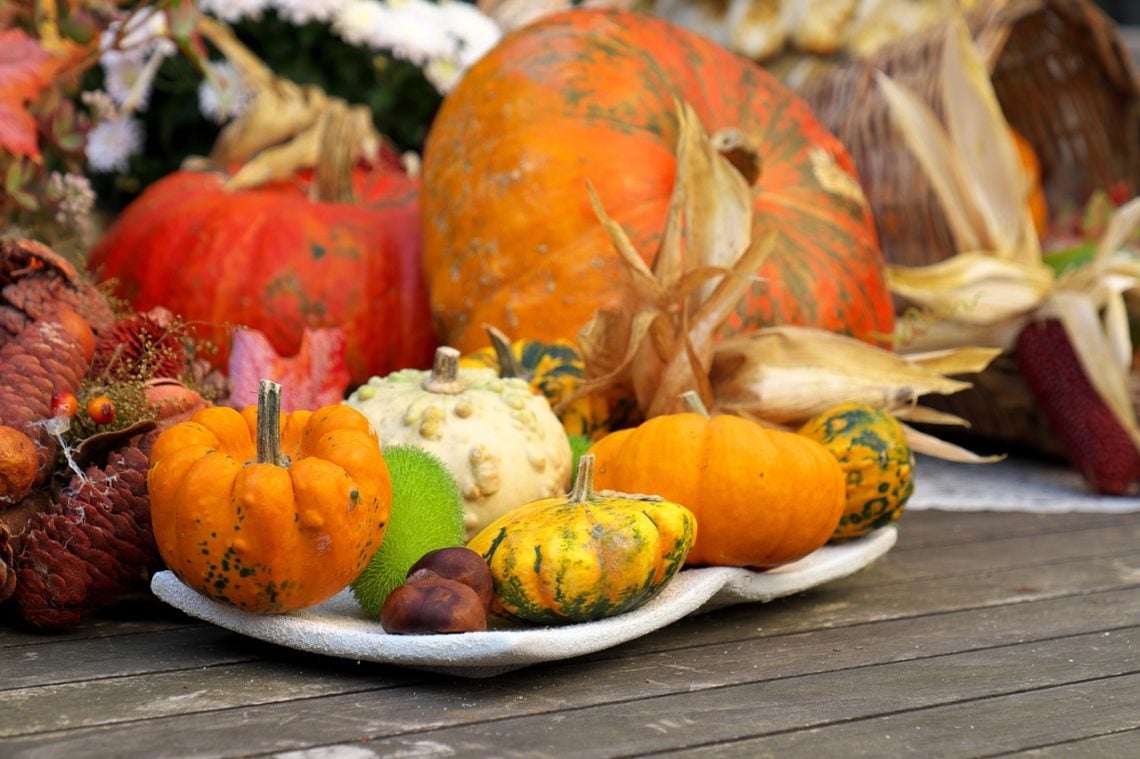 What shall I do with leftover Pumpkin Pie Filling?
I always fill my pie dish all the way to the top as it will shrink quite a bit once cooled down. Nevertheless, not all pie dishes are created equal and you might end up with too much pumpkin pie filling for one pie, but not enough for two.
Don't fret. There are great recipes for leftover pumpkin pie filling.
Pumpkin Pie Bread Pudding: Cut your favourite bread into cubes and put them into a baking dish sprayed with cooking oil. Then, pour the leftover pumpkin pie filling over the top. Let sit for 15 minutes, then sprinkle with some Turbinado sugar and bake for 45  minutes at 375 F.
Pumpkin Pudding: Pour leftover pumpkin pie filling into individual ramekins and bake them on the same setting and time as you would the pie. Top with some vanilla whipped cream or Greek yogurt sprinkle with cinnamon sugar.
Seriously, this might be the best Pumpkin Pie I've ever had! Precisely because it's so different. If you are planning on baking more than one pie, how about trying this Hawaiian Purple Sweet Potato Pie next? That said, guys, I wish you the happiest of all Thanksgivings!
Eat all the lovely food, make sure to try this lovely Caramel Pear Pumpkin Pie and let me know whether you liked it. Also, don't forget to pin the recipe to you Thanksgiving Board using this pin:
My product recommendations:
A note about affiliate links in this post: some of these links will take you to Amazon where I may receive a small percentage of sales, at no extra cost to you. 
Did you make and love this recipe and do you agree with me that it's the best pumpkin pie? Give it your review below! ? And make sure to share your creations by tagging me on Instagram!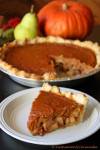 Caramel Pear Pumpkin Pie
My Caramel Pear Pumpkin Pie with a layer of caramelized pears is a fruity twist on the Classic Pumpkin Pie! The perfect pie for Thanksgiving or any other festive gathering during Pumpkin Season!
Total Time
1
hour
45
minutes
Ingredients
1

prebaked Single Pie Crust

There's a link to my recipe in the article, blind baked until just slightly golden
For the pear filling:
5-6

pears

firm

3

tbsp

butter

1

tsp

ground or 1 tbsp fresh ginger

1/4

tsp

freshly ground nutmeg

1/2

tsp

cinnamon

2

tbsp

lemon juice

1

tbsp

cornstarch

2 - 3

tbsp

apple juice

cider, or pear schnapps
For the pumpkin filling
1 15-ounce

can

pumpkin puree

1/2

cup

granulated sugar

1/4

cup

dark brown sugar

1

tsp

vanilla

1/4

tsp

cloves

1/4

tsp

allspice

1/2

tsp

cinnamon

1/2

tsp

nutmeg

1

can

evaporated milk

12 ounce

2

eggs
Instructions
Preheat the oven to 190 Celsius (374F)
For the pear filling:
Peel, core and slice the pears and toss the slices with the lemon juice.

Heat the butter on medium heat until melted and add the sugar. Let caramelize and add the pears with the lemon juice. Let cook on low heat until the pears are tender.

Mix the starch with either juice, wine or schnapps and add to the pears. If you find you fruit mixture too thick, add a bit more liquid. Let cook just until the sauce loses its cloudiness and becomes clear and shiny. Set aside in a bowl, covered with foil.
For the Pumpkin Filling
Puree pumpkin puree until smooth in a food processor, then add the brown sugar and all the spices and blend to combine. Transfer the filling to a pot and heat up until it "blobs", about 4-5 minutes total, stirring all the time.

Set aside and whisk in the evaporated milk. In a separate bowl, mix the eggs together with a fork and add a couple of tbsp of the hot pumpkin mixture to bring the egg to temperature. Whisk the eggs into the pumpkin mix.

Take your prebaked pie Crust and sprinkle with a tbsp of sugar and flower. Spread the pears on the pie crust and pour the Pumpkin Filling on top.

Put the pie into the oven and reduce the temperature to 170 C (338 F). B

Bake the pie at for about 1 hour, checking once in a while to see how quickly it is setting. You want to take it out as soon as the pumpkin filling is set and starts to puff up but doesn't crack.

Let the pie cool completely before cutting into it.