Dieser Beitrag ist auch verfügbar auf:

Deutsch (German)
Try this traditional German Plum Custard Tart with Streusel topping and a quick shortcrust pastry – an easy Rustic Plum Crumble Pie recipe that is simple to make! Vegan and glutenfree option included Jump to Recipe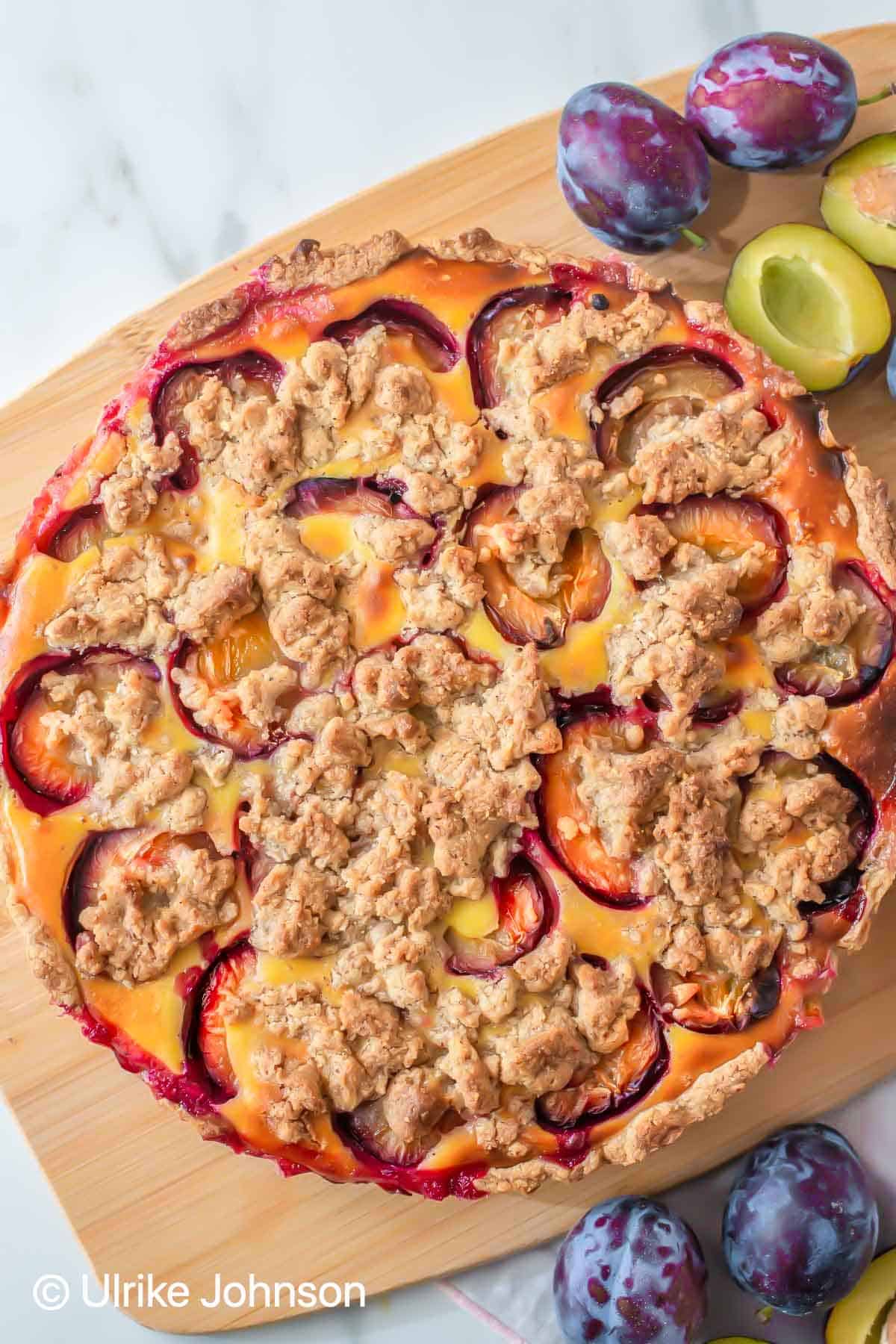 This rustic German plum custard tart with streusel topping is just the thing to bake during late summer and early fall when plums are in season. While the traditional German plum pie recipe asks for Italian prune plums, any plum will work. However, prune plums are the best choice if you want this to be authentic.
This easy plum custard pie with streusel topping is something I grew up eating in Germany. My granny would throw this together using oblong Italian prune plums from her garden!
My favorite plums for baking are the Italian plums, sometimes called Empress plums or prune plums. I use them making my granny's simple German Plum Cake and this Plum crumble cake without yeast. Baking brings out extra layers of flavor and sweetens and smooths over any imperfections in ripeness or texture.
This German plum custard tart recipe starts like any German pie – with a sort of mood, a simple foolproof easy shortbread tart crust. This crust is the easiest pie dough you can imagine. It does not have to chill to rest, and does not have to be rolled out. You simply mix together the ingredients, press some into your tart dish, and save some for the crisp and buttery streusel topping.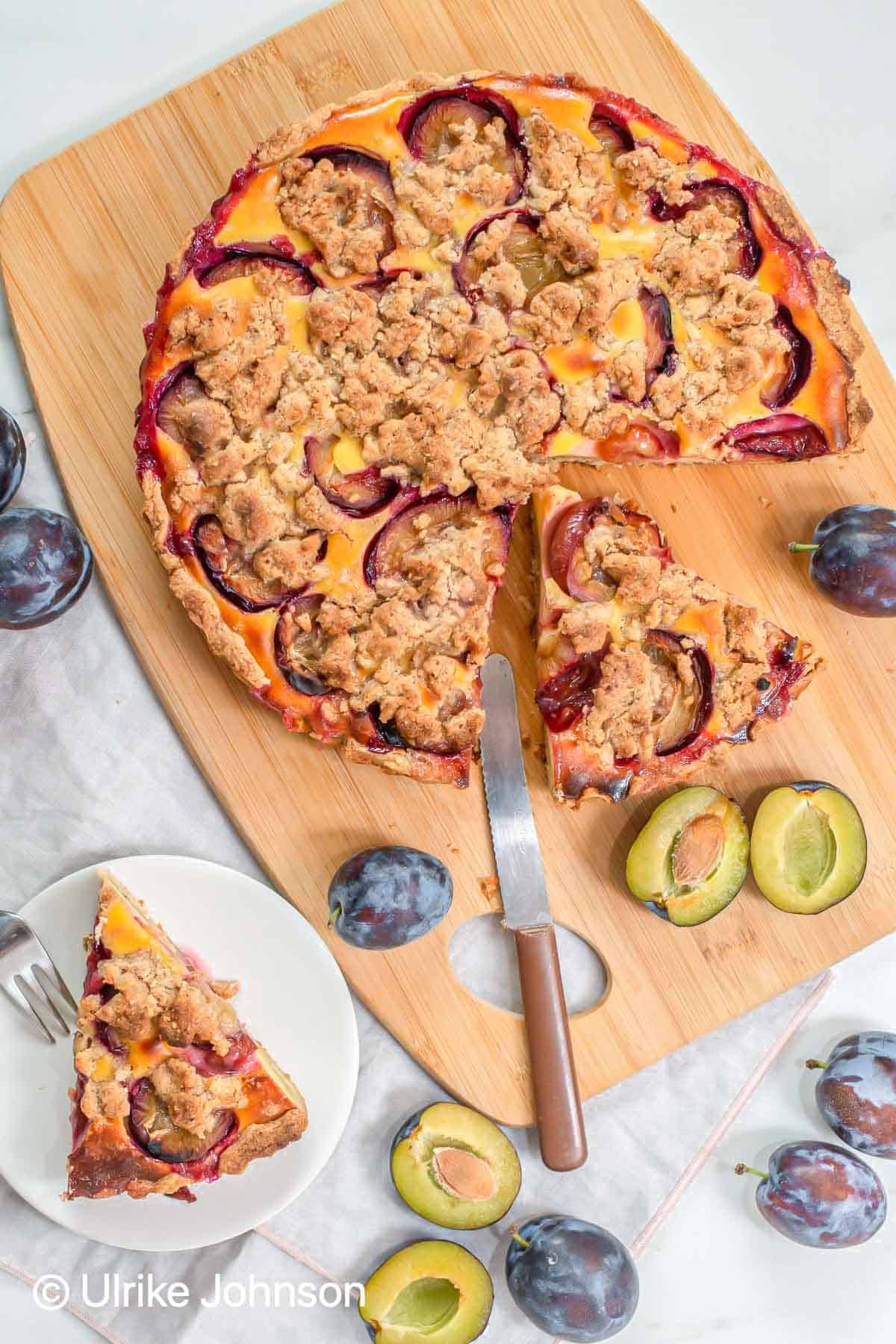 I add a pinch of cinnamon to the shortcrust pastry and streusel dough! The cinnamon goes so well with the plums and just feels like comfort to me! The orange zest we add to the vanilla custard is purely optional but I find it wakes everything up and plays well with plums and cinnamon.
How to make German Plum Custard Tart
Make sure your butter is room temperature. Simply mix all ingredients for the batter and streusel and press 2/3 of the batter into the mold. Pinch the rest of the batter into streusel using your fingertips and place it into the fridge.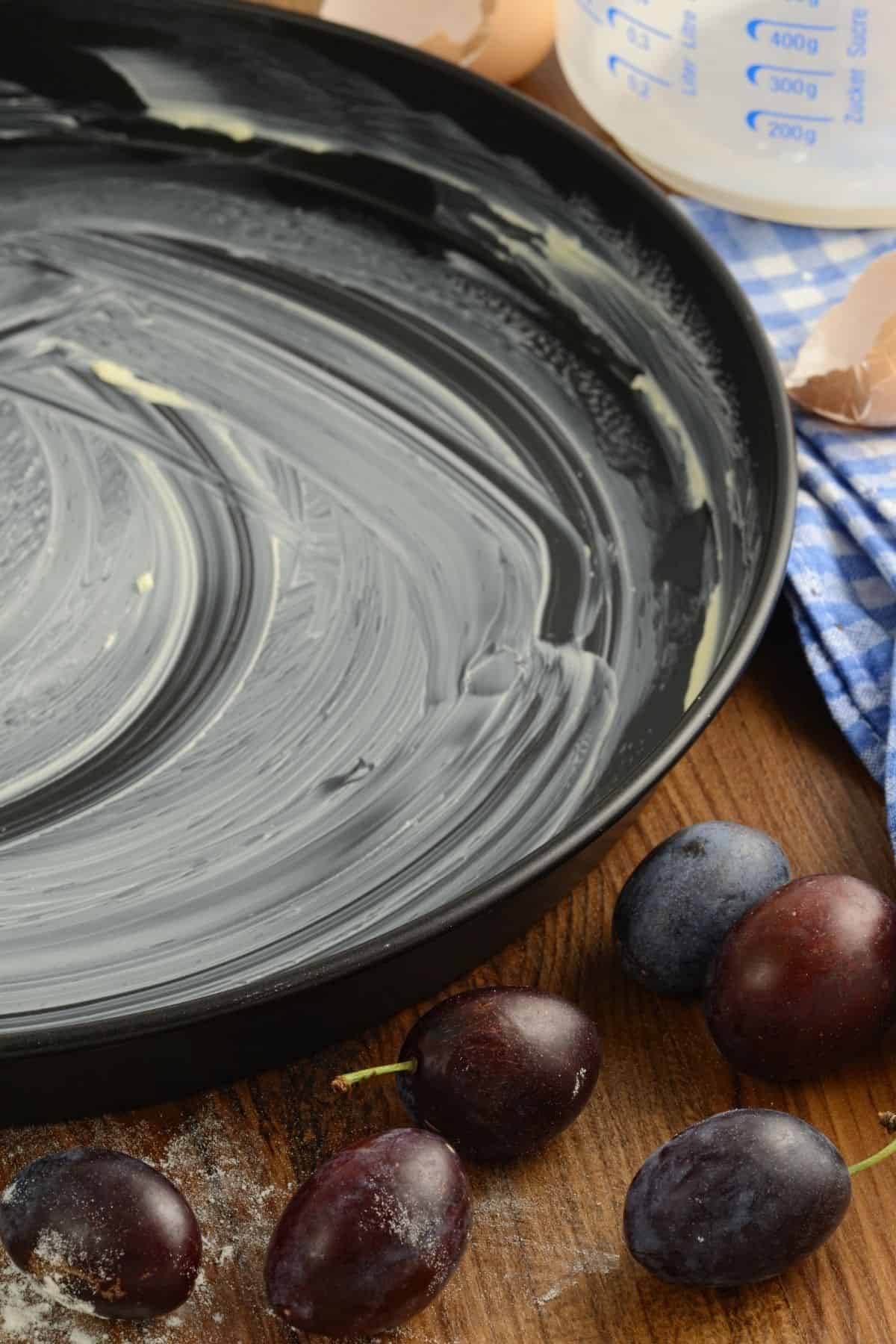 Make the custard my stirring together cornstarch, some milk, sugar and vanilla bean paste or real vanilla. Heat the rest of the milk, add the slurry and let cook until thickened. Stir in the creme fraiche or cream cheese and let cool down before pouring into the tart shell.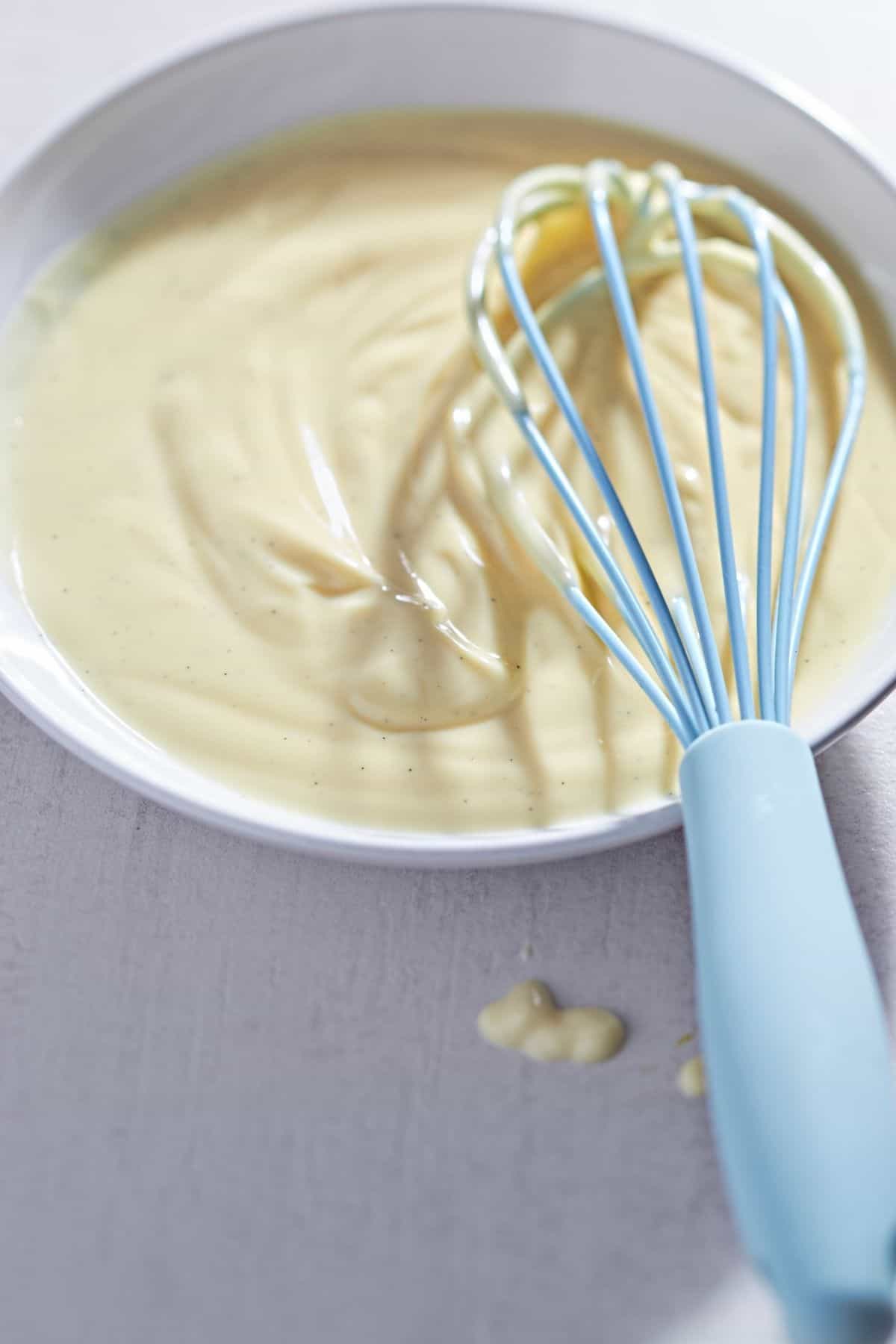 Arrange the plums in the tart crust sticking them into the custard. Top with streusel and pop into the oven for about 40 minutes. Now the plums will bake into sweet caramelized perfection and the vanilla custard will bake into a nice creamy-but-sliceable dream.
Storage:
It's best on the day that it's made, but it keeps well, in the refrigerator, for a couple of days. The crust will soften a bit under the custard, but it will still be delicious.
And I think you're going to love this.
Tips:
When shopping for Italian prune plums you should make sure that the fruits are ripe, firm, but not hard.
If the plums give off a lot of juice when they are pitted, it is best to place them in a sieve to drain until the cake batter is prepared.
And I recommend slicing this tart with a sharp chef's knife rather than a pie server, just so that you can go cleanly through the plum skins, which are tender to eat but sometimes snag on dull implements.
This tart recipe can be made vegan by using vegan butter or margarine instead of butter and plant-based milk for the custard. The creme fraiche can be left out.
More traditional German Cake recipes you will love:
More plum cake and plum dessert recipes:
★ Did you make and love this German Plum Custard Tart recipe? Give it your review below! And make sure to share your creations by tagging me on Instagram!
Rustic German Plum Custard Tart with Streusel & Shortcrust Pastry
Try this traditional German Plum Custard Tart with Streusel topping and a quick shortcrust pastry - an easy Rustic Plum Pie recipe that is simple to make! Vegan and glutenfree option included 
Ingredients
1

pound

plums - prune plums

1 3/4

cups

/ 400 ml whole milk or plant-based for vegan

4 1/2

tbsps

cornstarch

40 g

3

tbsp

sugar

1

tbsp

vanilla bean paste or 1 vanilla pod

scant 1/2 cup / 100 ml / 100 g creme fraiche or cream cheese

1

tsp

orange zest

4

cups

500g all purpose flour

you can use gluten-free

1

teaspoon

cinnamon

1

cup

- 250 g soft butter

1 1/4

cup

- 250 grams of sugar

salt

Pinch

of baking powder
Instructions
Set aside 1/2 cup of milk and bring the rest of the milk to the boil. If using real vanilla, scrape out the seeds and add the pod to the milk as well. While the milk is heatin, mix the cornstarch with 1/2 cup of the milk, adding the 3 tablespoons sugar and 1/4 teaspoon salt as well as vanilla bean paste or the seeds of 1 vanilla bean. Stir this slurry into the hot milk, bring to the boil whisking, and let bubble for about 2 minutes, stirring constantly, then remove from the stove. Stir in the creme fraiche and orange zest and let cool.

Preheat the oven to 350 F / 175 C and grease a 9 pinch tart pan or springform pan with removable bottom. Wash and core the plums and cut in halves or quarters

With a handheld mixer or in your standmixer, quickly mix the butter with the sugar, flour, cinnamon, a pinch of baking powder and 1/4 teaspoon salt to form a crumbly streusel dough. It should not come together but form streusels. That's totally fine!

Dump 2/3 of the shortcrust dough in a 9 inch parchment-lined springform pan or a tart pan with removable bottom and press down to form a crust. Press dough up the sides as well. Spread the cooled custard on top, cover with the quartered or halved plums and sprinkle everything with the streusel topping.

Bake the tart at 175 ° / 350 F for about 40 minutes. Cool on a wire rack! Let it cool down completely before slicing.
Recipe Notes
Tips for extra crispy crumble topping:
Shortly before the end of the baking time, moisten the streusel with ice-cold water. I use a spray bottle for this! The temperature shock ensures that the streusel topping turns extra crispy and has a golden brown color. For extra crunch, I sometimes add chopped almonds to the streusel dough.