Dieser Beitrag ist auch verfügbar auf:

Deutsch (German)
Today I share with you my family recipe for a real German Classic: A festive showstopping German Marzipan Hazelnut Cake filled with Hazelnut Buttercream and Sour Cherry Jam. A nut lover's delight !!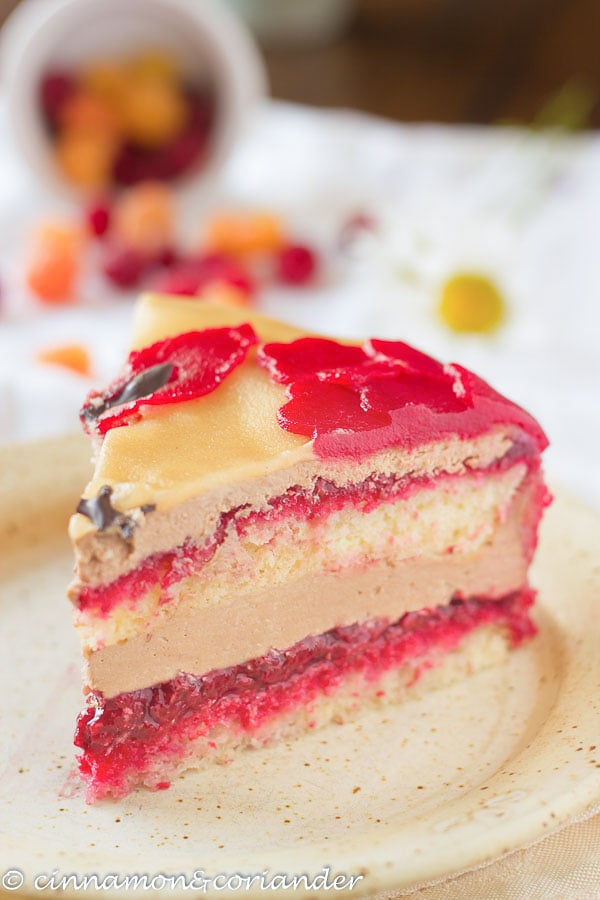 Germans love baking with nuts. We use them in a lot of our everyday bakes. And, of course, whenever there's a festive occasion someone is bound to show up with a big old Nusstorte – a proper Nut Cake.
In fact, the degree of festivity is in direct proportion to the amount of nuts used in the cake. And there's gotta be marzipan, too. In the English speaking world, the term torte is usually associated with a cake with a nut-based sponge using little to no flour.
In German, though, a torte is simply a festive cake. The fancy version of a Kuchen (simple, everyday cake, often what you guys would call a bread)! With this being a German Style Torte, we do NOT use any nuts for our sponge.
In fact, it is a classic German Sponge Cake. The rest of the marzipan hazelnut cake, however, is crammed with nuts.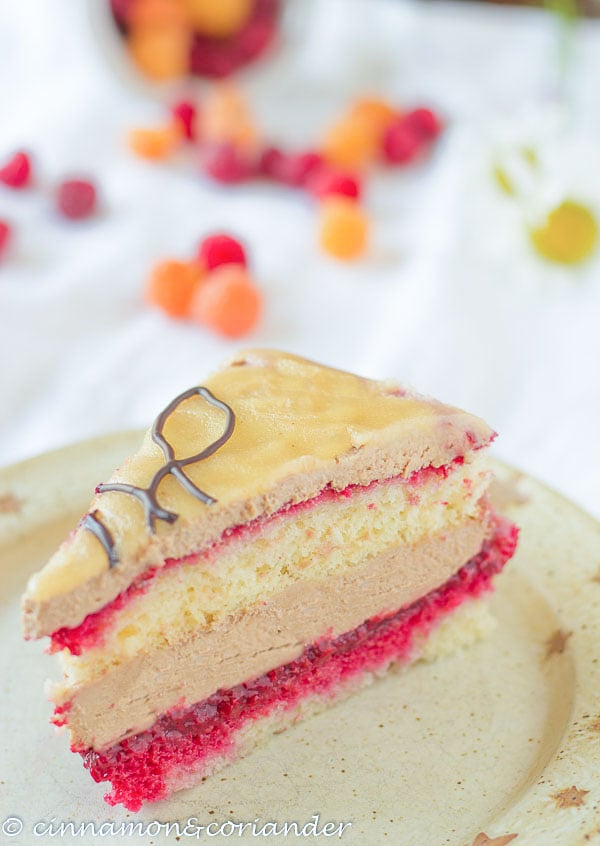 I actually make this jam-filled marzipan hazelnut cake for festive occasions only as it is so very very special! But have I actually ever gotten around to dedicating it a photoshoot? No!
Even with being a food blogger (and my family is usually really understanding), I can't serve a birthday boy or girl a birthday cake with several pieces missing. You also cannot let him/her blow out the candles and then take it away again to take 60 pictures from different angles.
So what you see here is actually me sneaking off with my piece of cake and taking a sneaky picture of it in the kitchen. On several occasion. So above you see a version using homemade raspberry jam. Below just a thin layer of cherry jam.
I have, however, managed to make a recipe video for you guys which will make this German hazelnut buttercream cake recipe so easy for you!
This showstopping Marzipan covered German Hazelnut Cake is a combination of all my favorite baking ingredients! First, there's Nougat!
What is German Hazelnut Nougat and where do I get it?
Nougat is not the same as the sugary candy with nuts you might think of here! I am talking about German Style Nougat made from hazelnuts, chocolate, and sugar!
Its a smooth slice-able block of heaven! You can order it online or look for it at the European Deli! Or try making it yourself! Over at my recipe post for German Chocolate Hazelnut Cookies, I included a recipe.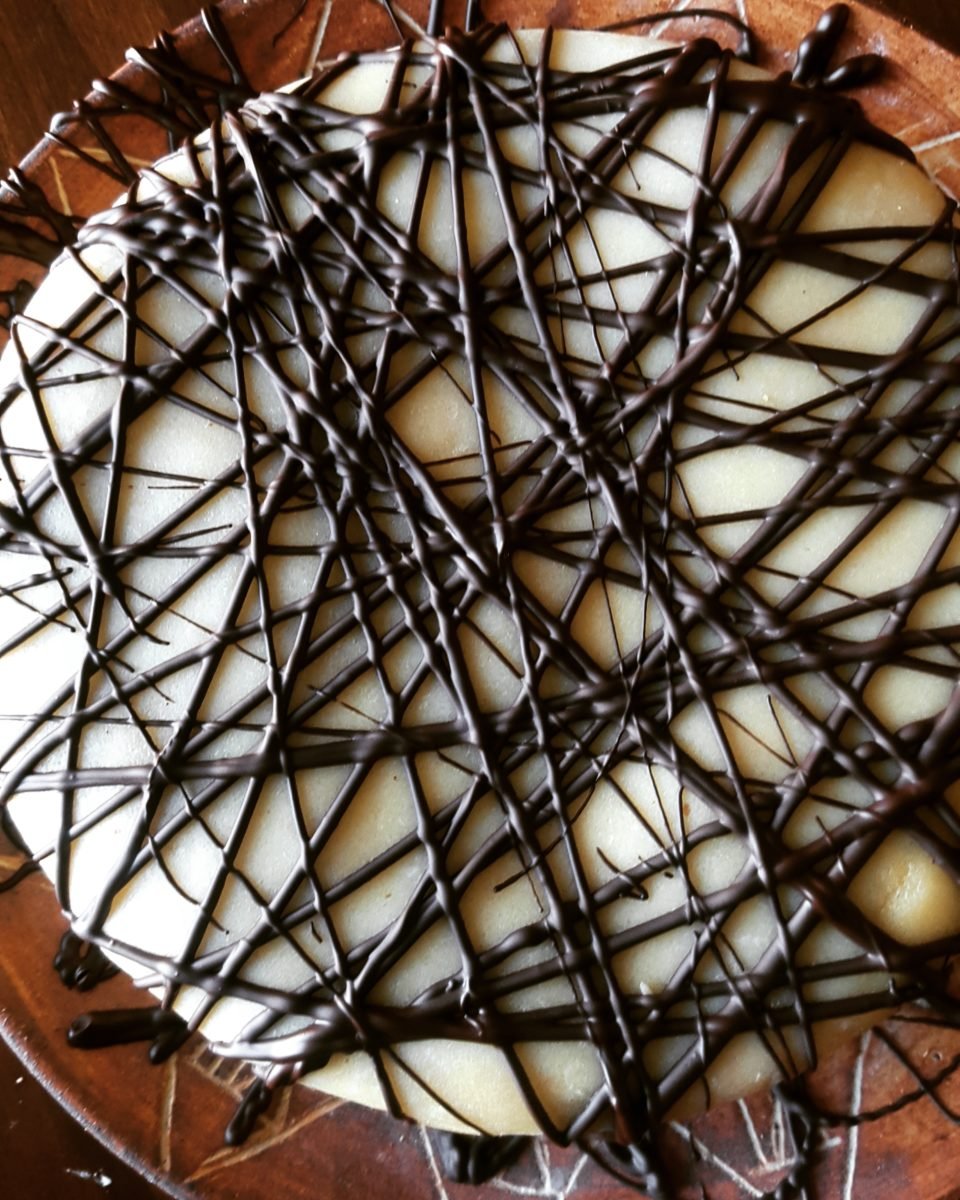 The cake filling is a German Style Hazelnut Buttercream, which is custard based and therefore a lot lighter than the American version.
It gets its hazelnut flavor from above-mentioned Nougat. And yes, you CAN substitute it with Nutella! It won't taste as good as with real nougat but it's better than not baking the cake at all!
To add a bit of a tang to my filling I also like to add some cream cheese to the Hazelnut Buttercream!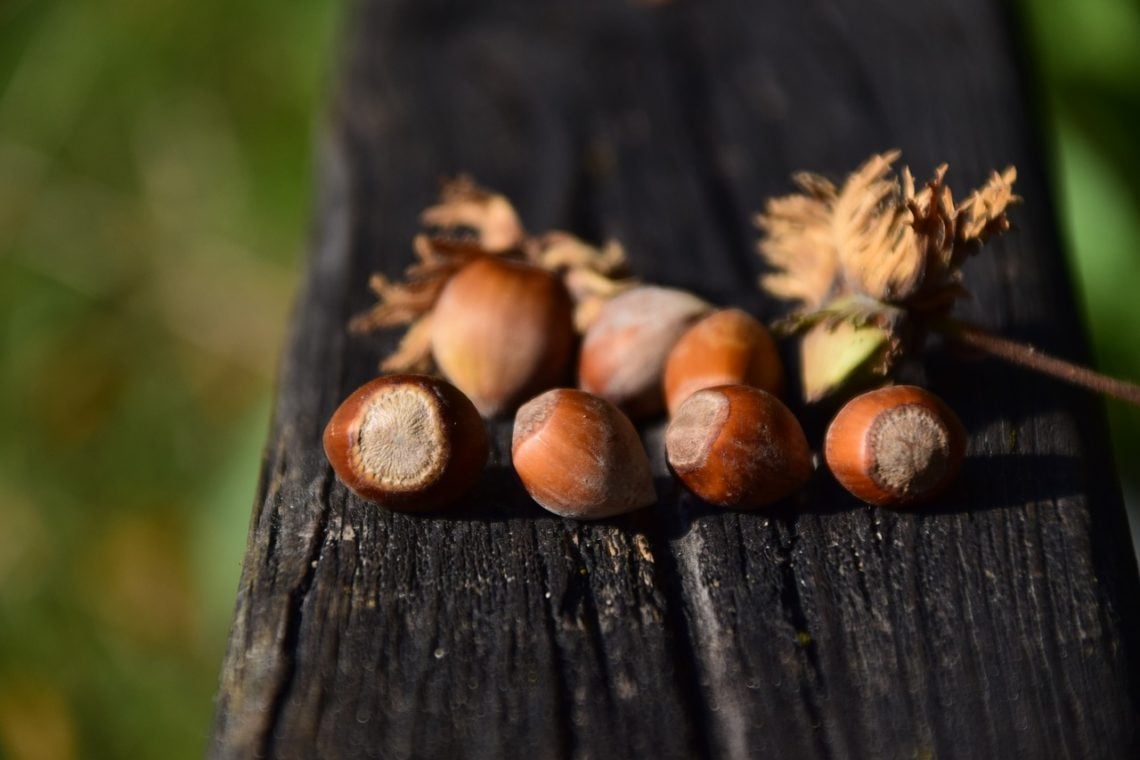 Want to know my secret for a super moist sponge cake?
Here it is, Rum! Yes, in Germany, we soak our sponge with a splash of booze when we assemble our cakes and your German Marzipan Hazelnut Cake will definitely benefit from this!
I like to use a mix of rum and orange juice to do that. Also, remember to take your butter out of the fridge hours before you bake the cake! It has to be very soft and at the same temperature to make sure your Hazelnut Buttercream does not curdle!

I really hope you give this Marzipan Hazelnut Cake a try ! I am sure you will simply love the flavor and the timeless look of this German Cake Classic!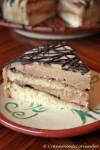 German Marzipan Hazelnut Cake
Today I share with you my family recipe for a real German Classic: A festive showstopping German Marzipan Hazelnut Cake filled with Hazelnut Buttercream and Sour Cherry Jam . A nut lover's delight !!
Ingredients
For the custard
220

ml

+ 3 tbsp milk

1

tbsp

sugar

20

g

cornstarch or vanilla custard powder

2

tsp

vanilla essence

1 long vanilla bean
For the sponge
4

eggs

separated

100

g

sugar

1

tsp

vanilla essence

40

g

cornstarch

60

g

flour
For the hazelnut buttercream
150

g

Nougat (see notes)*

or high quality hazelnut spread

75

g

softened butter

120

g

cream cheese

at room temperature

50

ml

rum

mixed with 100 ml orange juice

6

tsps

sour cherry jam

or raspberry
Decoration
150

g

marzipan

80

g

dark cocolate

powdered sugar

cling film

parchment paper
Instructions
For the custard
If using a vanilla bean, halve it and scratch out the seeds. Pour milk into a pot, add the vanilla pulp (or essence) and 1 tbsp of sugar. Bring to a boil. Add 3 tbsp of milk to the cornstarch and stir to get a smooth slurry. Add the slurry to the boiling milk and let cook for 1 minute on low heat, stirring constantly. Take off the heat, pour into a bowl and cover with cling film. Let cool to room temperature.
For the sponge
Preheat the oven to 350 F or 175 C

Separate the eggs and whisk the whites with 100 g of sugar until stiff. Add in the vanilla and the lightly whisked egg yolks. Fold carefully to combine using a rubber spatula. Mix cornstarch and flour and sift on top of the egg mixture. Fold into the light egg mix without deflating the batter. Pour batter into a 20 cm springform and bake at 350 F or 175 Celsius for about 20 minutes. Take out of the oven, remove the springform and let the sponge cool on a cooling rack.
For the hazelnut buttercream
Melt Nougat or hazelnut spread over a baine marie and let cool down. With your whisk attachment whisk butter until light and fluffy and slowly add the cream cheese in small additions. Add the cooled down Nougat in small additions while continuing to whisk on low speed. Add the custard, a tbsp at a time, and continue whisking just until smooth.

Cut the sponge horizontally and put the bottom half on a plate or cake stand. Brush the bottom layer with half of your soaking liquid and spread half of the cherry jam on top, then 1/3 of the hazelnut buttercream. Lay the second sponge on top and repeat. Put the cake in the fridge for about 1, 5 hours.

Roll out marzipan in a surface dusted with powdered sugar. You are aiming at a circle of 27 cm Ø. Chop the chocolate and melt over a water bath. Cover the sides of the cake with the rest of the buttercream and put the marzipan on top, smoothing it out around the edges with your hands and cutting off the excess at the bottom. Decorate with the molten chocolate using a piping bag to create a "chocolate web" on top of the marzipan.

Store at room temperature if you want to eat it the same day. If stored in the fridge, make sure to take it out about 2 h before you eat it.
Recipe Video
Recipe Notes
* you can order nougat online or ask for it at the European Deli. If you can't find it, make it yourself using my recipe in this post. Alternatively, you can use nutella or a high-quality hazelnut spread