Dieser Beitrag ist auch verfügbar auf:

Deutsch (German)
A note about affiliate links in this post: some of these links will take you to Amazon where I may receive a small percentage of sales, at no extra cost to you
We are a family of citrus lovers and when it comes to dessert, there's nothing we enjoy more than a nice lemon tart or pie. My mother in law makes this incredible lemon tart. Perfecting "The Lemon Tart "  recipe was a real family project back then, involving a lot of trial and error as well as some serious kitchen espionage. Ever since I am part of this family the dessert position is now often delegated to me. And while they do enjoy my German recipes, there's nothing more appreciated than a nice lemon pie. And if I do go there, it had better be really good.
I dare say that I've gotten quite good at making a seriously lush and zesty lemon curd so I decided to make this curd the star of this summery take on Lemon Pie. There's something magical about the combination of butter, sugar and lemon juice – it's just like spreadable sunshine and works almost like a mood elevator.
This bright, zesty and refreshing Lemon Curd Mousse Pie starts with a smooth, easy to make lemon curd which we will incorporate in our cloud-like mousse. The rest of our heavenly curd will be used up as a topping, so no leftovers there! Making curd from scratch might sound like a lot of work but I promise you it's completely worth it. It has so much more flavour than the store bought one!
There are three pretty straightforward elements to this dessert: a cinnamon spiced graham cracker crust, the lovely lemon curd, and the lemon curd mousse. In this recipe, I use my favourite graham cracker crust. I like my crust to not crumble into a million crumbs when cutting into the pie and this crust has never disappointed me so far. To achieve this I like to add a bit more butter to my cookie crumbs. After baking, I press the still hot and slightly puffed up crumb crust into the mould once again to have it nice and firm when cutting the pie into pieces. Also, I like to add a pinch of salt and a hint of cinnamon as I find it helps the bring out that homey flavour of the graham crackers.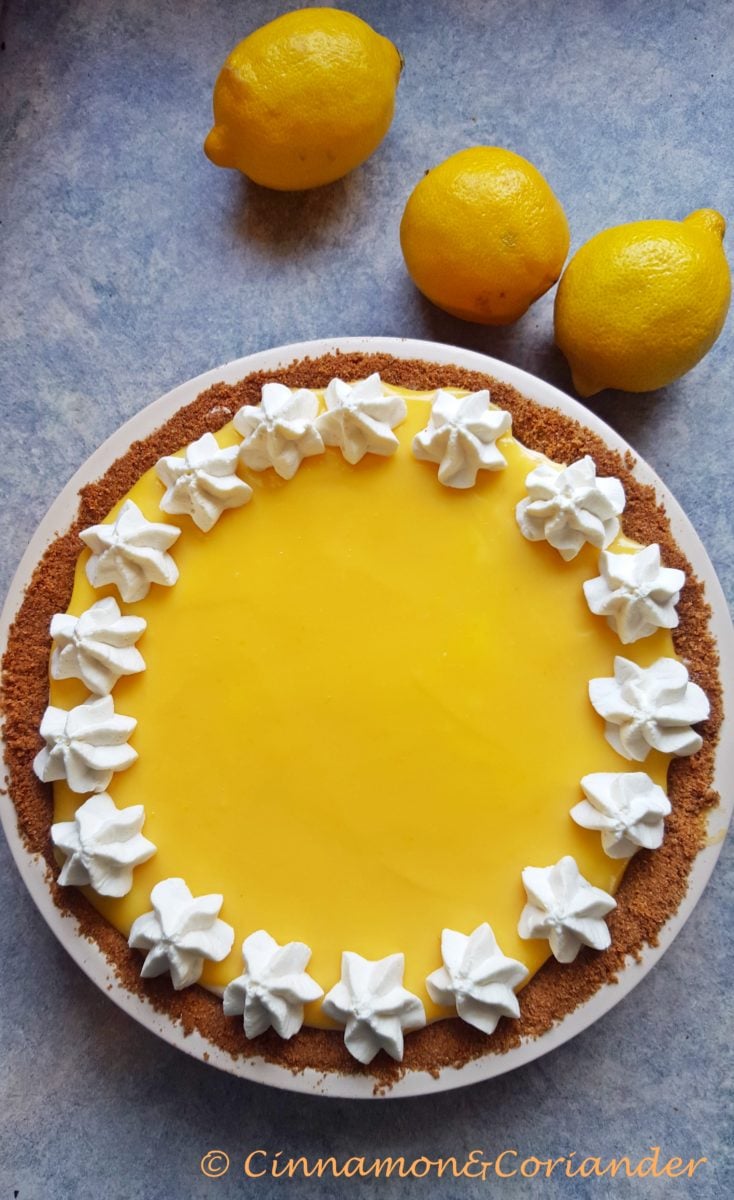 Let's talk about the lemon mousse. Once you've made the lemon curd, all you have to do is fold it into some whipped egg whites and cream. Sounds easy, right? Note that this recipe uses raw egg whites!  By using whipped egg whites in the mousse we save a lot of calories, so this Lemon Curd Mousse Pie is clearly not only one of my best but also one of my healthier desserts!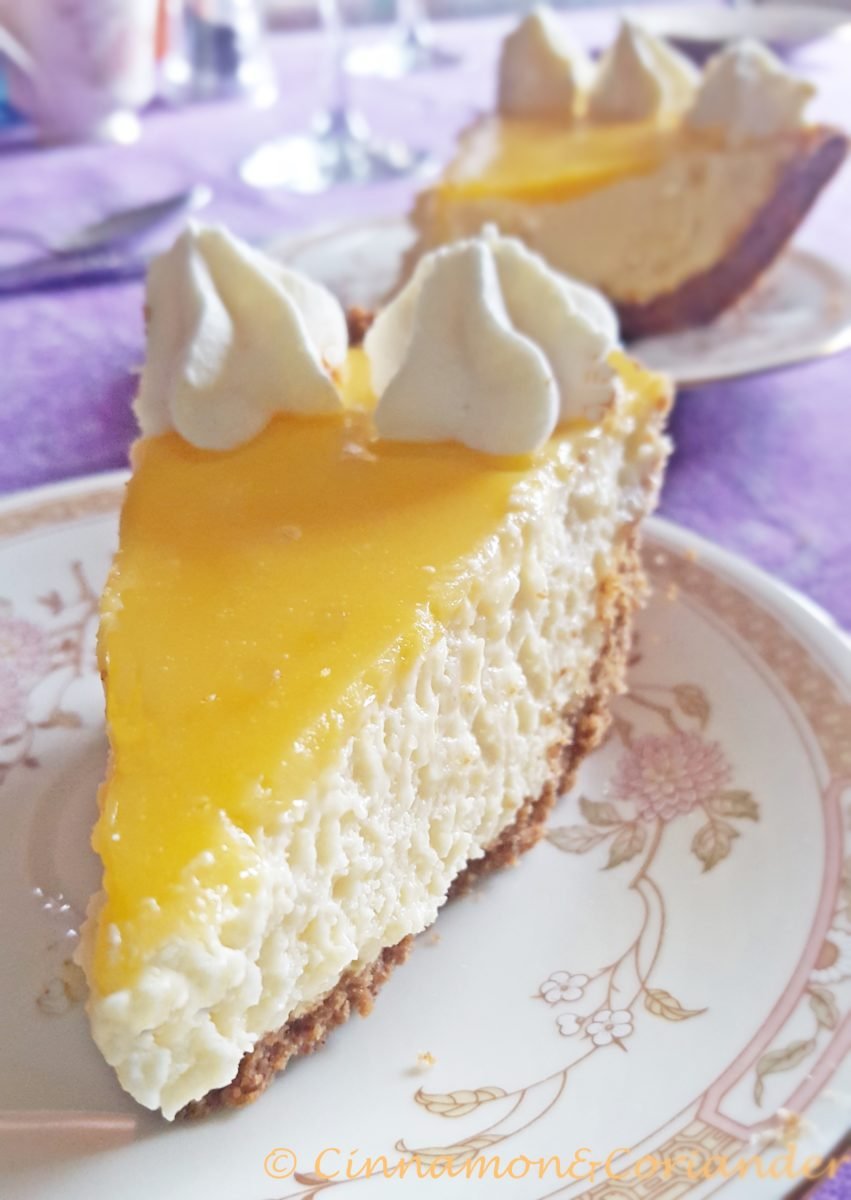 Now, this Lemon Curd Mousse Pie is what I call an easy show stopper! Make it for your next dinner parties and be prepared to be asked for the recipe!
A note about affiliate links in this post: some of these links will take you to Amazon where I may receive a small percentage of sales, at no extra cost to you
Lemon Curd Mousse Pie
A zesty, light and bright Lemon Mousse Pie with Lemon Curd and a Graham Cookie Crust ! A must-bake for lovers of citrus desserts.
Ingredients
Recipe for a 9 inch pie pan

200

g

graham cracker crumbs

120

g

salted butter

melted

2

Tbsp granulated sugar

pinch of salt

1/2

tsp cinnamon

For the filling

115

g

butter

250

g

sugar

230

ml

Lemon juice

2

Tbsp lemon zest

4

eggs L

4

egg yolks

30

g

cornstarch

2

tsp gelatine

4

egg whites

230

g

whipping cream
Instructions
Grind the crackers in your food processor. Stir in the sugar, salt and cinnamon. With the blades running, pour in the melted butter. Your mix should resemble wet sand and stick together.

Pour the mix in your pie pan and press the mixture into the bottom of the pan and up the sides. To make sure it is tight and nicely compact use the bottom of a flat measuring cup. Bake the crust for 8 minutes at 180 or 10 minutes at 160. I sometimes press the slightly puffed up crust back into the mold gently to make it tighter. Let it cool completely before filling.

For the curd heat butter, 150 g of sugar, lemon juice and zest in a pot until the sugar is fully dissolved and the mix is hot but not boiling. In another bowl whisk the strach, the eggs and egg yolk and pour the lemon mix into the eggs, stirring well. Pour the mix back into the pot and heat it up while stirring vigorously until the lemon cream thickens. Remove from heat, pass the curd through a sieve, cover the surface with foil and cool in a bowl for at least an hour.

Combine the gelatine with 3 Tbsp of water and let stand for 5 minutes. Dissolve on low heat and stir in 1 1/2 cups of lemon curd into the dissolved gelatine. Beat the egg whites, adding 100g of sugar as you bring them so a medium stiff peak. Carefully combine curd and egg whites with a spatula. Try not to deflate the mousse as you fold the curd into the whites. Beat the cream until stiff and fold it under the mousse as well.

Pour the mousse into your cooled crust and top with the remaining lemon curd.

Cool your pie for at least 3 hours and decorate with cream tuffs before serving.
Like my recipe for Lemon Curd Mousse Pie? Pin it!