Dieser Beitrag ist auch verfügbar auf:

Deutsch (German)
Try this Croatian Cupavci recipe- Sponge cakes soaked in chocolate sauce, then dipped in unsweetened, shredded coconut. This is a popular Croatian sweet that is especially great for Christmas and the holidays. Jump to Recipe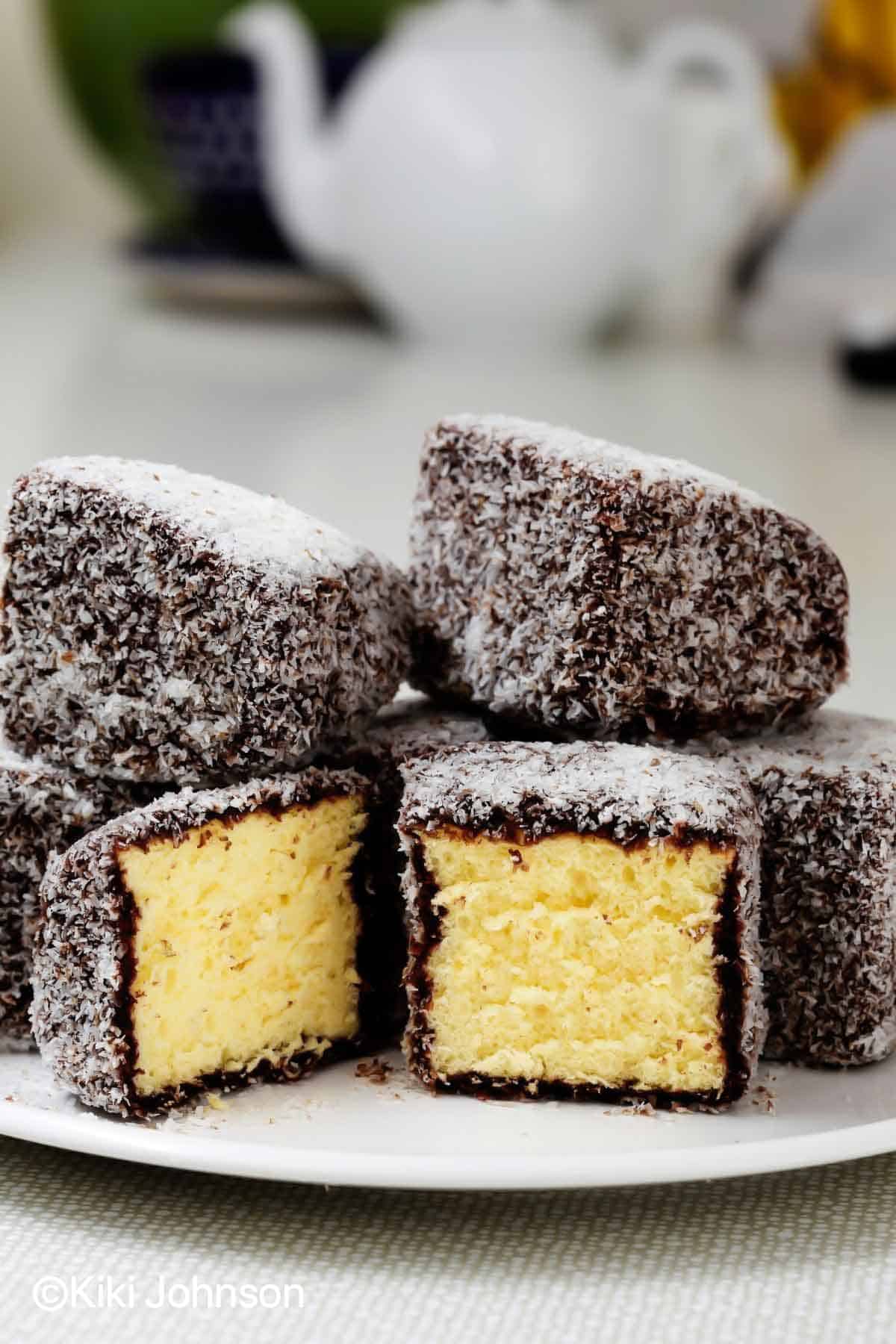 Čupavci are a traditional Croatian dessert – think of them as the European version of the famous Australian Lamingtons. Čupavci are a light and fluffy sponge cake dipped in chocolate sauce and covered with shredded coconut. Simple yet special and perfect for the holidays.
These chocolate coconut cubes are of my favorite desserts from my childhood as my German grandma made them each Christmas. I'm totally crazy about coconut in every shape and form. Did you try my Vegan Bounty Bliss Balls and my Coconut Ice Cream?
While Lamingtons tend to have some jam filling in the middle, this traditional Croatian čupavci recipe skips the filling.
What are Čupavci ?
Čupavci means "furry" because of the fuzzy appearance of the shredded coconut coating. Čupavci are a traditional Croatian sweet served at weddings, kids' birthdays and other festive occasions. For some, the Christmas table is not complete without these chocolate coconut bites.
Other popular desserts at Christmas in Croatia are Madjarica, povitica, ravioli-shaped cookies, cherry strudel and Fritule – small boozy doughnuts. I love making all of those things at home.
What makes this Cupavci recipe especially good?
These little cakes are light and airy and stay moist for days. For that perfect texture, a chiffon batter is made using oil, not melted butter. And that perfect airiness is achieved by stiff meringue that is folded into the base mixture.
Storage:
They can last for 3-4 days.
Yes, it's possible to freeze the cupavci, just cover them with foil and put them into the freezer, and when you want to eat them, take them out and leave them at room temperature for a few hours, and you have a ready to eat snack.
For fans of chocolate and coconut, you might also want to try my Australian Lamingtons recipe.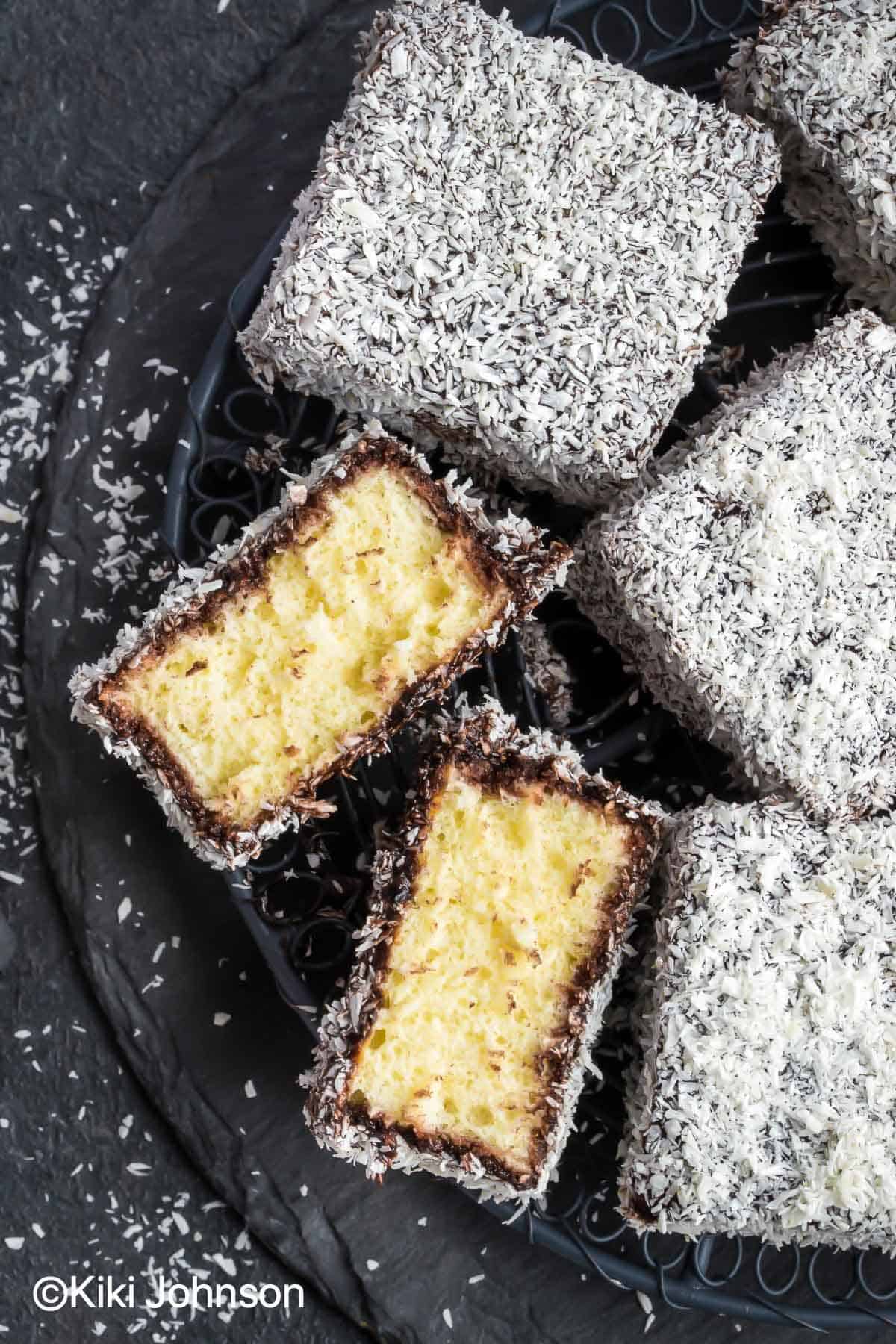 More European Christmas recipes
★ Did you make and love this traditional Cupavci recipe ? Give it your review below! And make sure to share your creations by tagging me on Instagram!
Croatian Cupavci Recipe
Let's make traditional Croatian Cupavci - European version of the famous Australian Lamingtons. Čupavci are light and fluffy sponge cake cubes dipped in dark melted chocolate sauce and covered with coconut. Simple and tasty, perfect for the holidays
Ingredients
Sponge cake
3

eggs

150

g

sugar

3/4 cup

100

ml

oil

6 3/4 tablespoons

100

ml

milk

1/2 cup

130

g

all-purpose flour

7/8 cup

10

g

baking powder

2 teaspoons

Pinch

of salt
Chocolate sauce
250

g

dark chocolate

10 oz

250

g

butter

0.5 pound

200

ml

milk

1 cup
Extra
300

grams

desiccated coconut

4 cups
Instructions
Separate egg yolks and whites and mix whites in a firm airy foam

Mix egg yolks and oil with the sugar. Combine flour and baking powder and add in along with the milk. Add a pinch of salt and gently stir in the egg whites using the spatula

Pour the mixture in a baking tray and cover it with parchment paper and bake in a heated oven (180°C/350°F) for 20 minutes

Leave the sponge cake to to cool down and then cut it in the same size pieces. I have cut my cake into little cubes but feel free to do rectangles as you like

Melt the chocolate with butter and milk to get a sauce

Quickly dip all sides of the cake squares into chocolate, then roll them in coconut. It gets a little messy, but the results are worth it