Dieser Beitrag ist auch verfügbar auf:

Deutsch (German)
A delicious gluten-free Chicken Pesto Pasta Salad recipe that combines grilled chicken with the vibrant flavors of homemade pesto. This easy-to-make recipe is a perfect choice for a quick and satisfying meal that is perfect for meal prep and tastes great the next day. Jump to Recipe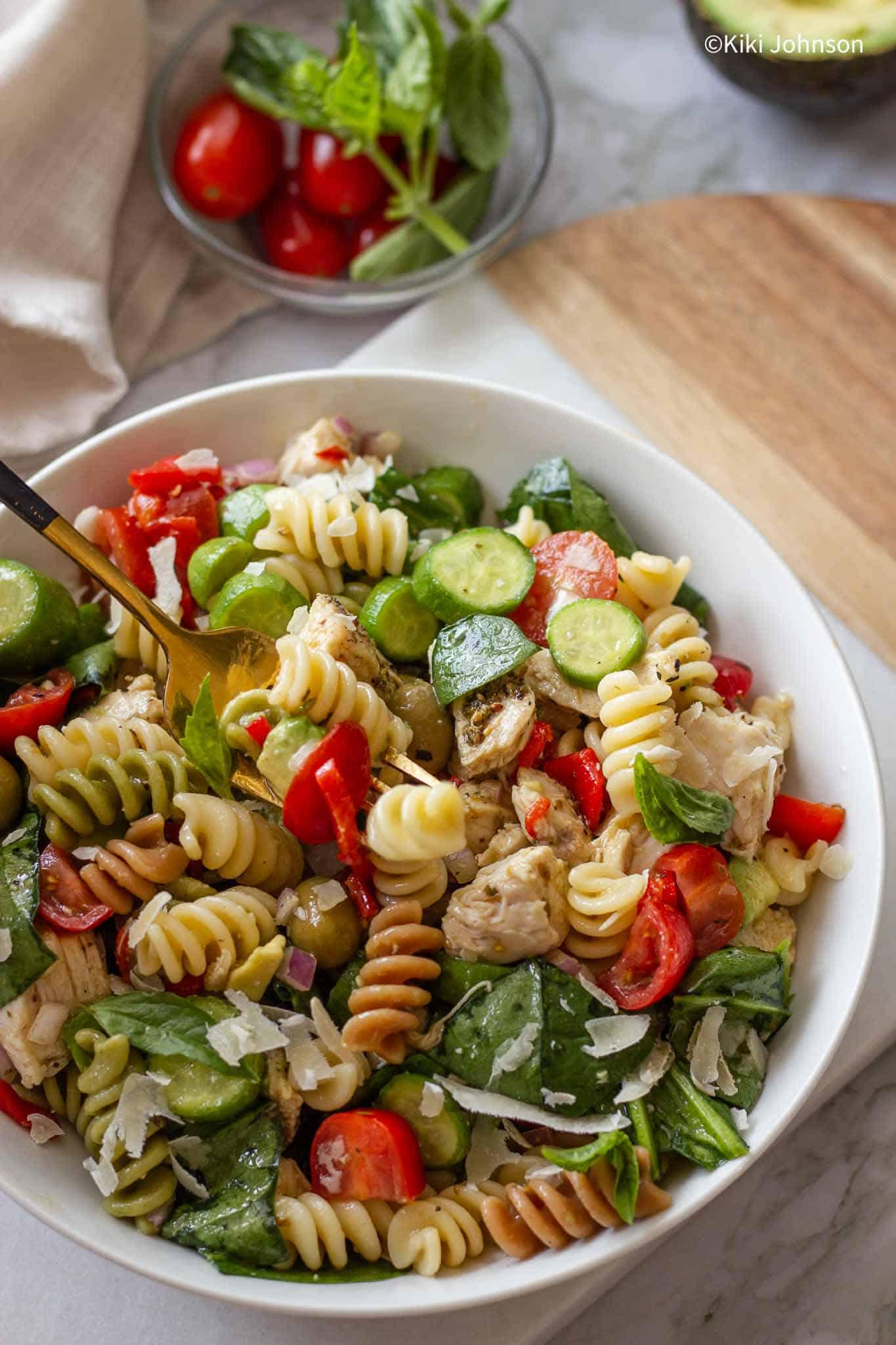 Looking for a refreshing and satisfying dish that combines the goodness of grilled chicken breast, vibrant vegetables, and a burst of flavors?
Look no further than this delectable glutenfree Chicken Pesto Pasta Salad with tomatoes, cucumbers, olives, Parmesan cheese, and grilled chicken, all dressed with a delightful and easy balsamic dressing with pesto. This recipe is a perfect choice for a light lunch, dinner, or even as a crowd-pleasing side dish for your next gathering.
The combination of tender grilled chicken, al dente pasta, and an array of fresh veggies creates a harmonious balance of textures and flavors. The star of this dish is homemade Italian Dressing aka balsamic pesto dressing.
Thanks to the added protein from the chicken this is a complete meal and my new favorite among my pasta salad recipes.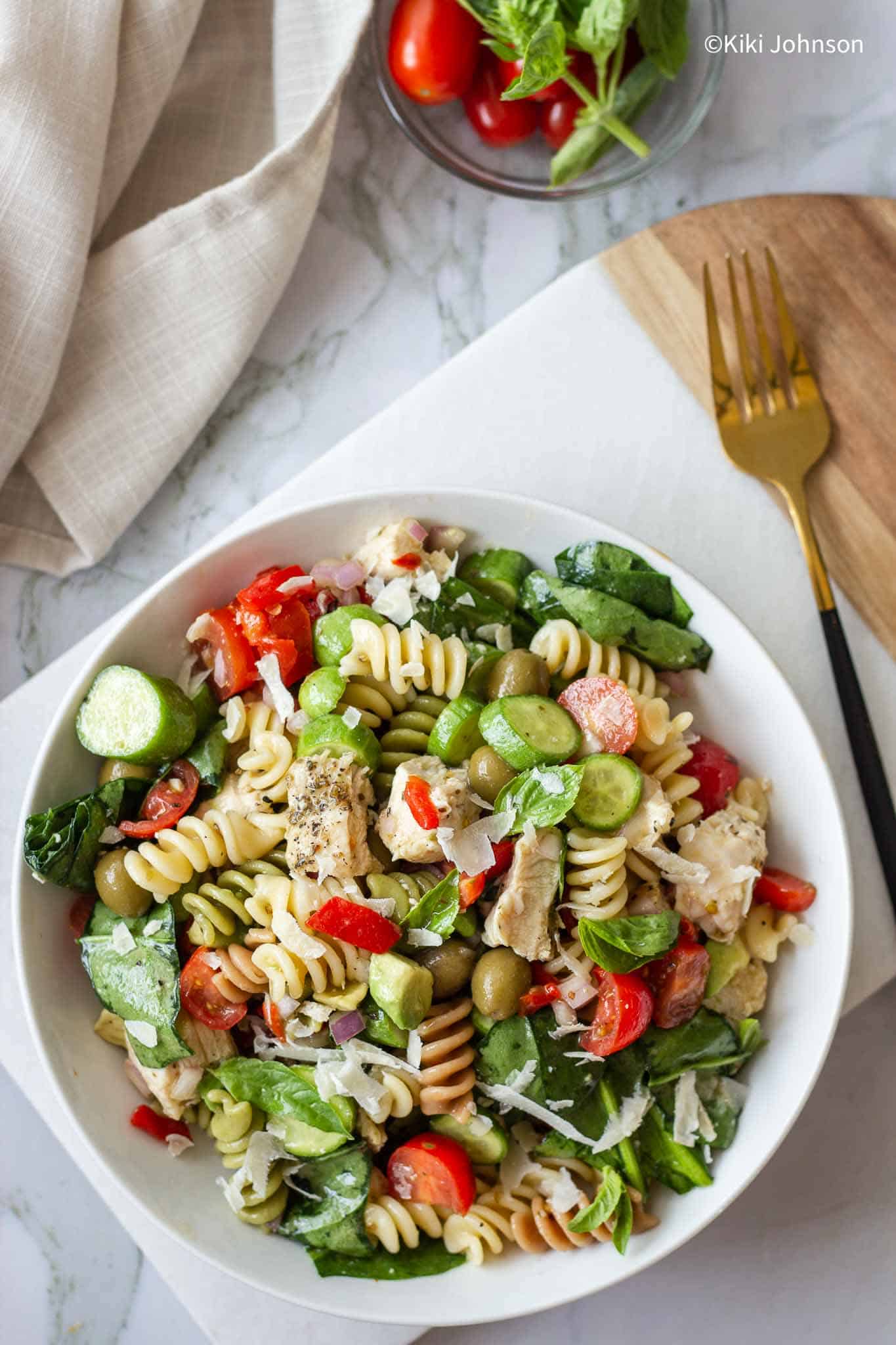 To begin, you'll need to gather a few key ingredients. You can use leftover shredded chicken or leftover rotisserie chicken or make your own chicken.
If making chicken from scratch, start with boneless, skinless chicken breasts, which can be seasoned and grilled, adding a smoky and savory element to the salad.
The pasta of your choice, such as fusilli or penne, serves as a hearty base that soaks up the flavors of the dressing and pesto. Fresh cherry tomatoes, crunchy cucumbers, briny olives, and grated Parmesan cheese provide bursts of color and delicious textures.
The pesto balsamic dressing brings a tangy and slightly sweet note to the grilled chicken pesto pasta salad, perfectly complementing the flavors of the chicken and fresh vegetables. Made with balsamic vinegar, Dijon mustard, honey, pesto and extra virgin olive oil, the dressing is easy to whip up and adds a delightful zing to the dish.
I like to add some store-bought pesto or fresh basil pesto to the dressing to take it into a more Mediterranean direction.
How to make this chicken pasta salad recipe?
Start by grilling the chicken.
Preheat the grilling pan over medium-high heat and lightly oil it to prevent sticking. Meanwhile, season the chicken breast with salt and pepper.
Place the chicken breast onto the hot grilling pan and cook for approximately 6-8 minutes on each side. Use tongs to flip the chicken breast halfway through cooking. Ensure the internal temperature reaches 165°F (74°C) for safe consumption.
Once cooked, remove the chicken breast from the grilling pan and let it rest for a few minutes before slicing or serving.
Assemble Pesto Pasta Salad
Once the chicken is grilled to perfection and sliced into bite-sized pieces, it's time to bring all the elements together.

Mix ingredients for the dressing.
Cook pasta until al dente, drain, and rinse it under cold water to stop the cooking process. This helps to maintain the ideal texture and prevents the pasta from becoming mushy. Toss the pasta with the Italian salad dressing coating it evenly for a burst of herbal goodness.
Incorporate the vibrant cherry tomatoes, crisp cucumbers, and briny black olives, adding a refreshing and flavorful dimension to the salad. Finally, sprinkle the grated Parmesan cheese on top, which adds a creamy and slightly nutty flavor profile.
To finish off, drizzle the pesto balsamic dressing over the salad, making sure to coat all the ingredients evenly. Gently toss everything together, ensuring that each component is well-dressed and infused with the tangy flavors of the dressing.
How to serve Chicken Pesto Pasta Salad
This Chicken Pesto Pasta Salad is a versatile dish that can be enjoyed on its own as a complete main meal or served as an easy side dish alongside grilled meats or fish. It's perfect for picnics, potlucks, or simply for a quick and satisfying weeknight dinner.
With its combination of fresh ingredients, vibrant colors, and tantalizing flavors, this Chicken Pesto Pasta Salad is sure to impress your family and friends. So, grab your apron and get ready to create a delightful and mouthwatering dish that will leave everyone wanting more!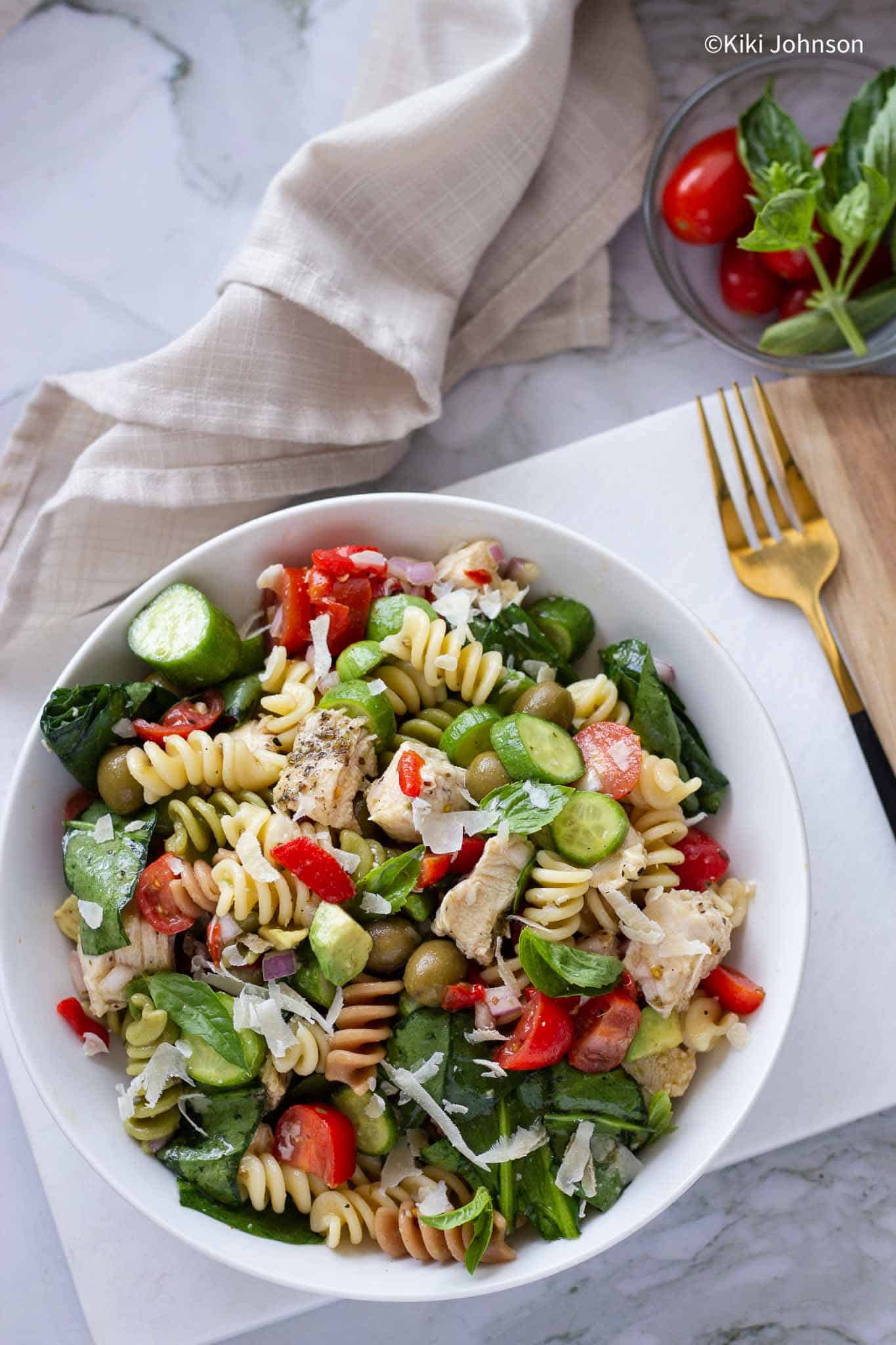 How to store leftover pasta salad?
To store leftover pasta salad with chicken:
Transfer the pasta salad to an airtight container or a sealable plastic bag.
Place the container in the refrigerator and store it within 2 hours of preparing the salad.
Consume the leftover pasta salad within 3 to 4 days for optimal freshness.
Tips:
For a little extra zing, add some lemon zest to the dressing.
Make it a chicken caprese pasta salad by adding fresh mozzarella pearls to the bowl.
​Feel free to add some sundried tomatoes additional to the grape tomatoes.
If you liked this recipe, try my recipe for Creamy Paprika Pasta or my Pasta Salad with Asparagus.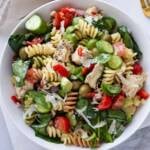 Gluten-free Chicken Pesto Pasta Salad
A delicious gluten-free Chicken Pesto Pasta Salad recipe that combines grilled chicken with the vibrant flavors of homemade pesto. This easy-to-make recipe is a perfect choice for a quick and satisfying meal that is perfect for meal prep and tastes great the next day.
Ingredients
For the salad:
300

g

glutenfree fusilli penne or other pasta of choice

10.58 ounces.

1

bunch fresh spinach or arugula

300

g

cocktail tomatoes

2 cups

1

small jar of olives

1

cucumber

1

avocado

optional

1/2

onion

2

chicken breasts

cooked/grilled

Salt and pepper
For the dressing:
140

ml

extra virgin olive oil

3

tbsp

olive brine from the jar of olives

6

tbsp

balsamic vinegar

light or dark, according to taste

2

cloves

of garlic

1

tbsp

pesto - homemade or storebought

1

tsp

mustard

1

tbsp

honey
For garnish:
6

tbsp

freshly grated Parmesan cheese

1

bunch of basil
Instructions
Cook the pasta according to package instructions and rinse with cold water.

Wash the spinach or arugula thoroughly, spin dry, and cut into smaller pieces. Cut the tomatoes and slice the onion. Dice the avocado if using.

Place everything in a large bowl, season with salt and pepper.

In a separate bowl, mix together the olive oil, vinegar, finely chopped or pressed garlic, dried herbs or pesto, mustard, and honey.

Just before serving, pour the dressing over the salad and mix well. Garnish with freshly grated Parmesan cheese and fresh basil.

Note: The quantities and ingredients can be adjusted according to personal preference. Enjoy your delicious salad!