[:de]Veganes Konfekt selber machen mit diesem einfachen Rezept für veganes Schokoladen Salzkaramell Konfekt mit flüssigem Karamell Kern! Du brauchst nur wenige Zutaten und wenige Minuten. Toll als Geschenk aus der Küche! Springe zu Rezept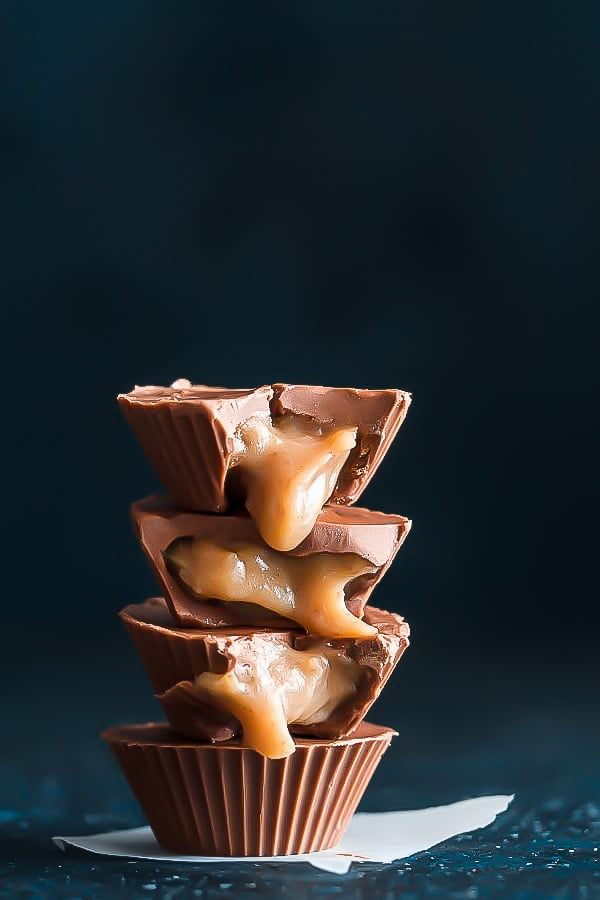 Für alle Naschkatzen habe ich heute eine Anleitung wie man richtig leckeres veganes Schokoladen Konfekt selber machen kann! Das beste? Das Vegane Konfekt kommt mit einem Kern aus veganem Salzkaramell. Toll als kleines Geschenk aus der Küche. Ich war mir nicht sicher wie ich sie nennen soll. In Amerika kennt man diese Art von Schoko Konfekt als " Cups".
Vielleicht kennst du die amerikanisches Reese's Peanut Butter Cups? Mir ist aufgefallen, dass es sie mittlerweile in den letzten Jahren auch in Deutschland immer öfter zu kaufen gibt. Dieses vegane Salzkaramell Konfekt ist mir um einiges lieber denn ich bin kein so riesen Fan von Erdnussbutter und dem fiesen Film, den man oft auf der Zunge bekommt.
Die Schokoladen Karamell Cups sind vegan und glutenfrei und du benötigst nur 4 einfache Zutaten.
Veganes Schokoladen Konfekt mit Salzkaramell ist:
Schokoladig
Karamellig
Herrlich Knackig
Super einfach herzustellen
Natürlich süß ohne Haushaltszucker
Vegan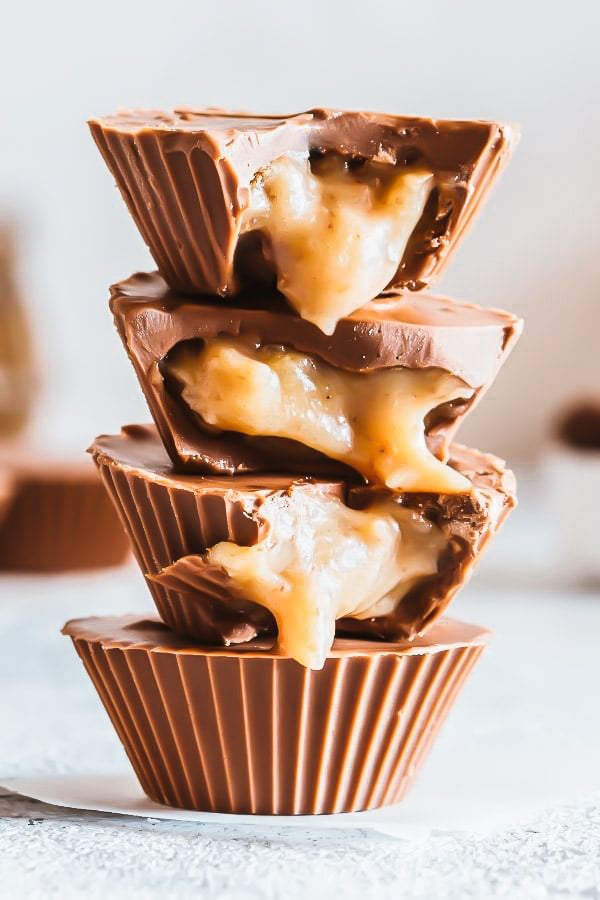 Unsere Vegane Karamellsauce wird mit Ahornsirup gesüßt.
Ist Ahornsirup eigentlich gesund?
Auf jeden Fall kanadischer Ahornsirup um einiges gesünder als Zucker:
Naturbelassen und kalorienarm (er hat nur etwa ein Drittel der Kalorien von Haushaltszucker)
Reich an Mikronährstoffen (Kalium, Eisen und Zink)
Schonend verarbeitet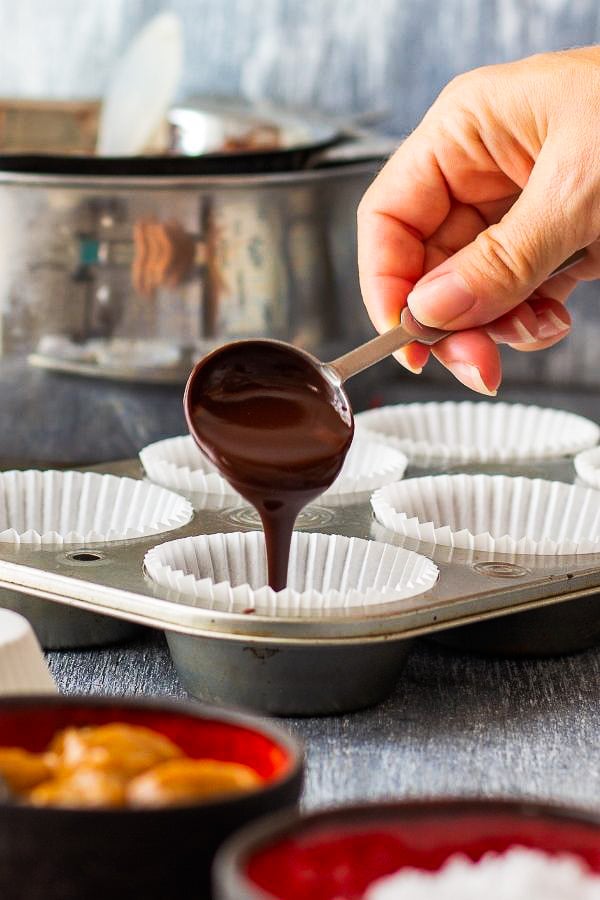 Dass dieses vegane Schokoladen Konfekt mit Karamell gesund ist würde ich jetzt nicht unbedingt behaupten, eher gesünder als die amerikanischen Erdnussbutter Cups von Reeses. Und wenn wir doch mal ehrlich sind, tun so kleine Sünden einfach wahnsinnig gut 😉 Ich sage mir immer: Alles in Maßen und immer schön Balance halten und dann sind kleine Naschereien kein Problem.
Das vegane Schoko Salzkaramell Konfekt schmeckt direkt aus dem Kühlschrank am besten. Die Törtchen können aber auch eingefroren werden.
Tipps für veganes Konfekt selber machen:
Für mehr gesunde vegane Desserts, probiert meine:
★ Habt ihr mein Rezept für Veganes Schoko Konfekt / Schokoladen Törtchen mit Salzkaramell nachgekocht? Hinterlasst mir gerne einen Kommentar mit Bewertung oder postet ein Bild und taggt mich auf Instagram!
Vegane Salzkaramell Schokoladen Törtchen / Veganes Karamell Konfekt
Dieses einfache Rezept für vegane Schokoladen Salzkaramell Törtchen bzw Schoko Karamell Konfekt mit flüssigem Karamell Kern ist der Knaller: Du brauchst nur wenige Zutaten, und entsprechend schnell sind sie gemacht. Toll als Geschenk aus der Küche!
Ingredients
200

g

vegane dunkle Schokolade

in Stückchen gehackt

2

Teelöffel Kokosöl

6

Esslöffel gesalzenes Tahini-Karamell

Rezept in den Notizen

¼

Teelöffel grobes Meersalz oder mehr

falls gewünscht
Instructions
Eine Mini-Muffinform mit 12 Mini-Cupcake- / Muffin-Liner auslegen.

In einer Schüssel die Schokoladenstückchen und das Kokosöl hinzufügen und zusammen rühren. 1 Minute in der Mikrowelle schmelzen lassen und dann zusammen rühren bis glatt. Möglicherweise müsst iht jeweils 30 Sekunden in der Mikrowelle erhitzen, bis die Schokolade geschmolzen ist. Ihr könnt die Schokolade auch im Wasserbad schmelzen.

Löffelt ein wenig geschmolzene Schokolade in jedes der Muffin-Liner und verteilen sie so, dass der gesamte Boden sowie ¾ der Seiten bedeckt ist. Ich benutze dazu gerne einen Pinsel aber auch mit einem Teelöffel funktioniert es super. Keine Lücken lassen, denn da sippt euch das Karamell durch. Zum Festwerden ca. 10 Minuten in den Gefrierschrank stellen.

Nehmt die Mini-Muffinform aus dem Gefrierschrank und stellen Sie sie neben die Karamell Schüssel. Etwa einen halben Esslöffel Karamell in jede Tasse geben und etwa 5 Minuten lang in den Gefrierschrank stellen.

Nun der Deckel! Möglicherweise müsst ihr die Schokolade erneut erhitzen, wenn sie bereits hart ist. Gießt den Rest der Schokolade gleichmäßig über das Karamell! ich ging ganz nach oben mit der Schoki! Form In den Gefrierschrank stellen, um weitere 10 Minuten oder bis zu 30 Minuten einzustellen. Förmchen abziehen und genießen !!
Recipe Notes
Für das Tahini Karamell Rezept gehts hier lang
[:en]
These 4-Ingredient Vegan Salted Caramel Chocolate Cups are a decadent candy treat perfect for Valentine's Day! Filled with my never-fail Tahini Caramel Sauce, they are incredibly easy to make, refined sugar-free, paleo, gluten-free and no-bake!Springe zu Rezept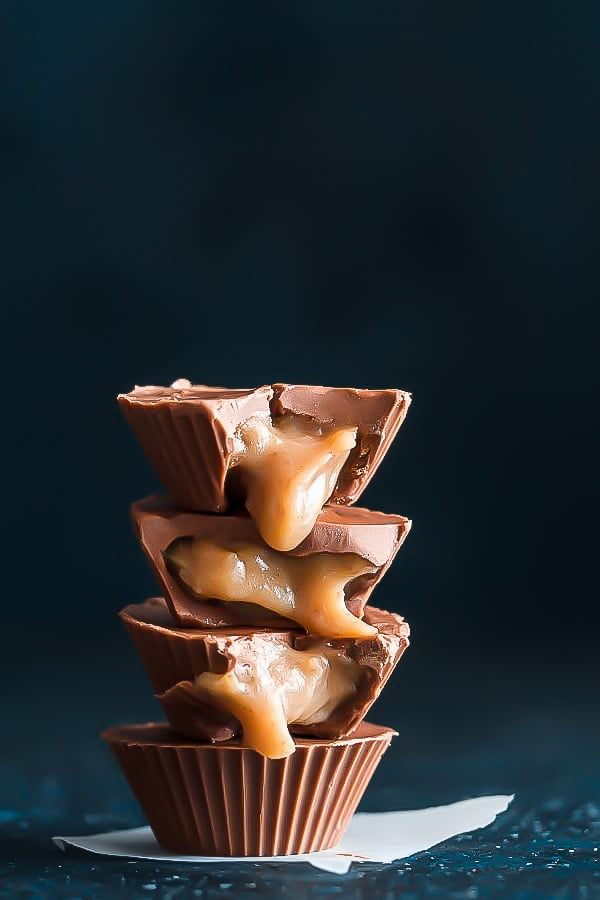 Salted Tahini Caramel is my latest obsession. I make triple batches of this stuff and swirl some into ice cream, use some to top my pancakes or my overnight oats, but there's a new favorite in my home right now that I cannot wait to share with you! Vegan Salted Tahini Caramel Chocolate Cups! I mean, caramel and chocolate is pretty much THE perfect combination!! But add in tahini and we're on a completely new level! I find that tahini flavor brings the caramel to another level.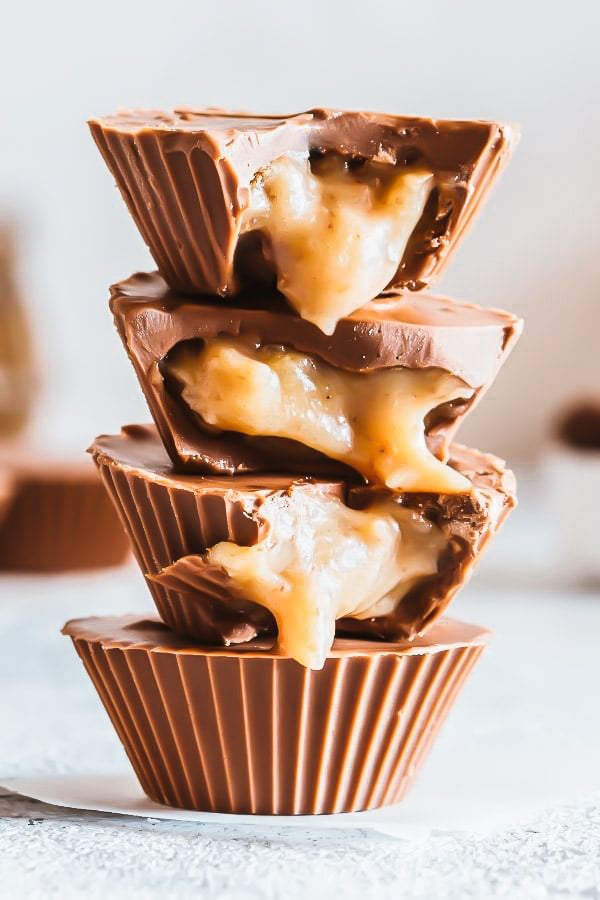 Picture a rich and sweet chocolate shell enveloping a salty-sweet and nutty surprise filling – salted tahini caramel sauce. It's the balance of the bitter cocoa and the sweet sweet center, the quick bite, the cracking of the top of the shell when you bite into a cup! Bliss!
Why you will love these:
The balance of the chocolate and caramel is sheer perfection.
they are dairy-free, vegan, paleo-approved and gluten-free so this recipe really works for those with dietary restrictions
no fuss, no-fail and super easy to make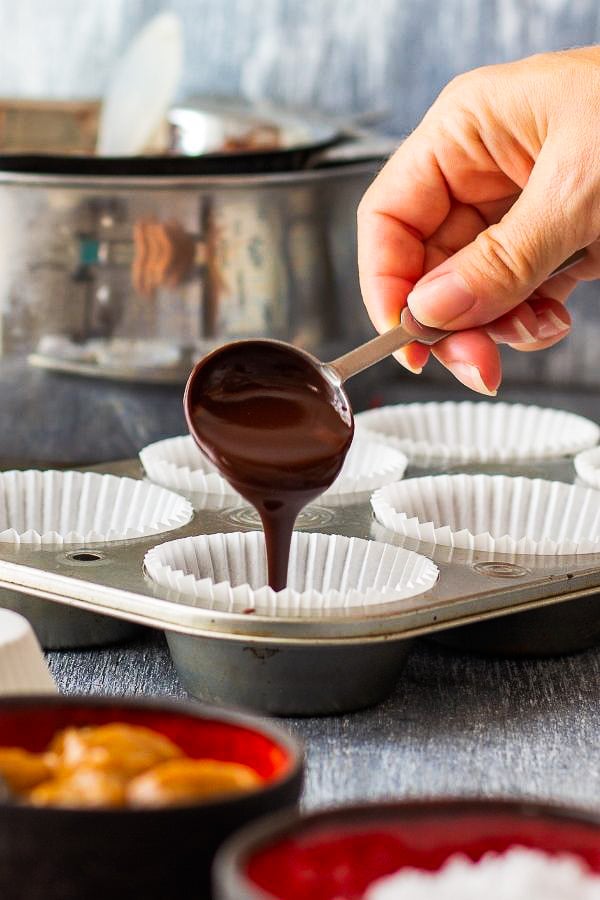 How to make Vegan Salted Tahini Caramel Chocolate Cups:
Melt vegan chocolate for the bases: Melt some vegan chocolate and coconut oil to cover the base of your cupcake liners and work it up the sides a bit as well.
Using a little brush for this is an awesome little trick and makes this really easy to do. Put it into the freezer to set.
Make the vegan salted caramel filling using this recipe: The filling is a simple mix of tahini, maple syrup, coconut oil and salt. When the chocolate bases have set, add the caramel filling.
Melt more chocolate: Now reheat the chocolate and add it to the top of the peanut butter cups which closes them up on top. Place them into the freezer to set.
They are the perfect little dessert when you need something chocolatey and sweet. Hello Valentine's Day!
Tips:
My favorite way to eat these caramel cups is to store them in the freezer and take one out as needed. Even though they are frozen, they stay really nice and creamy!
You can use date caramel or coconut caramel as a filling. If not vegan, use my salted caramel sauce.
any dairy-free chocolate chips or dark chocolate works here.
★ Did you make and love this vegan caramel chocolate cups recipe? Give it your review below! And make sure to share your creations by tagging me on Instagram!
Salted Tahini Caramel Chocolate Cups
These 4-Ingredient Vegan Salted Tahini Caramel Chocolate Cups are a decadent candy treat perfect for Valentines Day! They are incredibly easy to make, refined sugar-free, paleo, gluten free and no bake!
Ingredients
1

cup

dark chocolate chips

2

teaspoons

coconut oil

6

tablespoons

salted tahini caramel

recipe link in notes

¼

teaspoon

large sea salt granules or more if desired
Instructions
Line a mini muffin tin with 12 mini cupcake/muffin liners.

In a bowl, add the chocolate chips and the coconut oil and stir together. Melt in the microwave for 1 minute, then stir together. You might need to microwave them for 30 seconds at a time until melted. You can also melt this in a double boiler method.

Spoon a little bit of melted chocolate into each of the muffin liners, and spread it so it covers the bottom, as well as ¾ way up the liners. I use a pastry brush to "paint" the melted chocolate onto the bottom of the cupcake wrapper, and around the sides (only go about 2/3 of the way up the wrappers, not all the way to the top) Place muffin tin in the freezer.This will ensure the caramel filling is covered properly.

Put in the freezer for about 10 minutes to set.

Remove the mini muffin tin from the freezer and set beside this bowl. Dollop about ½ tablespoon of the caramel into each cup and return to the freezer for about 5 minutes.

You might have to reheat the chocolate if it has set already. Pour the rest of the chocolate equally over each cup to cover completely (I went all the way to the top of my liners). Place in the freezer to set for another 10 minutes or up to 30 minutes. Peel off liners, eat and enjoy!!
Recipe Notes
For the vegan salted caramel, use this recipe
[:]