Dieser Beitrag ist auch verfügbar auf:

Deutsch (German)
This Mexican Shrimp Taco Bowl recipe with Cilantro Lime Mayo is perfect for Taco Tuesdays and Cinco De Mayo! A simple meal prep recipe that is healthy, paleo-approved, and gluten-free.Jump to Recipe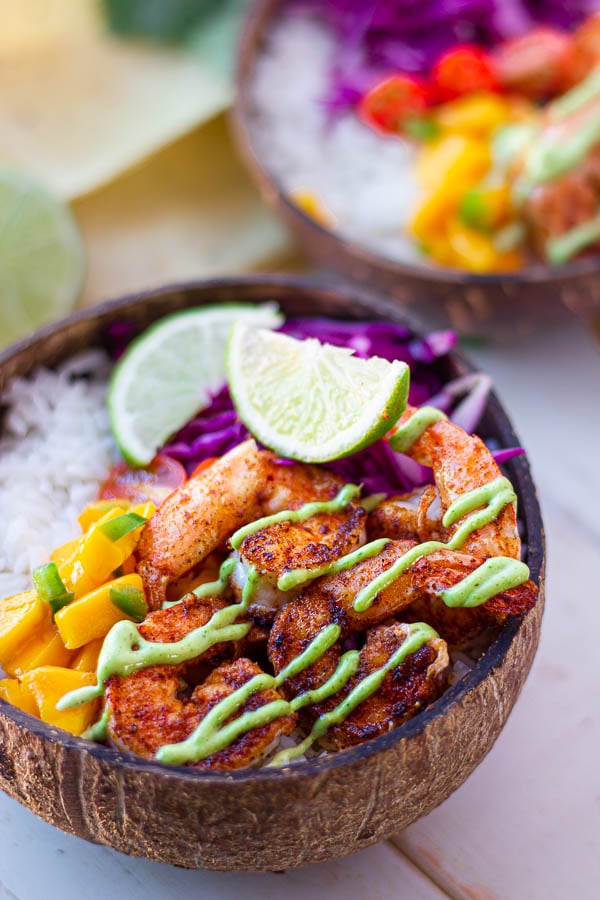 No one says no to tacos and my favorite tacos of all times are Shrimp tacos! They are SO delicious, but when in a bowl, they are not just healthier but in my opinion also much better! Like your favorite shrimp taco, but deconstructed. I mean, the fillings are the best part, right? And the sauce! OMG, that cilantro-lime mayo taco sauce.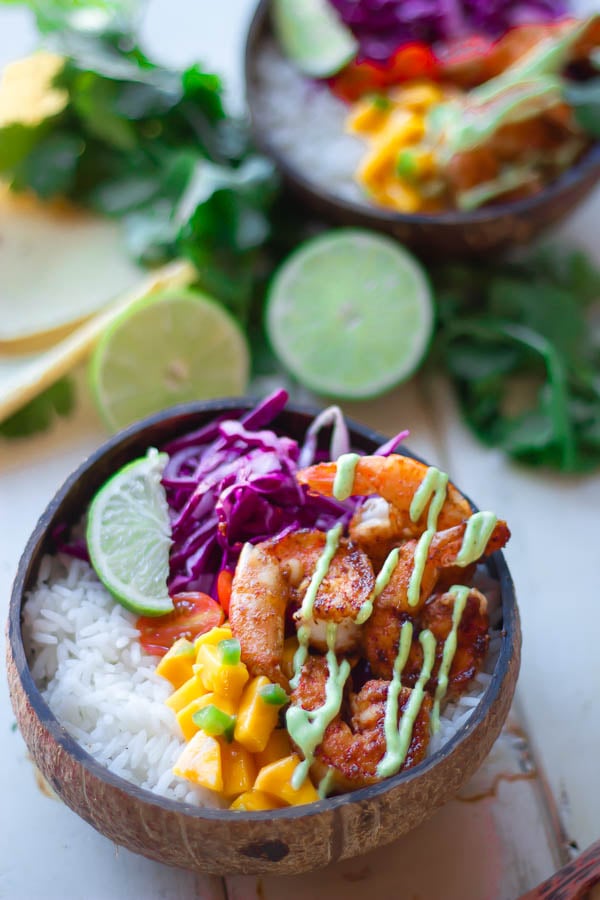 These Mexican Shrimp Taco Bowls are filling, taste like a fiesta in a bowl and are easy to whip up on any weekday.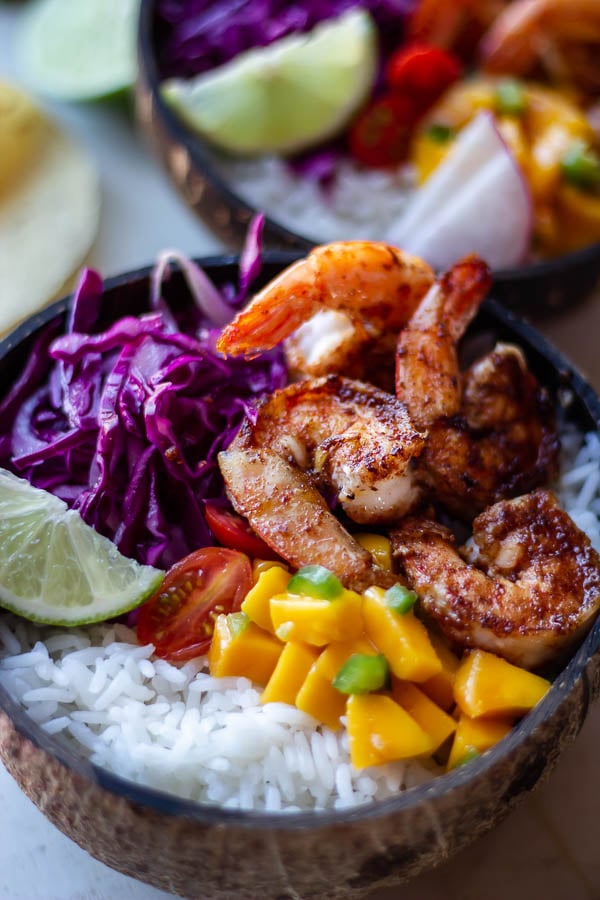 Packed with flavor and goodness, these beautiful shrimp taco bowls are perfect for lunch, dinner and meal prep.
What's in here?
charred taco seasoned shrimp seasoned with homemade taco spice
a rainbow of gorgeous veggies
a quick cilantro lime mayo made in a blender
These taco bowls are packed with protein and healthy! Aside from the obvious protein benefit, shrimp are packed with antioxidants, vitamin D, B3, and are also great low-carb food.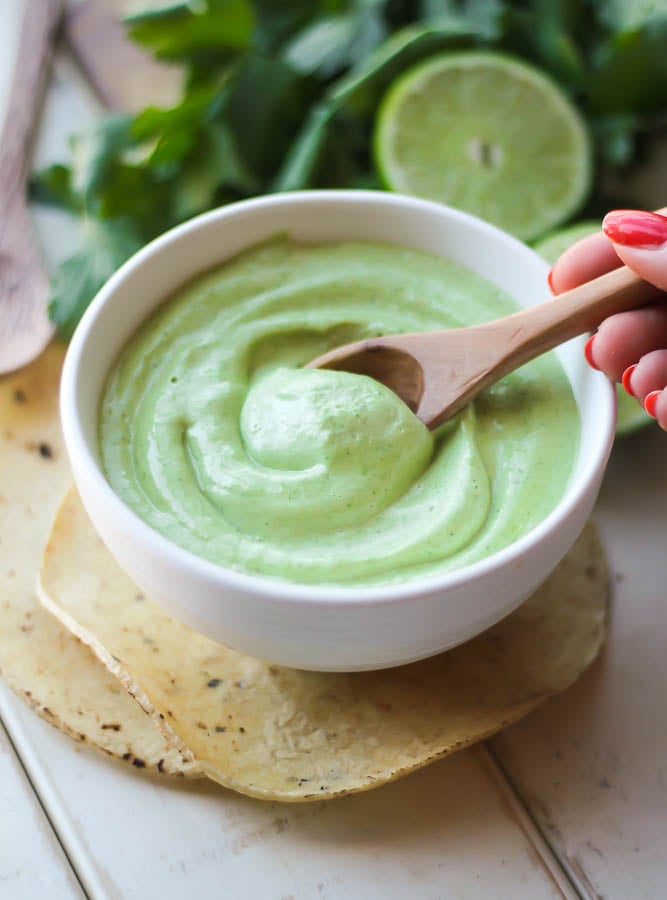 Cilantro-Lime Mayo
This light and tangy cilantro lime mayo compliments all the flavors of this Shrimp Taco Bowl so well. It also works alongside your favorite steak salad, anything chicken, or grilled vegetables.
What can I use instead of mayo?
You could use my easy light mango cilantro sauce or my roasted garlic chimichurri.
How to make Cilantro Lime Mayo at home: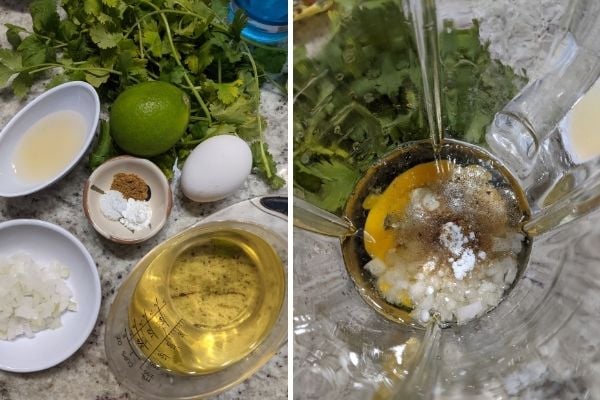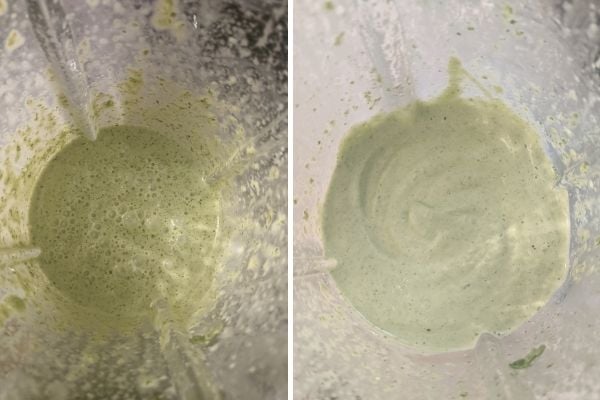 How long does it take shrimp to fry?
Fry shrimp for a max of 2 minutes, jumbo shrimp for 3 minutes. It might be less depending on the size of the shrimp. You want to fry them until golden brown outside and opaque in the center. It's important to start with high heat. So don't forget preheating a pan over medium-high heat. THEN add your cooking oil.
Don't walk away. Shrimp can go from tender to rubbery before you even realize what's happening. Remove them from the heat right when the flesh is a bit pink, with no brown or greyish-brown spots
CAN I FLAVOR THE SHRIMP ANOTHER WAY?
YES, you can make my chipotle shrimp instead! Shrimp have a mild flavor so they take on whatever flavor you're serving them with. I love this version with homemade taco spice, but you can play around!
Fresh vs frozen Shrimp for making Taco Bowls
Both works. I use frozen for my taco bowls. Most shrimp is frozen soon after being caught, so the freshest-tasting shrimp is the kind you buy in the freezer aisle rather than the thawed stuff at the fish counter. Seafood is highly perishable, and you don't really know how long the thawed stuff has been thawed. But that's just me.
How to thaw shrimp from frozen
If using frozen, place the frozen shrimp in a colander and run cold water over them. This will thaw the shrimp slightly and remove ice crystals before cooking.
Toss the shrimp occasionally to make sure they are all exposed to the cold water. You will know it's thawed when they are easily bendable and slightly translucent. This will only take a few minutes. Pat the shrimp dry VERY WELL with a paper towel before seasoning
Tips for making this recipe:
Make this a low-carb taco bowl my using cauliflower rice as a bowl base

Or serve the shrimp, mango salsa, and mayo in lettuce cups

You can use chicken instead of shrimp

Use Brown rice instead of Jasmine rice

Cannot find ripe mango? Pineapple salsa or charred pineapple would work amazingly here.

Use shredded lettuce instead of cabbage.

These are made in a skillet but why not grill those shrimp! Might be best to get them on some skewers for easy grilling
If you like healthy light protein-packed lunches, you might also like my Asian Peanut Chicken Lettuce Wraps or my Chicken Larb recipe.
★ Did you make and love this healthy Shrimp Taco Bowl recipe? Give it your review below! And make sure to share your creations by tagging me on Instagram!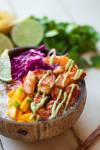 Mexican Shrimp Taco Bowl recipe with Cilantro Lime Mayo
This Mexican Shrimp Taco Bowl recipe with Cilantro Lime Mayo is perfect for Taco Tuesdays and Cinco De Mayo! A simple meal prep recipe that is healthy, paleo-approved, and gluten-free.
Ingredients
For the taco shrimp
450

g

prawns

headless with tails on - thawed

2

teaspoons

of chili powder

2

teaspoons

of cumin

1

teaspoon

of garlic powder

1/4

teaspoon

cayenne pepper

more or less to taste

1

teaspoon

of salt

1

teaspoon

of sugar

2

tbsp

canola or coconut oil
Coriander Lime Mayo
1

egg

250

ml

cold-pressed canola oil

1

clove

of garlic

2

tablespoons

of finely chopped white onion

½

bunch of fresh cilantro

½

teaspoon

ground cumin

½

teaspoon

salt

1

teaspoon

sugar

2

tablespoons

of fresh lime juice
For serving
cooked rice

preferably coconut rice or plain jasmine rice

Cocktail tomatoes

Red cabbage

fresh coriander
Mango Salsa:
1

large or 2 small mangoes - ripe

1

green chilli

finely chopped

1

lime

juiced (or lemon)

1

pinch

of salt
Instructions
Mango Salsa
Dice the mango and mix with the chilli, lime juice and salt. Put aside
Mayo
All ingredients must be at the same temperature.

Put the egg, 125 ml of the oil, the whole clove of garlic, the chopped onion, the coriander, the cumin, the salt and sugar in your blender and mix until all the ingredients are well mixed.

Keep the blender running and slowly add the remaining 125 ml of oil as well as the lime juice with the engine running. Taste and season with salt if necessary.

You can transfer the amount you need for your bowls in a freezer bag. Cut a small hole into a cirner using small scissors - with this DIY piping bag you can easily "drizzle" your mayo over your taco bowl.
Shrimp:
Mix spices with salt and sugar. Pat the shrimp dry with paper towels. Toss the shrimp in a small bowl with the all the taco spices to get it coated.

Heat a drizzle of oil a large skillet over medium high heat. Add the shrimp to the hot pan and sauté for 2-3 minutes, flipping after 1 - ½ minutes, until the shrimp are cooked through.

Arrange the taco bowl. Create a base of rice, top with veggies, salsa, shrimp and drizzle with lots of mayo! Serve with lime slices, cilantro and maybe even some chopped jalapeno.
Recipe Notes
Make this a low-carb taco bowl my using cauliflower rice as a bowl base
Or serve the shrimp, mango salsa and mayo in lettuce cups
You can use chicken instead of shrimp
Use Brown rice instead of Jasmine rice
Cannot find ripe mango? Pineapple salsa or charred pineapple would work amazingly here.
Use shredded lettuce instead of cabbage.
These are made in a skillet but why not grill those shrimp! Might be best to get them on some skewers for easy grilling