Dieser Beitrag ist auch verfügbar auf:

Deutsch (German)
These melt-in-your-mouth Mexican Wedding Cookies with Lime and Macadamia are bursting with flavor! Lime zest and juice add a nice zing, the addition of roasted Macadamia Nuts makes for some crunch and extra butteriness!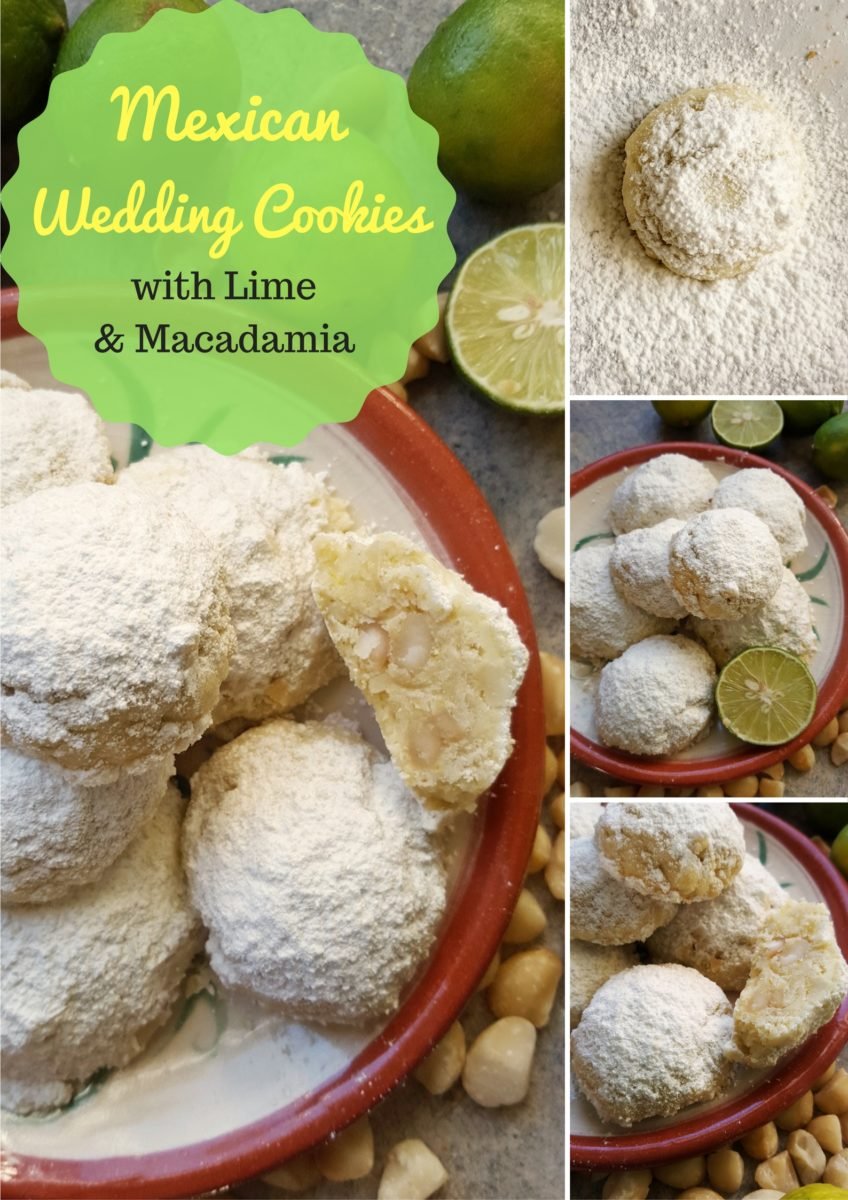 People, the things I could tell you about the last couple of days. Sheer craziness!
First, we had to move back from Dawson Creek to Calgary. Sounds manageable but turned out to be quite the odyssey as our little Aveo "Conchita" broke down halfway through the trip.
Moving with all your stuff BY OVERNIGHT GREYHOUND is not funny AT ALL.
Well, back in Calgary we needed a new car ASAP as we had to cross the border in Montana to get my Permanent Resident Card. So, as you can see, it was a busy week.
Now that we are proud owners of a new car and that I AM FINALLY A PERMANENT RESIDENT OF CANADA! ( OMG !!! ) we are ready for more craziness. And Mexican Wedding Cookies, but I'll talk about those in just a second.
First off: Is it only me or is " The Holiday" just a MUST-SEE-MOVIE around Christmas? I watch it every year and I still get all teary-eyed.
Well, I've always loved the idea of the house-swap and, come on:   Two lovelorn women from opposite sides of the Atlantic Ocean, who temporarily swap homes to escape a heartbreak during the Christmas Season. That's a good story.
And every once in a while one should pretend one's own life is a movie. That's what we did. What I am trying to say, is that we are house-swapping. Starting next week all the way to January. The swap takes us to Yucatán,  Mexico.
So the city of Merida is where we are gonna spend Christmas this year. Obviously, we are not escaping a heartbreak,  but rather the harsh Canadian Winter that both my husband and I really despise.
What a Mexican Christmas will be like? I am excited to find out! One thing I know already, there SHALL BE COOKIES. And what cookie would be better for a Mexican Christmas than a Mexican Wedding Cookie?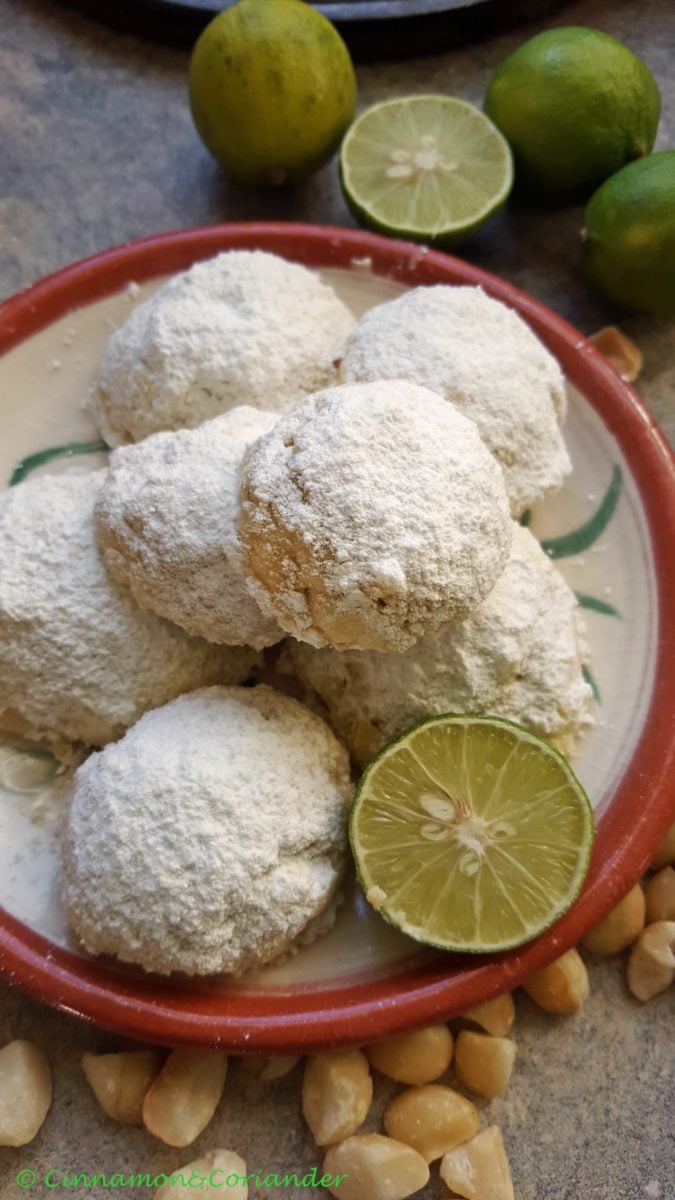 What are Mexican Wedding Cookies and why do you need to try them: 
As soon as the house-swapping plan was made I baked a big old batch of these delicious, melt-in-your-mouth Mexican Wedding Cookies with Lime and Macadamia Nuts to get us into the right mood!
But are these cookies actually Mexican? Well, they do have a lot of lime and vanilla flavor in them.
If you're a C&C reader, these cookies might actually look pretty familiar to you! Basically, this is a zesty and refreshing adaption of my most popular recipe, these Macadamia & White Chocolate Snowball Cookies. 
In our house, we call them Snowball Cookies, but you may know them as Russian Tea Cakes or like I do in this recipe, Mexican Wedding Cookies.
The beginnings of the Mexican wedding cookie, snowball cookies, teacake, whatever, are actually pretty far removed from Mexico.
Food historians believe that this buttery sugar-dusted cookie has its origins in the Middle Eastern cuisine, which has a long tradition of rich buttery pastries using lots of spices, icing sugar and nuts.
Like with most things that are just melt-in-your-mouth delicious, different versions popped up in each country because everyone loves butter, vanilla, and sugar! No brainer!
To summarize, they're all irresistibly tender and buttery and they taste like heaven. But these are my especially delicious Mexican Christmas Version and they taste like Christmas under palm trees!
I had to bake these Mexican Wedding Cookies twice within a week! They are apparently my hubs' new favourite cookie. It used to my Snowball Cookies, but these ones taste a bit like a Margarita, he says. That man should really live in Mexico.
If he got to decide, I would have to make these all year round but I just prefer keeping them special and only make them around Christmas as they look so festive – like little snowballs.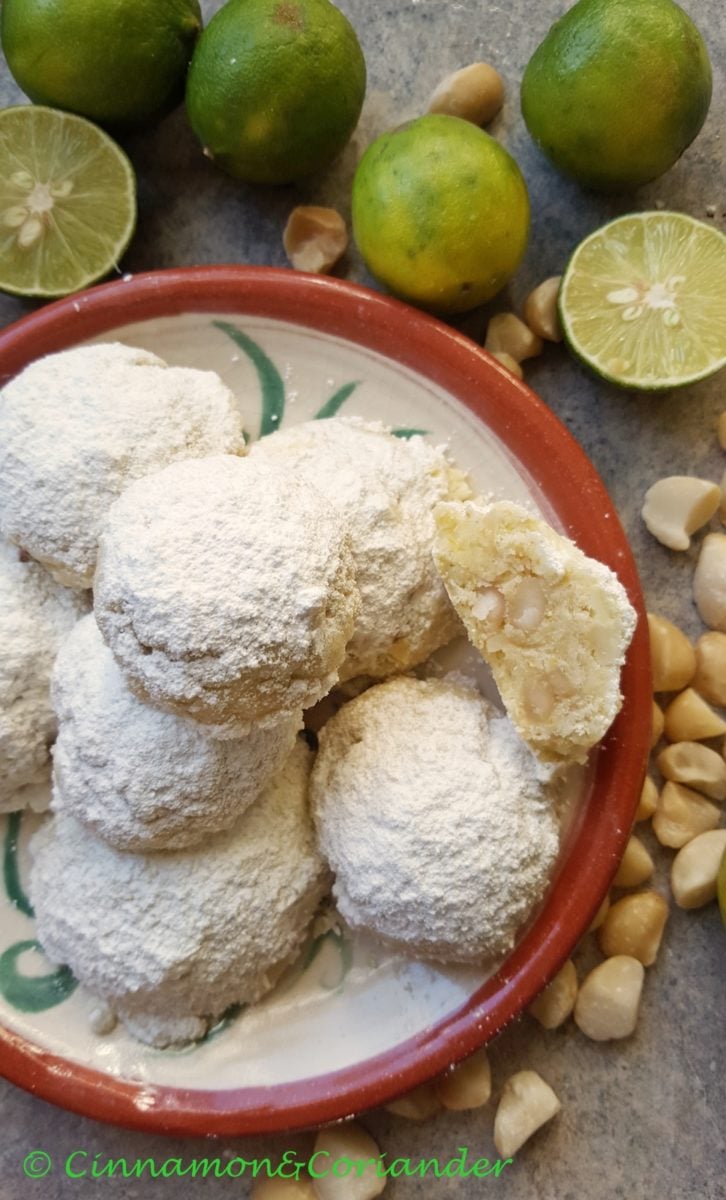 Dusted with a thick coating of icing sugar, they look like little snowballs, which is why they are also called Snowball Cookies. Other names for these melt-in-your-mouth Mexican Wedding Cookies are Russian Teacakes, Polvorónes or German Schneeballkekse.
Butter, Vanilla, Macadamias, and Lime – the secret flavor combo of my Mexican Wedding Cookies! 
There's something irresistible about the flavour combination of butter, vanilla and lime in these Mexican Wedding Cookies! They are a real mood lifter and  put a smile on my face as soon as I bite into them!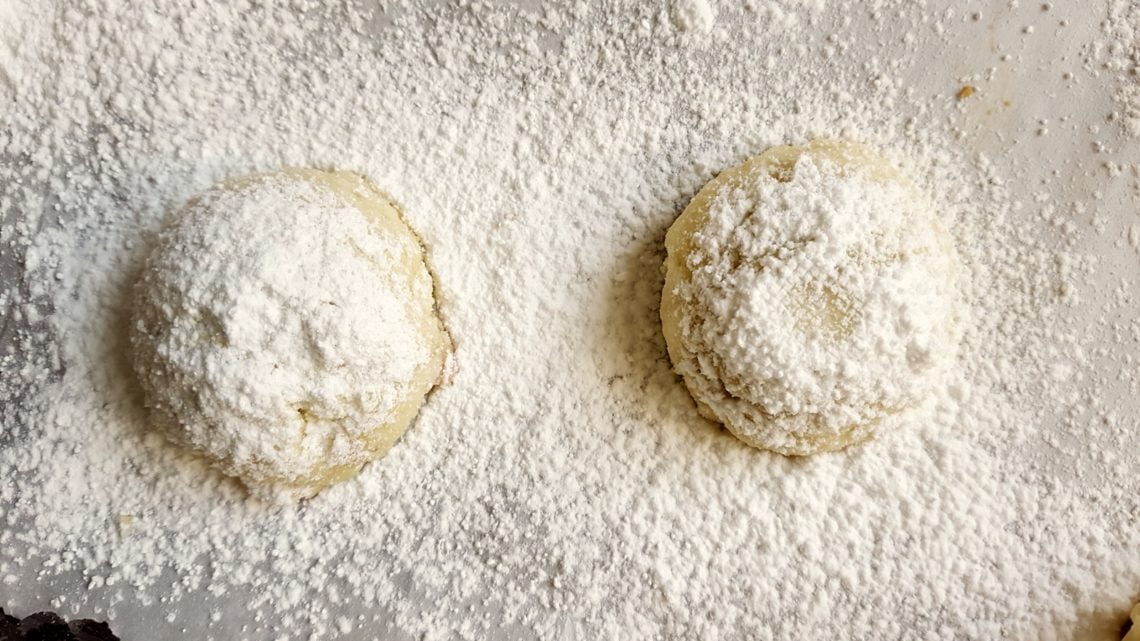 Tips for making the best Mexican Wedding Cookies:
The important thing when baking Mexican Wedding Cookies ist to bake them just until slightly browned and to dust them with powdered sugar while still hot.
They are gonna soak up some of the sugar which kind of seals them and prevents the buttery inside from drying out.
You can also just roll them in a deep plate filled with powdered sugar. I prefer dusting as the Mexican Wedding Cookies can be quite delicate and prone to crumbling when freshly baked.
Once dusted, it's important to let them cool completely. Then you simply dust them again and store them in cookie tins.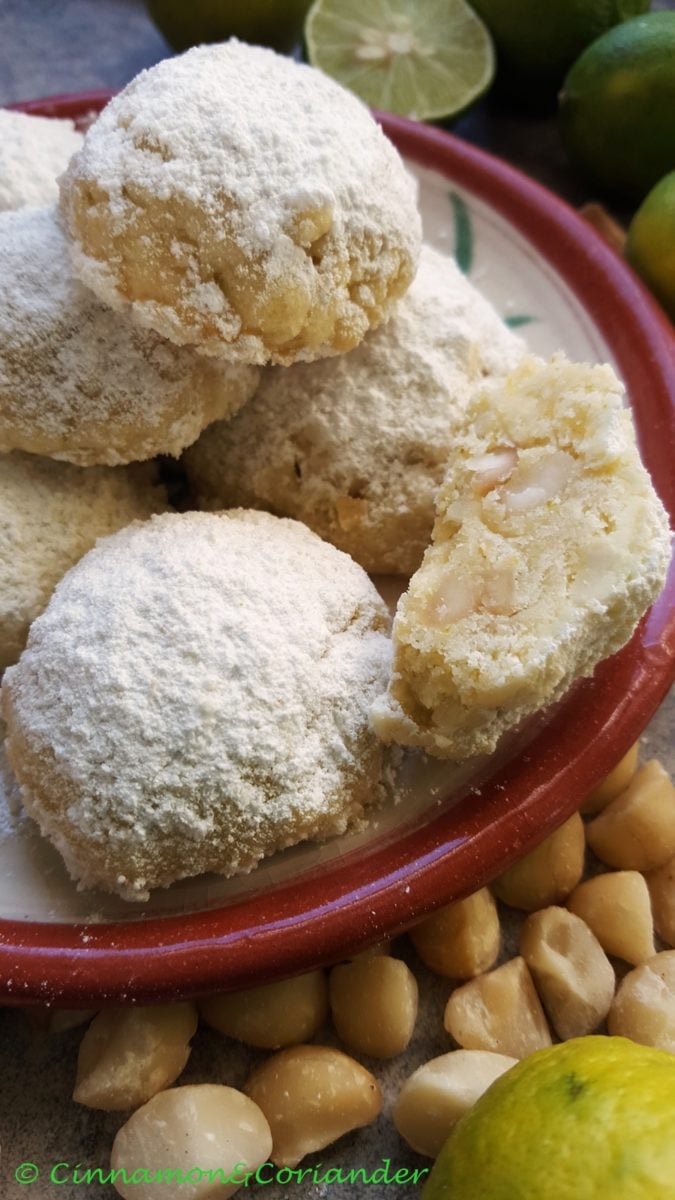 I tell you, these Mexican Wedding Cookies with Lime and Macadamia Nuts are sheer bliss! The aroma wafting through the kitchen is insane! Lime, vanilla, butter – this is what I imagine a Mexican Christmas to smell like!
If you love snowball cookies as much as I do, you might also want to try my Macadamia & White Chocolate Snowball Cookie! 
For more Mexican Desserts, check out my Mexican Chocolate Pudding with Pistachio Brittle and my Margarita Tart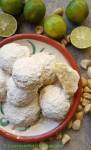 Mexican Wedding Cookies with Lime & Macadamia Nuts
These melt-in-your-mouth Mexican Wedding Cookies with Lime and Macadamia are bursting with flavour! Lime zest and juice add a nice zing, the addition of roasted Macadamia Nuts makes for some crunch and extra butteriness!
Ingredients
180

g

all-purpose flour

75

g

cornstarch

100

g

Macadamia Nuts

230

g

butter

softened

60

g

powdered sugar + more fore dusting

1

tsp

vanilla extract

2

tsp

key lime juice

3

tsp

key lime zest
Instructions
Toast the nuts and chop them finely. You can leave a couple of bigger chunks if you like some crunch in your cookies.

Whisk together the flour and cornstarch. Set aside.

Beat softened butter and powdered sugar together until very light and fluffy, then beat in key lime juice and zest as well as vanilla.

Mix in your flour mixture just until combined and refrigerate the dough for at least 1 1/2 hours.

Preheat oven to 350F and line 2 cookie sheets.

Scoop out cookie dough with an ice cream scooper or a tbsp (about 1.5 tablespoons) and form into a ball.

Place the cookie on a prepared cookie sheet and bake for 18-19 minutes or just until tops begin to turn golden.

Remove the cookies and immediately sift A LOT of powdered sugar over the top of the cookies. Let the cookies cool completely on the cookie sheets without touching them.

They can be stored in an airtight container and keep for about 2 weeks.