Dieser Beitrag ist auch verfügbar auf:

Deutsch (German)
These healthy Vegan Lemon Pistachio Date Energy balls are made with healthy oats and no sugar! Super easy to make, gluten-free and no bake! Jump to Recipe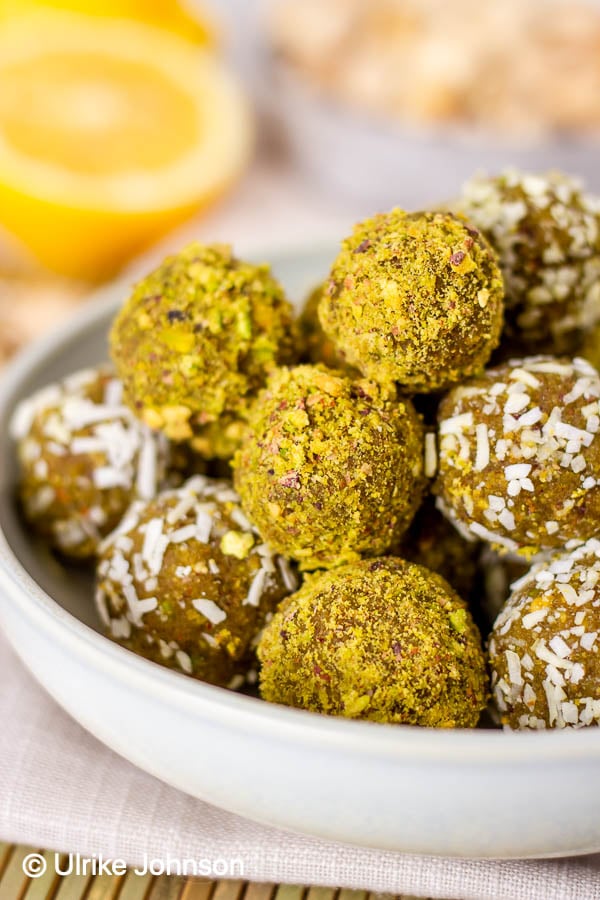 Healthy Vegan Lemon Pistachio Energy balls that taste like spring….meet your new favorite springtime treat!
I usually have a batch of energy balls in the fridge at all times. Cause you just never know when you are going to need a snack.
Just in time for Easter, I present you an easy vegan energy ball recipe that was born out of my love for all things pistachio. Anything from vegan pistachio cheesecake, to pistachio overnight oats to hearty recipes like my pistachio pesto – I am there!
ENERGY BALLS – the best homemade healthy post or pre-workout snack
If you've never made vegan energy balls at home before, now is the time. Seriously – they are the best way to refuel! Smaller and with fewer calories than a granola bar and gone in one bite. They are often made with dates or some other type of dried fruit – for these lemon pistachio energy balls we use:
pistachios

almonds
dates
oats
lemon juice and zest
How to make Vegan Lemon Pistachio Date Energy Balls: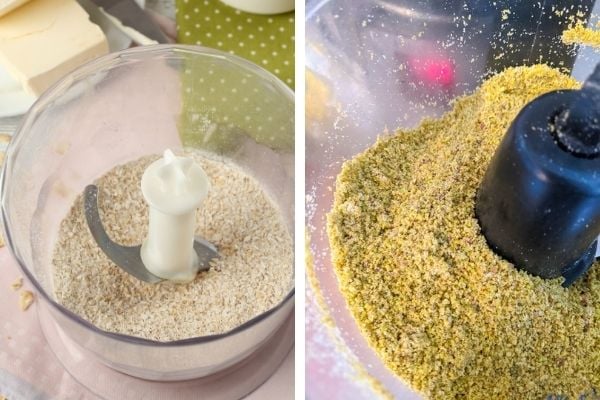 These are SO easy to make! They are obviously no-bake and really only require a food processor. In the case of this recipe, we're going to be using a food processor since we need to process the dates.
The whole process can pretty much be broken down into 3 steps:
toast the nuts in the oven (game-changer)

Blend the oats
blend the COOLED nuts
puree the dates
mix all ingredients together
roll into balls
roll in nuts or shredded coconut
and…you're done!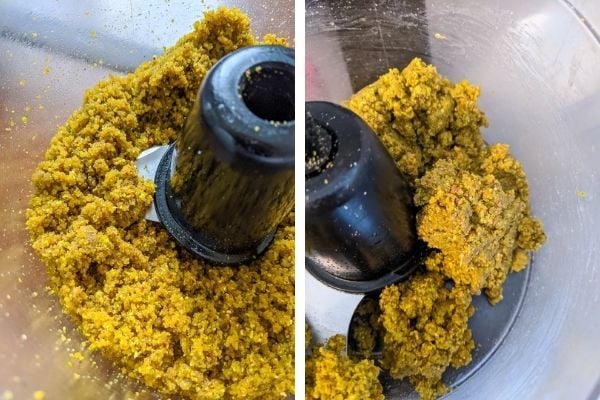 ADD MORE PROTEIN
If you want to give these vegan pistachio date energy bites a boost of protein and use them as a post-workout snack, add a scoop of vanilla or unflavored protein powder. You could also add some chia seeds for a crunchier texture.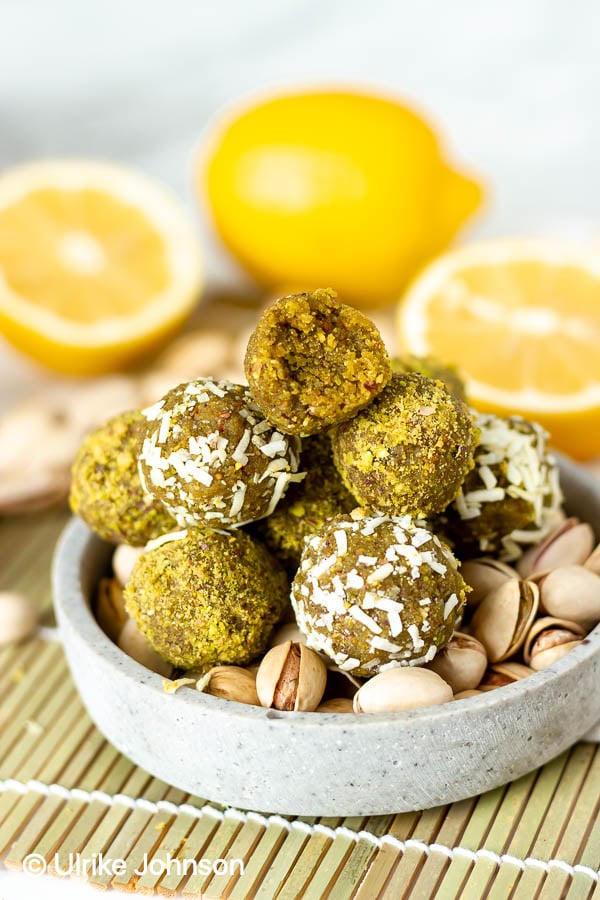 How to store these:
They keep in the fridge for at least a week – probably several. I live in a hot country so I store my energy balls in the freezer (I also really like them super cold)! They don't freeze solid – more like ice cream bites.
Making energy balls should be part of any healthy vegan meal prep because these little bite-sized snacks are LIFE-SAVING! Plus they are super easy and cheap to make and usually require either just a bowl or a food processor!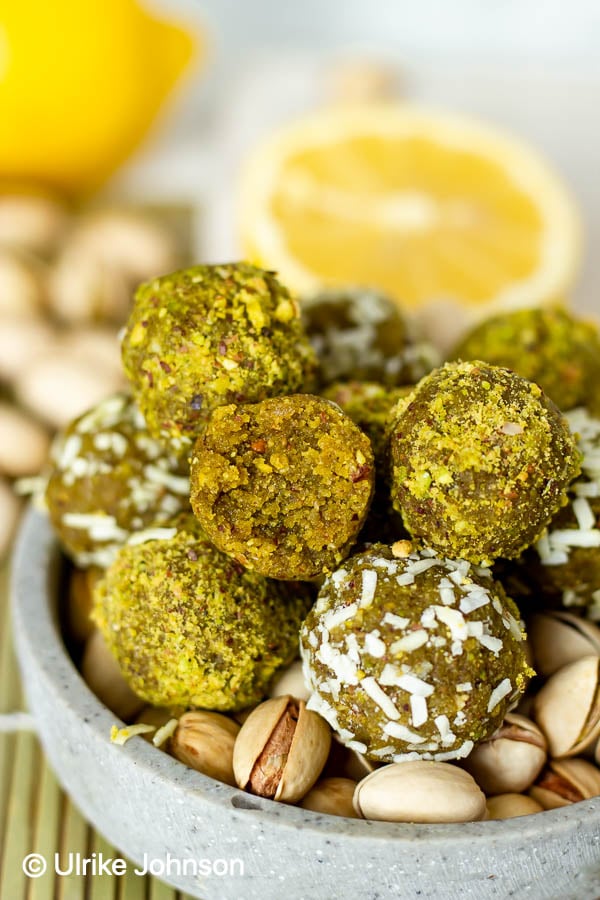 More recipes for energy balls and bliss balls:
Once you finish up with this vegan energy balls recipe be sure to check out some of my other favorite healthy bliss balls and vegan snack recipes from the blog:
★ Did you make and love this vegan pistachio date energy balls recipe? Give it your review below! And make sure to share your creations by tagging me on Instagram!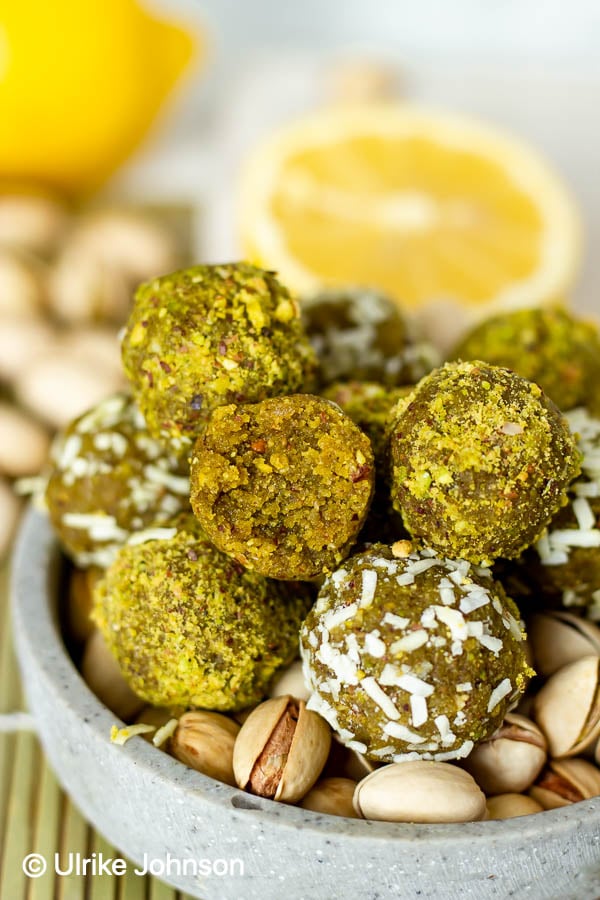 Healthy Vegan Lemon Pistachio Energy Balls
These healthy Vegan Lemon Pistachio Energy balls are sweetened with dates - no sugar added! Super easy to make, gluten-free and no bake!
Ingredients
10

pitted dates

¼

cup

oats

1/4

cup

almonds

30 g

¼

cup

pistachios

30 g

zest and juice of one organic lemon

pinch

of sea salt

extra roughly ground pistachios for coating
Instructions
Heat the oven to 180C. Roast the nuts for 7-10 minutes. Let them cool.

Blitz the oats in the food processor until fine meal. Set them aside and blitz the nuts into fine crumble. Remove the nuts and blitz the dates into a thick paste adding a bit of lemon juice if it's too dry.

Add the nuts, oats, lemon zest, sea salt, and the rest of the lemon juice to the date paste in the food processor and blend quickly until all the ingredients are well combined and the mixture forms into a ball.

Add a little lemon juice or maple syrup if it's too dry. Transfer the mixture into a bowl. Roll a tsp of dough at a time into bite-size balls, and coat them with some extra ground pistachios or shredded coconut and refrigerate.
Recipe Notes
The balls will keep for weeks in an airtight container.