Dieser Beitrag ist auch verfügbar auf:

Deutsch (German)
Learn how to make delicious wild garlic gnocchi without eggs with fresh wild garlic. Enjoy wild garlic gnocchi vegan or serve with butter and parmesan.Jump to Recipe
Let's dive into spring with a vegan wild garlic gnocchi recipe! Recipes with wild garlic simply cannot be missed in spring. If you love wild garlic then try this easy gnocchi recipe today!
My wild garlic gnocchi are vegan and made in less than an hour from just a few ingredients and a realtively short prep time. The fresh chopped wild garlic makes the homemade little gnocchi super flavorful and adds a lovely bright green color.
You don't need a lot of sauce and – just tossed in a little melted butter,these pillowy gnocchi taste absolutely delicious. This simple recipe for wild garlic gnocchi without egg and cheese is a really delicious way start into the wild garlic season!
As you guys loved my wild garlic risotto, wild garlic bread and my wild garlic spaetzle last year, today we have gnocchi flavored with deep green wild garlic leaves.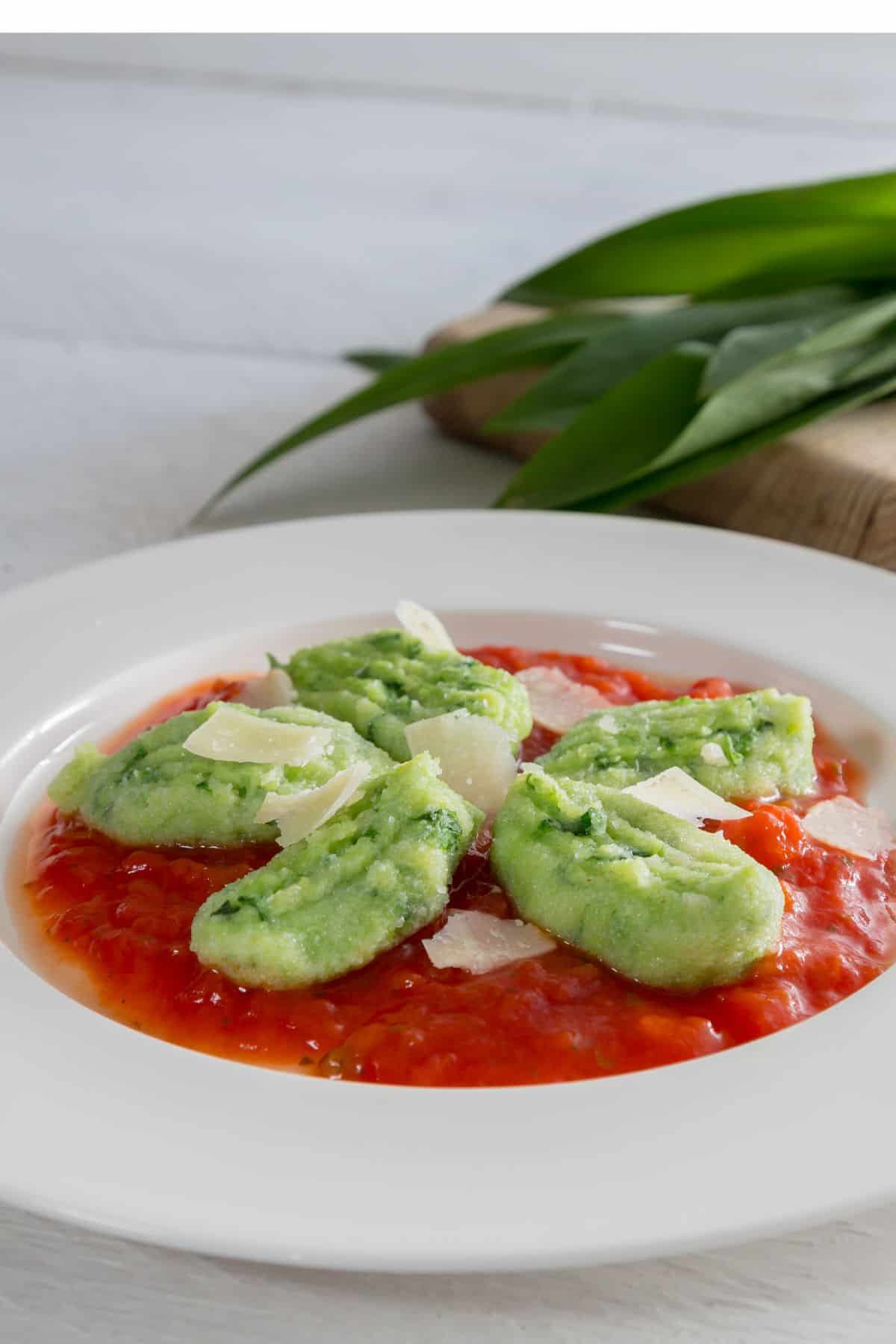 A culinary highlight for all pasta lovers and all those who indulge in wild garlic fever during this time of year. The wild garlic season usually lasts from mid-March to the end of April / May, and the high season is definitely April.
The gnocchi are super easy to prepare, have a wonderful green color and taste wonderfully spicy.
These vegan wild garlic gnocchi are
vegan
made with few ingredients
without egg,
ready in 1 hour
with fresh wild garlic
can be made in advance
ideal for freezing,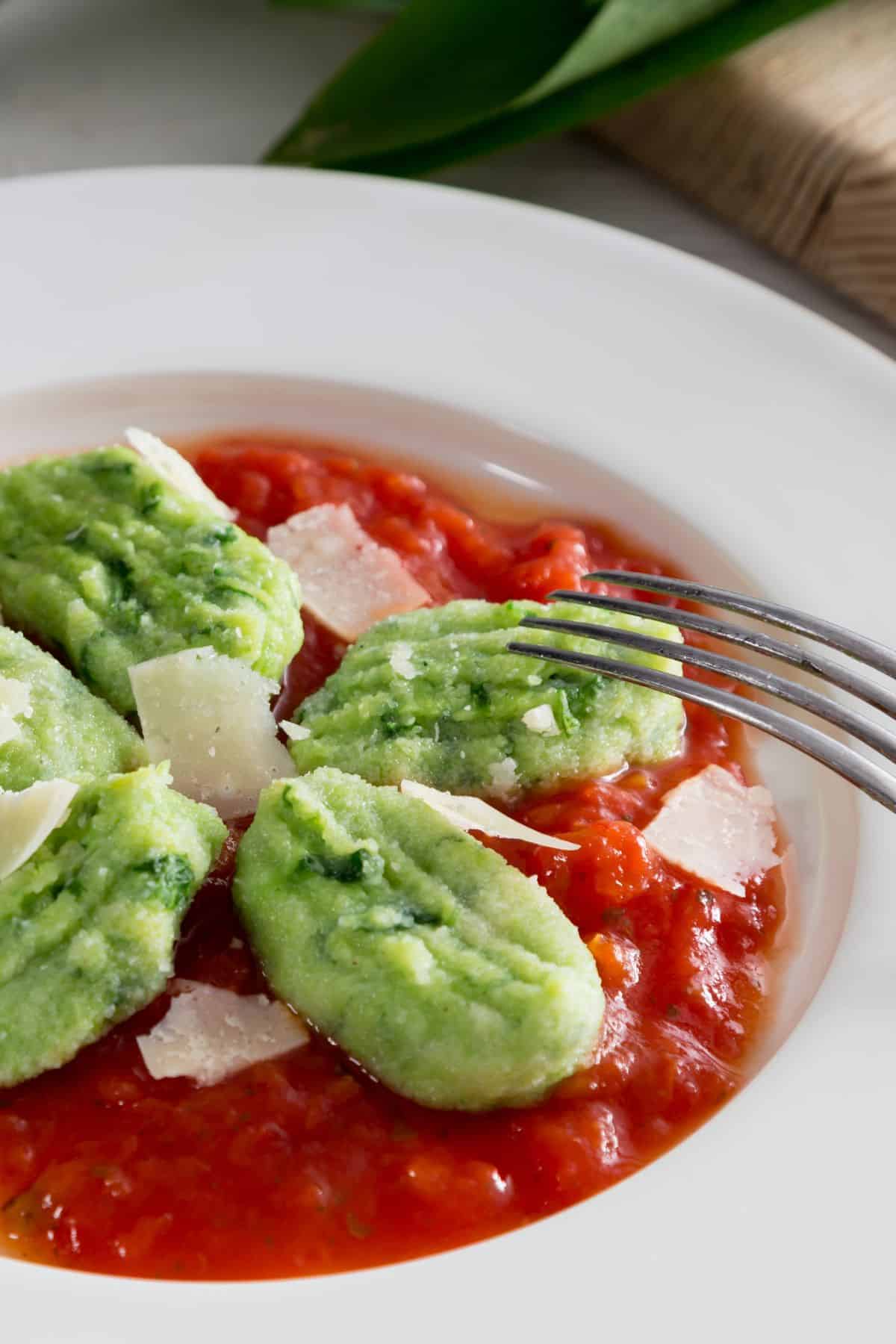 Tips for making gnocchi yourself
Choose the right potatoes:
According to pasta experts, it should be waxy potatoes. Most recipes called for starchy potatoes. It has long been scientifically proven that waxy potatoes contain less starch and are therefore much more suitable for gnocchi than starchy ones. The mashed potatoes will be fluffier and less sticky with potatoes with less starch. Young potatoes are unsuitable.
When cooking the potatoes, it is recommended not to pierce them too often to prevent them from soaking up much water. Dampening would actually be best. You can also put potatoes in the oven unpeeled, but pierce them several times, and bake them like baked potatoes, so they release water instead of absorbing more.
In any case, the potatoes have to be made into a puree while still hot, as the dough can be processed more easily this way. This works best in a potato ricer
Do not use too much flour in the dough:
It's important not to add too much flour or the gnocchi will become tough. The flour should only be used to hold the batter together and since we are not including an egg in the batter we don't need much
Do not knead for too long & process quickly:
Knead the dough only briefly, on a work surface with a dusting of flour, otherwise it can become tough. Knead quickly with just a little plain flour until you get a smooth dough.
Cut the dough into small pieces: Use a sharp knife to cut the dough into small pieces and form long, finger-thick rolls. This will help shape the gnocchi evenly.
Make the pattern with the fork:
For the typical pattern, press the gnocchi against a grid or grater with a fork. The fork marks not only look nice but also help the noodles absorb the sauce better. This works particularly well with a gnocchi board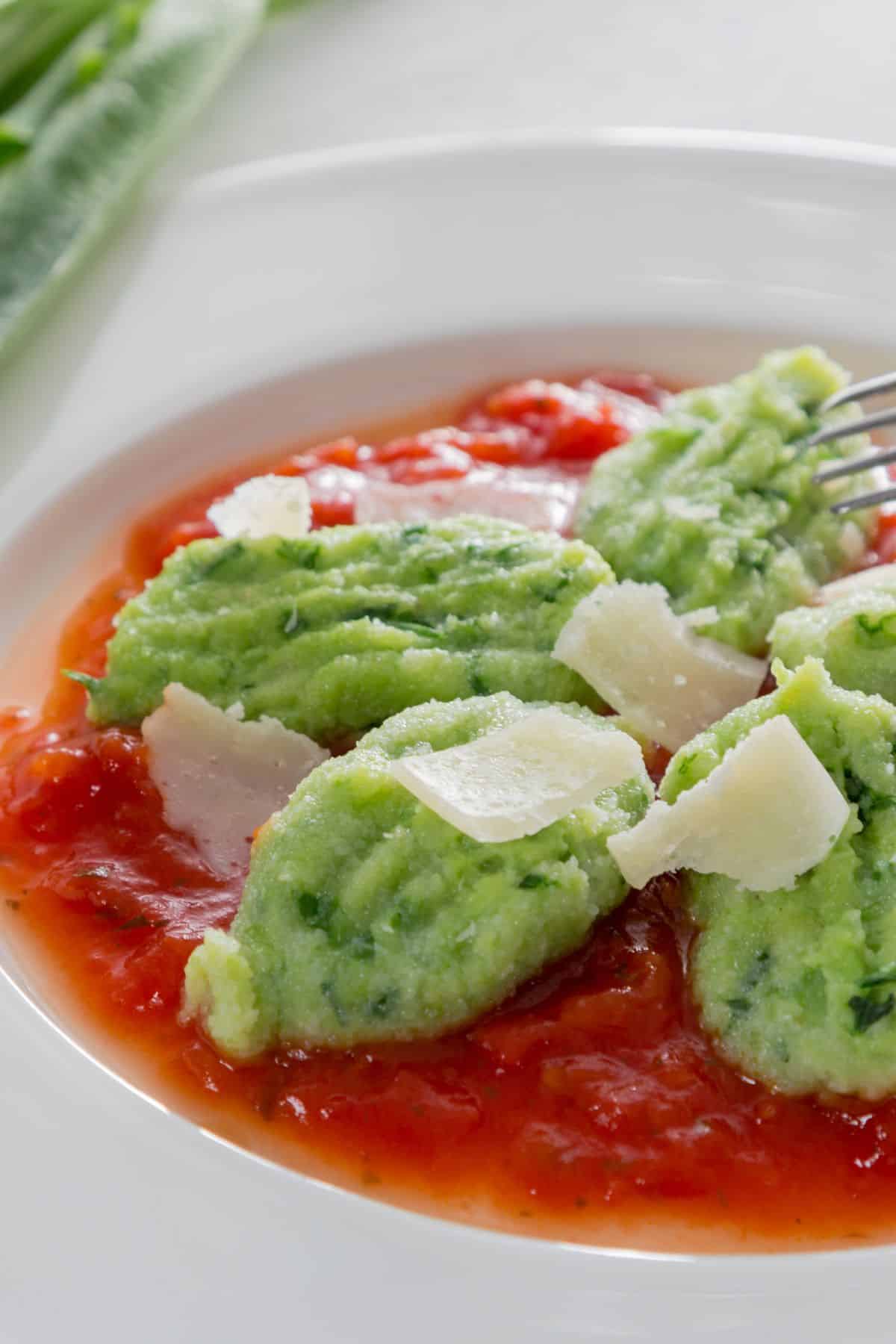 Gnocchi cooking time:
Cook them in a large pot of salted water. Gnocchi should only be cooked briefly in boiling water with plenty of salt , about 2-3 minutes or until they rise to the surface. Then remove with a slotted spoon. Cooking too long can result in mushy gnocchi.
Store homemade gnocchi
Gnocchi can be stored in a number of ways, depending on whether they are freshly made or pre-cooked.
Fresh gnocchi:
If you want to make the gnocchi within a few hours, you can store the dough in cling film or an airtight container in the fridge.
Freeze for longer storage. To do this, place the gnocchi on a baking tray dusted with flour and place in the freezer for about 1 hour to pre-freeze them. Then transfer them into the airtight freezer bag or container. They can be stored in the freezer for up to 2 months.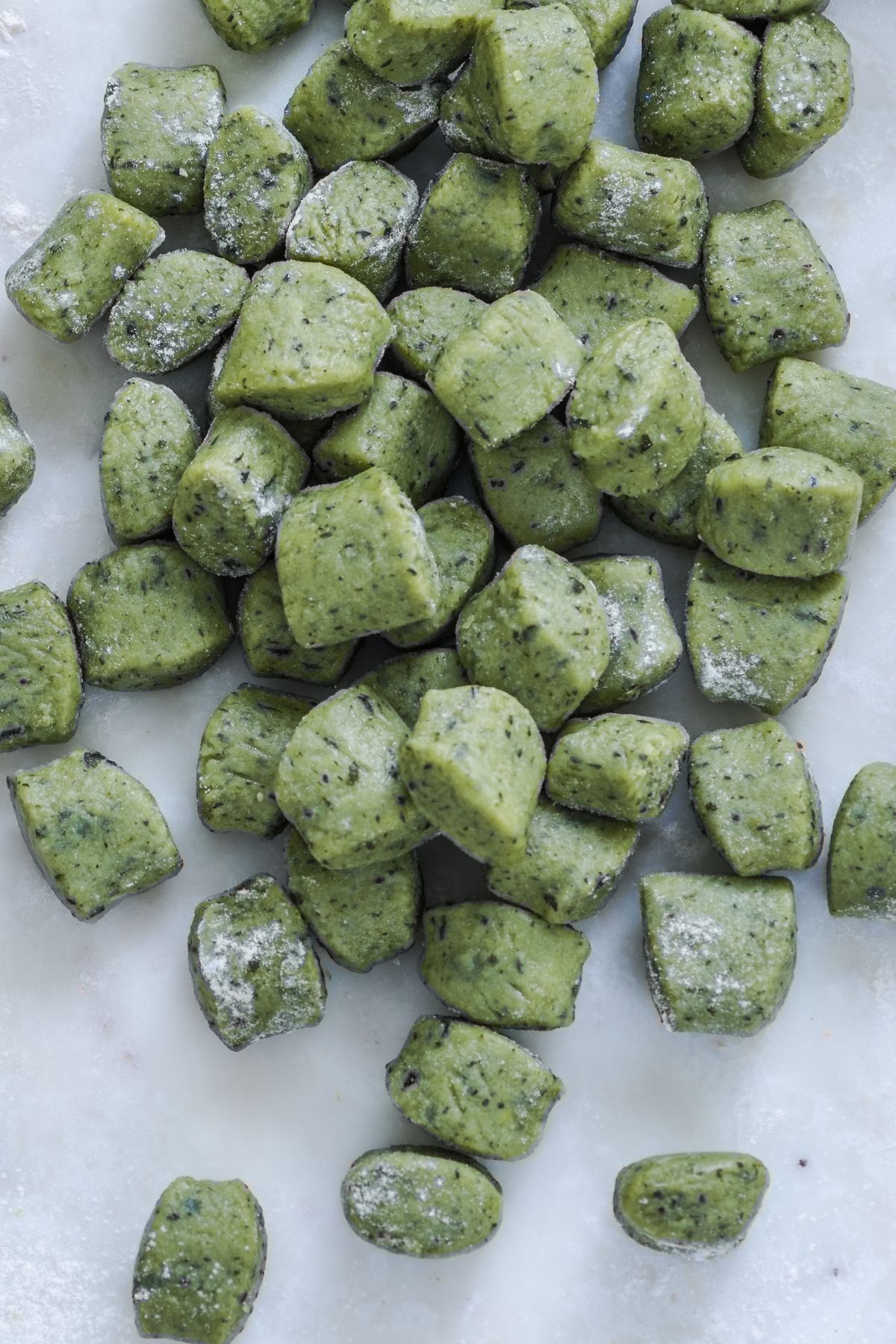 Cooked gnocchi:
Cooked gnocchi can be stored in the refrigerator in an airtight container or sealable plasti-jar for up to 3-4 days but I would try to eat them the next day.
They can also be frozen. Place cooked gnocchi on a plate or tray and place in the freezer for about 1 hour to pre-freeze. Then they go into the airtight freezer bag or container and you can freeze them so super. They can be stored in the freezer for up to 2 months.
Freezing can affect texture, especially with fresh gnocchi. If you want to thaw them, you should let them thaw slowly in the fridge and then briefly put them in boiling salted water again to restore the perfect consistency.
What goes well with wild garlic gnocchi
I served my gnocchi with braised tomatoes and thought it was excellent. Wild garlic pesto would also go really well. If you don't eat vegan, you can fry them in a good knob of butter or olive oil along with a crushed garlic clove in a large frying pan and serve the finished gnocchi sprinkled with parmesan and / or pine nuts.
These would also be so good sauteed in a large saucepan a splash of oil and some tender asparagus
Gnocchi go well with a variety of sauces, I imagine them to be particularly tasty with my creamy tomato cream sauce or my vegan pepper sauce. I can also recommend the creamy cheese sauce from my wild garlic spaetzle recipe.
Can you also use leftover potatoes to make gnocchi?
If you want to make gnocchi yourself and still have boiled potatoes leftover from the day before in the fridge, I have to disappoint you. The potatoes should be cooked as freshly as possible to get fluffy potato puree and made into gnocchi dough while they are still warm.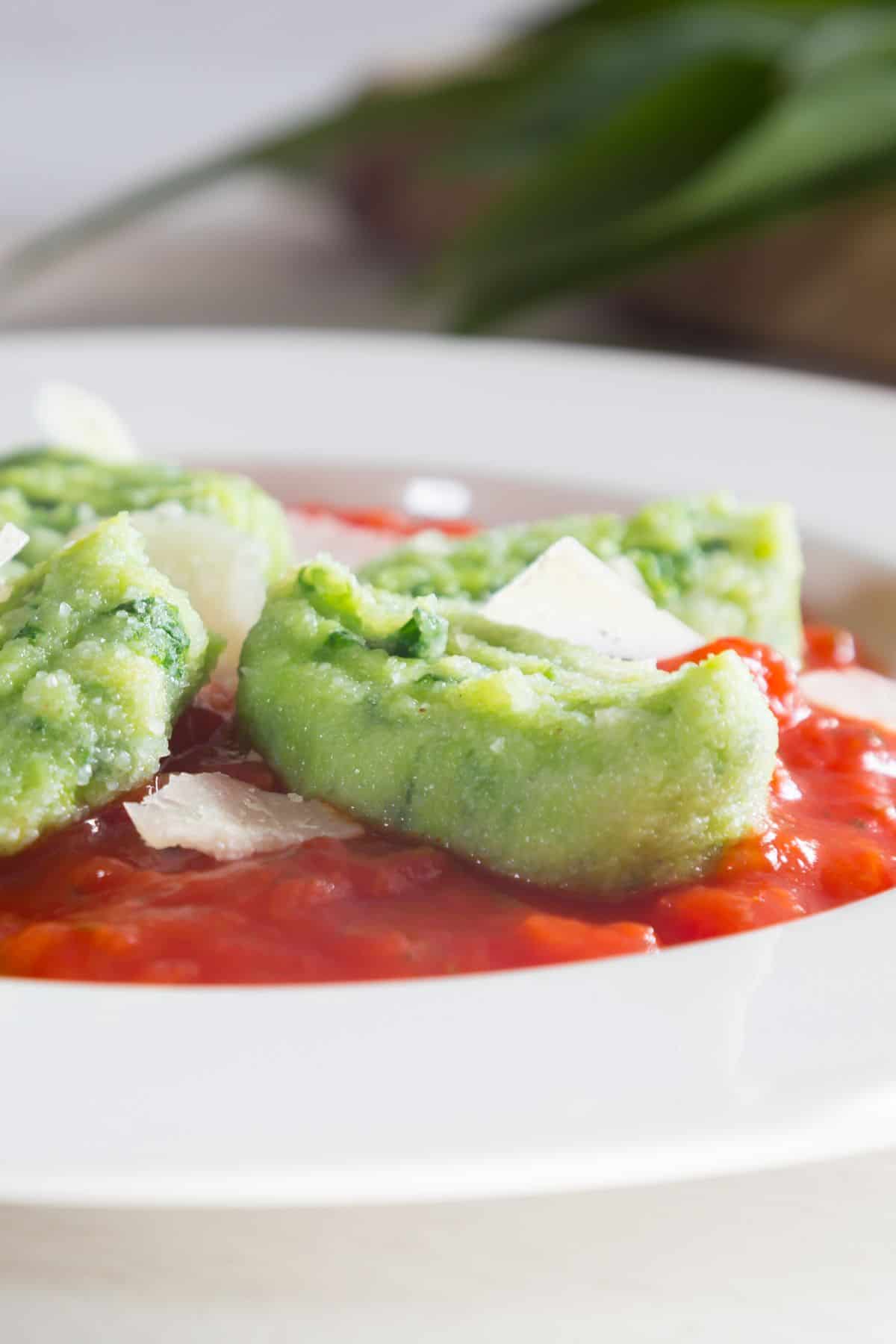 Gnocchi dough too sticky
To save sticky dough, it is advisable to add some cornstarch. Refrain from flour, because what you definitely don't want with gnocchi is the taste of flour. Gnocchi should taste like potatoes.
Recipe Variations:
If you want, you can add a pinch of nutmeg and some lemon zest or black pepper to the dough
Instead of wild garlic, you can also add spinach or rocket to the gnocchi
Wild Garlic Gnocchi
Learn how to make delicious wild garlic gnocchi without eggs with fresh wild garlic Enjoy the wild garlic gnocchi vegan or serve with butter and parmesan.
Ingredients
500

g

potatoes - about 6 small potatoes

approx. 170g light flour depending on the type of potato used - 3/4 cup

50

g

fresh wild garlic 1 3/4

⅔

tsp

salt

1

pinch

nutmeg

pepper
Instructions
Peel the potatoes and boil them in plenty of salted water until soft, or better yet, steam them. Wash wild garlic and chop as small as possible with a sharp knife.

Then while still warm, mash the boiled potatoes or put them through the potato ricer

Mix together the chopped wild garlic, flour, salt and nutmeg. Knead into a dough quickly without overkneading. The dough should no longer be sticky – if sticky add a little cornstarch

Now divide the dough into four portions and form each into a roll about 1 cm thick.

Using a knife, gradually cut the rolls into pieces about 0.5-1cm thick. Depending on how big and thick you want your gnocchi to be. We prefer small ones because they offer more surface for searing. Larger ones will be a little softer.

Then score the pieces: either with a gnocchi board or by pressing on the top with a fork. Dust each gnoochi with flour and set aside.

Boil water in a saucepan. When the water is boiling, add the gnocchi. The gnocchi are done as soon as they float to the top. It's best not to stir too much, as they are very delicate and easily crushed. Drain the gnocchi and drizzle with oil while still in the colander. Move around the sieve in circular movements, so that the oil is distributed perfectly!I

If you want to serve them with sauce, they are done. If you want to serve them crispy, fry.Meanwhile, heat a large frying pan with plenty of oil.

Now we fry the gnocchi in the frying pan, shaking the pan occasionally. After five to ten minutes (depending on size) the gnocchi have formed a crust and are ready to eat

Decorate -I like mine best with some pepper and parmesan cheese