Dieser Beitrag ist auch verfügbar auf:

Deutsch (German)
A simple vegan chickpea curry recipe with coconut milk, pumpkin, ginger, and tamarind paste. This is a quick, healthy, and wonderfully warming weeknight dinner perfect for fall and winter.
This easy chickpea curry is vegan and simply brilliant: Fast, healthy and so delicious!
I give you an absolutely fabulous vegan chickpea curry with coconut milk, pumpkin, and a touch of tamarind paste. Perfectly creamy, spicy but not too much so with the perfect balance of sweet and tangy.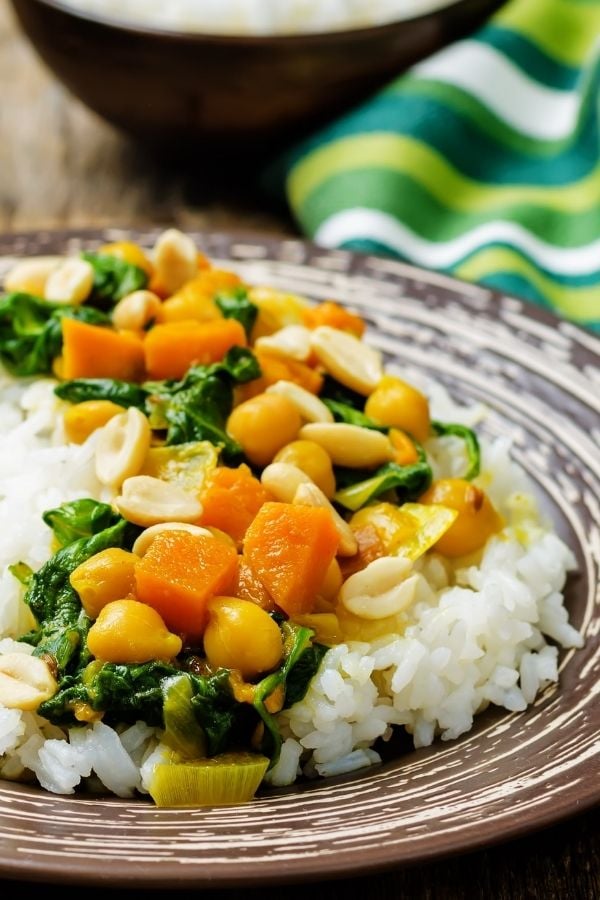 MY VEGAN CHICKPEA CURRY WITH COCONUT MILK IS:
Quick and easy
Gluten free
High in protein
Perfectly creamy.
This pumpkin chickepea curry has a Caribbean twist!
Curry automatically makes you think: Indian food – but this fall-inspired version with pumpkin has more of a Caribbean touch because we use tamarind paste and finish it off with some chopped peanuts.
You can get tamarind paste online and most grocery stores have it. But you can also replace it with a mixture of honey and lemon juice. White vinegar with water is another option (25% vinegar, 75% water).
Sour tamarind paste, creamy coconut milk, sweet pumpkin and protein-rich chickpeas!
Our vegan chickpea curry is hearty enough – you will not miss the meat and it is light enough to not weigh you down while still being super satisfying.
You can use either squash or pumpkin for this vegan curry recipe. Both taste great! I am particularly fond of Kabocha Squash as it is so starchy and sweet.
You will love this easy vegan chickpea curry!
We are talking about the creamiest chickpea curry with coconut milk ever! A super hearty, tasty dish that takes just 15 minutes. Then just let it simmer for 30 minutes and the meal is ready.
Hearty, spicy and perfect to turn your day around in the best way possible.
Serve this vegan chickpea curry with basmati rice or a piece of vegan flatbread with coconut milk.
Vegan Chickpea Curry Tips:
For this vegan curry recipe, I use canned chickpeas, but you can also cook them fresh. I always have at least 5 cans in my pantry. Because then I can spontaneously whip up a Vegan Aquafaba chocolate mousse or a batch of chickpea blondies.
The ginger and garlic go into the pot later so that they don't burn. The garlic should only be lightly golden.
I store my ginger root in the freezer and simply grate the desired amount directly from the frozen ginger.
If you want a particularly creamy chickpea curry, you can also replace the coconut milk with coconut cream!
Right in the end, I added a bunch of fresh spinach to the curry for color. If you don't like it, you can leave it out.
I like to serve the curry sprinkled with peanuts.
Taste in the end. Often a touch of sweetness is missing – so add a teaspoon of maple syrup or sugar if needed.
Vegan Chickpea Curry Recipe with pumpkin and coconut milk
2 servings
Ingredients:
1 onion diced
1 tbsp coconut oil
1/2 bunch cilantro – stems and leaves
1 large clove of garlic peeled and chopped
4 cm fresh ginger peeled and grated
1/2 Hokkaido squash or 4 cups of pumpkin cubes
1 fresh red chilli peppers – deseeded and minced
1 x 400g can of chickpeas, drained
1 tbsp sugar or maple syrup
1 can of tomatoes, diced
400 x ml coconut milk
1 1/2 tbsp tamarind paste
2 tbsp Worcester sauce
1 bunch spinach
peanuts for serving
salt to taste
Instructions:
Sautee the onions in a little coconut oil in a saucepan for about 4 minutes. In the meantime, chop the coriander and spinach if using, and prep chili, garlic, pumpkin and ginger. Set some cilantro aside for decoration.
Add the garlic, chili and ginger to the onions and cook for 30 seconds.
Now add the pumpkin, chopped coriander stalks and leaves, chickpeas, sugar, tomatoes, coconut milk and tamarind paste to the onions in the saucepan, put the lid on the saucepan and let it simmer gently for about 20-30 minutes. Stir occasionally
Is the pumpkin nice and soft and the consistency nice and thick? Then season the curry with salt, sugar, Worcester sauce and possibly a little tamarind paste, stir in the spinach and sprinkle with fresh coriander and peanuts!