Dieser Beitrag ist auch verfügbar auf:

Deutsch (German)
This Easy Rhubarb Crumble Traybake Recipe is perfect for spring! A German rhubarb cake recipe with streusel topping baked on a sheet pan! Jump to Recipe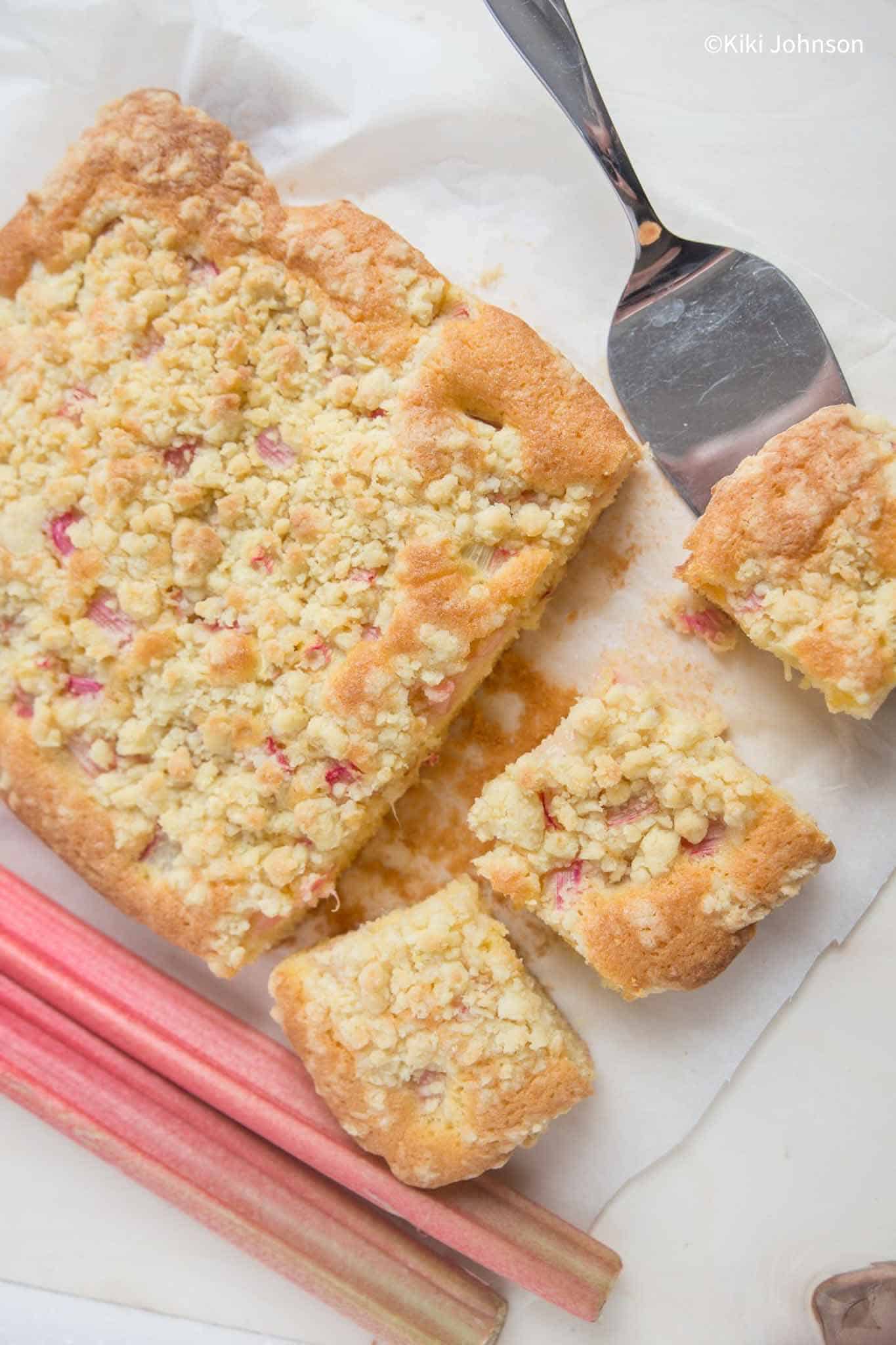 If you're looking for a delicious and easy spring dessert to make, look no further than this easy rhubarb traybake. Rhubarb crumble meets rhubarb cake – this easy German cake recipe is perfect for any occasion and can be whipped up in no time.
Whether you're hosting a brunch party, need a delicious cake for a bake sale, or just want to treat yourself to something sweet during rhubarb season, this rhubarb traybake recipe is sure to satisfy you.
Moist almond-scented cake topped with fresh pieces of rhubarb. A small amount of homemade marzipan makes this German rhubarb cake extra moist.
What is Rhubarb Tray Bake?
Rhubarb tray bake is a simple dessert that consists of a sweet cake batter topped with fresh rhubarb slices. To take things to the next level,m we add a delicious crumble topping.
This sheet cake is light and fluffy while still super moist, and the rhubarb adds a tangy and slightly tart to elevate this bake.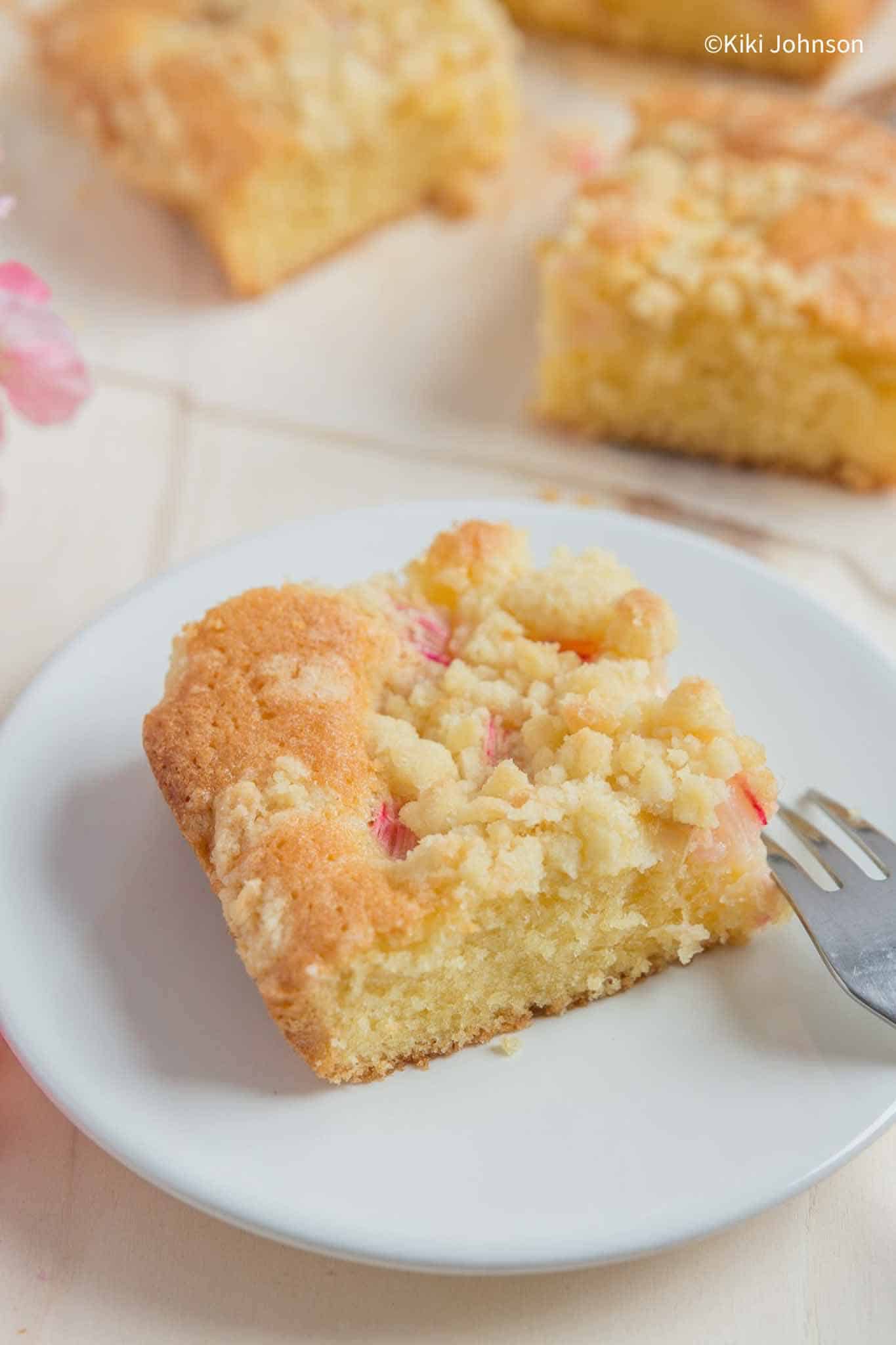 We have a true favorite seasonal cake recipe here! Perfect for spring and summer when rhubarb is in season, but if you have some frozen rhubarb, it can be enjoyed any time of the year.
This German recipe uses marzipan in the cake batter. You can make the marzipan yourself using my tutorial on how to make marzipan or use purchased raw marzipan!
Believe me, homemade marzipan made from almond flour is incredibly quick and I find it makes the cake particularly juicy and moist!
For afternoon tea, family gatherings and holidays, I always bake a whole tray and cut the cake into bite-sized pieces so everyone can help themselves.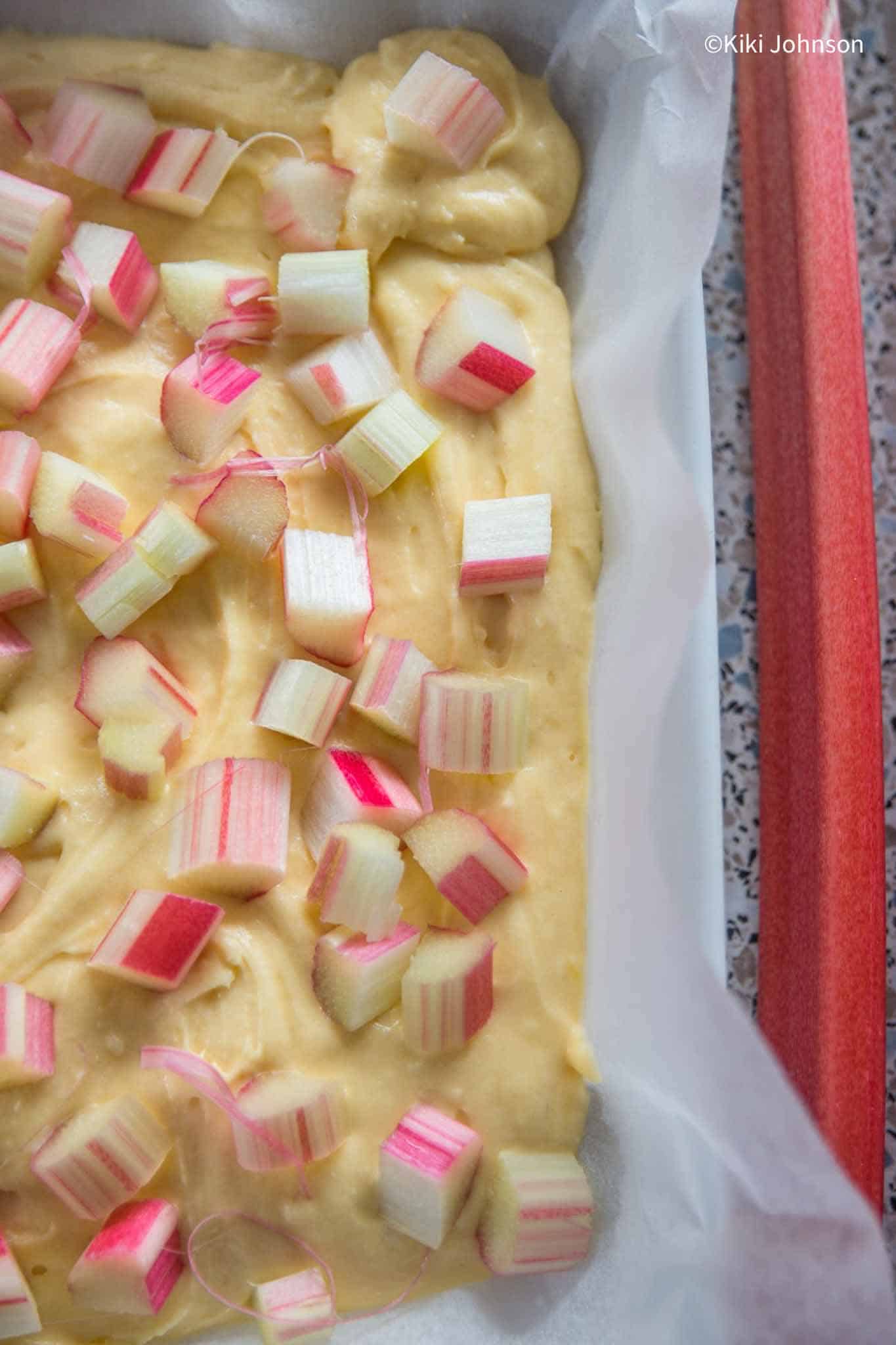 Grandma's German rhubarb traybake cake is totally simple but absolutely not boring.
The delicate batter with marzipan melts in your mouth and tastes subtly of almonds and vanilla. The sprinkles are the icing on the cake.
Recipe tips
Bring Ingredients to room temperature: Allow eggs, milk, and unsalted butter to come to room temperature before using. Cold ingredients can cause the batter to become lumpy or cause the ingredients to not mix well.
Beat the soft butter and sugar until well creamed: Beat the butter and sugar until light and fluffy, at least 5 minutes. This ensures that the dough has a nice texture and mixes well with the other ingredients.
Sifting the flour and baking powder: Sift the flour and baking powder before adding the flour mix to the batter. This will prevent lumps from forming in the batter and ensure an even distribution of flour and baking powder throughout the batter.
Don't overmix the batter: Once the flour and baking powder have been added to the batter, stir just until well combined. Excessive stirring can cause the dough to become tough and heavy.
Bake the batter immediately: Pour the cake mixture on the prepared baking sheet / baking tray lined with parchment paper and bake immediately after mixing the ingredients together. If you wait too long, the batter can become heavier and denser.
Properly preheat the oven: Make sure your oven is preheated to the correct temperature before placing the batter in it. An oven that is too hot or too cold can cause the sheet cake to bake unevenly or become too dry.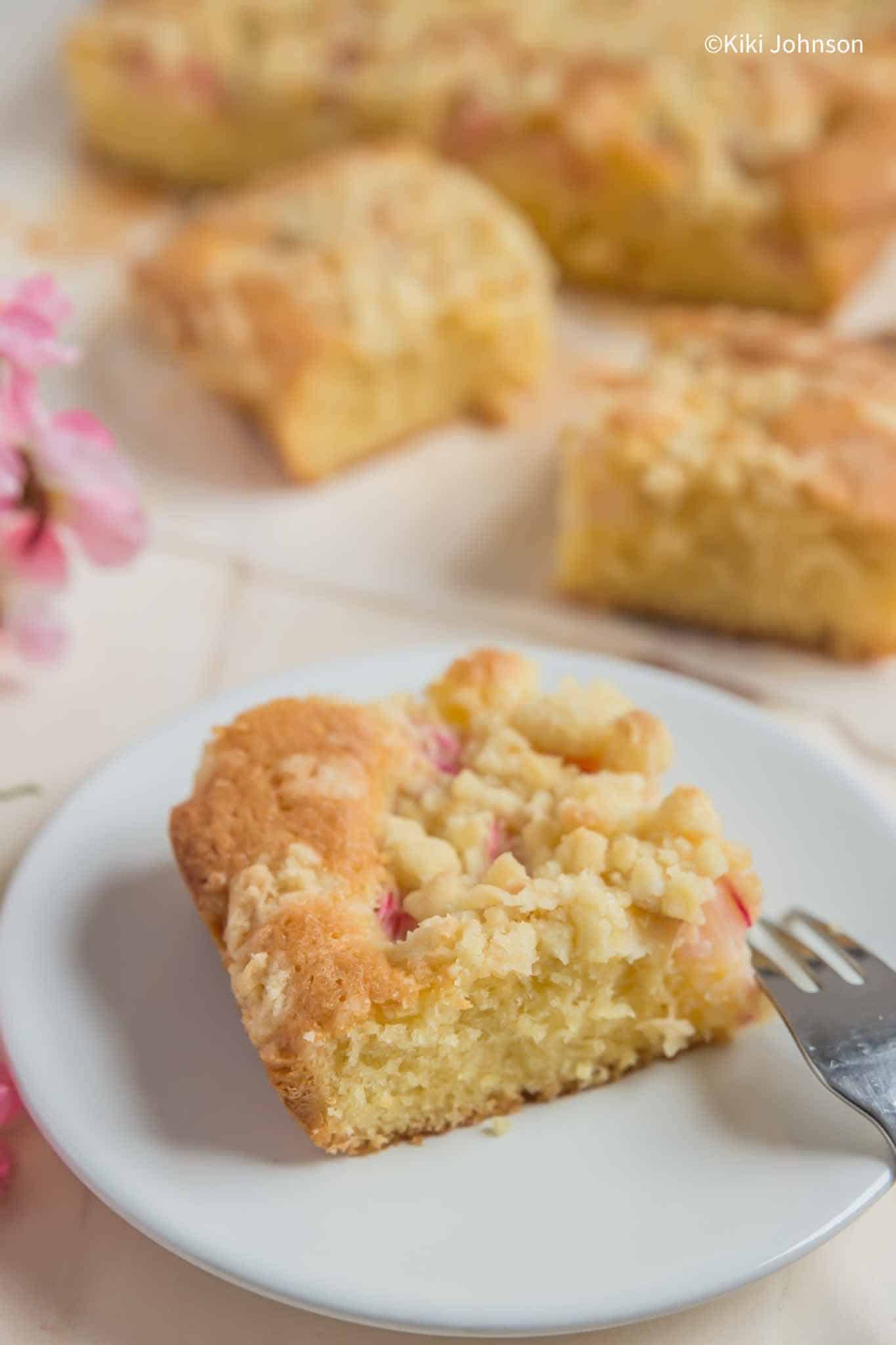 Recipe Variations:
If you want, you can also toss raspberries or sliced strawberries onto the batter
A grating of lemon zest is also a nice addition
Make ahead
By the way, you can easily prepare the rhubarb sheet cake the day before. The sponge cake and my plum cake from the tin remain wonderfully fresh and juicy even after a few days.
More tray bakes:
More rhubarb recipes
Rhubarb season is short so make sure to save and make these easy cake recipes with fresh rhubarb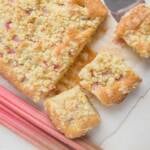 Easy Rhubarb Crumble Traybake Recipe
This Easy Rhubarb Crumble Traybake Recipe is perfect for spring! A German rhubarb cake recipe with streusel topping baked on a sheet pan!
Ingredients
For the crumble topping
100

g

marzipan - 7 tbsp

200

grams

of flour - 1 1/4 c

120

grams

of sugar 1/2 cup + 1 tbsp

140

grams

of butter -1/2 cup +t tbsp
Batter
100

g

grated cold raw marzipan - 7 tbsp

200

grams

of icing sugar 1 1/2 cups

1

tbsp

vanilla

1

pinch

salt

250

grams

of butter - 1 cup + 2 tbsp - soft

5

eggs room temperature

Bitter almond flavor - a few drops

400

grams

of flour - 2 1/2 cups

2

teaspoons

cream of tartar / baking powder

130

ml

milk - 1/2 cup + 1 tbsp
For  topping:
500

grams

of rhubarb - 4 1/2 cup
Instructions
Crumble
Grate 100 g marzipan and chill. Grating marzipan is easiest when it is chilled. I like to put the marzipan in the freezer for 10 minutes

Make coarse crumbles with  half of the marzipan and the remaining ingredients. You can do this with the kneading hook of the hand mixer, or by hand! Then also chill them until ready to bake. We keep a small amount of grated marzipan for the last step.
Batter
Mix flour and making powder and sift together into a bowl. Grate the marzipan and mix with the icing sugar, soft butter and vanilla until light and fluffy. Then add the room temperature 5 eggs, 1 by one beating well after every addition. Add the salt and beat everything until creamy for at least 4 minutes with the hand mixer. Stir vanilla and add in the almond essence, if using. Then bit by bit stir in the flour-baking powder mixture, adding some of the milk in between additions of flour. Do not overmix ( see tips)

Spread the dough on a lined baking sheet (or use a baking frame and baking paper ). Spread the rhubarb slices over the dough and press them in slightly. Sprinkle everything with the crumble and the saved marzipan and bake for approx. 45 minutes in the oven at 190°C top/bottom heat.

When baking, make sure that the marzipan and streusel do not get too brown, so  put the cake in the lower third of the oven and maybe cover the cake with baking paper or aluminum foil towards the end.

Another possibility is to sprinkle marzipan on the cake 10 minutes before the end.