Dieser Beitrag ist auch verfügbar auf:

Deutsch (German)
This easy old-fashioned Lemon Rice Pudding is extra rich and creamy thanks to sweetened condensed milk, butter and eggs. Fresh lemon zest, juice, vanilla and butter are added and make this rice pudding taste like a lemon muffin! Jump to Recipe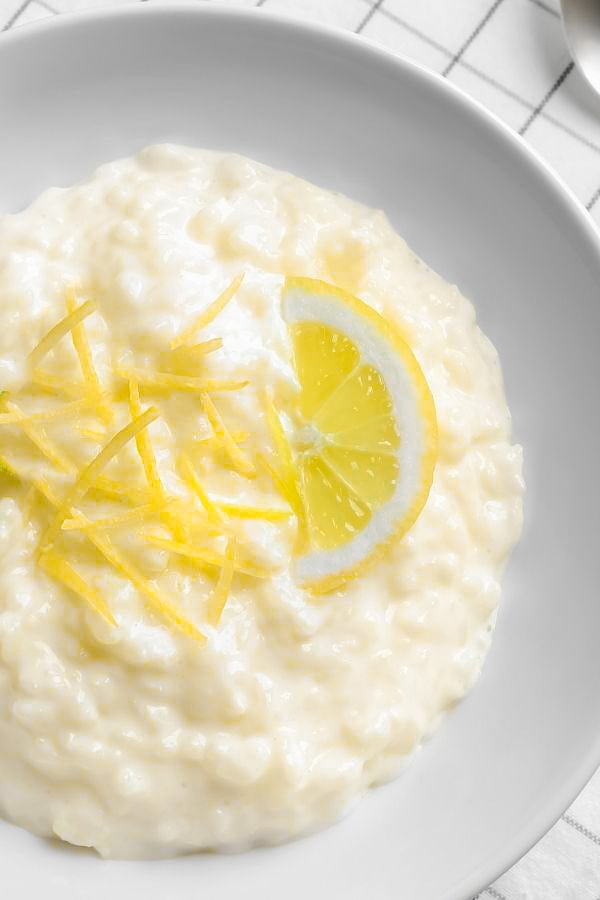 A bowl of warm rice pudding is like a comforting hug on a dark, dreary day. Now in early spring I love adding lemon zest + juice to all my desserts to brighten them up. In this easy lemon rice pudding recipe, lemon rind is added to the rice as it cooks. By cooking the rind with the arborio rice and milk, it adds its bright, citrusy lemon flavor to the pudding. To amp up the flavor even more, pure vanilla extract is added at the end along with some lemon zest, butter, and lemon juice. A dessert that feels like first day of spring in a bowl.
If you like creamy old-fashioned rice pudding that are creamy and rich then this lemon rice pudding is the ultimate comfort food dessert for you! Creamy dreamy rice pudding scented with vanilla, lemon zest and fresh lemon juice as well as bit of butter. With the vanilla, lemon and butter, it tastes a bit like a lemon muffin or lemon cake! All in all not too sweet, just enough, so perfectly acceptable for breakfast OR dessert.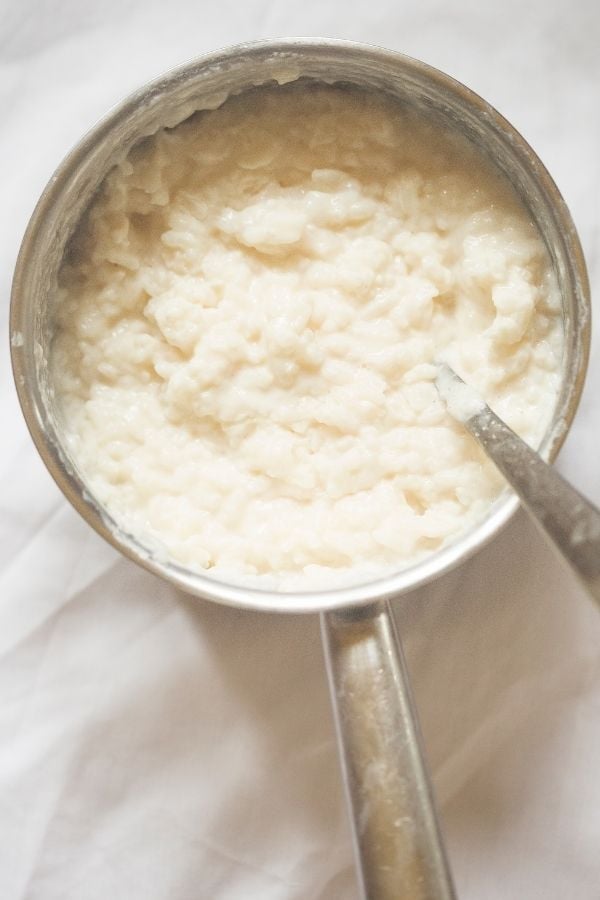 The best part is the super creamy texture, that melts on the tongue. This is achieved by using the never-fail trifecta of eggs, butter and sweetened condensed milk! Rice Pudding at its best!
ingredients for lemon rice pudding
With a handful of easy-to-find ingredients, you're minutes away from the best creamiest lemon rice pudding of your life.
Medium grain rice — I love Arborio, medium-grain rice, because it is plump, doesn't get mushy, and introduces just the right amount of starch to the pudding. I find medium adds just the right amount of creaminess. Do not use long grain rice or short-grain in this recipe, as the texture will be altered.
Milk instead of cream or water for extra richness. You can use full fat, low fat or skim. Coconut milk also works.
Pure vanilla extract provides the right homey taste in the cream.
Condensed milk — my granny's secret weapon. It adds that something extra to the flavor and texture of the pudding.
Unsalted butter. The one ingredient that will never be optional for us. It needs to go in and maked the lemon rice pudding taste like a lemon muffin.
Lemon juice, rind and zest – use organic lemons if you can
Cooking rice pudding is as easy as putting all the ingredients into a saucepan and simmering until the rice is very tender and the mixture thickens up.
In this recipe, we temper in egg yolks for richness, but if feel you want to skip this step, or are afraid of scrambling the egg, skip it. Instead, to make the lemon rice pudding extra-rich, stir in a tablespoon or two of butter in at the end. Even if you used the egg, I often find as little as a tsp of butter takes it up to the next level.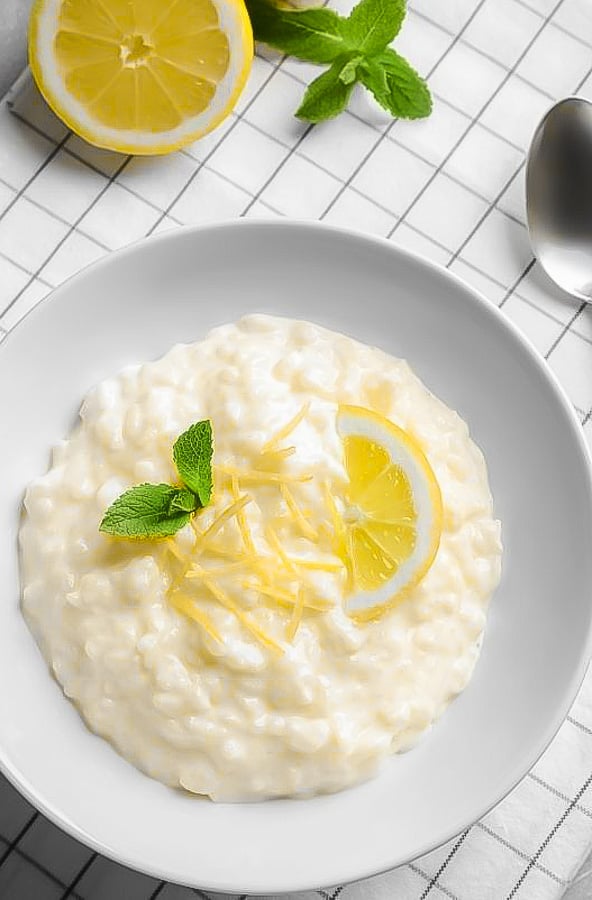 Why is my rice pudding runny?
If your lemon rice pudding has ended up too thin, it is likely that it didn't cook it long enough at the end for the custard to thicken. You can pour it into a saucepan, heat, then stir in a bit of cornstarch mixed with cold water, a bit at a time, until the rice pudding thickens as needed
What to serve with lemon rice pudding?
Serve creamy lemon rice pudding warm or cold – maybe with some fresh whipping cream, some mint, some lemon curd or some grated lemon zest over the top.
The pudding lasts about 4 days. L
et it cool to room temperature and store it in the
fridge
for a cold, fruit-topped breakfast or a sweet snack.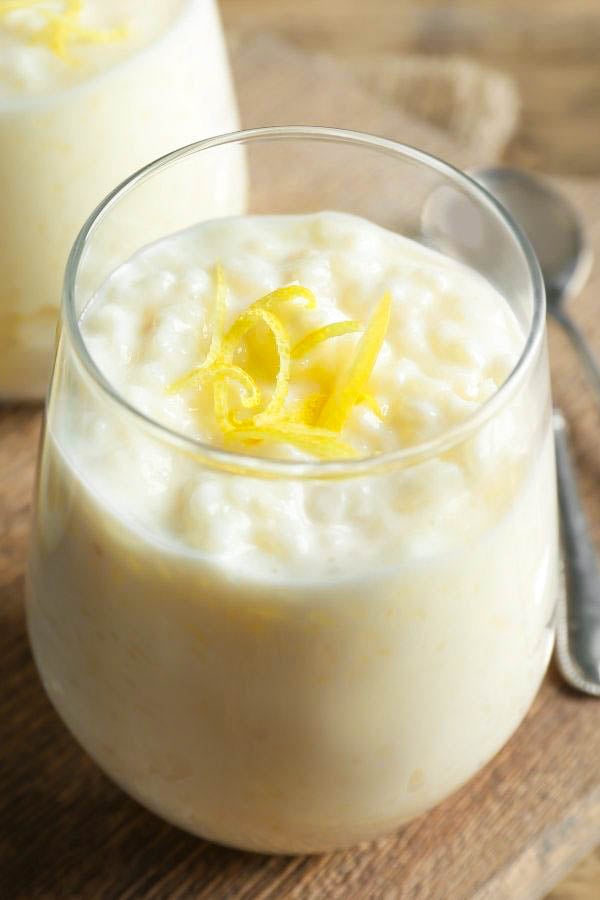 Tips:
For best results, please use a quality nonstick saucepan with a heavy bottom. Cleanup with nonstick is effortless!!!
Remember to stir it occasionally to make sure the bottom doesn't scorch.
No rinsing of the rice when making rice pudding. For creamy dishes like risotto or rice pudding, rinsing compromises the texture of the finished dish
When cooking with zest + the rind of lemons, try and buy organic whenever you possibly can.
The pudding does thicken up quite a bit as it cools and sits overnight. Add in a splash of almond or soy milk when you reheat the pudding.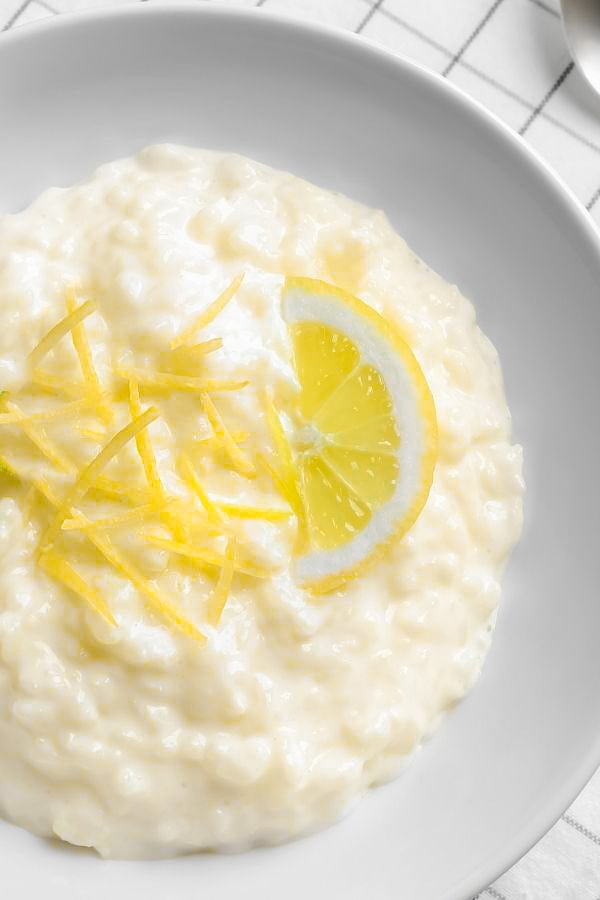 Lemon Rice Pudding
This easy old-fashioned Lemon Rice Pudding is extra rich and creamy thanks to sweetened condensed milk, butter and eggs. Fresh lemon zest, juice, vanilla and butter are added and make this rice pudding taste like a lemon muffin!
Ingredients
1

cup

medium-grain white rice⁠

180 g

2

cups

whole milk or coconut milk⁠

2

tablespoons

heavy cream or coconut cream⁠

1

tablespoon

salted butter ⁠

1/4

tsp

salt ⁠

2

strips lemon rind

1 8-

ounce

can sweetened condensed milk ⁠

1

tablespoon

vanilla extract

Zest of 2lemons plus juice of 1 lemon

plus extra lemon zest, for serving (if possible, use Meyer Lemons)⁠

1

large egg

beaten ⁠
Instructions
Pour the rice into a medium saucepan. Add the milk, cream, butter, salt, lemon rind and 2 cups of water and stir to combine. Bring the mixture to a gentle boil over medium-high heat, then cover the pan, reduce the heat to low and simmer, stirring twice as it cooks, until all the liquid is absorbed and the mixture is creamy, 20 to 25 minutes.⁠

Turn off the heat, add the sweetened condensed milk, vanilla and lemon zest and juice and stir. Return to the heat and cook for 5 more minutes, then turn off the heat again. ⁠

Stir the egg in a small bowl and pour some hot rice mix into the egg to temper, return the egg mix to pot and heat, stirring constantly.⁠ Alternatively, stir in 2 tbsp butter.

Let the mixture sit in the pan for an additional couple of minutes, then serve it nice and warm with some grated lemon zest over the top.⁠
Recipe Notes
On day 2, stir in some Greek yogurt to lighten it up! Day to lemon rice pudding is THE BEST! ⁠