Dieser Beitrag ist auch verfügbar auf:

Deutsch (German)
Today I share with you my adapted version of Canada's favourite Carrot Cake recipe.
This year I will celebrate my first Easter in Canada. The rituals are pretty much the same. Well, apart from the German Egg Liquor Tradition to which I' ll dedicate another post. So this year will be as always….just with a chance of snow. There'll be some kind of brunch, Easter egg hunting, gorging on too many Lindor Truffles and regretting it when you realize that you haven't even had any cake yet. Cake is of course quintessential. In Germany it's usually the naughty trinity of Egg Liquor Cake, Käsesahne Torte, a creamy dreamy and slightly tangy quark afffair, and the obligatory Karottenkuchen, or Rüblitorte as the Swiss call it.
The German Carrot Cake is one of my favourite cakes ever. It's heavy on the ground nuts and carrots and comes with a simple chocolate or lemon glaze instead of cream cheese Icing.
This year I wanted it to be different. I wanted to the Canadian -style Carrot Cake. When in Rome and so on…North Americans in general and Canadians in particular like their carrot cake slightly autumn spiced and studded with pineapple chunks, raisins, pecans and even coconut flakes. So this year I tried to give this version a shot and went to try out the Carrot Cake recipe described as Canada's Best Carrot Cake by a well known magazine.
The Carrot Cake came out very good but a bit less exciting and moist than I had hoped for so I made a few adjustments to it to up the moistness by including some soaked raisins and more pineapples.
I also brushed the cake with a mix of pineapple juice and rum – an old bakers' secret – to add a bit of extra moistness. This step really takes the cake to the next level.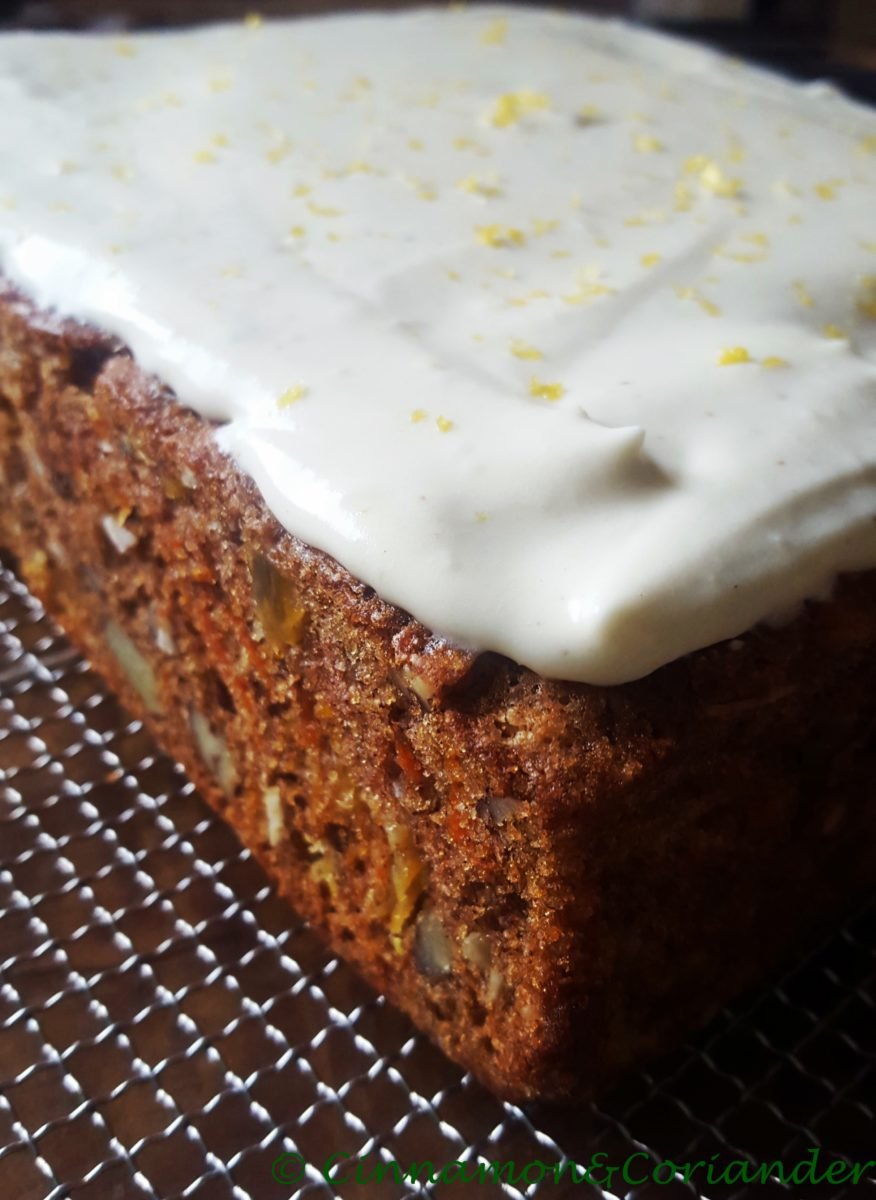 The frosting is not your typical cream cheese icing as I wanted something a bit less sweet and a bit lighter in texture. I opted for a mascarpone whipped cream lightly flavoured with lemon zest and vanilla. I love the mild aroma and the great mouthfeel of this creamy fluff.
This Carrot Cake is definitely a keeper. Everyone loved it and it was gone way to quickly. Make this cake a day ahead. It gets better when being allowed to rest a bit.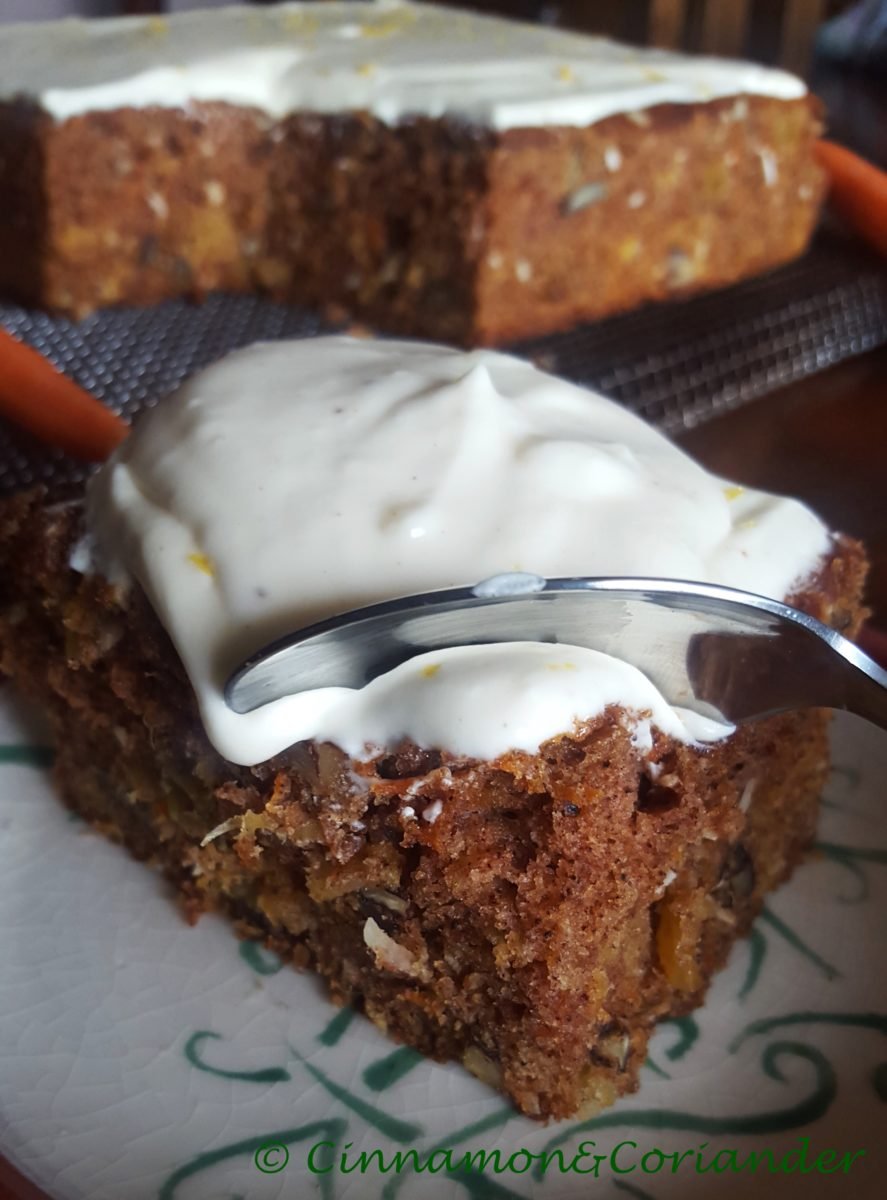 Kiki's best Canadian Carrot Cake
This carrot cake gets its moistness through a lot of added fruit and a boozy soaking syrup. Serve this heavenly cake for your Easter Brunch!
Ingredients
2

cups all-purpose flour

500 mL

2

tsp baking powder

2

tsp cinnamon

10 mL

1

tsp baking soda

3/4

tsp salt

4 mL

1

tsp nutmeg

2 mL

3/4

cup granulated sugar

175 mL

3/4

cup packed brown sugar

175 mL

3

eggs

200

ml

vegetable oil

1

tsp vanilla

5 mL

2

cups grated carrots

packed

1

can crushed canned pineapple

save the juice

1/2

cup chopped pecans

125 mL

1

cup golden raisins

soaked in juice or rum *

For soaking

Pineapple juice from the can mixed with 50 ml of Rum

about 150 ml

Mascarpone whipped cream

4

ounces mascarpone cheese

I use Belgioioso

¼

cup sugar

¼

teaspoon vanilla extract

1

cup heavy cream

zest of 1 lemon
Instructions
Grease and flour 13- x 9-inch (3.5 L) metal cake pan; set aside.

In large bowl, whisk together flour, baking powder, cinnamon, baking soda, salt and nutmeg. In separate bowl, beat together granulated and brown sugars, eggs, oil and vanilla until smooth; pour over flour mixture and stir just until moistened. Stir in raisins with their soaking liquid, carrots, pineapple (save some of the juice) and pecans. Spread in prepared pan.Bake in centre of 350°F (180°C) oven for 40 minutes or until cake tester inserted in centre comes out clean. Brush your pineapple juice / rum mixture on top of the still hot cake and let cool.

For the Frosting

Chill a large mixing bowl in the fridge.

In your chilled bowl, combine mascarpone cheese and sugar on a high speed until completely combined.

Add vanilla and heavy cream, and mix on a low setting until it is mostly combined. Now increase speed to high and whip until stiff peaks form - it may take a little while, so be patient!

Once the carrot cake has cooled, spread the cake with the frosting and grate some more lemon zest on top.
Recipe Notes
* in a little bowl cover the raisins in with rum juice and microwave shortly. That way the raisins soak up the liquid waz quicker!
the cake should be made a day in advance as it gets moister and better when given time to rest. Cover your pan in foil and let it rest in the fridge.