Dieser Beitrag ist auch verfügbar auf:

Deutsch (German)
This easy German Apricot Crumb Cake with cherries is an amazing coffee cake for summer made with fresh apricots and a buttery crumble topping. Can be made vegan. Jump to Recipe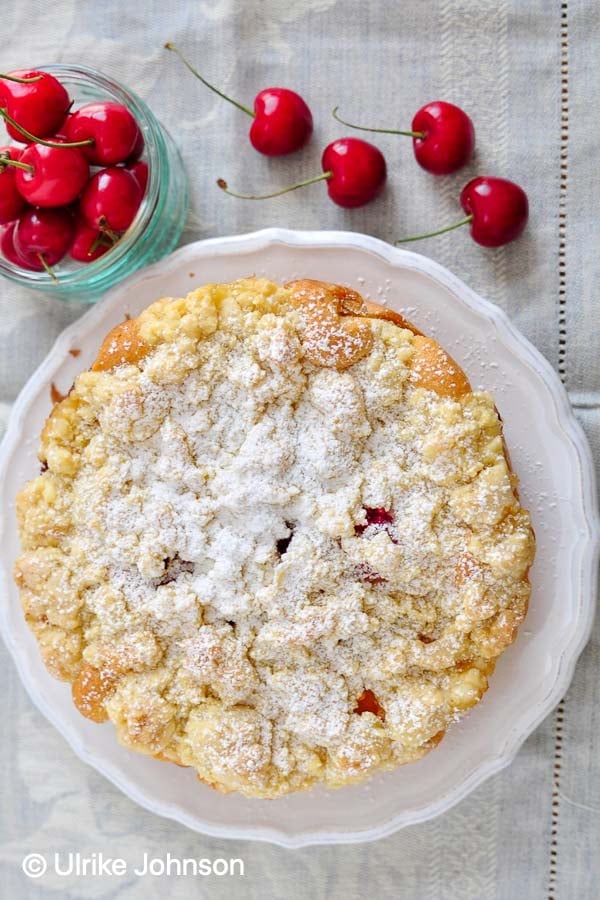 This German Apricot Crumb Cake with fresh Cherries and buttery crumble topping is the perfect easy coffee cake for using seasonal apricots in summer! However, you can easily substitute with other fruits like plums, pears, rhubarb, or raspberries.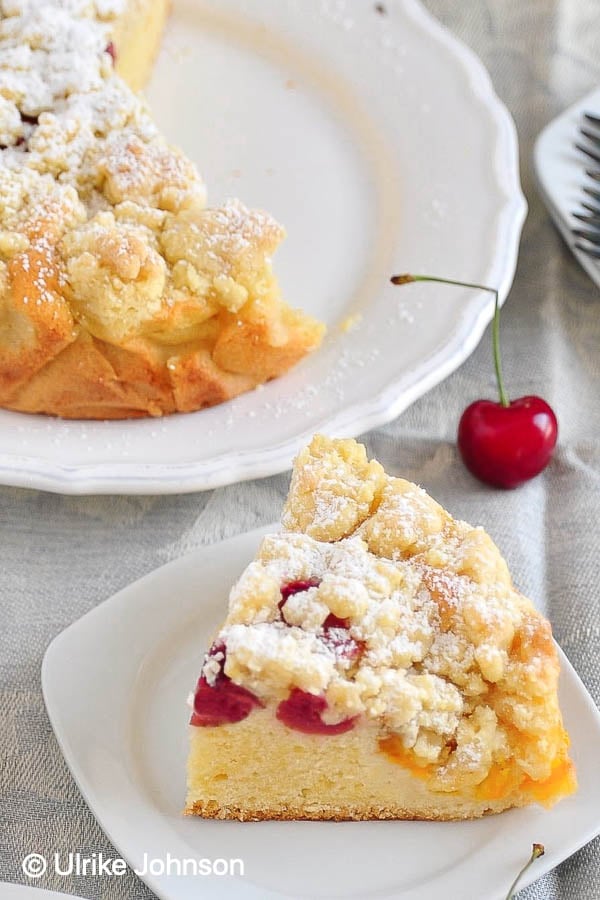 This crumble cake is juicy yet light and tender in texture, and it is scented throughout with butter and lemon for warmth and comfort as well as a touch of summer bliss.
The crumble topping is a very simple one, made using a German family recipe. The crumble provides a nice crunch and lends a more interesting texture to the fresh apricot cake.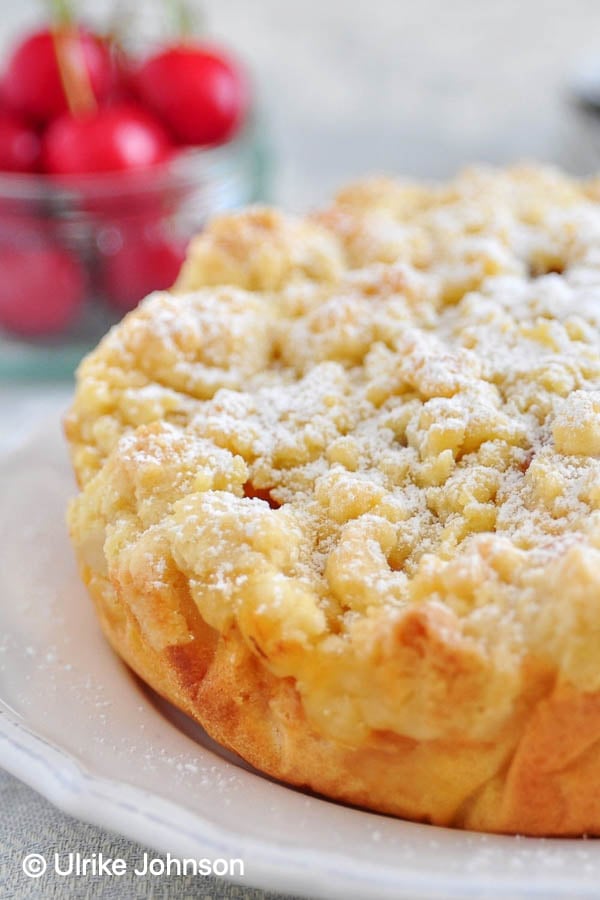 Use your over-ripe apricots for this cake recipe!
This traditional German apricot cake recipe is the perfect treat to bake if you have some over-ripe fresh apricots or cherries to use up. However, it also works just as well with ripe, but still firm, fresh apricots.
It is also a great recipe for using canned apricots or peaches or even canned pear halves as a last-minute fruit dessert.
No matter the type of fruit you use in this authentic German cake, it is almost always demolished in one sitting with barely a crumb leftover. I especially love the combination of cherries and apricots here because of the color contrast.
You can serve this apricot cake straight from the oven with some whipped cream or ice cream, but leftovers taste just as delicious for breakfast the next day.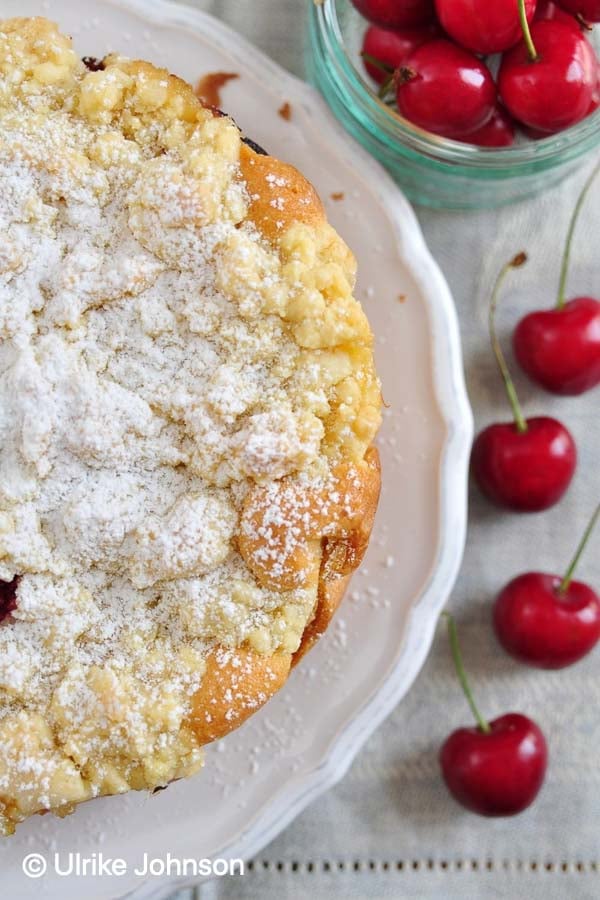 Tips for making Fresh Apricot Crumb Cake:
The secret to this German Apricot Crumb Cake is using soft butter for the batter and cold butter for the streusel topping.
All ingredients for the cake batter should have the same temperature.
Pay attention to the order of ingredients. First, you want to cream butter and sugar until white and fluffy, then add 1 egg at a time.
I make my batter with a handheld mixer but a stand mixer works fine. Once the dry ingredients are added, I switch to a big whisk or a spatula and fold it in by hand to avoid overmixing.
Sift the flour and baking powder together before adding it to the batter. This guarantees even distribution and no lumps of flour in your batter.
For an extra light cake, separate the eggs and whisk the whites, then fold them into your butter sugar egg yolk mix.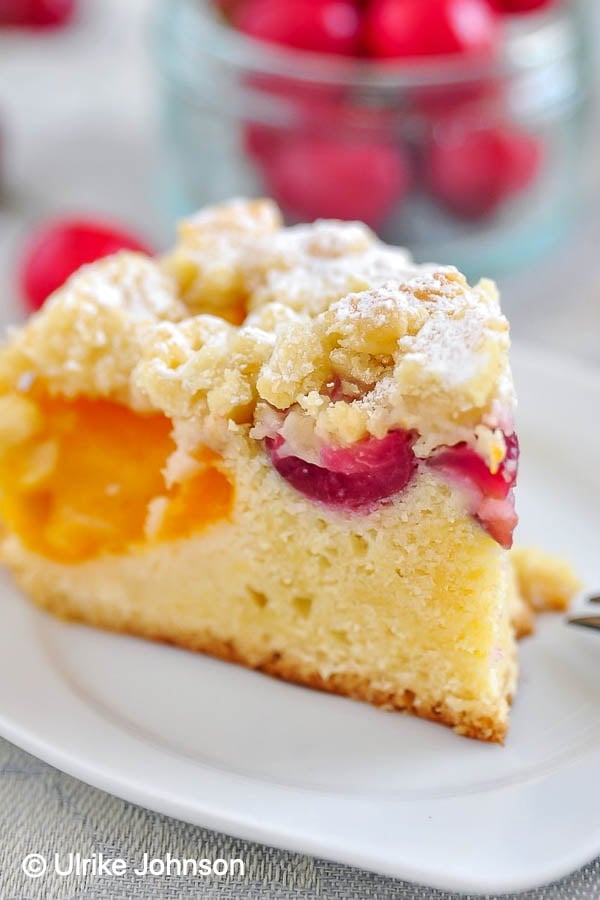 How to store crumb cakes and cakes with streusel?
Store it at room temperature for 1-2 days. Afterward in an airtight container in the fridge.
You can freeze fresh apricot cakes without hesitation. Let the cake cool down completely, then cut it into pieces and carefully wrap them in cling film. When you're ready to have a piece, take it out of the freezer and let it thaw at room temperature.
After defrosting, you can bake your slice of cake at 350 F for five minutes. The apricot crumb cake can be stored in the freezer for up to six months. Caution: once thawed, cakes should not be frozen again.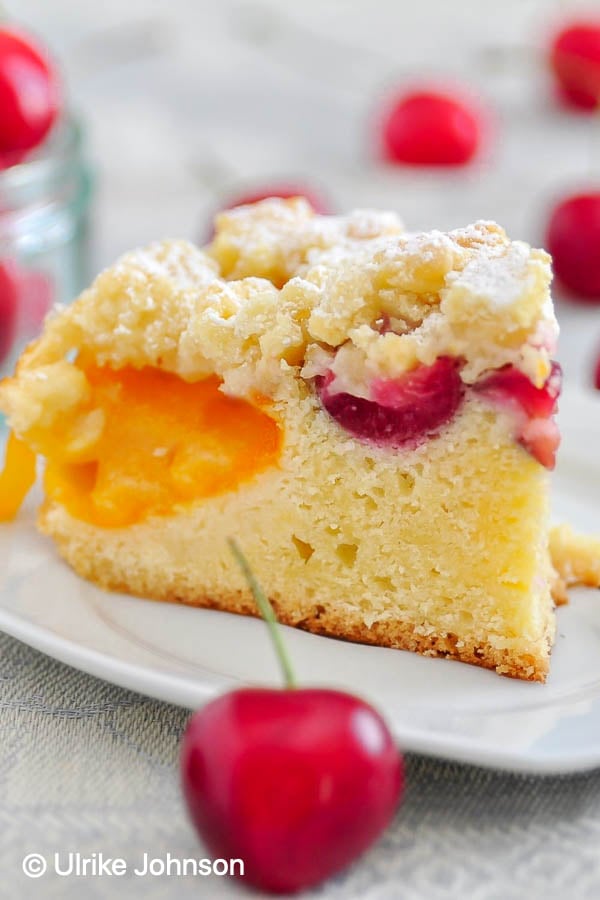 For an extra crispy streusel topping
Sprinkle your Streusel with ice-cold water during the last minutes of baking to get them to crisp up. Also, don't push the crumb topping into the batter before baking. Just loosely sprinkle the cake with the topping.
Can I make this apricot cake vegan?
Yes, just use flax eggs, earth balance instead of butter, and use a plant-based yogurt.
More easy traditional German Cake recipes you will love:
★ Did you make and love this German Apricot Crumb Cake recipe? Give it your review below! And make sure to share your creations by tagging me on Instagram!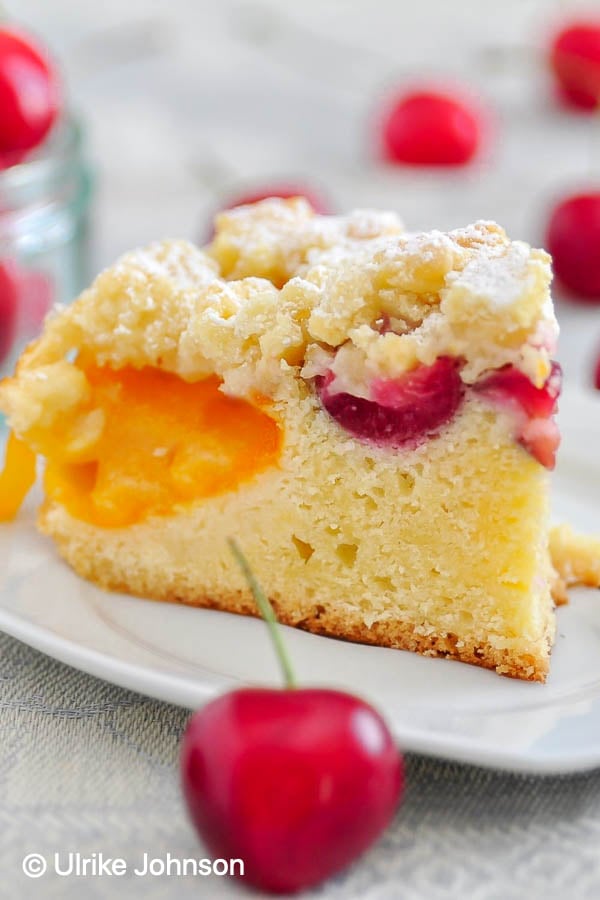 German Apricot Crumb Cake with Cherries
This easy German Apricot Crumb Cake with cherries is an amazing coffee cake for summer made with fresh apricots and a buttery crumble topping. Can be made vegan.
Total Time
1
hour
20
minutes
Ingredients
1

organic lemon

100

g

sugar

1/2 cup

100

g

soft butter

- 7 tbsp

200

g

flour

- 1 1/4 cups

1 3/4

tsp

baking powder

8 g

2

eggs

2

tbsp

yogurt
Topping
500

g

fresh pitted apricots -

about 10

300

g

cherries

- fresh or from the glass and drained - 1 1/2 cups
Sprinkles
75

g

cold butter

- 1/3 cup

75

grams

sugar

- 1/3 cup

1

pinch

salt

75

g

flour

- 10 tbsps
Instructions
Core and halve the apricots and pit cherries.

Preheat the oven to 170 ° C - 340 F and line a 9 - 10 inch / 23 - 26 cm springform pan with parchment paper. Rub the lemon peel directly into the measured out sugar and work it into the sugar with your fingertips

Whisk the soft butter and lemon sugar until white and fluffy. Mix the flour and baking powder with a pinch of salt and sift into a bowl.

Stir the eggs one by one into the batter, then stir in yogurt. Add dry ingredients and stir briefly. I do that by hand to avoid overmixing.

Spread the batter into a springform pan (9-10 inch / 26 cm) lined with parchment paper. Arrange pitted halved apricots and cherries on top.

Put all the ingredients for the crumble topping in a bowl, work into streusels by hand and sprinkle them over the apricots and cherries.

Put the cake in the preheated oven and bake for about 60 minutes. Let it cool down briefly for 10 minutes and then remove it from the mold and serve sprinkled with icing sugar.