Dieser Beitrag ist auch verfügbar auf:

Deutsch (German)
For me, there's no Easter without German Egg Liqueur! It tastes like a boozy, creamy vanilla custard and can be used in cake batters or as an ice cream or pancake topping! Try my family recipe for this delicious homemade liqueur!
Easter in Germany is all about homemade Egg Liqueur. Eggs and booze might sound a bit gross to you. Well, try to think of it as "Vanilla Custard Shots for Adults". It´s a bit like eggnog – but better!! Trust me on this.
 In Germany, we use Egg Liqueur, known as Advocaat in English, for baking and as a topping for Ice Cream Sundaes all year round but Easter is the real peak season. That's when we bring out the homemade stuff.
This roots of this creamy custard-like liqueur actually lie in Brazil. It is supposedly derived from "Abacate", an avocado-based drink that European explorers came to enjoy while "staying" with the indigenous people of the Amazon rainforest in the 17th century. It was first introduced to Europe by Eugen Verpoorten, a Belgian from Antwerp who set up production in the German town of Heinsberg near the Dutch-German border in 1876. As avocados were not available back then he had the idea of replacing the avocados with eggs, which made the liqueur just as creamy and rich as the original. The Verpooten recipe has not changed ever since and is still a well-kept secret.
Today, I share our family recipe for German Egg Liqueur with you, which is so much better than anything store-bought. I´d never drink a shot of store-bought Egg Liqueur but I do use it a lot for adding moisture and flavour to cake batters. However, this homemade Egg Liqueur is so smooth – it can really be enjoyed on its own. Or drizzled on ice cream. Or waffles, or pancakes. You get the idea.
To add a bit of extra flavour to my Egg Liqueur I mixed in a tablespoon of vanilla, some freshly grated nutmeg and a pinch of ground cloves. That's all it takes to make the German Egg Liqueur taste homey and festive at the same time.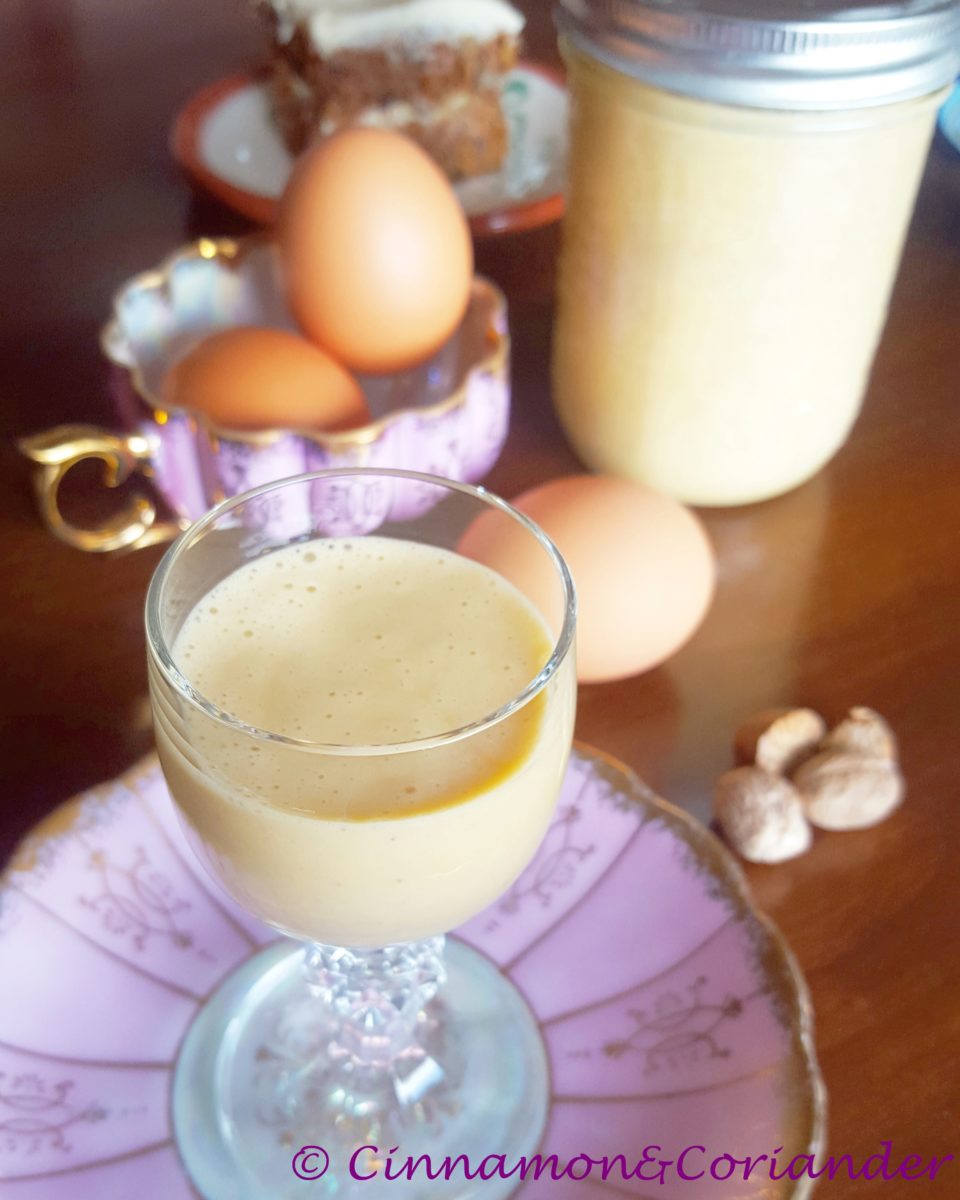 There are two methods for making German Egg Liqueur – one using raw egg yolks another processing them in a hot water bath. I find the water-bath method safer as you get to heat up the egg yolks to 70 Degrees Celsius. Make sure you use the freshest eggs you can find. We got ours at the Hutterite Community. The largest, most orange yolks I've ever seen in an egg.
This rum-based version makes for an Egg Liqueur almost as thick as vanilla pudding. It is so creamy that I store it in jars. If you choose bottles you shouldn´t fill them all the way as you might need a bit of shaking and possibly a sip of rum or cream to get it out again.  Eierlikör tastes best right out of the fridge and when kept there, stays good for months and months.
My product recommendations:
Disclaimer: I am a participant in the Amazon Services LLC Associates Program, an affiliate advertising program designed to provide a means for us to earn fees by linking to amazon.com and affiliated sites
German Egg Liqueur | Vanilla-Custard Liqueur
This creamy Custard like Liqueur can be enjoyed on its own but also makes for a wonderfully naughty topping for icecream, waffles or pancakes.
Ingredients
8

egg yolks

250

g

powdered sugar

375

ml

evaporated milk

250

ml

white rum

1

tbsp vanilla extract

1/2

tsp freshly ground nutmeg

1

pinch of cloves
Instructions
Whisk the egg yolks in a metal bowl until fluffy and slowly add the powdered sugar. Beat until smooth then slowly add the evaporated milk, the vanilla and the spices. Finally, stir in the rum and set the owl over a hot waterbath. Continue to whisk until the mixture starts to thicken, which will happen at about 64 Degrees Celsius. Continue to whisk, making sure to scrape the sides of the bowl. Once your Liqueur has reached 70 Degrees, it's done and safe to drink. Immediately take the bowl of the bath and whisk to cool it down a bit. Pour the still warm Liqueur in prepared jars and close.

The liqueur stays good for at least 4 months and can be stored at roomtemperature in a dark cupboard. Once open it needs to go in the fridge.