Dieser Beitrag ist auch verfügbar auf:

Deutsch (German)
German "Sunny Side Up" apricot cream tarts – small cakes with apricots and a delicious quark or mascarpone cream! A traditional German Easter Dessert you will love! Jump to Recipe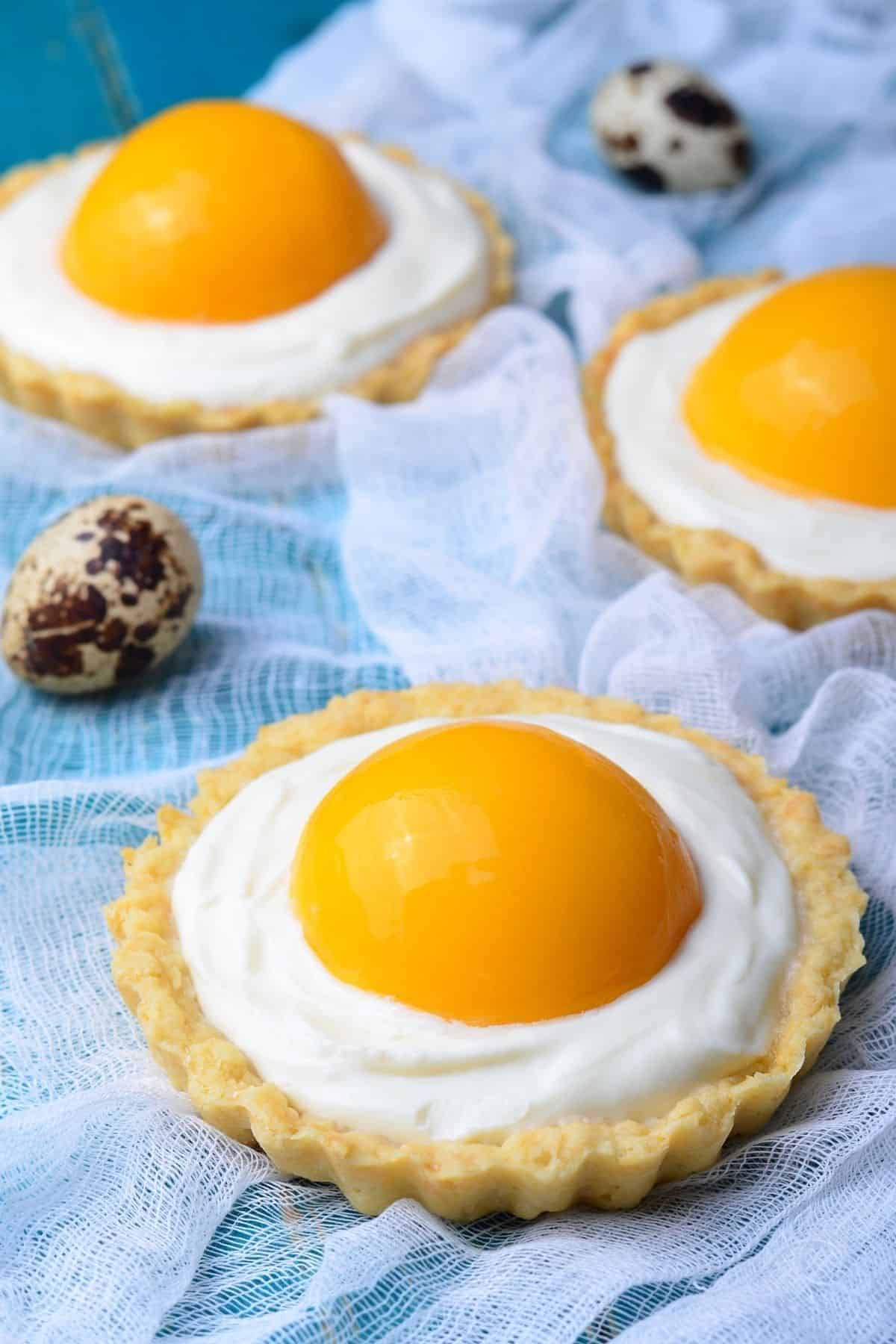 Mini Sunny Side Up Tarts – a modern elegant spin on a classic German Easter cake! Spiegeleierkuchen or Sunny Side Up Cake tastes delicious year-round but is especially fun around Easter!
With the halved apricots placed in the middle of a quark cream, this traditional German Easter dessert resembles sunny-side-up eggs.
The little girl in me thinks that food in disguise is super duper fun! Who's with me? Nobody minds when April Fools' prank turns out sweet, right?
Why we love these German apricot cream tarts
This dessert yields 8 servings but can be halved or doubled
It's fun for kids and adults alike.
It's such a cheerful and sunny dessert, perfect for Easter
It's budget-friendly.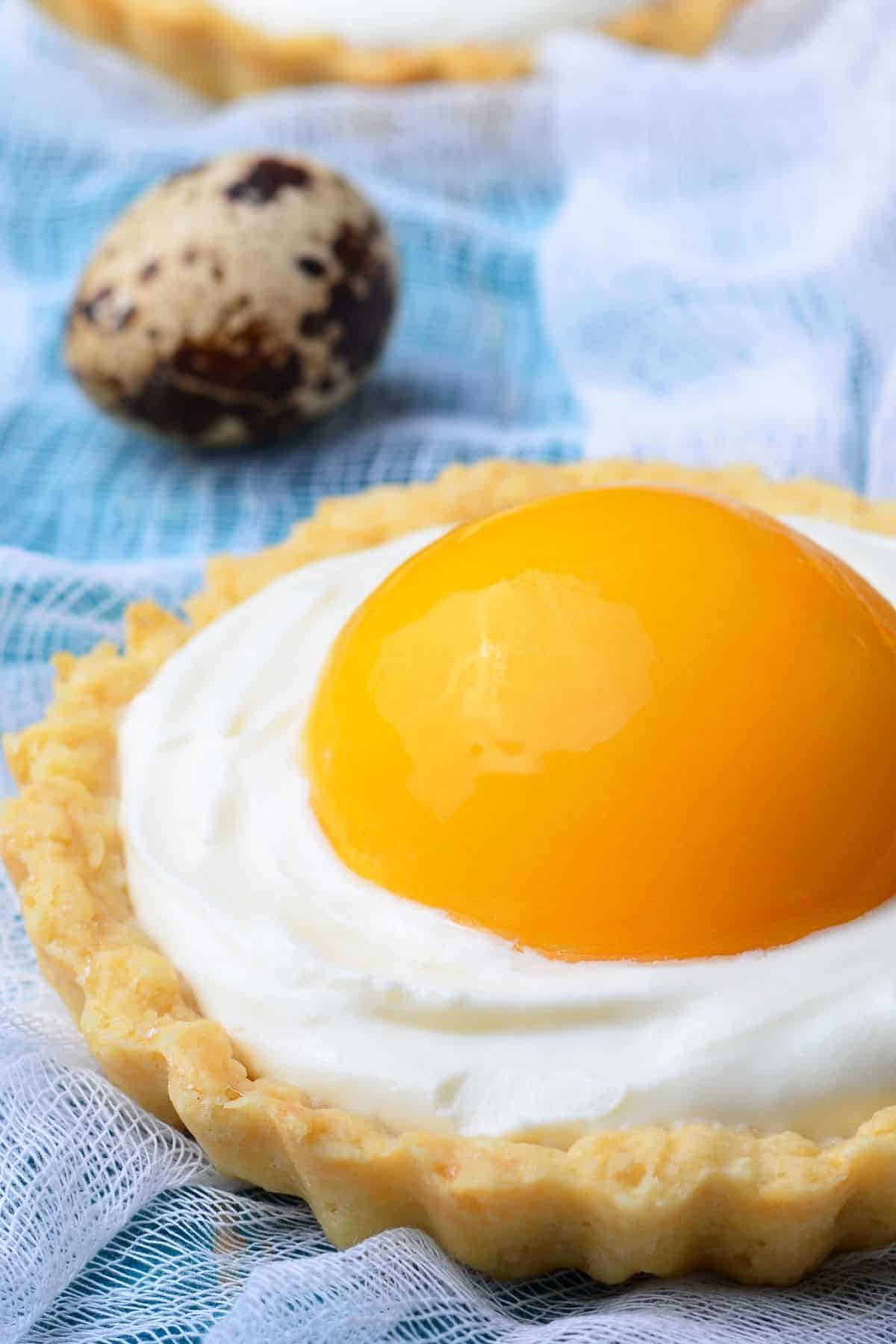 German Sunny Side Up Tarts for Easter Brunch
The classic sunny-side-up cake consists of a layer of cheesecake cream made with quark or mascarpone spread on a base of sponge cake, then topped with apricot halves.
The trick is to distribute the apricots or peaches on the cake in such a way that they look like many small fried eggs.
These individual-sized mini German fried egg cakes with quark and apricots are a real hit in terms of taste and appearance and are perfect for Easter.
For Easter brunch, we all like to offer a variety of delicacies. I'm thinking of Grandma's Raffaello cake, strawberry mascarpone dessert or my German Egg Liqueur Sheet Cake.
The best solution here is to offer individual-sized desserts like these small sunny side up tarts so that you can try several things.
The elegant miniature version is at least as delicious as the sheet cake. Frohe Ostern – that's Happy Easter in Germany!
Tips for perfect shortcrust pastry for tartlets
Tartes and tartelettes make me happy. How so? The combination of the crumbly base and filled with a good cream is simply the best. Don't you think so?
We want a tender, thin and buttery shortcrust pastry base that is just thick enough to be able to pick it up without breakage. Here are a few tips for making the shortcrust pastry.
Don't overwork
When making the pastry keep the kneading time as short as possible so that the dough temperature remains low.
The cooler the dough is, the easier it is to work with later.
Therefore knead the shortcrust pastry just until you get an even dough and all the ingredients are combined If your shortcrust pastry is kneaded for too long, the pastry will be tough.
How do you keep shortcrust pastry crisp?
No one likes a soggy bottom. To ensure your shortcrust is crisp, place a heavy baking sheet in the oven while it is heating up. When you're ready, place the tartlets directly on the heated tray.
Blind baking tartlets – yes or no
The mini tarts do not have to be lined with baking paper or weighed down with pulses or lentils for baking. Thanks to the previous cooling, the shortcrust pastry keeps its shape and does not collapse.
Tips:
You can replace the quark with mascarpone
The quark mass also tastes great if you mix in some German Egg Liqueur
For this recipe, I recommend tartelette molds with removable bases
If you do not use the shortcrust pastry on the same day, you can also use granulated sugar or refined sugar. Powdered sugar is best for same-day processing. The icing sugar does not have to be sieved for shortcrust pastry.
Canned apricot halves – I highly recommend Del Monte apricots. The halves are firm and perfectly shaped. Some other brands were too soft and fell apart.
Don't forget to pat the apricots dry! Otherwise, their juice is going to ruin the cream layer.
More German Easter Recipes:
★ Did you make and love this German Sunny Side Up Tart recipe? Give it your review below! And make sure to share your creations by tagging me on Instagram!
German Sunny Side Up Mini Tarts for Easter
Fried egg tarts - round mini fried egg cakes with apricots and quark or mascarpone! Tender shortcrust pastry base filled with quark cream without baking! The tarts are perfect for Easter.
Total Time
1
hour
5
minutes
Ingredients
pastry
120

grams

butter

1/2 cup

90

g

powdered sugar

3/4 cups

1

egg

280

g

wheat flour type 405

1 3/4 cups (weigh it)

a pinch of salt

half a teaspoon of vanilla paste
filling
350

g

quark 20%

1 1/2 cups - mascarpone

3

tbsp

lemon juice

1/4

tsp

lemon zest

75

g

sugar

1/3 cup

200

grams

whipped cream

1 cup

1

tsp

vanilla

12

apricot halves can

Powdered sugar for dusting
Instructions
Knead the soft butter together with the powdered sugar, vanilla paste and a pinch of salt.

Now beat an egg into the butter mix and knead together. Then add the flour and knead slowly.

Knead the shortcrust pastry until you get an even dough and all the ingredients are combined. Keep the kneading time as short as possible so that the dough temperature remains low.

Preheat the oven to 180 degrees (360 F). Grease 8 tartlet molds (Ø 10cm) well.

Roll out the fresh shortcrust pastry between two sheets of baking paper to the desired thickness. No chilling - we roll it out right away. This saves you a step and you can use the shortcrust pastry immediately after it has cooled.

Place the rolled out shortcrust pastry in the fridge for 30 minutes (alternatively: overnight).

For tartlets: place the rounds of dough in the greased tartlet molds and press down to create an even edge. Prick the dough in the molds several times with a fork. Cover and chill for about 30 minutes or place in the freezer.

Bake in a preheated oven at 160 C for about 20 minutes until golden. Allow the tarts to cool after baking. If you are not satisfied with the edge of the tart after baking or if there are irregularities on the surface, you can carefully remove them with a knife or a grater.

For making mini tarts in a muffin tin, shape the dough into a roll and cut into 12 pieces. Form each piece into a ball, roll out on a lightly floured surface (approx. 11 cm in diameter). Line the muffin cases with it, press the dough up at the edge. Bake the muffin tartlets in the preheated oven (electric stove: 200 °C/convection: 175 °C/gas: level 3) for approx. 12 minutes. Leave to cool for approx. 10 minutes, then turn out of the molds or the tin and leave to cool
Filling:
Mix the quark, lemon juice, lemon zest, 75 g sugar and vanilla with a hand mixer. Whip the cream until stiff peaks form and fold in.

Dust the edges with powdered sugar. Fill the tarts with cream. Place 1 apricot half on top.