Dieser Beitrag ist auch verfügbar auf:

Deutsch (German)
A simple Moroccan Beet Salad recipe with Cumin Orange Dressing and fresh mint. The perfect side for a Middle Eastern feast, Vegan & Gluten-free. Can be made ahead of time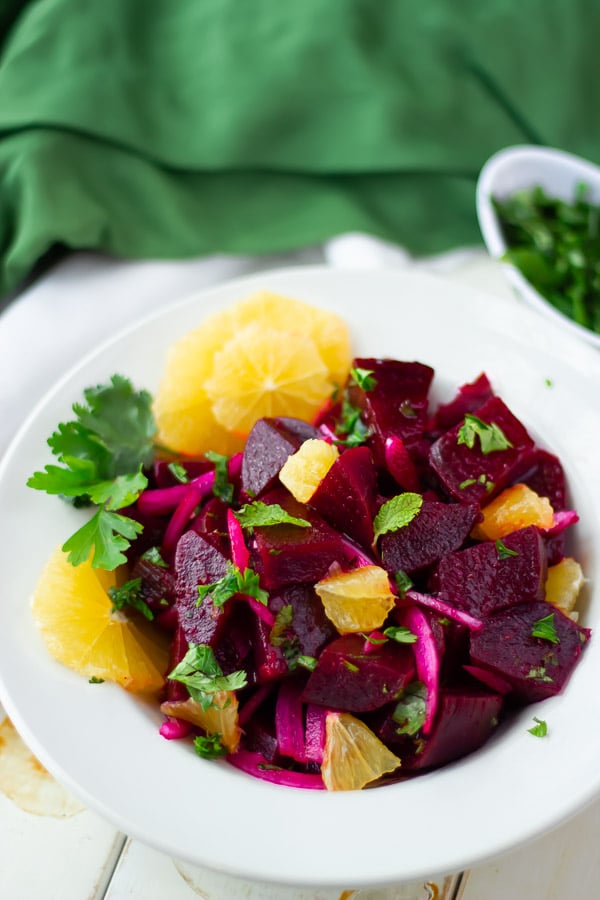 Winter salads can be just as exciting as summer salads, and this colorful Moroccan red beet salad recipe proves it! It can be made up to five days ahead of time, and it's vegan too!
It sounds too good to be true, but this easy Moroccan salad recipe is simply amazing, people!
This simple Moroccan orange and beet salad with fresh mint is a lifesaver if you're hosting a party or a bigger event because you can make it up to FIVE days ahead. And it only gets better.
Drizzled with a citrusy, cumin-spiced Moroccan Orange dressing and paired with the fresh mint and the sharpness of red onions – simply divine! A bright and vibrant vegan salad that will perk up just about any Middle Eastern or Mediterranean meal.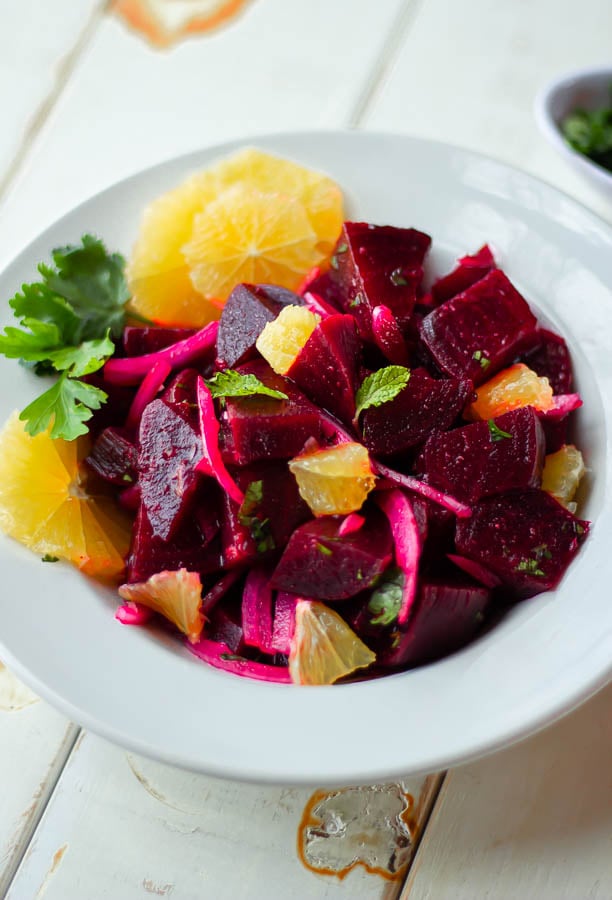 The beet salad is vegan as is, but can be served with feta cheese or goat cheese. A great appetizer or side dish for lamb or Lamb Tagine.
You can simply boil beetroot unpeeled in water. With its dark, strong color, beetroot is not only nice to look at on the plate but also very healthy and tasty. It's best to buy them fresh from the market between July and November.
Moroccan Flavors that Make this Beet Salad Dressing AMAZING
When whisked together with some extra virgin olive and a bit of salt to make a simple beet salad dressing, these flavors add an exotic, Moroccan flair:
Cumin. A traditional Moroccan spice. Its warm, pungent flavor is a staple in Moroccan cuisine and it is a defining flavor of our orange and beet salad, too.
Fresh Mint! Known from Moroccan Mint tea – I love the refreshing note it adds and it pairs so well with orange
Fresh Orange juice and orange zest add sweetness, zinginess, and a bit of acidity— perfect to counterbalance the beets' earthy sweetness.
How to cook beets for making Moroccan beet salad:
Unfortunately, the beautiful color of the beetroot has the disadvantage that it leaves stubborn stains. That's why you should always wear an apron when cooking. If there is a splash of beetroot juice somewhere, you can remove it with hot water and citric acid. You can use the same mixture to clean your cutting boards.
To lose as little as possible of the vitamins, you should not peel the beetroot before cooking.
Instead, wash and brush the vegetables gently without damaging the skin too much. After cooking, you can simply peel off the beetroot skin with a knife.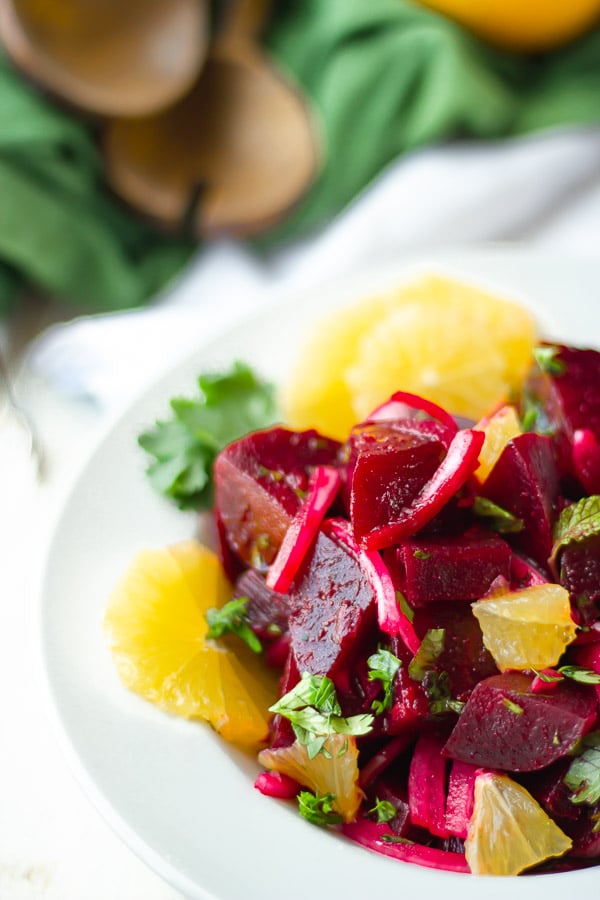 How to cook beets:
Put the unpeeled tubers in a saucepan and cover them completely with water.
Put the vegetables in the pot (whole with the skin). Bring the water to a boil with the lid closed.
Remove the lid and let the beets simmer until done. Depending on the size, this takes 30 to 50 minutes. The beetroot is done when you can prick it easily with a knife.
Do not add salt to the cooking water until shortly before the end of the cooking process, as the salt will remove color from the beets.
Can you eat beets raw in a salad?
You could make this salad recipe with raw grated beets. The dressing would be perfect. However, I prefer them cooked or roasted.
What goes with beet this salad?
Any tagine or Middle Eastern Stew or Moroccan dish. I find this goes especially well with lamb tagine, beef tagine or lamb sirloin bit its also awesome alongside my mujadara.
How to bake beets for this Moroccan Beet Salad recipe:
Wrap the beetroot in foil or place in a glass dish and cook at 200 degrees for 1-1.5 hours. Let cool a little and peel.
Best to bake the beetroot! Cooking dilutes the taste and baking concentrates the sweetness
I always add a bulb of garlic in with the beets. I cut off the tips of the bulb, drizzle with olive oil and sprinkle with salt. Then I wrap them in foil. After baking, let the garlic cool down, then squeeze the garlic cloves out of the shell. This is quite simple. 3 toes go into the dressing.
With leftover roasted garlic, make my garlic chimichurri!
When I add garlic to the dressing, I mix my dressing in the food processor to make everything nice and smooth.
If you have some nice beet greens, add them in along with the herbs.
For more delicious beet recipes, try:
Roasted Beetroot Hummus Ottolenghi
Beet Oatmeal Bake – High Protein
★ Did you make and love this Moroccan Beet Salad recipe? Give it your review below! And make sure to share your creations by tagging me on Instagram!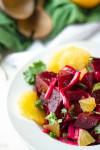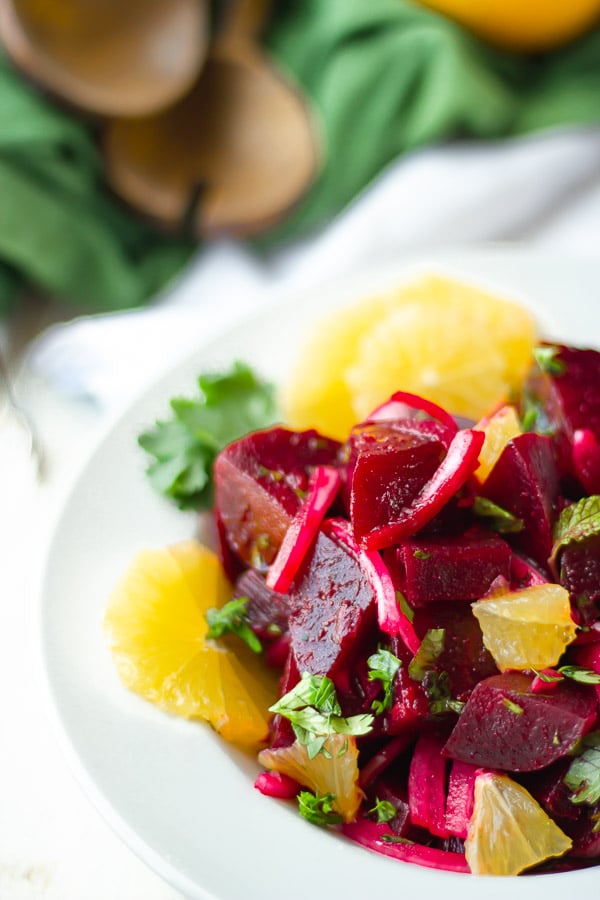 Moroccan Beet Salad
An easy Moroccan Beet and Orange Salad with Fresh Mint and Orange Dressing! A Vegan and healthy cold beet salad bursting with flavot. Can be made with boiled or roasted beets - easy to make ahead of time for meal prep too!
Ingredients
4

big beets

1

head garlic

if roasting the beets

1

small onion

2

tbsp

olive oil + more if roasting garlic

1/2

cup

freshly squeezed orange juice

1

tbsp

orange zest

2

tbsp

white vinegar

1 ½

tsp

ground cumin

1/2

tsp

salt

1/4

cup

each of fresh mint leaves or fresh parsley

packed

1/4

cup fresh cilantro leaves

packed

optional: goat cheese
Instructions
In a large pot bring enough water to cover beets to a boil. Add in beets and allow to simmer until beets are tender enough to be pierced with a fork, about 45 minutes. Remove from the pot and allow to cool completely.

Alternative: Roast the beets in the oven (RECOMMENDED). I roast my beets whole (400 F oven, 45 min for small, an hour or more for large) after a little scrub. The peel, bottoms, and tops just slip right off after roasting. I add a head of garlic to the sheet pan. Just slice off top of the head of garlic. Drizzle with oil and season with salt and pepper. Wrap in foil and place in a shallow dish or on the sheet pan next to the beets.

Remove the skins from the beets using a peeler. Cut beets into pieces and set aside. Slice the onions finely and set aside.

In a small bowl or in a small food processor (if adding garlic use the food processor) combine olive oil, orange juice, orange zest, white vinegar,  cumin, and salt. Add 2-3 cloves of roasted garlic, if using. Stir well or process and set aside.

In a large bowl add in beets, fresh mint or parsley, fresh cilantro, sliced onions, and dressing and toss until everything is mixed together. Top with more fresh herbs and serve.
Recipe Notes
Boiling dilutes the flavor and sweetness; roasting concentrates both. I roast a garlic head while at it.
After roasting let cool then squeeze out garlic cloves and use on everything. I tend to make some garlic chimichurri and add only about 2 -3 cloves to my dressing.
If adding garlic, I blend my dressing in the food processor.