These crowd-pleasing Healthy Vegan Easter Brunch Menu Ideas prove that there is no need for meat, eggs, sugar, and dairy to make a holiday brunch truly memorable.

These 16 Vegan Easter Brunch Menu Ideas will be a hit with vegans and carnivores alike!
So, you're hosting Easter brunch this year, and let me guess, some of your guests aren't vegan?
Being vegan and hosting a brunch or dinner event during a major holiday can be challenging, and Easter Brunch is no exception.
You'll need some crowd-pleasing vegan recipes that will prove that leaving out meat, eggs and dairy products does not mean less flavor.
Luckily, there are tons of vegan Easter brunch menu ideas on the Internet that will leave your guests impressed, whether you're hosting or not.
These vegan brunch ideas are perfect for the warmer spring weather, using some of the season's best produce.
In my opinion, everyone deserves to eat something utterly delicious, and maybe even a bit decadent for Easter brunch!
That's why your best bet is bringing your own food – whether you're hosting or simply being invited to an Easter Brunch. Not only does this earn you brownie points with the hosts, but it's also for your own good because you'll know that you have something delicious to eat.
These sweet and savory healthy Easter recipes just might become your (and your guests' )new favorites! I know I want to try all of them – so maybe save some ideas for Mother's Day!
Savory Vegan Easter Brunch Menu Ideas: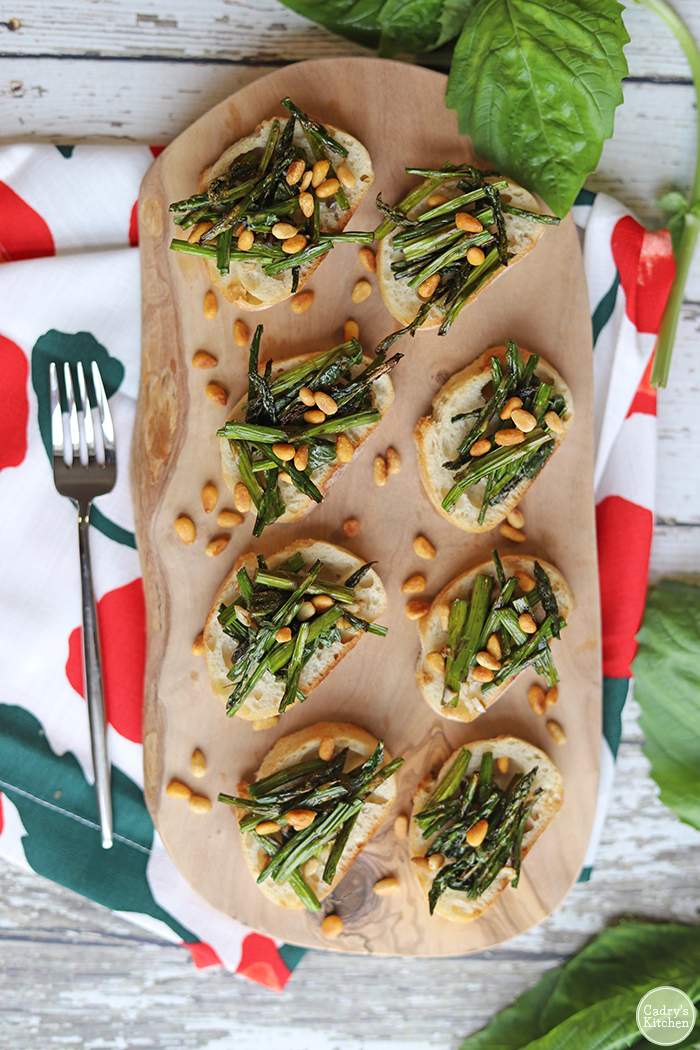 This bruschetta recipe with roasted asparagus and pine nuts features the best of the season. Perfect paired with a glass of chilled champagne! I'll have 10, thank you!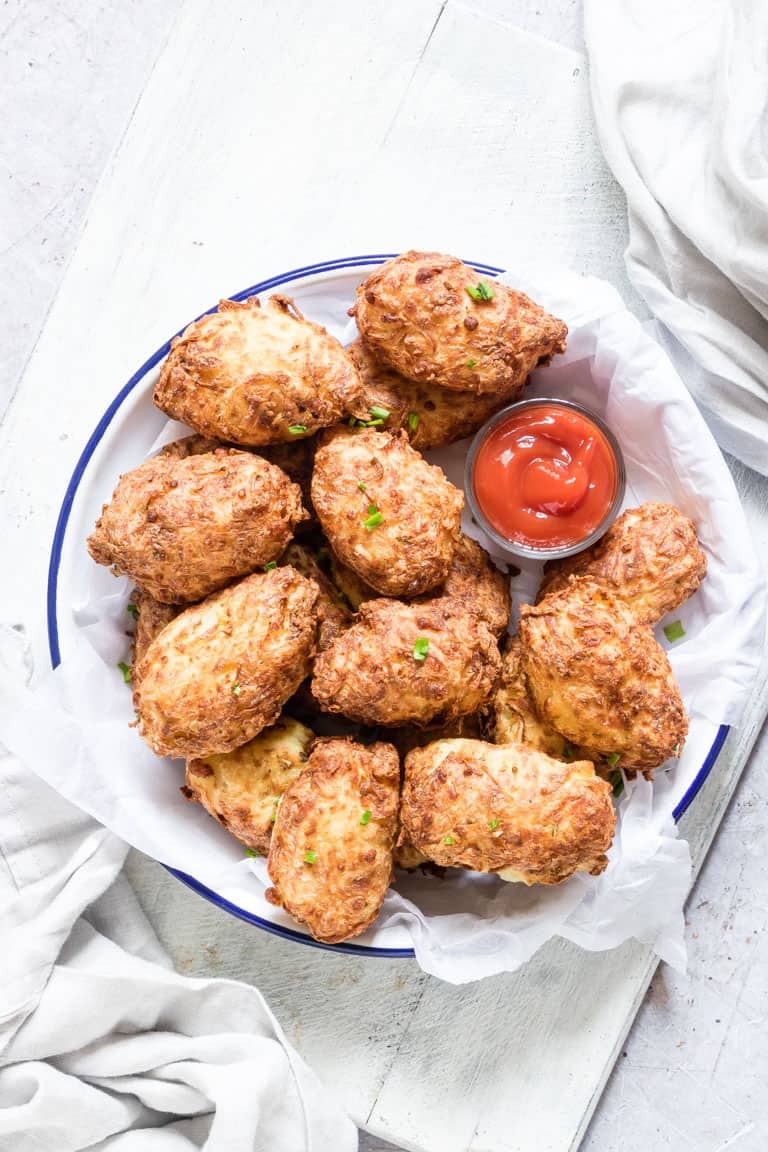 Tater Tots that don't swim in little pools of oil? Count me in! These light Air Fryer Tater Tots are a healthier vegan version of the restaurant favorite.
When your guests take their first bite off this vegan quiche, their first reaction will be "Mmm, cheese!" But they couldn't be more wrong. This savory vegan Easter brunch treat might taste like cheese but it's completely plant-based. Intrigued? I know I am!
Vegan Zucchini Roll-Ups with Veggies & Hummus by Claudia Canu
These healthy vegan zucchini roll-ups are a super fun brunch treat and an easy recipe to make: vegan, paleo, gluten-free and dairy-free, plus, you can use any veggie you like.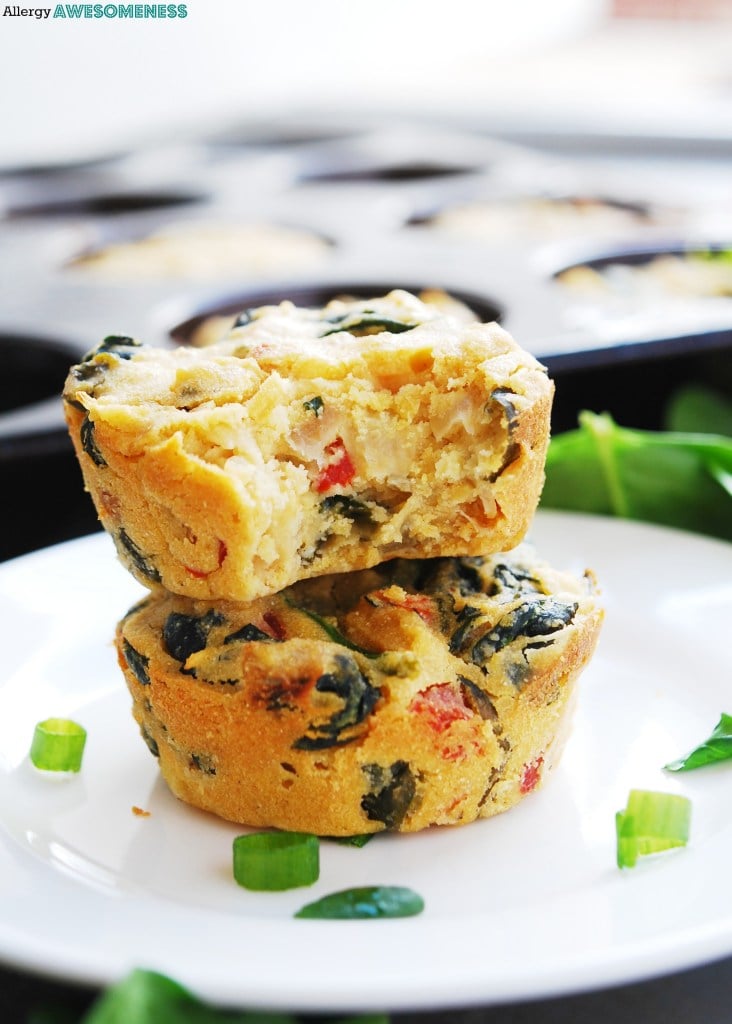 Egg-free and dairy-free mini frittata?!?!?!?! Say WHAAAT? I don't think we even need to discuss this one – just YES – All the YES!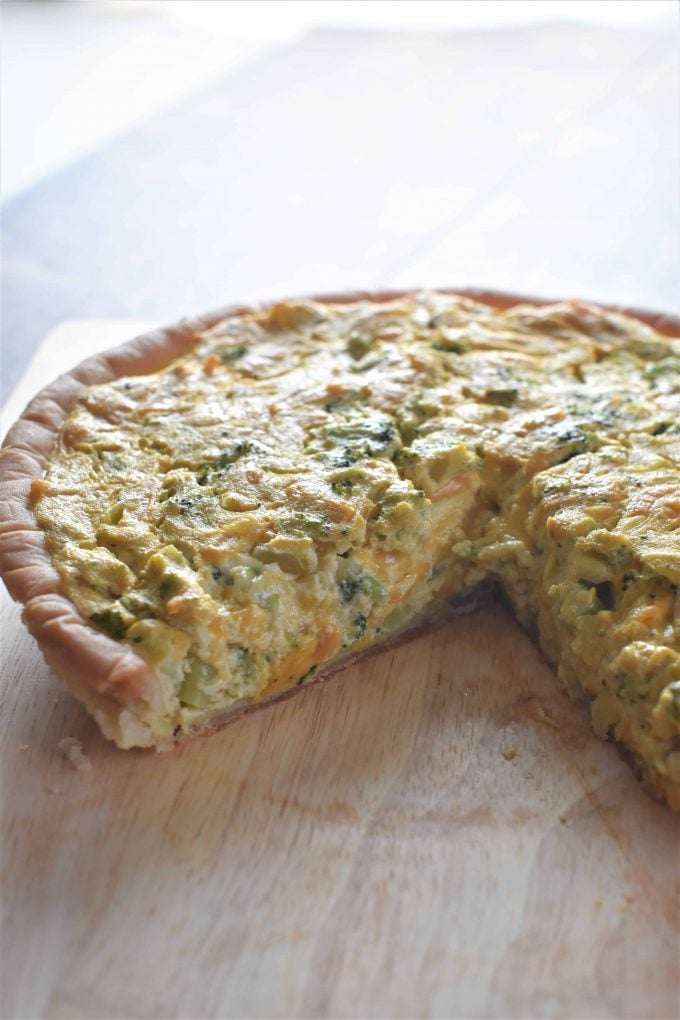 Who could ever turn down a slice of quiche? Especially if it's broccoli and cheese? Yep, vegan cheese quiche! I said it!
Sweet Vegan Easter Brunch Menu Ideas
Easter Brunch without Hot Cross Buns? I don't think so! These vegan hot cross buns look fluffy, moist and simply perfect!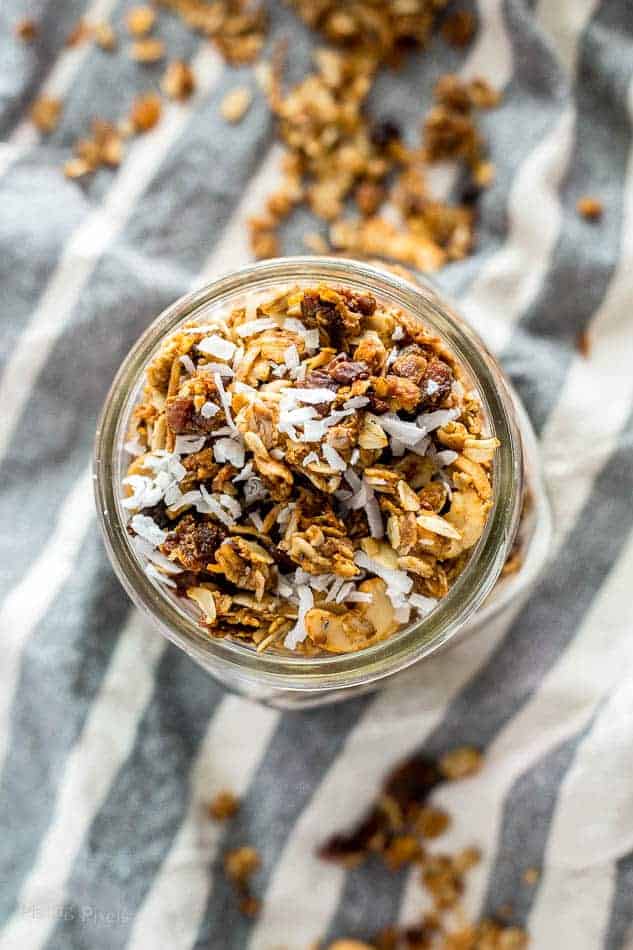 This easy homemade Vegan Granola includes oats, coconut oil, cashews, coconut flakes, dried apricots, cocoa nibs, and protein powder. Serve your brunch guests a bowl of granola with some vegan coconut yogurt.
These crispy gluten-free and vegan waffles are not your momma's waffles. They come with added red lentils to give them a plant-based protein boost. I don't know about you, but I am DYING to try these!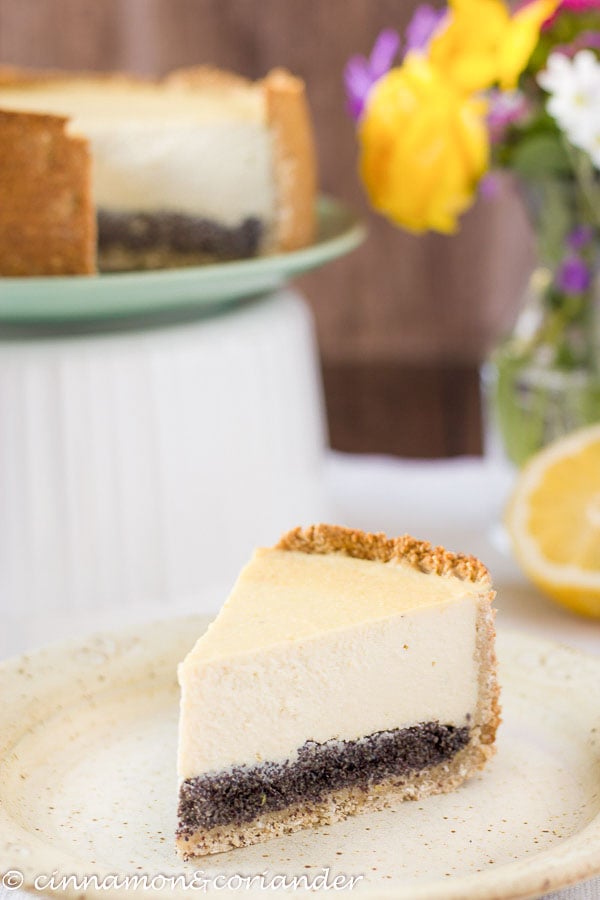 Words cannot describe my obsession with this healthy vegan lemon poppy seed cheesecake. It comes with a secret ingredient that you would not expect to find in a cheesecake recipe – silken tofu! But trust me, it makes all the difference!
Don't these Vegan Blueberry Crumble Bars look INSANELY DIVINE?? Fresh blueberries on a gluten-free, oatmeal-infused crust and more of that crust served as a top layer crumble! YES! Sounds like a no-brainer to me, fam!
Lemon Lovers will be all over this soft, sweet and slightly tart dairy-free lemon pound cake. A show-stopping citrus bundt cake perfect for spring!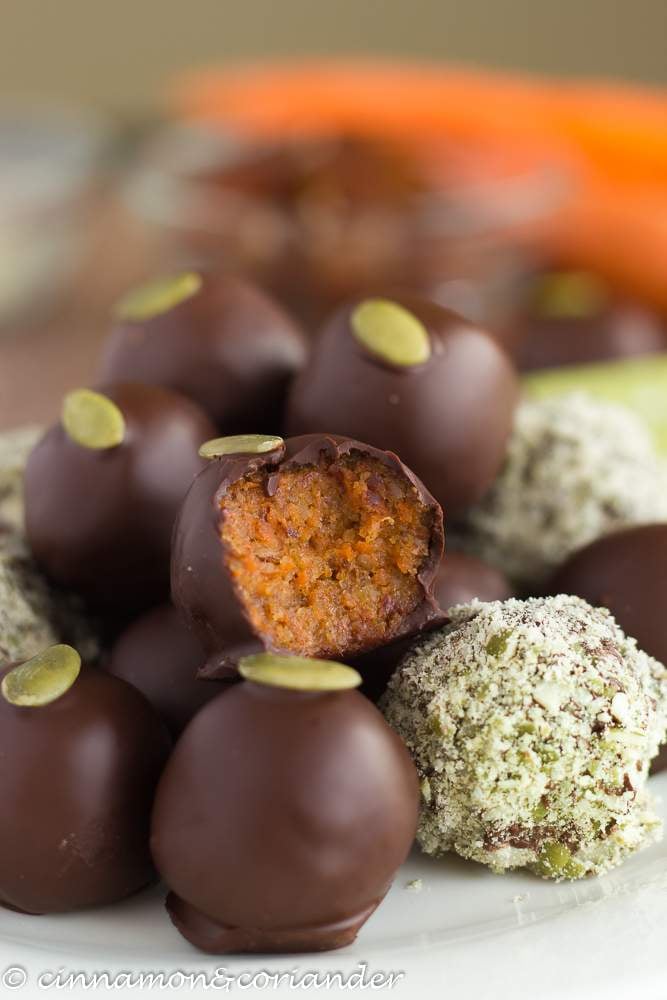 These vegan carrot cake truffles look so pretty served in little teacups. You can cover them with chocolate or roll them in ground nuts. They also make for awesome food gifts for your guests to take home.
Not everyone is a fan of desserts but I can't think of anybody who would turn down a small sweet bite like these Coconut Butter Stuffed Dates! Like coconut caramels, just healthy and refined sugar-free!
These easy vegan whole wheat crepes are the perfect addition to a vegan Easter brunch buffet as they can be served with different sweet and savory toppings! I love me a good customizable recipe and these crepes look SUPERB!
Carrot Cake Cupcakes are a total must-bring to any Easter Brunch! These dairy-free ones are not only perfectly soft and full off festive flavors, but also one bowl and completely vegan.
I personally want to try every single one of these delicious healthy Easter Brunch recipes – I doubt I will get round to making every single one but there is always Mother's Day Brunch.
So we can save whatever we cannot make for Easter for the next holiday. Does this sound like a deal?
Guys, for more inspiration, make sure to browse all other vegan recipes on my blog! I hope you found these Vegan Easter Brunch Menu Ideas useful and got some inspiration for your upcoming holiday feast!
Now I really want to know which one of these mouthwatering vegan goodies caught your attention the most! Let me know in the comment section below!
Yours,
Kiki