Looking for romantic desserts for your Valentine's Day celebration that won't ruin your diet? These healthy Valentine's Day desserts for two & sweet treats all say "I love you"!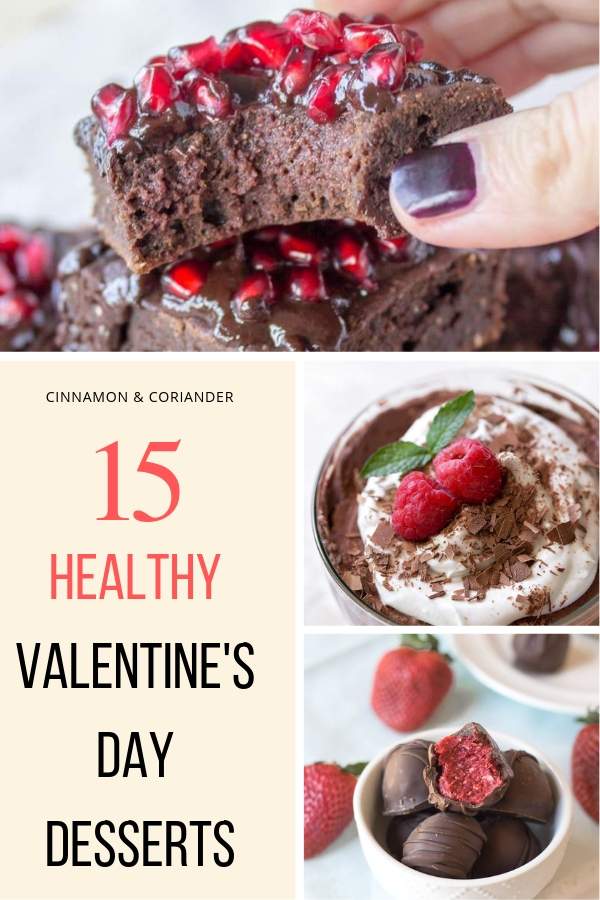 Valentine's Day Treats don't necessarily ruin your diet! Here are some healthy Valentine's Day desserts:
What are you guys all doing for Valentine's Day? My plans involve me, my bestie, and two sunbeds somewhere along Tulum's pristine beaches.
Undoubtedly, there'll be tons of guacamole, ceviche and pico de gallo. All washed down by a couple of less-healthy beverages.
So, looks like I'm gonna have a proper Galentine's Day. Ok, I might call my hubby at some point. I am not a total monster.
Plus, I'll make him a batch of his favorite Ferrero Rocher Balls, so he'll eat them and think of me. (In my perfect Kiki-world. Let's be real, he'll probably have them for dinner while playing video games.)
Are you guys gonna get all lovey-dovey with breakfast in bed and a romantic Valentine's Dinner?
Dinner and breakfast are fine, but in my book, the best way to say I love you is with a decadent and rich Valentine's Day dessert. Am I right, ladies?
Be it just for yourself, you and your ladies or a significant other, those Valentine's Day treats are a MUST!
What we're less keen about is spending the next day feeling yucky from all the processed candies that came in those heart-shaped boxes.
Luckily, there are tons of healthy Valentine's Day desserts out there just waiting for you to try them!
These healthy Valentine's Day treats and desserts are the BOMB.COM! Most of them are vegan and refined sugar-free, some paleo and gluten-free!
Some dainty and special (hello, strawberry truffles). Others will simply make you want to faceplant the screen (cookie skillet, I am looking at you)
Trust me, with these all-star healthy romantic dessert recipes, your Valentine's Day or Galentine's Day celebration will definitely be one to remember.
These are the best Healthy Valentine's Day Desserts:
Romantic Desserts for two
End your Valentine's Dinner with this 5 ingredient chocolate coconut mousse! It's dairy-free, gluten-free, low carb and no-bake.
Valentine's Day brownies are always a good idea. These babies are made with just almond butter, maple syrup, and cocoa powder. Sounds pretty darn good, right?
This Chocolate Avocado Banana Pudding is creamy, rich and indulgent yet healthy and packed with healthy fats! Also vegan and naturally-sweetened!
Gluten-free, vegan and paleo, my friends! And on top? Some coconut whipped cream or a scoop of strawberry nice cream!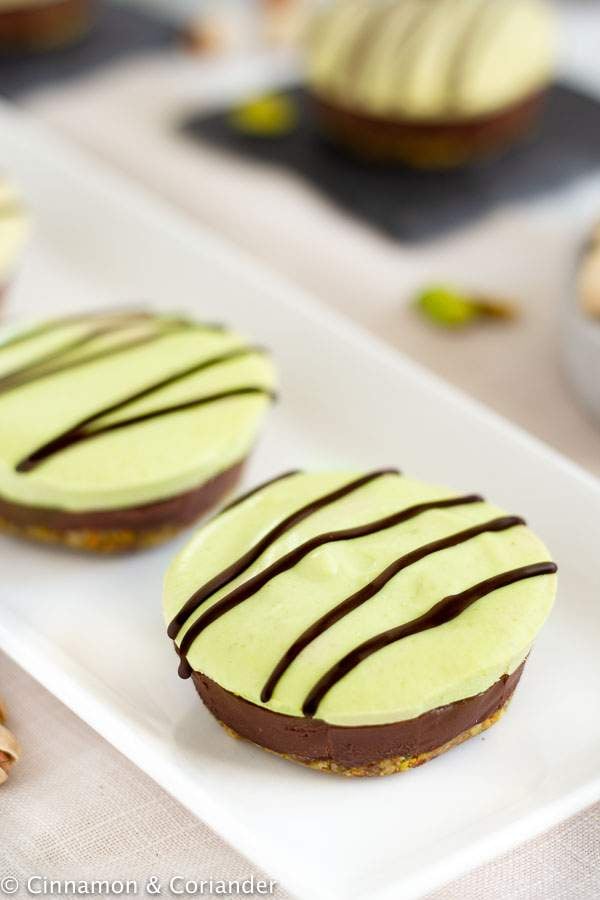 I really can't rave enough about these easy vegan raw mini cheesecakes! Also, you can make this easy healthy Valentine's Day dessert days in advance and store them in the fridge.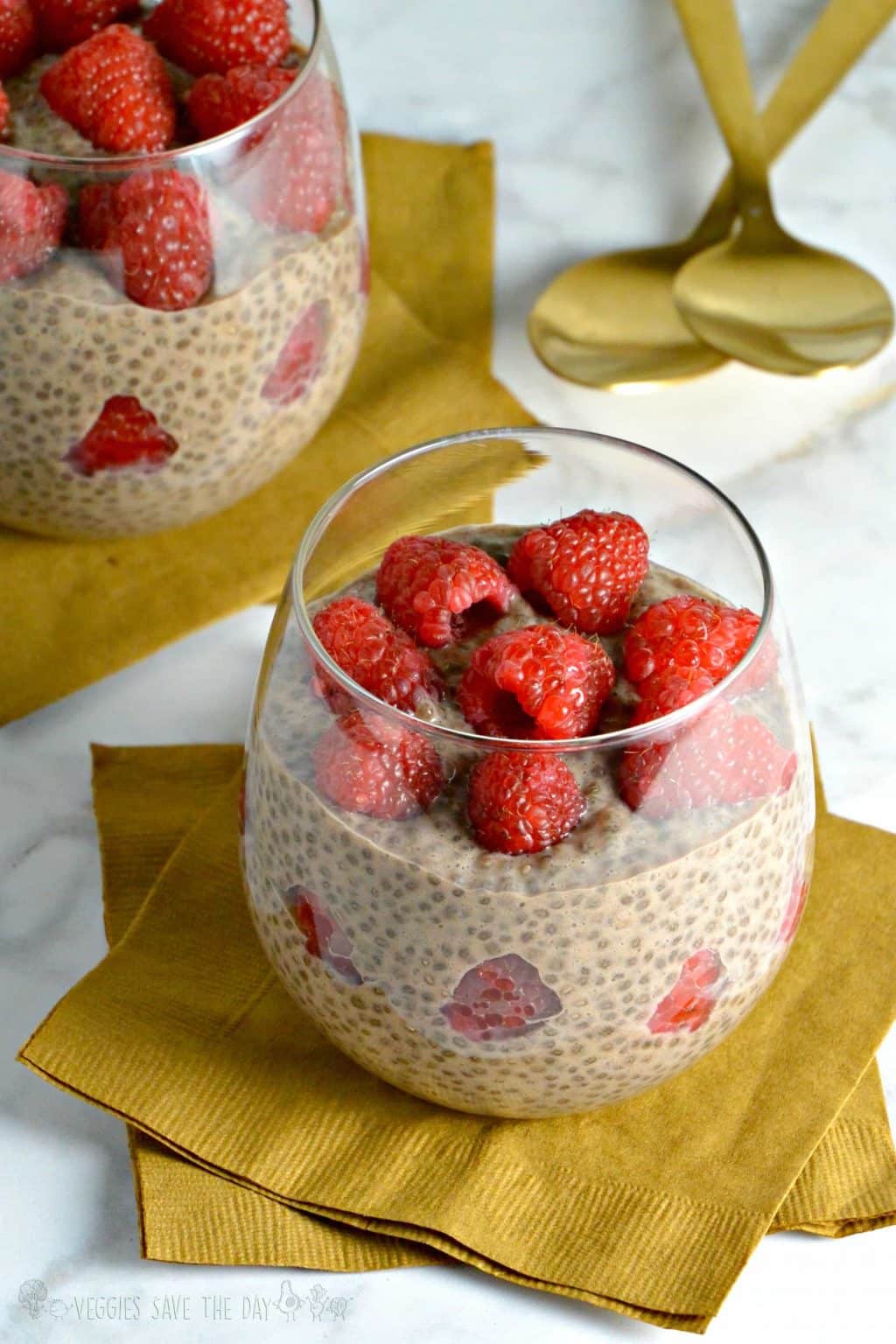 Loving this romantic spin on Chia Pudding with fresh raspberries as little eye-catchers! 4 ingredients are all you need to make this healthy Valentine's Day dessert! No excuses, ladies and gents!
These vibrant Blackberry Cheesecake Bars took my heart by storm! Gotta love a decadent cheesecake that is secretly healthy!
Best Food Gifts and Healthy Treats for Valentine's Day:
These sweet Strawberry Coconut Truffles have the perfect ratio of chocolate to strawberries. Honestly, I cannot think of a more beautiful homemade treat for Valentine's Day!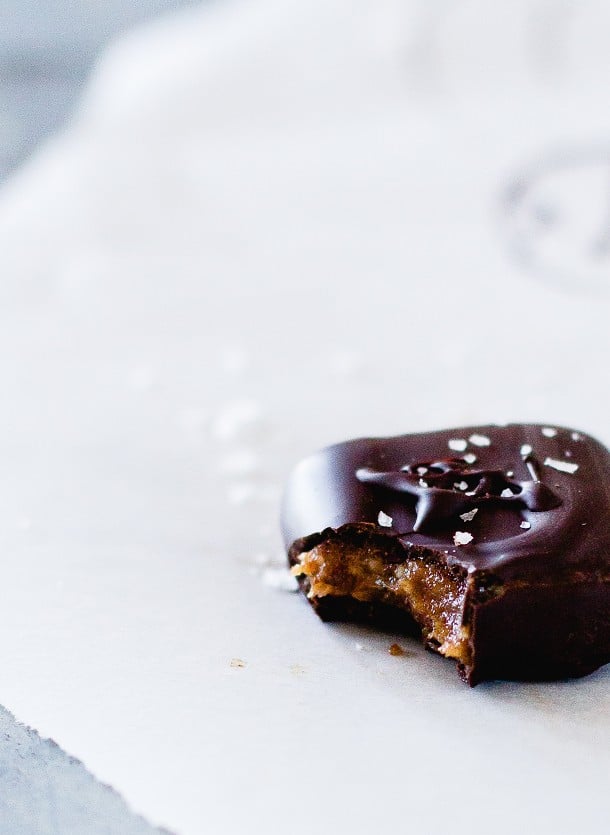 Date Caramel is reminiscent of brown butter and toffee, but made without butter or cream! And covered with tempered dark chocolate ?! WOWOWOWOW! Really, who could say no to such a decadent vegan treat?
Chocolate and sesame paste? Oh, yes, ma'am!  These delightful Tahini Truffles are just the thing to make your Valentine swoon.
This Keto Fudge is positively drool-worthy and makes for the perfect food gift for Valentine's Day! Use coconut oil to keep this keto fudge completely dairy-free.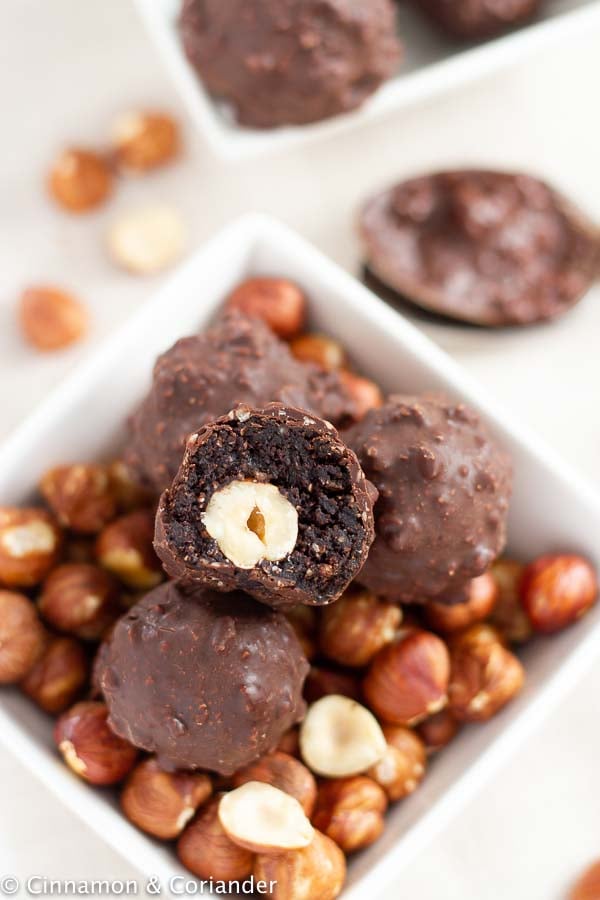 Undoubtedly, Ferrero Rocher Chocolates are a classic Valentine's Day treat. My healthy version uses no refined sugar, is gluten-free and vegan.
Obviously, you can still browse my recipes for more dessert ideas. Really, pretty much all of the sweet recipes would be the perfect Valentine's Day desserts.
Did you like these healthy Valentine's Day desserts and treats? Tell me your favorites in the comments below and don't forget to pin this to your Valentine's Day Recipe Board!