12 Healthy Thanksgiving Dinner Ideas – a collection of the best holiday dishes for your Thanksgiving menu! From roasted turkey to vegan pot pie! Feast on classic holiday dishes without the guilt!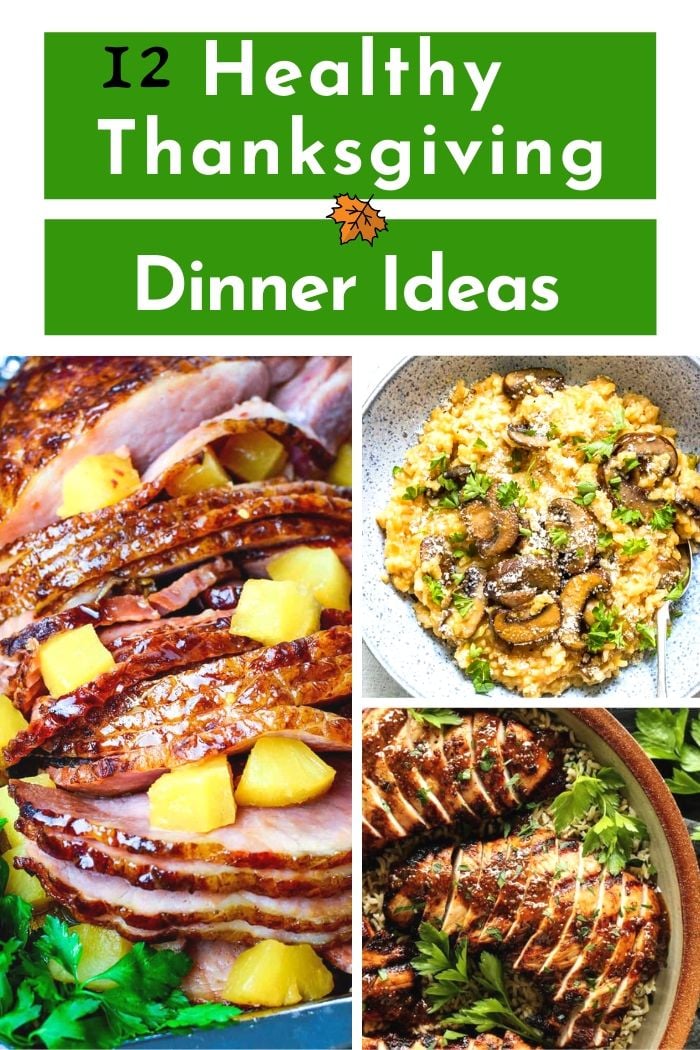 Friends, Thanksgiving is only a few weeks away, which means it's time to start planning the dinner menu for the perfect holiday gathering. Now, on the one hand, the holidays are the time to reward us for eating clean and dragging ourselves to the gym regularly. But we also do not want to completely lose all control and undo all that hard work we put in!
Luckily, there are TONS of healthier Thanksgiving dinner ideas out there that your dinner guests with be happy to gobble up.
Make this year your best Thanksgiving with these Healthy Thanksgiving Dinner Ideas!
Eating healthy shouldn't mean missing out on flavor! Try some of these lighter and healthy twists on your favorite Thanksgiving dinner classics to limit the guilt and make your holiday meal a little bit leaner.
For more healthy Thanksgiving recipes, check out my round-up of the best Thanksgiving side dishes!
The easiest way to cook a juicy turkey breast for your Thanksgiving dinner? In the Instant Pot! This Instant Pot Turkey Breast and Gravy is made in a fraction of the time while remaining juicy, tender and moist! Pair with celeriac puree or cauliflower rice for a low carb Thanksgiving feast.
Who would not love to tuck into a juicy Grilled Turkey Tenderloin with Brown Sugar and Whole Grain Mustard? This easy recipe is simple to make and packed with flavor, perfect for your Thanksgiving menu! Pair with a green salad.
This Slow Cooker Brown Sugar Pineapple Ham looks super impressive but is actually ridiculously easy to make with just 5 ingredients – and so delicious! Use coconut sugar to keep this refined sugar-free.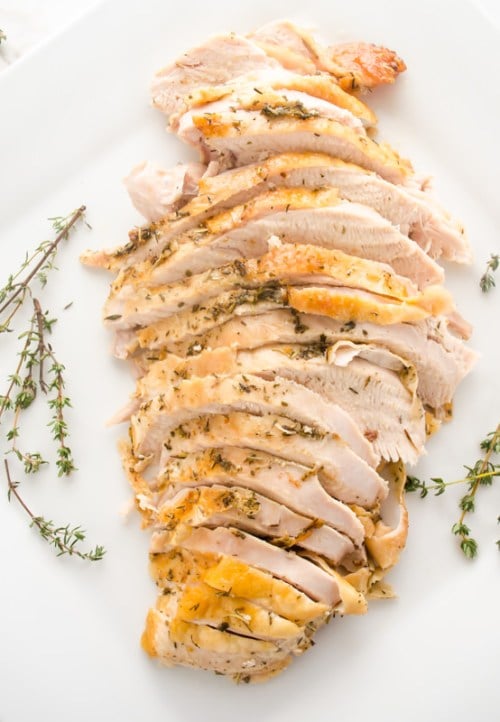 Getting a delicious and juicy roast turkey breast on the table in about one hour without the fuss? No problem with this roasted turkey breast recipe! Serve with baked sweet potatoes or my creamy cucumber salad.
This impressive Brined Orange Rosemary Roasted Turkey ticks all the boxes! Juicy meat, crispy skin, and no messy liquid!
Got vegans coming for Thanksgiving? Wow them with this chicken-style vegan pot pie recipe! It's loaded with healthy veggies and chicken-style seitan, then bundled up in a creamy cashew sauce.
If you love squash, you are going to be obsessed with this easy vegetarian stuffed kabocha squash with corn, beans and plenty of melted cheese. This Thanksgiving dinner recipe is vegetarian, but there is a simple way to make this vegan !!
This easy Vegan Lentil Loaf is the perfect meatless Thanksgiving main dish. It's a healthy vegetarian meatloaf that's packed with veggies and plant-based protein. Leftovers can be frozen so you can easily make this if only some of your guests are vegan. I am sure non-vegans would love this as a side!
Why not think outside of the box and whip up a fall-inspired vegan take on an ultimate comfort food classic. Packed with veggies and plant-based protein, this vegan mac 'n' cheese recipe will be every bit as satisfying as a big Thanksgiving roast!
This vegan holiday pie is packed with healthy lentils and vegetables, all encased in a crispy vegan hot water pastry! A gorgeous centerpiece for a vegetarian or vegan Thanksgiving table that will please meat-eaters and veggie lovers alike.
This easy creamy Instant Pot Mushroom Risotto with pumpkin is peak fall and a top candidate for a meatless Thanksgiving dinner.
This Vegan and Gluten-free Instant Pot Whole Roasted Cauliflower is served in a thick creamy Indian Masala Sauce. This Indian-inspired meatless Thanksgiving main is sure to wow the crowd. Exotic yet easy to make.
I hope you like these Healthy Thanksgiving dinner ideas and found some inspiration for your holiday table! Enjoy the season of feasting!
Looking for Thanksgiving desserts? Try these: