[:de]In meinem Caramel Pear Pumpkin Pie treffen Karamell Birnen auf klassische Pumpkin Pie Füllung! Unser neuer Lieblings Pie, der beim alljährlichen Thanksgiving Gelage nicht fehlen darf! 
Happy Canadian Thanksgiving ihr Lieben! Ohja, am Montag ist es soweit!  Letztes Jahr verbrachten wir die Feiertage in Edmonton, wo wir traditionsgemäß ein riesen Gelage für all unsere Freunde kochten. Dieses Jahr feiern wir im kleinen – ja sogar im kleinsten Kreis . Will meinen, nur Mr. Kanada und ich. Die Familie und Freunde sind alle viele Autostunden entfernt in Alberta und die meisten Leute, die wir hier in Dawson Creek über die Arbeit kennen, fahren über Thanksgiving zu ihren Familien!
Damit es uns nicht zu einsam wird haben wir uns deshalb Foodblogger Kollegin Eva von UnbeliEVAble Cooking eingeladen um mit uns das kanadische Thanksgiving zu feiern. Für ein richtiges Thanksgiving Fest helfen immer alle zusammen und mit leeren Händen taucht keiner auf! So hat sich auch die liebe Eva in die Küche gestellt und für den herzhaften Teil des Mahles eine leckere Tarte mit Feta, Süßkartoffeln und Spinat gebacken!  Kommt sie doch mal besuchen. Insgeheim hoffe ich ja, dass sie uns auch eine Ladung Vanille Eis mitbringt, denn das würde ganz himmlisch zu meinem Caramel Pear Pumpkin Pie passen! Denn um den geht's heute!
Ein Thanksgiving Dinner ohne Pumpkin Pie – das entspricht in seiner Unvorstellbarkeit etwa einem deutschem Weihnachten ohne Glühwein und Plätzchen. Das geht einfach nicht! Das hat mir Mr. Kanada mit dermaßener Eindringlichkeit erklärt, dass ich das gleich in das goldene Buch des Haussegens eingetragen habe!   Mir persönlich ist ein klassischer Pumpkin Pie aber texturmäßig oft ein bisschen zu mächtig und eintönig! Deshalb habe ich mir für den diesjährigen Thanksgiving Pie etwas Neues ausgedacht: Zu der klassischen Pumpkin Pie Füllung gesellt sich eine Schicht karamellisierter Birnen – fein abgeschmeckt mit einer Sinfonie aus Herbstgewürzen!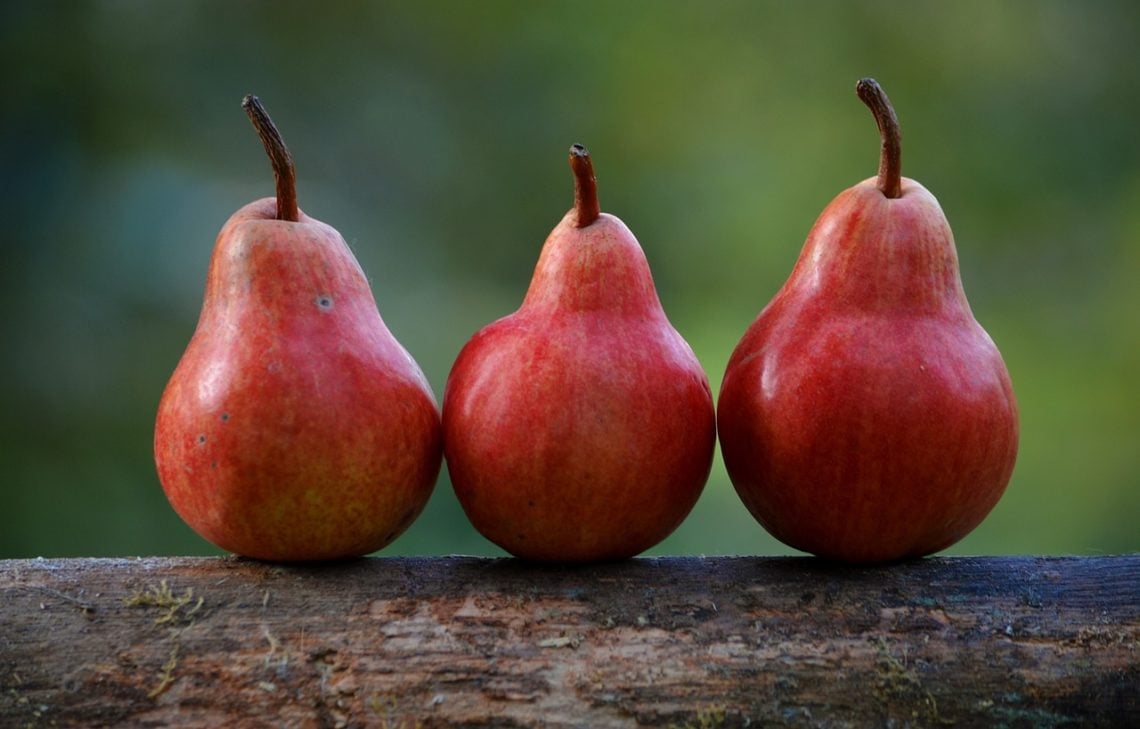 Diese Kombi aus fruchtigem Birnenkompott und cremiger Kürbisfüllung ist eine Wucht! Weder pappsüß, noch zu mächtig ! Der Caramel Pear Pumpkin Pie is genau das Richtige nach einem reichaltigen Mahl. Für die Birnenfülle eignen sich am besten feste, noch leicht unreife Birnen, denn die halten ihre Form etwas besser, wenn ihn heißem Butter-Zucker-Traum geschwenkt !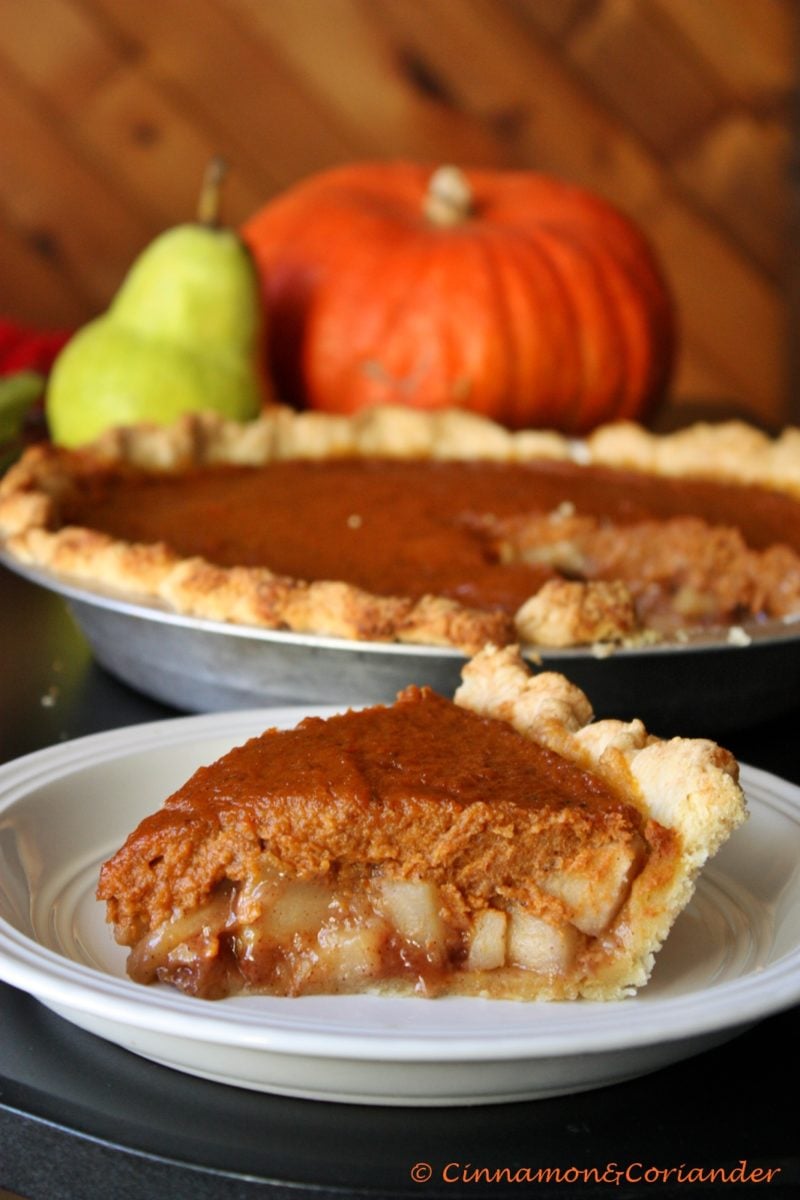 Ihr, die ihr vom Deutschen Kulturgut ja keinen nationalen Fresstag eingeräumt bekommt müsst natürlich nicht verzagen. Mein Caramel Pear Pumpkin Pie würde sich auch super zu Halloween oder Allerheiligen machen! Oder an jedem anderen Verwöhn-Tag im Herbst oder Winter! Nichts bringt so viel Herbstgemütlichkeit in die Stube wie ein Stück dieses würzig-fruchtigen Pumpkin Pies!
Für die klassische Pumpkin Pie Füllung braucht ihr Kürbispüree! Ich weiß nicht, ob man das in Deutschland im Supermarkt bekommt. Amazon führt mittlerweile die klassische Füllung für Pumpkin Pie
  , doch man kann das auch einfach selbst herstellen. Seht dazu die Notiz im Rezept-Kasten.  Das Kürbispüree kommt natürlich nicht pur auf den Pie sondern wird vorher noch mit Kondensmilch, Eiern und Zucker vermischt um diese cremige, stichfeste Textur zu bekommen. Meine persönliche Pumpkin Pie Gewürzmischung darf natrülich auch nicht fehlen. Da wir in der Birnenfüllung schon stark auf Ingwer setzen, würzen wir hier vor  allem  mit Zimt, Muskat, Piment und Nelken! Wie das allein schon riecht! Einfach genial!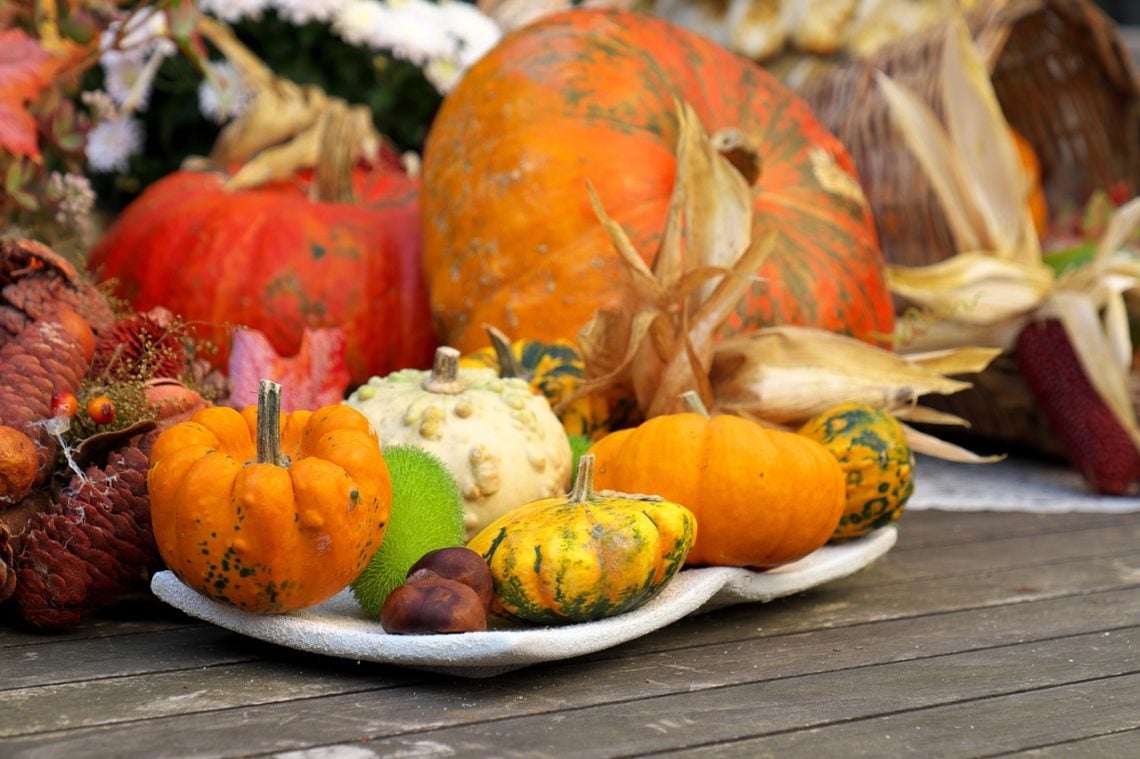 Mehr leckere Kürbis Rezepte für Naschkatzen gibts hier:
Pumpkin Pie Buns mit Salzkaramell
Bester Pie Teig – Rezept mit Bilderanleitung
Meine Produkt Empfehlungen
Disclaimer: Dieser Artikel enthält Werbelinks zu amazon.de. Beim Kauf eines Produktes erhalte ich eine Komission im Centbereich, die mir dabei hilft meine laufenden Blogkosten zu decken. Für euch kommen dadurch keine Zusatzkosten zustande.
Caramel Pear Pumpkin Pie
In meinem Caramel Pear Pumpkin Pie treffen Karamell Birnen auf klassische Pumpkin Pie Füllung! Unser neuer Lieblings Pie, der beim alljährlichen Thanksgiving Gelage nicht fehlen darf!
Cook Time
1
Stunde
30
Minuten
Total Time
2
Stunden
15
Minuten
Ingredients
Für den Teig
1/2

Menge Pie Teig

siehe Rezeptlink Bester Pie Teig im Artikel, Anleitung im letzen Absatz des Pie Teig Rezepts - der Teig sollte noch nicht gebräunt sein, nur ein sanfter Goldhauch, blind gebacken

Für die karamellisierten Birnen

5

bis 6 Birnen

fest und nicht zu reif

3

El

Butter

100

g

brauner Zucker

1

Tl

Ingwer

gemahlen oder 1 El frisch gerieben

1/2

Tl

Zimt

1/2

Tl

Muskat

1/4

Tl

Salz

1

gestr. El Speisestärke

2

El

Zitronensaft

1

bis 2 El Apfelsaft

Birnenschnaps oder Weißwein

Für die Pumpkin Pie Schicht

430

g

Kürbis Püree

gekauft oder selbstgemacht aus Hokkaido-Kürbis *

100

g

Zucker

1/4

Tl

Nelken

gemahlen,

1/2

Tl

Zimt

1/2

Tl

Muskat

frisch gerieben

1/4

Tl

Piment

otional, gemahlen

1/2

Tl

gemahlener Ingwer

60

g

brauner Zucker

340

g

Kondensmilch

2

Eier
Instructions
Für die Birnen Schicht: Die Birnen halbieren, entkernen, schälen und in Spalten schneiden. Mit 2 El Zitronensaft vermischen und beiseite stellen.

Die Butter in einer Pfanne erhitzen und den Zucker zufügen, kurz karamellisieren lassen und dann die Gewürze einstreuen. Gut rühren und die Birnen mit etwas Zitronensaft zugeben. Die Hitze reduzieren und die Birnen köcheln lassen bis sie anfangen weich zu werden. Die Stärke mit Saft, Schnaps oder Wein anrühren und zugeben, Kurz aufkochen lassen bis die Sauce nicht mehr trüb, sondern klar und glänzend aussieht. Wenn die Masse sehr dick ist könnt ihr mehr Flüssigkeit zugeben. Die Birnenfülle in eine Schüssel geben und mit Folie bedeckt abkühlen lassen.

Den Ofen auf 190 Grad vorheizen

Für die Kürbis Fülle

Das Kürbis Püree in eine Schüssel geben und mit Zucker , einer Prise Salz und den Gewürzen vermischen und mit dem Pürierstab noch mal schön glatt pürieren. (Optional: Für besonders gute Textur, die Masse dann in einen Topf geben und ein paar Minuten köcheln lassen! Leicht abkühlen lassen ) Nun die kondensmilch und die verquirlten Eier einrühren bis eine glatte Masse entsteht.

Die Form mit dem blind gebackenen Pie Teig bereitstellen und mit je einem El Mehl und Zucker bestreuen. Die Birnenfüllung auf dem Boden verteilen und glatt streichen.

Die Kürbisfüllung auf die Birnenfülle gießen , eventluelle Bläschen mit einer Gabel aufstechen und den Pie in den Ofen schieben. Die Temperatur nun auf 170 Grad reduzieren.

Den Pie backen bis sich die Kürbisfüllung setzt. Das hat bei mir ca 60 Minuten gedauert.

Nun den fertig gebackenen Pie mindestens 2 Stunden auskühlen lassen. Am besten schmeckt der Pie wenn er eine Nacht im Kühlschrank durchziehen konnte.
Recipe Notes
Für selbstgemachtes Kürbispüree:
Backofen auf 200°C Ober-/Unterhitze vorheizen.
Den Hokkaido Kürbis waschen, und eventuelle Verschmutzungen ein bisschen abbürsten. Dann halbieren, Strunk entfernen, die Kerne und Fasern mit einem Löffel herauskratzen und Kürbis in grobe Spalten schneiden. Kürbis Spalten auf ein tiefes Backblech oder eine Form geben udn alles mit etwas Wasser bedecken. Das Wasser sollte ca 1-2 cm hoch stehen.
Im Ofen ca. 30-40 Minuten garen, bis die Kürbisspalten weich sind.
Kurz auskühlen lassen und dann fein pürieren -wobei man bei sehr reifen Kürbissen ein wenig Wasser zufügen kann damit es sich besser pürieren lässt.
[:en]
My Caramel Pear Pumpkin Pie with a layer of caramelized pears is a fruity twist on the classic and honestly the best Pumpkin Pie I have ever had! The perfect pie recipe for Thanksgiving or any other festive gathering during Pumpkin Season! 
This coming Monday we celebrate Canadian Thanksgiving! And as we all know, Thanksgiving without Pumpkin Pie just does not feel right. At least that's what my Canada-born husband taught me, comparing a Thanksgiving without Pumpkin Pie to a German Christmas without Mulled Wine and Stollen. Message received.
The thing is, though I DO like Pumpkin Pie, I sometimes find the texture a bit blah and would just crave a couple of chunks here and there – some fruit maybe?
I know I am pushing my luck a bit and purists would consider this pie recipe a bit of a barbarity. Ok, here it comes: I smuggled a hidden layer of caramelized pears into our Classic Pumpkin Pie. Naughty pears – cooked in brown sugar, butter, pear schnapps and a symphony of autumn spices.
The idea for this non-traditional Pumpkin Pie came to me while watching Nancy Fuller do something similar with apples and decided to make my own version using those too-firm-to-eat pears, I got at the market the other day. Everyone loved the result so much that it was declared the best pumpkin pie ever. Or at least this year's favourite! I just had to sahre the recipe with you.
Why this Caramel Pear Pumpkin Pie is secretly the best Pumpkin Pie ever:
I know, a classic is a classic and everyone claims to have found the best pumpkin pie recipe out there, but give this one a change. Trust me, you'll be surprised!
Let's talk about the layers of this pumpkin pie for a minute. On top of the Caramelized Pear layer, we find our Classic Pumpkin Pie Filling, so pumpkin pie lovers will get what they came for! But here's the thing: Even if you have Pumpkin Pie – Haters in your family, this recipe might still be worth trying. I am pretty sure it has conversion potential.
For the Pie Crust, I used my go-to recipe for All Butter Pie Crust. Keep in mind, that we only need a single crust, so either halve the recipe or store the other half in the freezer for the next pie!
The combination of the flaky, all-butter crust, the creamy and rich Pumpkin Pie Filling and the sweet, fruity pears is simply divine! For my pear filling, I used firm pears as they will keep their shape better when caramelized – we don't want pear mush, but texture!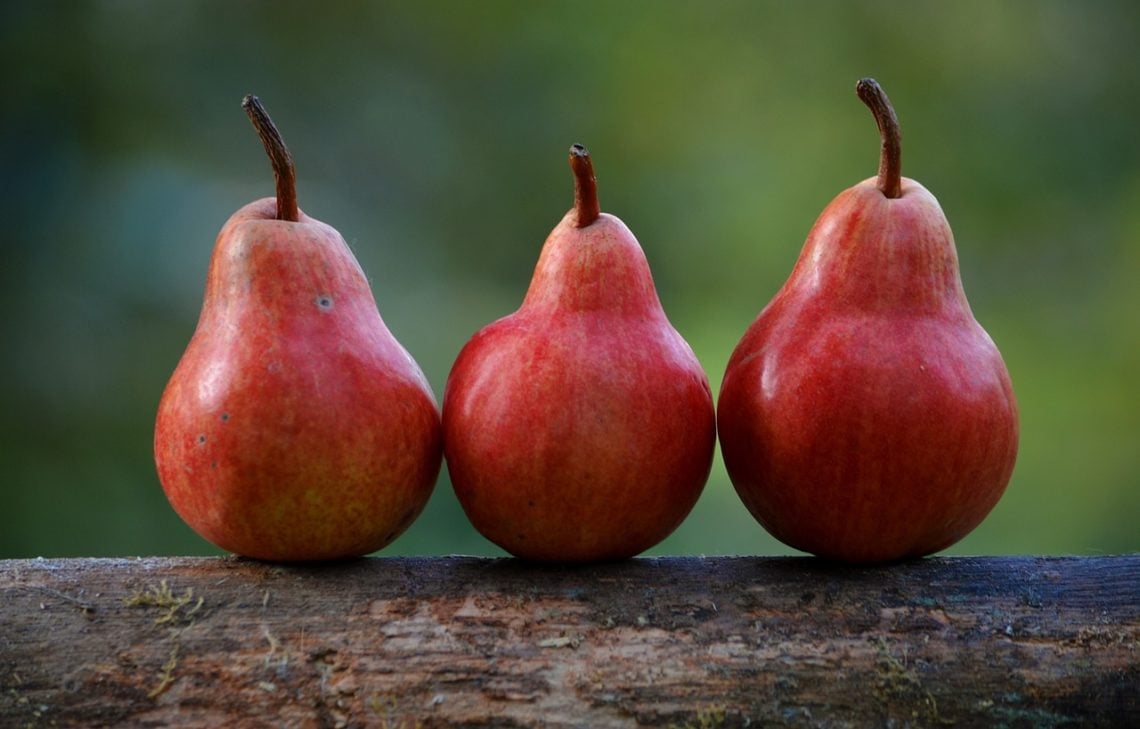 Tips on how to make the perfect Pumpkin Pie Filling:
To get the perfect texture and taste, we puree ( I know, sounds ridiculous) the pumpkin puree in a food processor together with the sugar and spices. That takes care of the stringy bits.
Instead of transferring the pumpkin pie filling straight from food processor to pie plate, I recommend cooking the pumpkin-sugar-spice-mix on the stove-top for only a couple of minutes!  You'll end up with a richer, more complex flavor.
Even though canned pumpkin pie filling is super convenient, you might want to consider making it from scratch for a less watery and more flavourful pumpkin pie.
Variations on this Caramel Pear Pumpkin Pie Recipe:
You can use apples instead of pears for a Caramel Apple Pumpkin Pie.
Feel free to add some rum raisins or cranberries soaked in Grand Marnier to the pear filling. It makes this pie even more festive and autumnal.
Of course, this Pumpkin pie recipe works just as well with store-bought pie crust.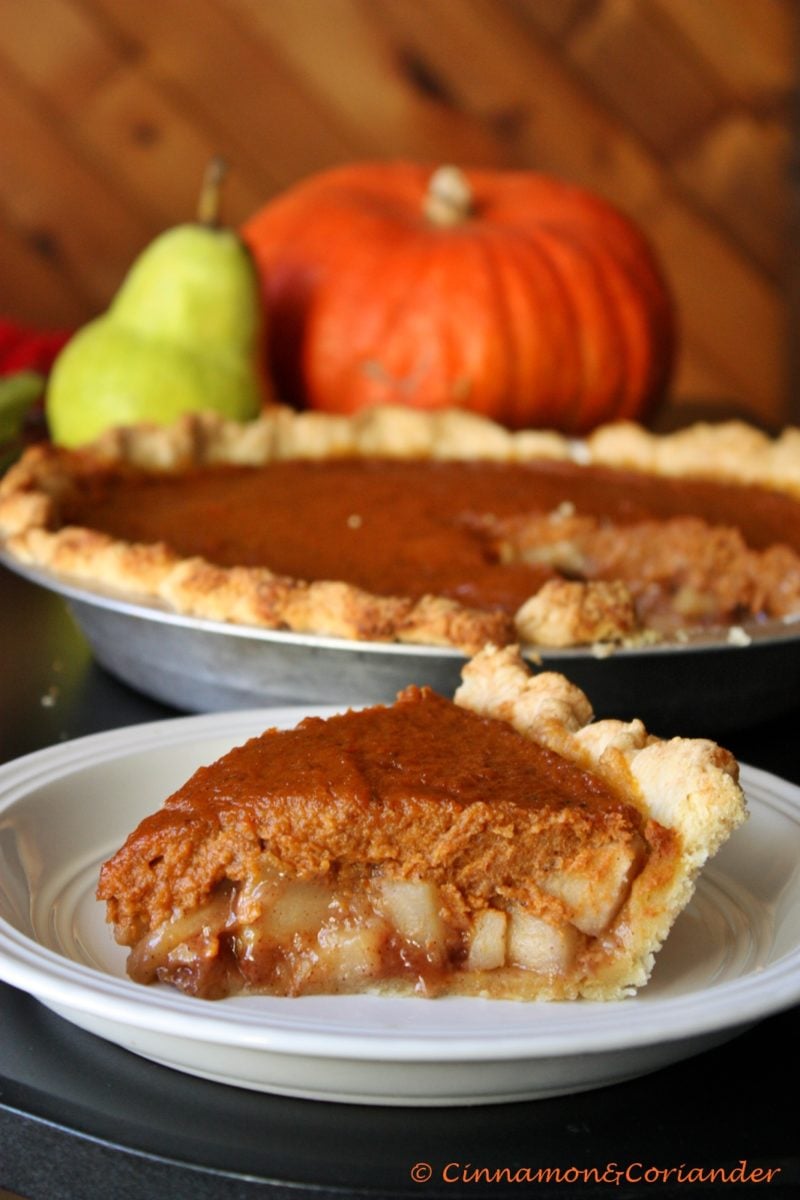 FAQ:
Can I Make this Pumpkin Pie Filling with fresh Pumpkin?
Absolutely and I actually recommend it as homemade pumpkin pie filling makes the absolute best pumpkin pie ever! All you need is one sugar pumpkin. Alternatively, you can use kabocha or Hokkaido squash! They are even sweeter and nuttier tasting than pumpkin.
Preheat the oven to 375 degrees F. Remove the stem from the pumpkin and scrape out the insides, discarding all the seeds. Cut the pumpkin or squash in half and lay the pieces cut-side down on a rimmed baking sheet lined with aluminum foil.
Rub some canola oil or coconut oil all over the skin and bake until super tender, about 1 hour. Let cool and prepare the pie crust. Scoop out the pulp from the roasted pumpkin and puree in a food processor until smooth. Done! Simply measure out 15 ounces and use as described in the recipe. Best Pumpkin Pie EVER!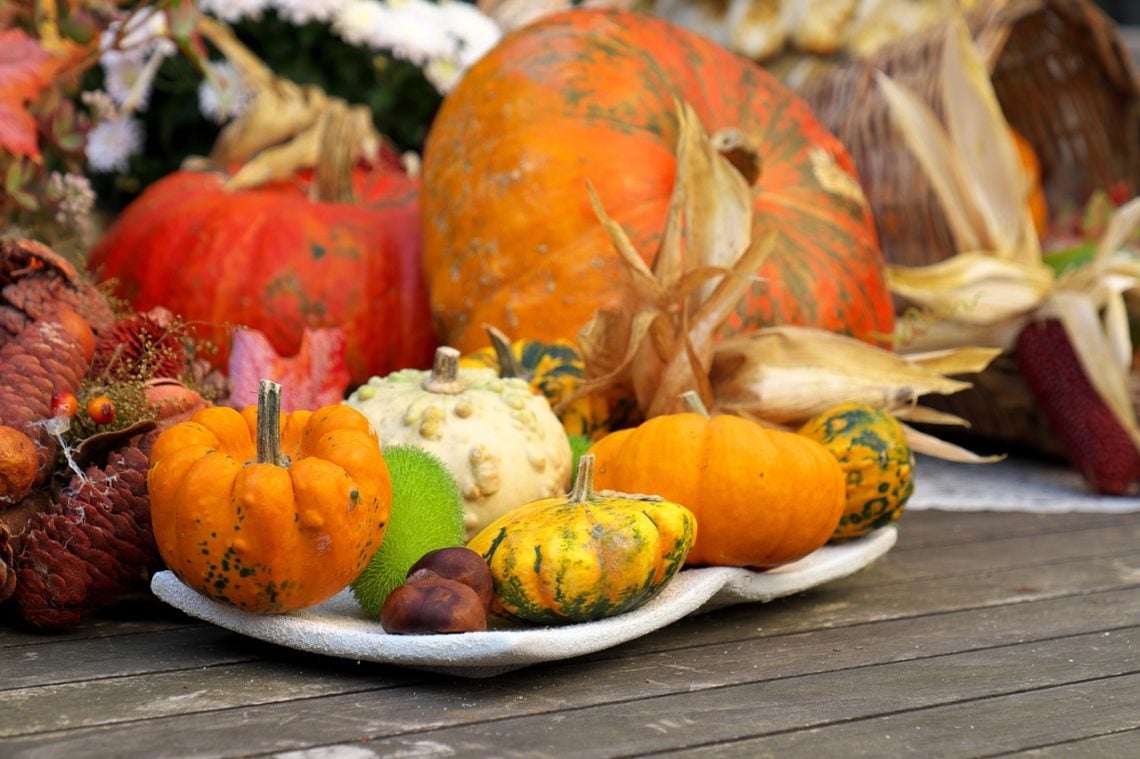 What shall I do with leftover Pumpkin Pie Filling?
I always fill my pie dish all the way to the top as it will shrink quite a bit once cooled down. Nevertheless, not all pie dishes are created equal and you might end up with too much pumpkin pie filling for one pie, but not enough for two.
Don't fret. There are great recipes for leftover pumpkin pie filling.
Pumpkin Pie Bread Pudding: Cut your favourite bread into cubes and put them into a baking dish sprayed with cooking oil. Then, pour the leftover pumpkin pie filling over the top. Let sit for 15 minutes, then sprinkle with some Turbinado sugar and bake for 45  minutes at 375 F.
Pumpkin Pudding: Pour leftover pumpkin pie filling into individual ramekins and bake them on the same setting and time as you would the pie. Top with some vanilla whipped cream or Greek yogurt sprinkle with cinnamon sugar.
Seriously, this might be the best Pumpkin Pie I've ever had! Precisely because it's so different. If you are planning on baking more than one pie, how about trying this Hawaiian Purple Sweet Potato Pie next? That said, guys, I wish you the happiest of all Thanksgivings!
Eat all the lovely food, make sure to try this lovely Caramel Pear Pumpkin Pie and let me know whether you liked it. Also, don't forget to pin the recipe to you Thanksgiving Board using this pin:
My product recommendations:
A note about affiliate links in this post: some of these links will take you to Amazon where I may receive a small percentage of sales, at no extra cost to you. 
Did you make and love this recipe and do you agree with me that it's the best pumpkin pie? Give it your review below! ? And make sure to share your creations by tagging me on Instagram!
Caramel Pear Pumpkin Pie
My Caramel Pear Pumpkin Pie with a layer of caramelized pears is a fruity twist on the Classic Pumpkin Pie! The perfect pie for Thanksgiving or any other festive gathering during Pumpkin Season!
Total Time
1
Stunde
45
Minuten
Ingredients
1

prebaked Single Pie Crust

There's a link to my recipe in the article, blind baked until just slightly golden
For the pear filling:
5-6

pears

firm

3

tbsp

butter

1

tsp

ground or 1 tbsp fresh ginger

1/4

tsp

freshly ground nutmeg

1/2

tsp

cinnamon

2

tbsp

lemon juice

1

tbsp

cornstarch

2 - 3

tbsp

apple juice

cider, or pear schnapps
For the pumpkin filling
1 15-ounce

can

pumpkin puree

1/2

cup

granulated sugar

1/4

cup

dark brown sugar

1

tsp

vanilla

1/4

tsp

cloves

1/4

tsp

allspice

1/2

tsp

cinnamon

1/2

tsp

nutmeg

1

can

evaporated milk

12 ounce

2

eggs
Instructions
Preheat the oven to 190 Celsius (374F)
For the pear filling:
Peel, core and slice the pears and toss the slices with the lemon juice.

Heat the butter on medium heat until melted and add the sugar. Let caramelize and add the pears with the lemon juice. Let cook on low heat until the pears are tender.

Mix the starch with either juice, wine or schnapps and add to the pears. If you find you fruit mixture too thick, add a bit more liquid. Let cook just until the sauce loses its cloudiness and becomes clear and shiny. Set aside in a bowl, covered with foil.
For the Pumpkin Filling
Puree pumpkin puree until smooth in a food processor, then add the brown sugar and all the spices and blend to combine. Transfer the filling to a pot and heat up until it "blobs", about 4-5 minutes total, stirring all the time.

Set aside and whisk in the evaporated milk. In a separate bowl, mix the eggs together with a fork and add a couple of tbsp of the hot pumpkin mixture to bring the egg to temperature. Whisk the eggs into the pumpkin mix.

Take your prebaked pie Crust and sprinkle with a tbsp of sugar and flower. Spread the pears on the pie crust and pour the Pumpkin Filling on top.

Put the pie into the oven and reduce the temperature to 170 C (338 F). B

Bake the pie at for about 1 hour, checking once in a while to see how quickly it is setting. You want to take it out as soon as the pumpkin filling is set and starts to puff up but doesn't crack.

Let the pie cool completely before cutting into it.
[:]