A collection of the best Thanksgiving side dishes for your holiday table! Easy, healthy and quick to make with simple ingredients! Clean eating approved!

The Best Thanksgiving Side Dishes for your healthy holiday feast!
Thanksgiving is one of those holidays where it can be difficult to eat healthily. Lucky for you I've rounded up the best Thanksgiving side dishes! These are all quick and easy to make using fall's best produce! All of the traditional Thanksgiving comfort foods that you crave for the holiday dinner, but made leaner so that we can indulge without the guilt!
From healthy sweet potato casserole to Roasted Brussels Sprouts salad, here are the best Thanksgiving side dishes. All easy and healthy using simple real food ingredients you might already have in your pantry!
For main dish recipes, head over to my collection of Healthy Thanksgiving Dinner Ideas.
Happy Thanksgiving, fam! Enjoy the festive holiday time and do eat all the delicious treats!
Should the idea of the upcoming holidays stress you out, read up on my friend Danielle's tips on how to stay sand and healthy during the holidays!

Look at those gorgeous greens topped with roasted squash and pomegranate vinaigrette! A fabulous Thanksgiving side salad that is festive in both color and taste.
Your guests will swoon over these buttery Instant Pot potatoes! They are cooked to perfection with just enough butter, herbs, and garlic. Serve these babies with grated parmesan cheese or nutritional yeast (if vegan) and chopped parsley. These are the ideal classic Thanksgiving side dish! Ready in just 20 minutes!
This simple vegetarian grain salad is features high protein quinoa and a zesty and bright arugula pesto vinaigrette! The perfect light side dish to complement your Turkey or Roast Beef!
The best Thanksgiving side dishes are often the most simple ones and this asparagus recipe proofs this point! Feel free to add crushed garlic to the asparagus during the last 2 minutes of sauteeing if desired. The perfect low carb Thanksgiving side dish to go with your roasted turkey!
Why not dish up this impressive balsamic-maple roasted Brussels sprouts side with butternut squash, pecans, cranberries, and avocado dressing? Looks like the ultimate healthy vegan Thanksgiving side dish. Oh, and it's ready in just 40 minutes but looks like hours spent in the kitchen!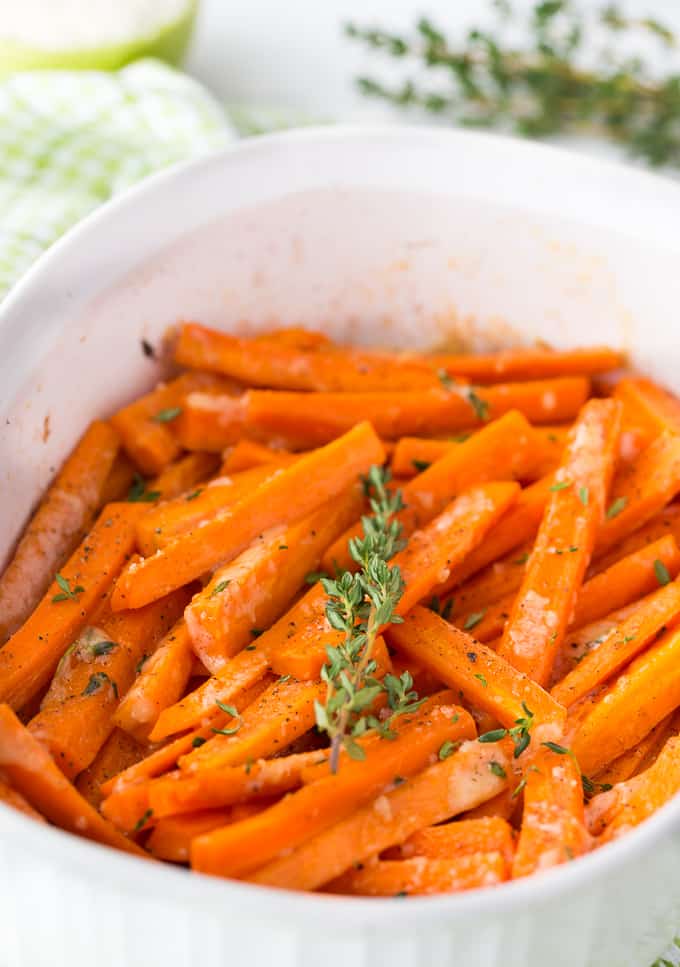 Carrots – such a classic Thanksgiving side! Why not take them up a notch with this yummy Parmesan Roasted Carrots recipe! Tender and perfectly roasted carrots topped with fresh thyme and melted Parmesan cheese. YUM!
A green bean casserole made from scratch with fresh green beans. No one will know that this healthy casserole is made with real ingredients! A tried and tested favorite side dish for Thanksgiving!
This Chilean salad feels both hearty and light. The sweetness of the roasted acorn squash balances the sharpness of the limes. Protein-packed chickpeas make it feel more substantial! A gorgeous colorful salad that is one of the best Thanksgiving side dishes you will ever try.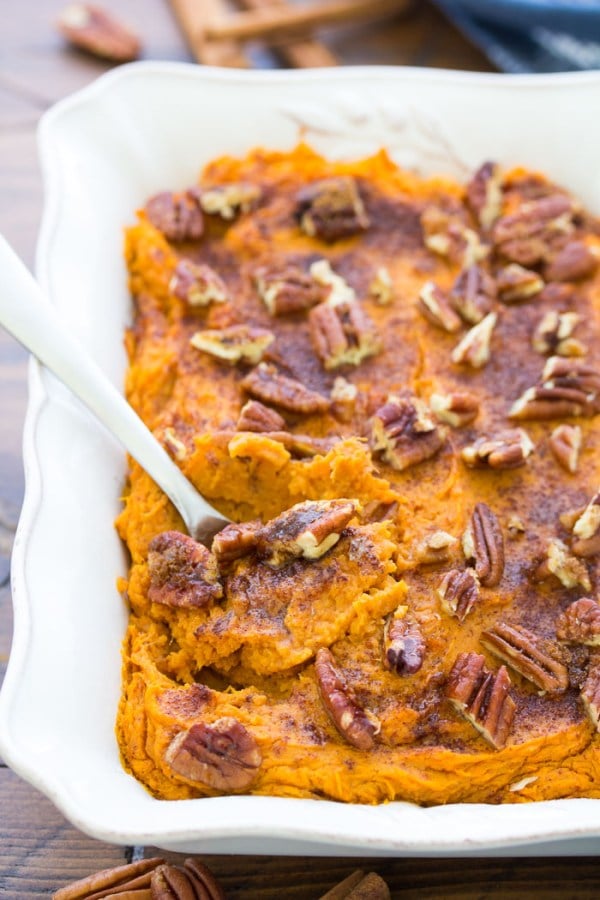 This healthy sweet potato casserole with pecan topping is a lightened up version of the classic southern Thanksgiving side recipe. Your guests will never know though! These creamy healthy mashed sweet potatoes come with crunchy pecans on top and are as irresistible as the original!
No festive Thanksgiving dinner without cornbread, right?! And what would be better for mopping up that delicious turkey gravy than this buttery, cheesy cornbread? It is packed with the flavors and earthy aromas of fresh corn and peppers.
Stunning colors and delicious flavors make this arugula salad perfect healthy Thanksgiving side dish! Who would not fall in love with this fresh, healthy and luscious salad?
Want some more turkey with your turkey? Serve these giant portobello mushroom caps filled with a flavorful mixture of wild rice and ground turkey. A sprinkling of fresh herbs and shiny pomegranate seeds adds a final festive and delicious touch to this unique unusual Thanksgiving side!
For healthy Thanksgiving mains, head over to my Thanksgiving Dinner Recipes.
Looking for Thanksgiving Desserts?