Dieser Beitrag ist auch verfügbar auf:

English (Englisch)
A moist and decadent Banana Upside Down Cake with Maple Toffee Sauce and Beer Candied Bacon! Super easy to make and a huge hit with fans of caramel and bacon!
Writing the words banana, maple, toffee, beer and BACON in one caption already felt naughty.
God, this banana cake should be forbidden. Still, I´m gonna make you try it.
We are talking about a mega moist Banana Upside Down Cake! Maple roasted Bananas on top. Yum!
The cake itself gets an additional injection of maple syrup as soon as it comes out of the oven. So it´s actually a maple drizzle cake AND a banana upside down cake! But I didn´t want to overwhelm you by putting that into the caption as well.
Served with the warmed maple toffee sauce this Banana Upside Down Cake is moist and decadent like a delicious sticky toffee pudding – with the added bonus of banana!
And Bacon. Beer and Brown Sugar Candied Bacon!
I love how the bananas turn slightly pinkish once they are nicely caramelized – goes perfectly with the colour of candid bacon, right? Tone in tone 🙂
By adding some toasted nuts to the toffee sauce you get some crunchy bits as well! The Beer and Brown Sugar Candied Bacon is optional but I found it quite easy and fun to make. The cake is still absolutely delicious without it. Still, I think the bacon bits just take the cake to the next level and it goes just perfectly with the banana and maple flavours.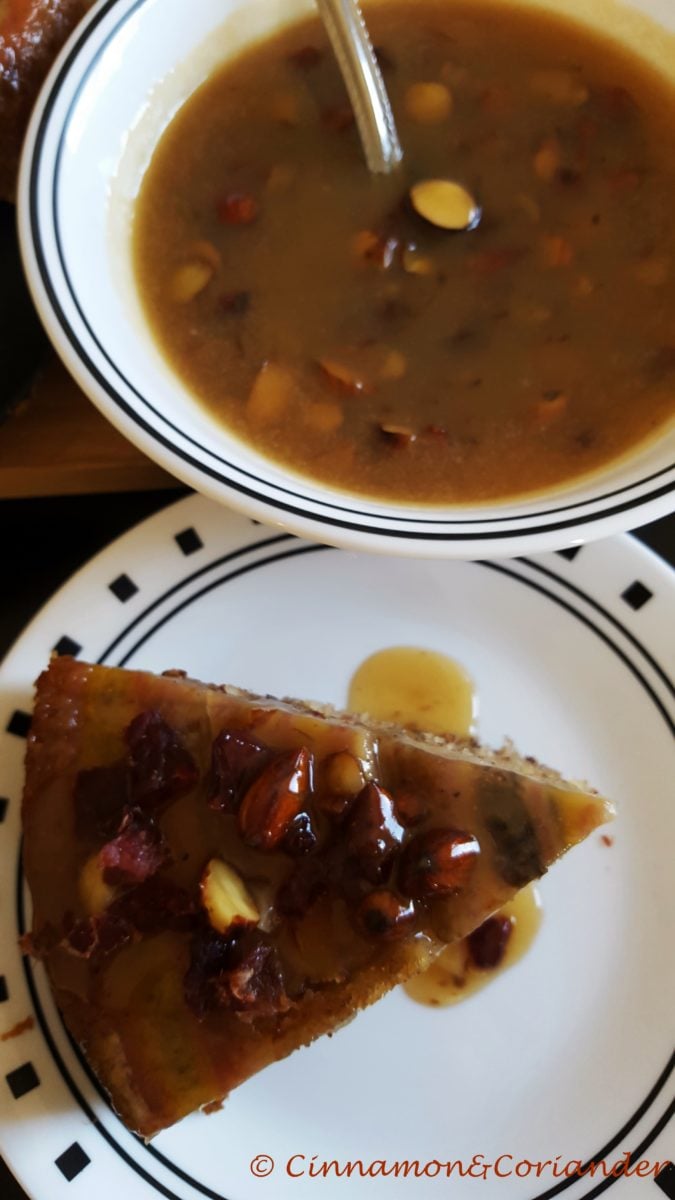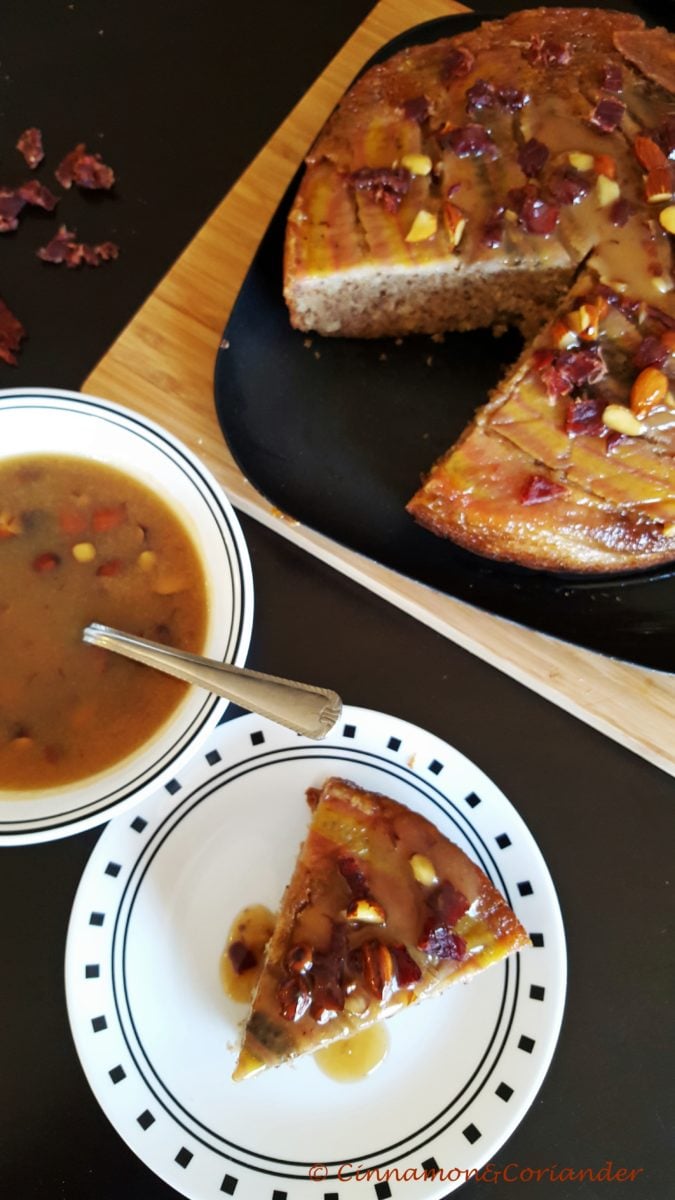 You should really give it a go. With it being December we can just easily add it to the list of special holiday treats and not feel bad about ourselves.
Not even for a minute. This cake is worth every single calorie.
Banana Upside Down Cake with Maple Toffee Sauce & Beer Candied Bacon
This sticky, moist Maple Banana Upside Down Cake is served with a warm Maple Toffee Sauce and Beer & Brown Sugar Candied Bacon !
Total Time
1
Stunde
50
Minuten
Ingredients
For the Brown Sugar & Beer Candied Bacon

100

g

Bacon

4

tbsp

brown sugar

5

tbsp

dark strong beer or stout

For the Cake

100

g

softened butter

8

tbsp

maple syrup

3

small ripe bananas

1

very overripe banana

200

g

dark brown soft sugar

4

large egg

2

tsp

vanilla extract

200

g

flour

3/4

tsp

baking powder

1/2

tsp

salt

100

g

almonds

roasted and coarsely chopped

1

tsp

bicarbonate of soda

1

tsp

ground nutmeg

200

g

pot full-fat Greek yogurt

For the sauce

100

g

whole almonds

100

g

salted butter

diced

100

ml

cream

100

ml

maple syrup
Instructions
For the Beer & Brown Sugar Candied Bacon

Preheat the oven to 400 degrees.

Mix brown sugar and beer well until a syrup forms.Line a rimmed baking sheet with aluminum foil. Place a wire cooling rack on top. Place the pieces of bacon on top of the rack, overlapping if necessary. Place in oven and cook for 10 minutes.

Remove from oven and brush one side of the bacon with the beer syrup. Flip, and coat the other side with the syrup as well. Return to oven and cook for 10 minutes. Remove from oven, and repeat process another time or two more, until bacon is crispy and browned, and you've used all the glaze.

Heat oven to 160C/140C fan/gas 3. Grease a 20cm square cake tin or a 23 cm springform pan and line the base with baking parchment. For the cake, pour in half the syrup, swirling to coat the bottom. Peel and halve the 3 ripe bananas lengthways and lay, cut-side down, in the tin.

Beat together the butter, sugar, eggs, vanilla and overripe banana with an electric whisk. Tip the flour and roasted almonds into a food processor and pulse until finely ground together. Stir into the butter mixture with the baking soda and nutmeg, then stir in the yogurt. Carefully spoon into the tin without dislodging the bananas. Bake the cake for 45 mins-1 hr until a skewer inserted into the centre comes out with only moist crumbs.

Meanwhile, make the sauce. Toast the almonds for 1-2 mins in a pan, add the remaining ingredients and a pinch of salt and cook until the butter has melted. Then bubble for 5 mins until it has thickened a little.

When the cake is cooked, poke it all over with the skewer – inserting it about halfway into the cake each time. Pour over the remaining maple syrup and allow it to soak in for a few mins, then turn the cake out of the tin, upside-down, onto a serving plate. Reheat the sauce, pour some over the cake right before serving and sprinkle the candied bacon on top.