Dieser Beitrag ist auch verfügbar auf:

Deutsch (German)
This Vegetarian Stuffed Acorn Squash recipe inspired by Canadian First Nation's Cuisine is the perfect healthy and meatless main course for your Thanksgiving table.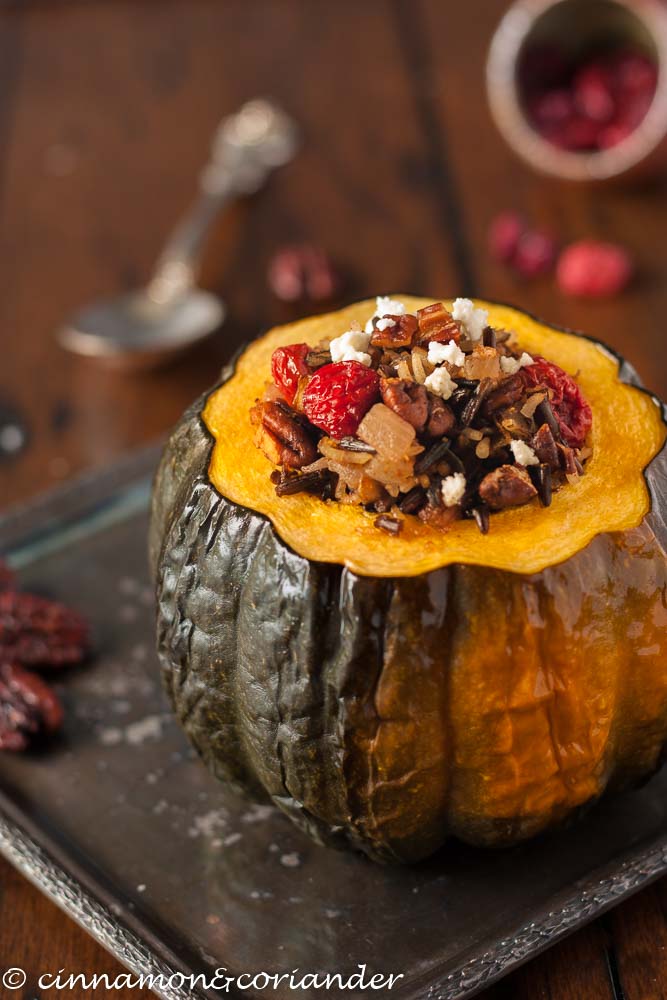 Vegetarian Stuffed Acorn Squash makes an easy meatless dinner – perfect for Thanksgiving!
– "That feeling when you've spent all day making a roast and your vegetarian side dish just completely steals the show!"
I made this easy Wild Rice Stuffed Squash as a side dish for out last Thanksgiving meal and everyone loved it. A bit too much, actually.
Yep, this humble squash got more attention than the actual main course, which makes me think I should have gone with a vegetarian Thanksgiving feast in the first place and made this gorgeous stuffed acorn squash the centrepiece! Maybe this year?
Why this recipe for Stuffed Acorn Squash works:
Everyone knows that edible bowls are FUN but, bearing in mind that most edible bowls are either bread or some fried shell, it's also a bad choice from a nutritional standpoint. Choosing squash as an edible bowl is an elegant solution – you get the fun of eating your dish, minus the carb-overloading.
When picking a squash for filling and baking, acorn squash is always my go-to. I love its deep orange coloured flesh and the fact that you can eat the skin.
The healthy combination of nutty wild rice, crunchy pecans, creamy goat cheese and dried sour cherries makes this stuffed acorn squash nourishing, filling and simply delicious!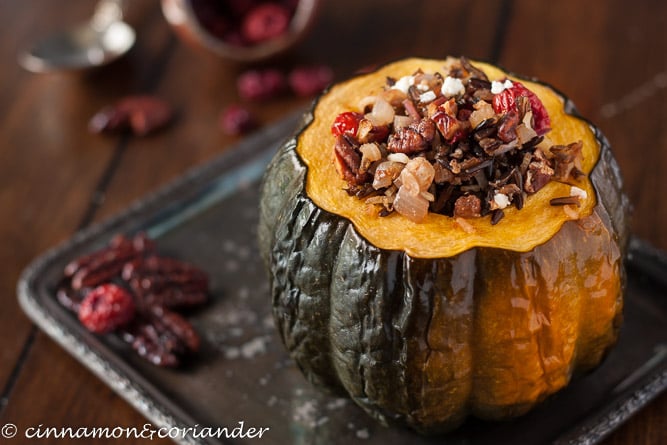 Cook's Tips:
If you want to serve these Stuffed Acorn Squash as a main course, don't halve them, but simply cut off the top and serve one whole filled squash for each person. It's basically what you see in the pictures.
To prevent your acorn squash from drying out in the oven, cover them with some aluminum foil.
Got leftover filling? Serve it as a fall-inspired wild rice salad paired with my favourite Tahini Dressing. 
Variations on this Stuffed Acorn Squash recipe:
Use pistachios or walnuts instead of pecans for your acorn squash filling!
Substitute brown rice for basmati rice for an extra healthy wild rice stuffing.
If you don't like goat cheese, swap it for crumbled feta cheese!
Turn this into a stuffed butternut squash recipe by simple swapping acorn for butternut. The baking time should be roughly the same, but you will only need half of the filling.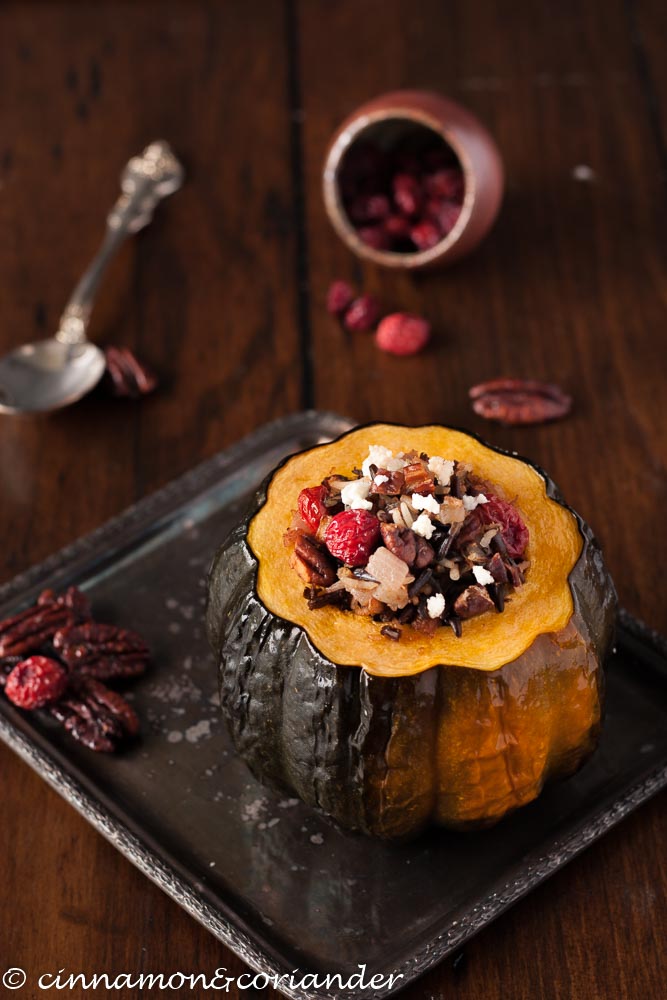 What to serve with Stuffed Acorn Squash?
This Wild Rice Stuffed Acorn Squash is pretty filling so basically, you could eat it as a main course and be perfectly satisfied. That said, it is the perfect addition to any fall-themed menu and makes a really impressive side dish for Roast Turkey or this awesome Tandoori Roast Chicken, so I guess your Thanksgiving feast should be pretty much planned now.

Can I use this Wild Rice Stuffing for Chicken or Turkey?
You sure can! For a classic stuffing, place the rice mixture in the cavity of a chicken or turkey along with some grated butter, right before roasting. After baking, make sure to get the internal temperature reading on the stuffing as well to make sure it's heated. You can also make this wild rice stuffing to serve alongside a roast or ham.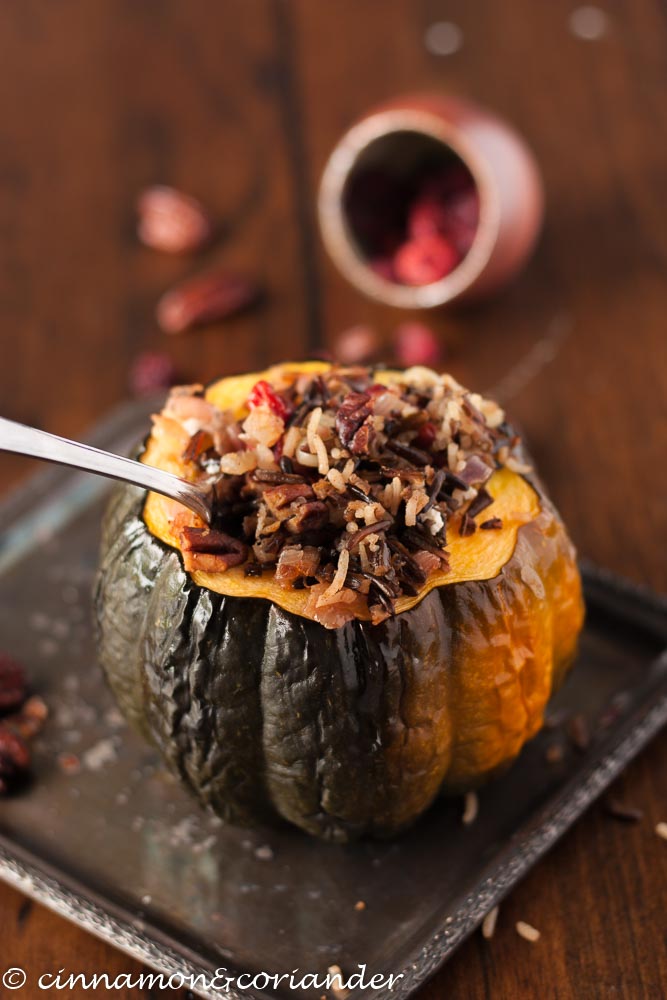 Can I make this Stuffed Acorn Squash recipe vegan?
Absolutely! Just skip the goat cheese, double the amount of pecans, and add some nutritional yeast to your wild rice filling and there you go!
Is it possible to make the wild rice stuffing in advance?
YES! The wild rice filling can be made up to 2 days ahead. Keep it refrigerated in an airtight container. Or, you can assemble the filling up to 6 hours ahead; just keep it covered in the fridge till you're ready to stuff your acorn squash.
Pin this recipe onto your Thanksgiving Board: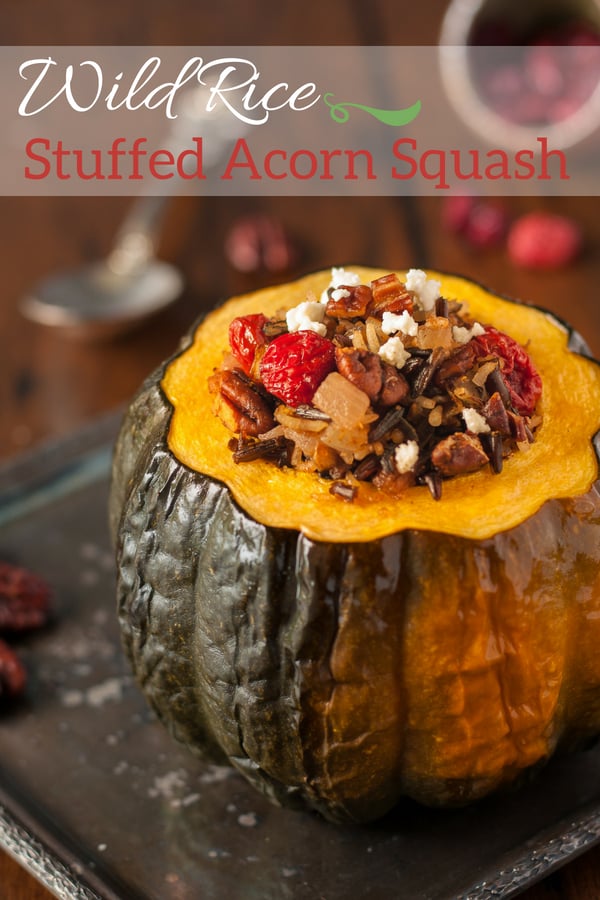 ★ Did you make and love this recipe for Vegetarian Stuffed Acorn Squash? Give it your review below and make sure to share your creations by tagging me on Instagram!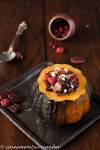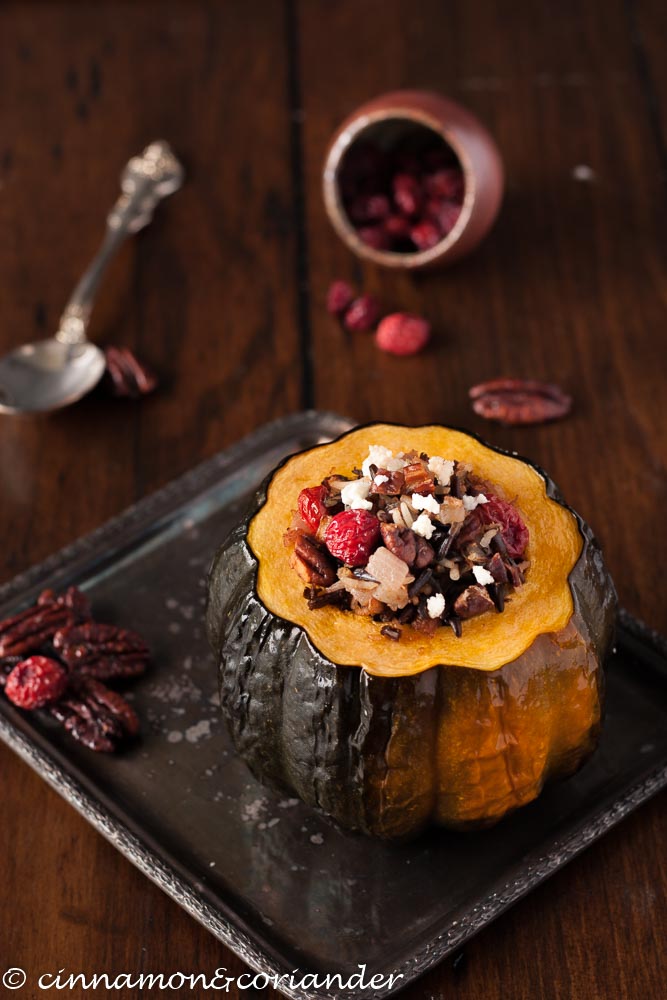 Wild Rice Stuffed Acorn Squash with Goat Cheese, Pecans & Dried Cherries
This Vegetarian Stuffed Acorn Squash recipe inspired by Canadian First Nation's Cuisine is the perfect vegetarian main course for your Thanksgiving table. The combination of nutty wild rice, crunchy pecans, creamy salty goat cheese and fruity sour cherries makes this dish nourishing and simply delicious!
Ingredients
80

g

basmati rice

80

g

wild rice

2

acorn squash

3

tbsps

olive oil

2

tbsps

brown sugar

70

g

pecans

1

onion

chopped finely

2

cloves

garlic

minced finely

3

twigs

thyme

1

tsp

ground cumin

1

tsp

ground coriander

1/2

tsp

ground cinnamon

60

g

dried sour cherries

or cranberries

120

g

goat cheese

crumbled, or feta

salt and pepper to taste
Instructions
Prepare the rice following the instructions on the package, drain and let cool.

Preheat the oven to 190 Celsius.

Cut squash crosswise in half; remove and discard seeds. Cut a thin slice from bottom of each half to allow them to lie flat. Place the acorn squash on baking sheets, hollow side up and brush the inside with olive oil

Sprinkle the inside with sugar, salt and pepper and bake for 45 minutes until tender.

Prepare the filling in the meantime. Toast the pecans in a pan without fat, let cool and chop.

Heat 2 tbsps of oil in a pan on medium-high heat. Add chopped onions and fry for 3 minutes until softened. Add garlic along with the thyme leaves and fry for another minute.

Add all ground spices and fry for 30 seconds, add cooked rice, dried cherries and nuts and season with salt and pepper.

Remove the baked squash from the oven and fill with the rice filling, adding a 1 tsp of crumbled cheese after every 3 tbsp of rice filling.

Press the filling into the squash with the back of a spoon to pack it firmly and drizzle some olive oil on top.

Return filled squash to the oven for 30 more minutes. Serve sprinkled with cheese.
Recipe Notes
The rice filling can be prepared up to 2 days in advance.