Dieser Beitrag ist auch verfügbar auf:

Deutsch (German)
This easy Red Currant Cake with Meringue is an easy German Kuchen recipe consisting of three layers: a layer of vanilla sponge cake, a simple fresh red currant filling and a fluffy meringue topping. Jump to Recipe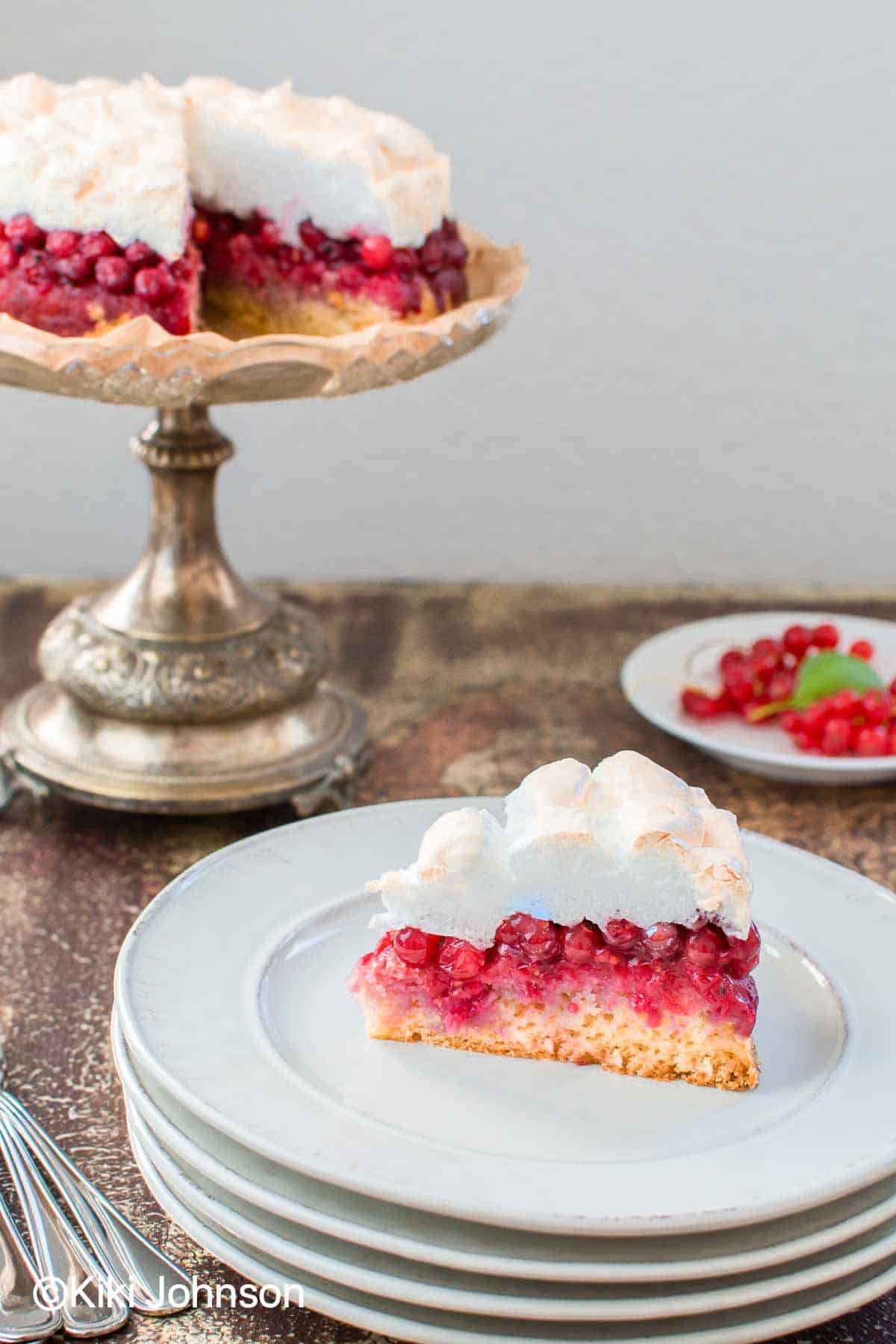 German Red Currant Cake with Meringue Topping
Fresh red currants – I love them! Red currants are little red berries that grow in the summer on red currant bushes. They taste sour-sweet and can be used for making cakes, jams, juice and summer fruit desserts.
I just love their tartness. Not to mention that they are like shiny, perfect jewels!
With all the fresh red currants ripening in German gardens these days I knew I wanted to make a delicious cake using those little red berries.
So here's another classic of German baking. Red Currant Cake with Meringue topping aka Red Currant Kuchen!
The Germans are world champions when it comes to baking with fresh red currants and they have, at least for me, the best red currant cakes you could possibly imagine.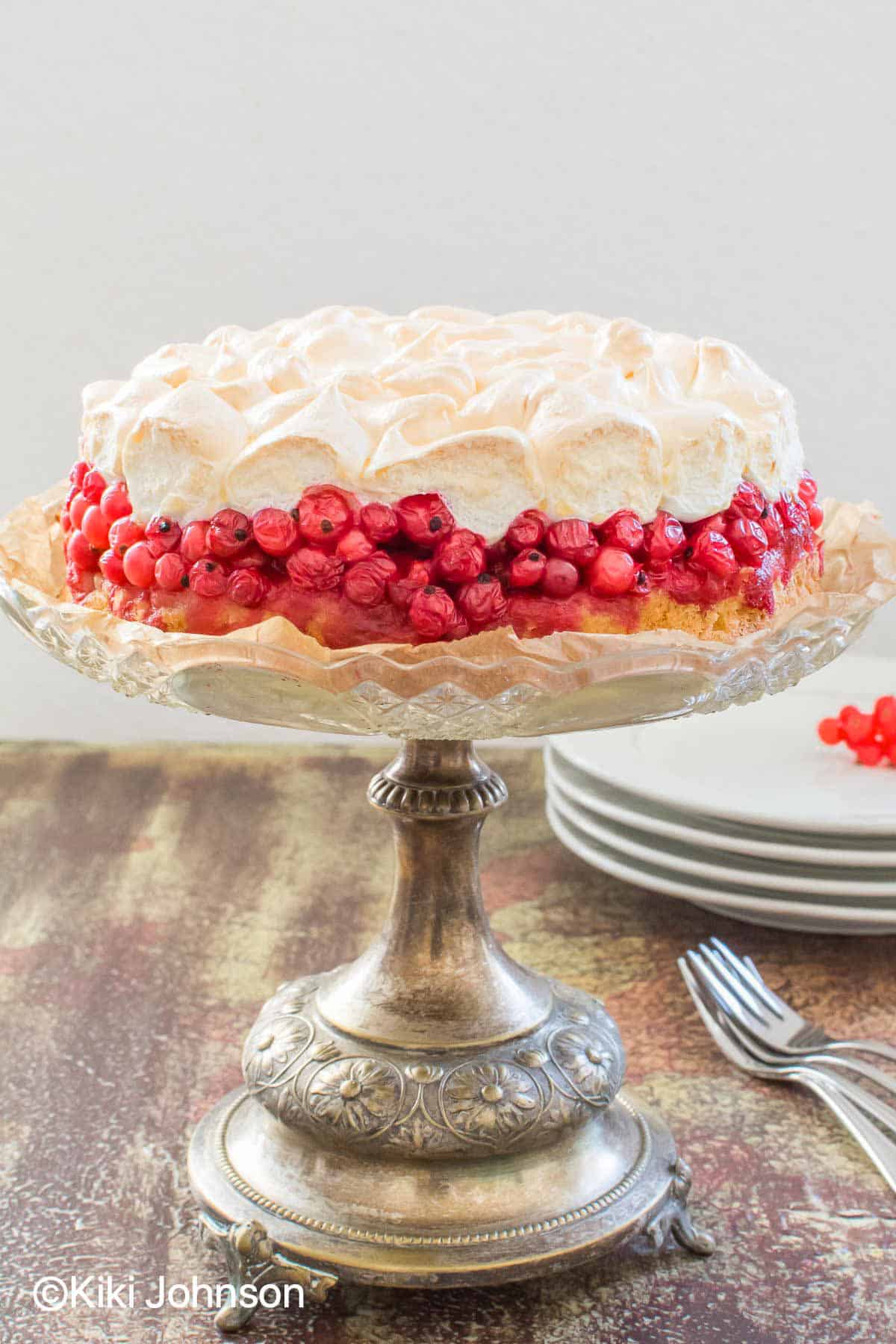 What can I make with fresh red currants?
Red currant cakes or any fresh red currant recipes like my Red Currant Crumble or my Brioche Buns with Red Currants are always a good idea if you're looking for a coffee cake to serve with your afternoon coffee!
The tartness of the berries goes so well with anything pastry or cake. Some of the most delicious German cakes, especially in summer, when fresh red currants and black currants are plentiful, are meringue cakes.
Depending on the region there are different names for red currant cake, like Träubleskuchen (Swabian Dialect). Some are made with yeast dough, some are more like tarts made with a shortcrust pastry.
I have made so many different red currant desserts over the years but this red currant meringue cake is the one I make when I need to impress.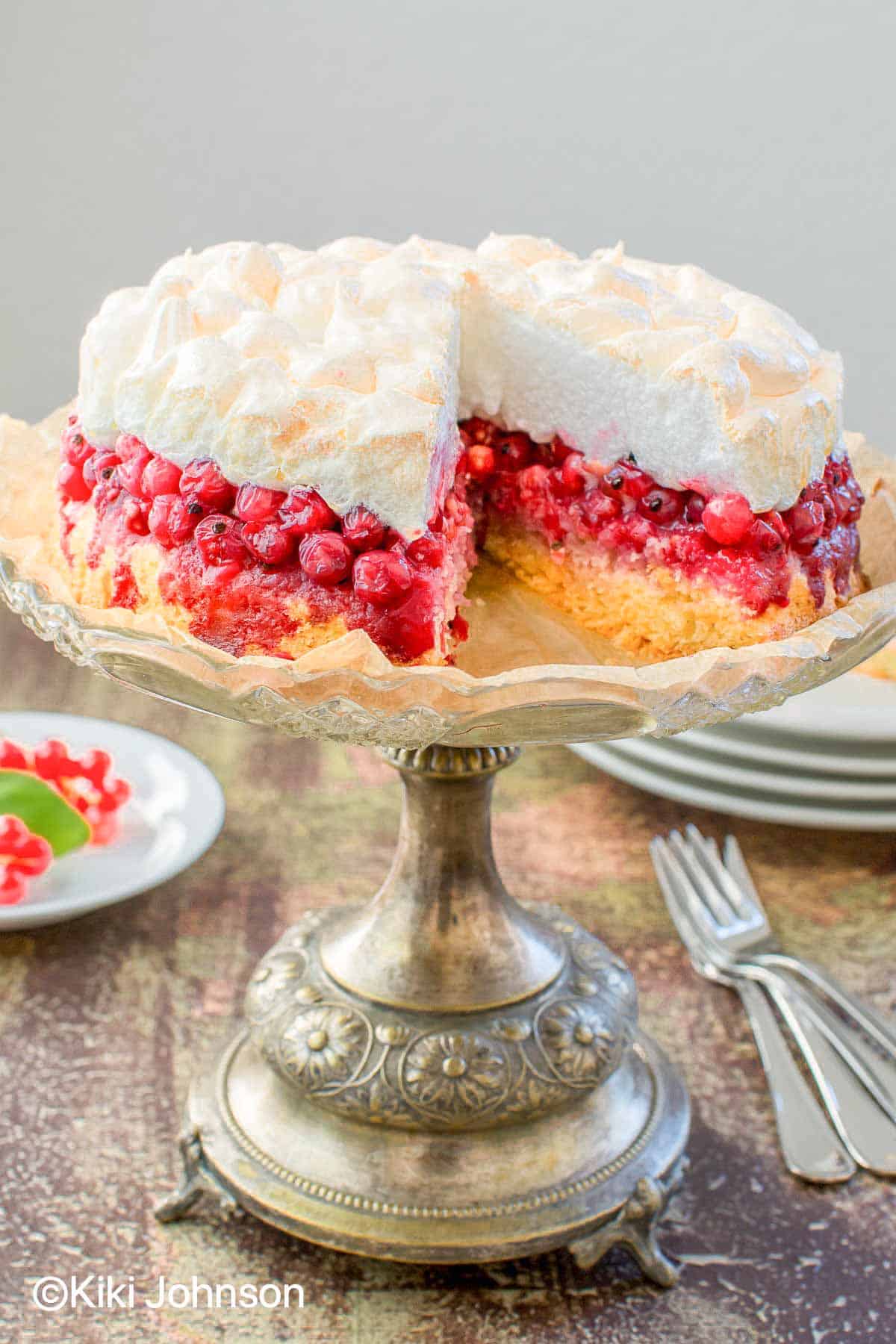 This redcurrant cake contains no whipped cream so it holds up well served in the garden! It is a simple recipe for a German cake that is easy and quick to make and really one of the best cakes ever!
Can I use frozen red currants?
Frozen red currants work just fine for this red currant cake recipe and there isn't any need to thaw them before cooking, although you might want to add less water.
How to make the perfect meringue
Make sure that the bowl you use for whisking the egg whites is clean and dry, don't use plastic because it may have traces of fat or grease.
The egg whites must be at room temperature so remove them from the fridge 45 minutes before baking
Make sure that no yolk gets added to the egg whites
Beat the egg whites until frothy then add a little cream of tartar or vinegar! This helps make the meringue less likely to collapse.
Beat the egg whites and cream of tartar on low speed until soft peaks form. THEN start adding the sugar.
Use fine sugar, because it dissolves faster and it helps prevent the egg whites and sugar mixture from being lumpy.
You could also use icing sugar
Add the sugar slowly to the soft peaked egg whites while beating on medium speed.
If you want, sprinkle some almond flakes on top of the meringue before baking.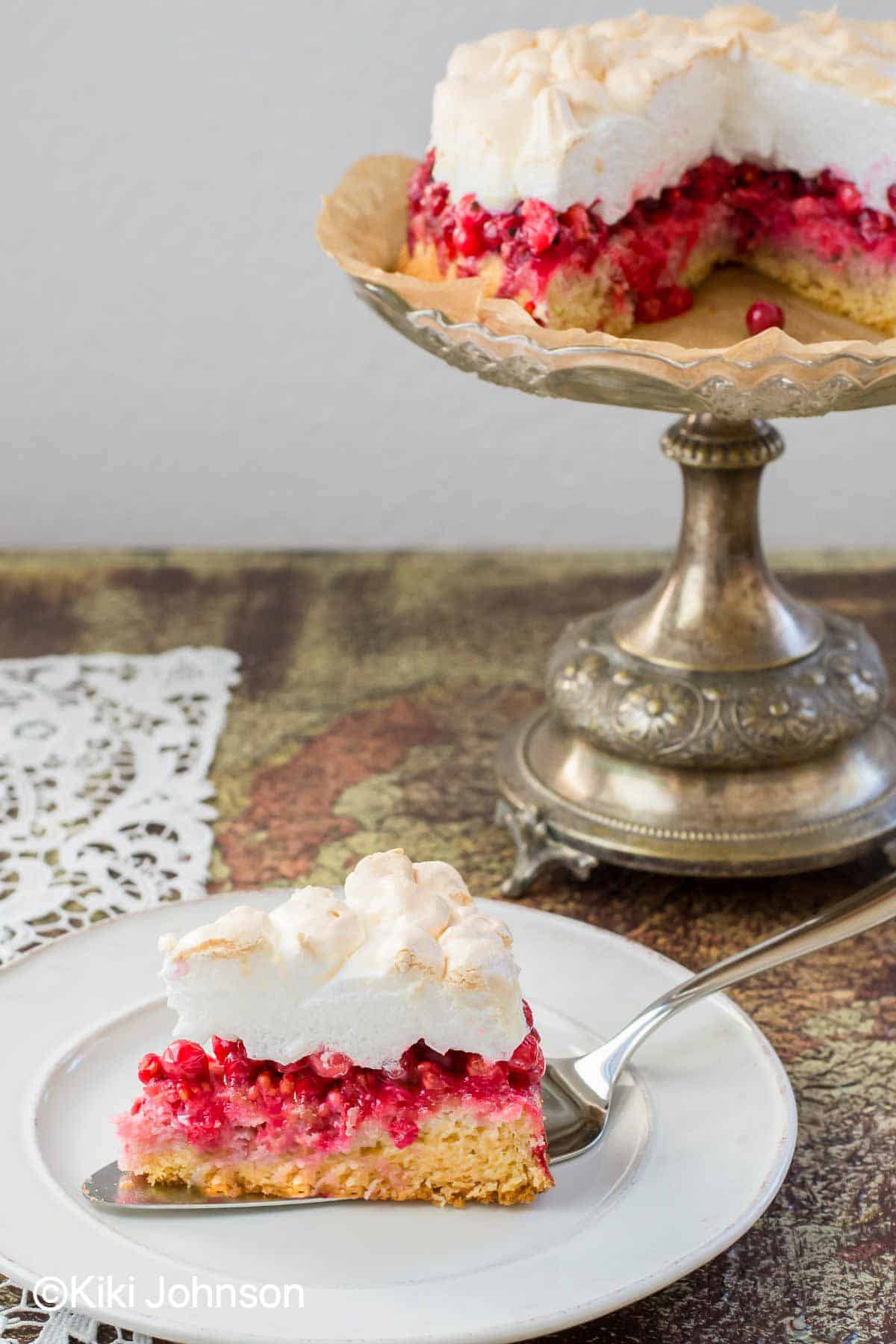 What to use instead of cream of tartar?
If you don't have cream of tartar you can substitute with an equal amount of white vinegar or lemon juice.
Make this with other fresh berries:
Finding red currants a little sour? For the filling, you can use pretty well any type of berry you like! Next time, I will try fresh blueberries but raspberries, blackberries, gooseberries, and black currants would be awesome as well. Seasonal fruit like cherries would also work.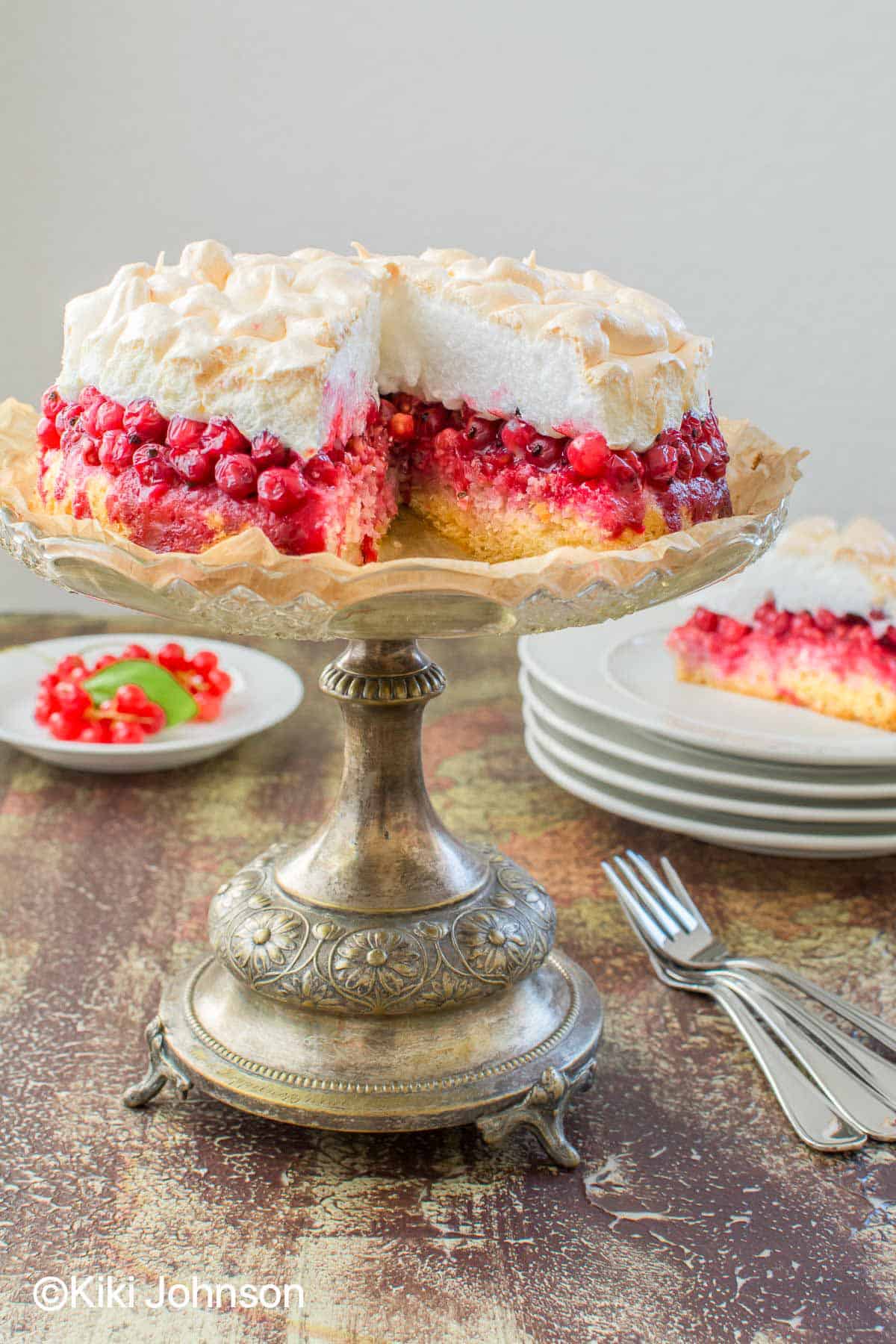 How to store it
This cake is best served fresh – maybe with some ice cream?
Any leftover red currant cake should be stored covered in the refrigerator. It will last about 3 days in the fridge. I love having a piece with my morning coffee. It is not recommended to freeze this Meringue Cake because it will not hold up well frozen. Once thawed the meringue will become chewy and rubbery.
If you are looking for a delicious way to use those red currant berries or want to try an easy German cake, give this simple red currant cake a try. Such a great way to use fresh currants. Happy Baking!
Is it illegal to grow currants in the United States?
Currants including red currants, black currants, and gooseberries were a 'forbidden fruit' for most of the 20th century. They were banned across the US for almost a half-century because they carried the white pine blister rust disease. In the 1960s this blanket quarantine was lifted, however, the restrictions have remained in place in many states to this day. Restrictions on whether it is illegal to grow currants or have red currant bushes in your little garden vary between states!
Baking tips:
Feel free to add some lemon zest to the cake batter
Mix the dry ingredients separately before adding them to the wet mix.
Use softened butter
If you want, replace a part of the flour with ground almonds
★ Did you make and love this German Red Currant Cake recipe? Give it your review below! And make sure to share your creations by tagging me on Instagram!
Red Currant Cake with Meringue
This easy Red Currant Cake with Meringue is an easy German Kuchen recipe consisting of three layers: a layer of vanilla spinge cake, a simple fresh red currant filling and a fluffy meringue topping
Ingredients
Vanilla Sponge Cake
75

g

softened butter or margarine - 1/3 cups

75

grams

sugar - 1/3 cup

2

eggs

1

pinch

of salt

150

grams

flour - 1 cup

1

tsp

baking powder 8 g
For the Red Currant Filling
3 1/2

cups

red currants - 550 g

4

tablespoons

granulated sugar

more or less depending on your taste

1

teaspoon

lemon juice

2

tablespoons

water

2

teaspoons

cornstarch
FOR THE MERINGUE
3

large egg whites

room temperature*

¼

teaspoon

cream of tartar

or white vinegar

4

tablespoons

caster/fruit/fine sugar

*Remove from the fridge 45-60 minutes before using.
Instructions
To prepare the batter, first put soft butter or margarine, sugar and eggs in a mixing bowl.

Mix everything together with an electric hand mixer until fluffy.

Mix flour with baking powder and a pinch of salt and stir to combine.

Grease a round 20 - 22 cm ( 8 - 9 inch)  cake pan with a removable rim, and place a piece of baking paper on the bottom. Pour in the dough, smooth it out and place in the preheated oven at 200 ° C in the middle rack of your oven and bake for about 20 minutes until light brown.

Allow to cool for about 2 minutes on a wire rack, then remove the cake ring, turn out the base and remove the baking paper from the still hot cake base.

In a medium pot add the red currants, sugar, lemon juice, water and cornstarch. Bring to a boil on medium low heat, stir constantly, cooking until thickened, about 8-10 minutes. Move to a clean bowl and let cool completely. Refrigerate for about 20 -60 minutes to chill and thicken it.

FOR THE MERINGUE (once the filling and cake has cooled)

Pre-heat oven to 350F (180C). Lightly grease and flour an 8 or 9 inch (20/22 cm) round cake pan (springform if possible, if not line the cake pan with parchment paper).

In a clean dry bowl add the egg whites and beat until frothy, add the cream of tartar and beat until soft peaks form.

Add the sugar a tablespoon at a time while beating, continue to beat on medium speed until stiff peaks form.

Place the cake layer on the bottom of the prepared cake pan, spread evenly with the cooled berry filling.

Place the stiff meringue on top of the red currant filling. Using the back of a spoon form peaks over the top of the cake. Bake for approximately 10-15 minutes or until golden. Turn the red currant cake halfway through baking so it browns evenly. Let cool completely before serving. Enjoy!
For more German cake recipes try my: