Dieser Beitrag ist auch verfügbar auf:

Deutsch (German)
Granny's German Apple Fritters recipe is perfect for fall and Oktoberfest season but really, these old-fashioned beer-battered apple rings are a delicious dessert all year round!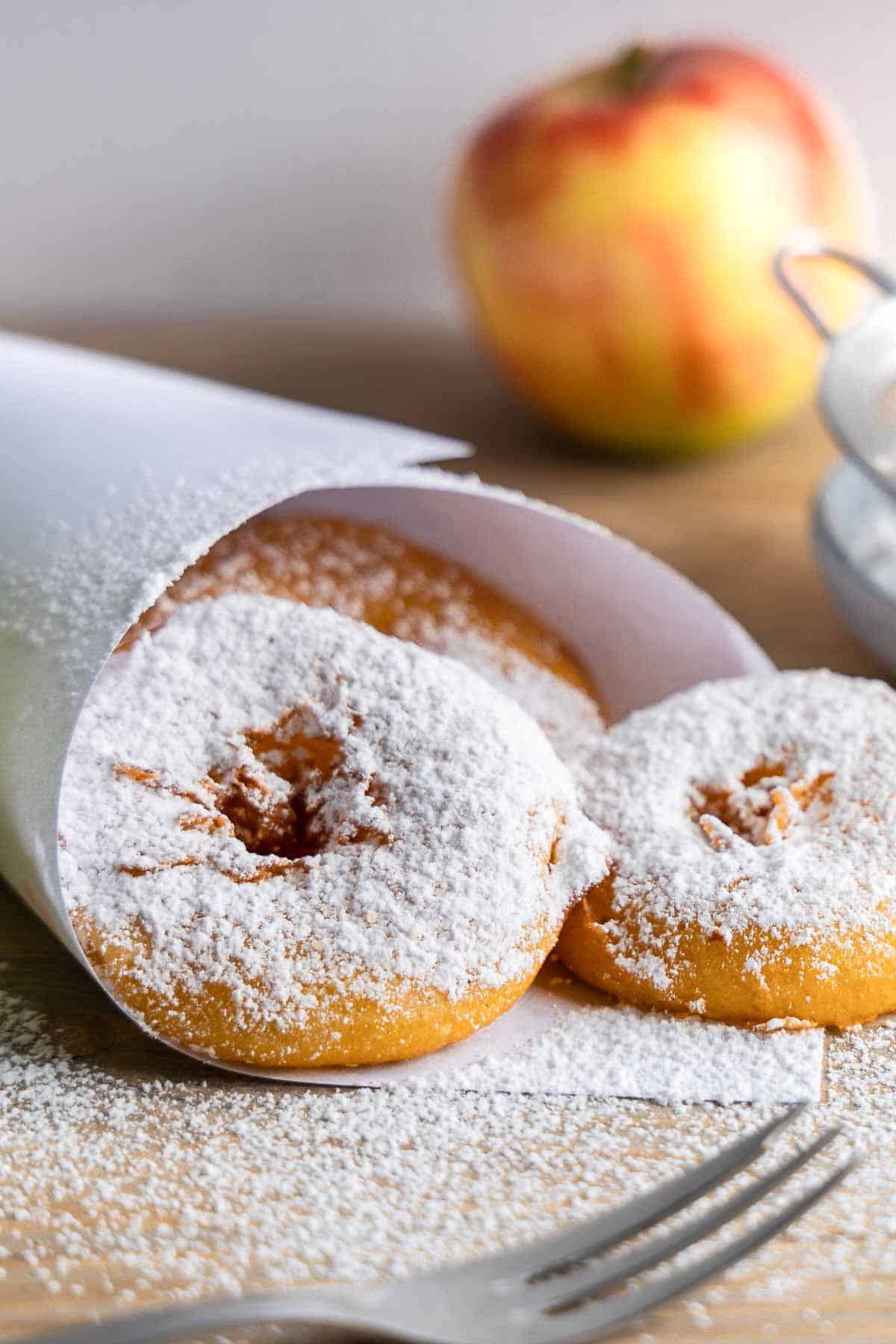 This German Apple Fritters recipe is one of my favorite things to make in late summer and fall. Granny's old-fashioned beer battered apple fritters (Apfelküchle) served with vanilla sauce are such a great afternoon snack but also special enough to serve as a dessert.
Here's my granny's tried and tested German Apple Fritters recipe that has been in our family for generations. Along with her German apple cake, these apple fritters would be on the menu all throughout apple season!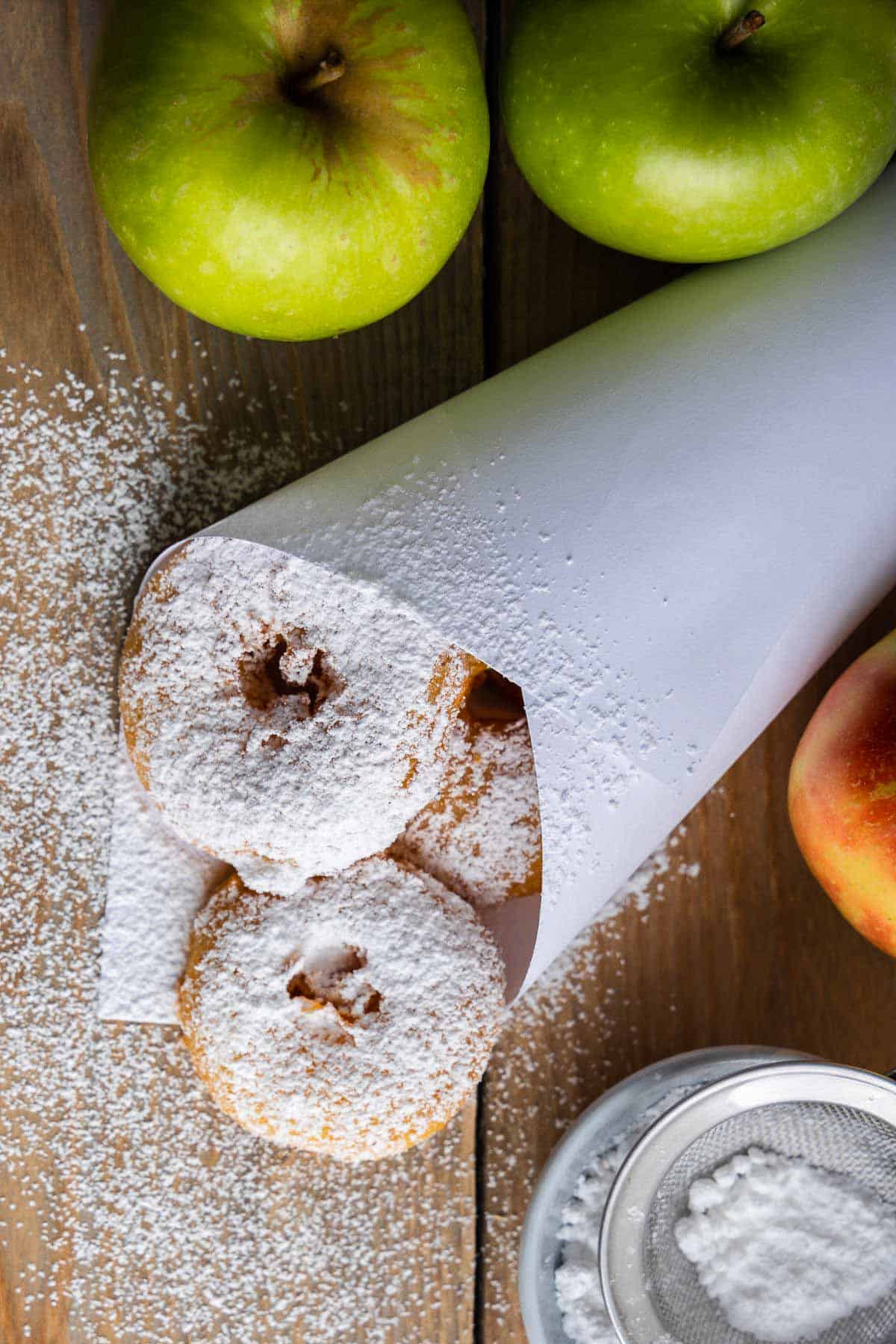 Beer battered apple rings are a hugely popular German dessert you will find on many dessert menus. This authentic recipe is made with simple ingredients like fresh apples from the orchard, flour, eggs, and a splash of beer and it tastes spectacular. Trust me, these delicious homemade apple fritters are utterly addictive!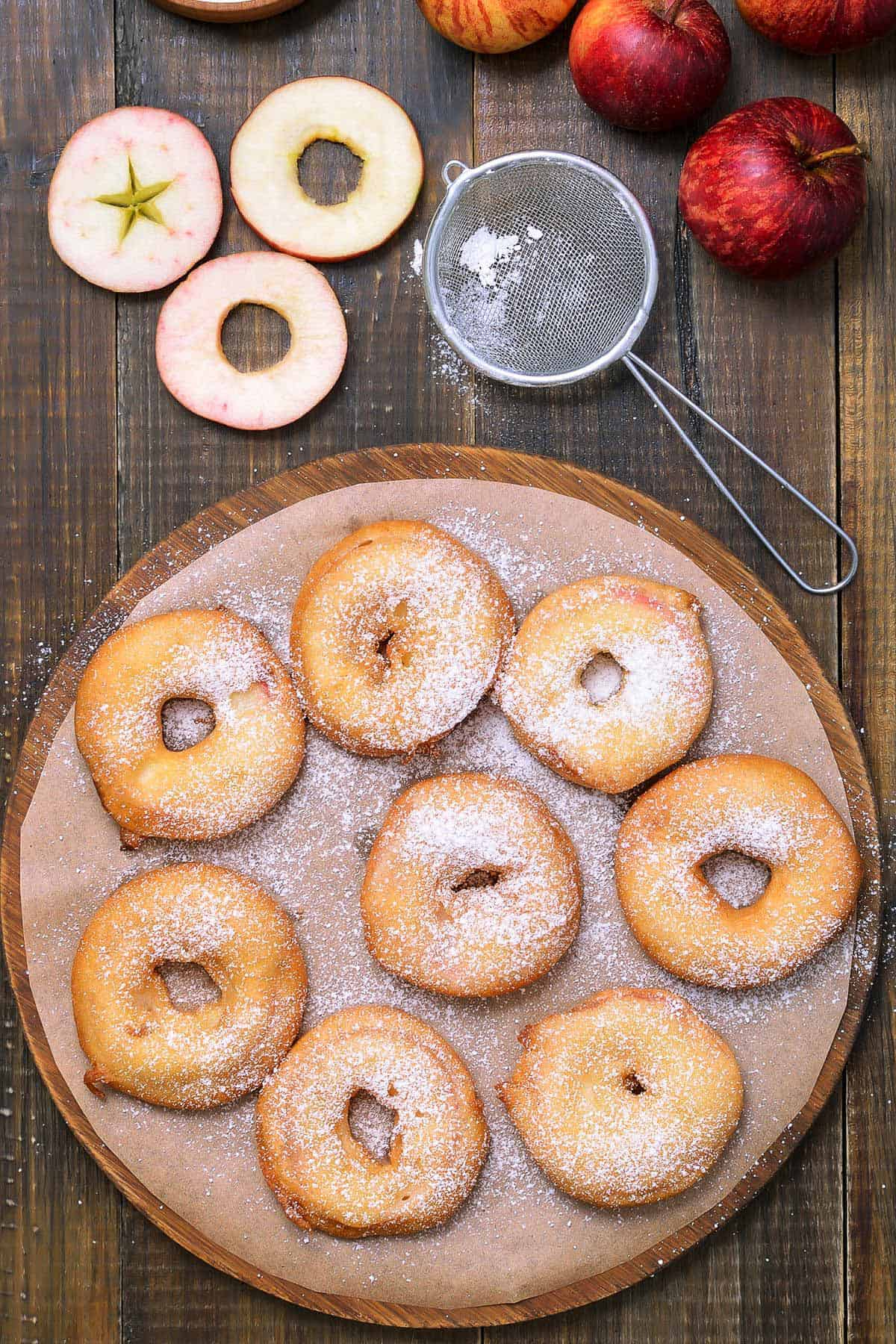 Apple fritters are basically whole apple rings tossed in a delightful, airy batter and shallow fried in clarified butter or oil in a pan. Known as Apfelküchle these little crispy apple cakes are one of the most popular late summer and fall desserts and especially during Oktoberfest season.
German apple fritters are usually served warm with vanilla sauce or vanilla ice cream or cinnamon ice cream but I also often serve them with just a dusting of icing sugar.
Which apples shall I use?
I generally prefer tart apples for this apple fritters recipe. The slight sourness of the apple contrasts so well with the sweetness of the vanilla sauce, plus you serve them sprinkled with plenty of icing sugar or some cinnamon sugar.
Make the apple fritter rings ahead of time:
Want to serve German apple fritters as a dessert for a dinner party? Amazing!
Peel, cut, and core the apples and cut them into slices. Now, for an extra boost of flavor, you can go ahead and place the prepped apple slices in a gallon freezer bag and add some sugar, lemon juice, and rum.
About 3/4 cup sugar, 2 tbsp lemon juice, and a splash of rum. You want to coat the rings well, then close the bag and let them soak in the liquid.
When reparing these kinds of fritters there are few tricks that will make the end results FANTASTIC.
Secrets for making the best German apple fritters
(you can pre-cut and slice the apples and soak them in rum, sugar, and a bit of lemon juice to infuse them with extra flavor
a splash of beer makes the batter light and airy – no need to separate the eggs.
dusting the apple rings with some flour before battering them helps the batter stick to the rings
ground cinnamon and salt flavor the batter along with the beer
Ingredients:
Apples – I like tart kinds like granny smith
Optional: Rum, lemon juice and sugar. To infuse the apple rings with flavor and prevent them from turning brown while you work on the batter and heat the oil.
Dry ingredients: Flour, salt, cinnamon and baking powder. It is important to sift the flour after you measure it.
Beer. The top choice of beer is German wheat ale (called hefeweizen or weissbier) because it already contains a bit of live yeast making the batter light and very aromatic, and it also helps it rise.
eggs – granny did not separate them and I like skipping that step as well but if you want you could add the beaten yolks first and fold in the egg whites in the end
Vegetable oil or clarified butter – For pan frying, you will need just enough to cover the skillet about an inch deep.
For best results, I recommend you prep the apples about an hour ahead of time and let them soak in the sugar, rum and lemon mix but as I stated above, it's optional. You can also start with the batter and cut the apples right before you fry them so they do not turn brown.
How to serve German Apple Fritters
Apple Fritters are best enjoyed fresh and while still warm with homemade vanilla sauce made with real vanilla bean or with a scoop of homemade vanilla or cinnamon ice cream.
If you make them for breakfast or as a snack, simply dust them with powdered sugar or cinnamon sugar!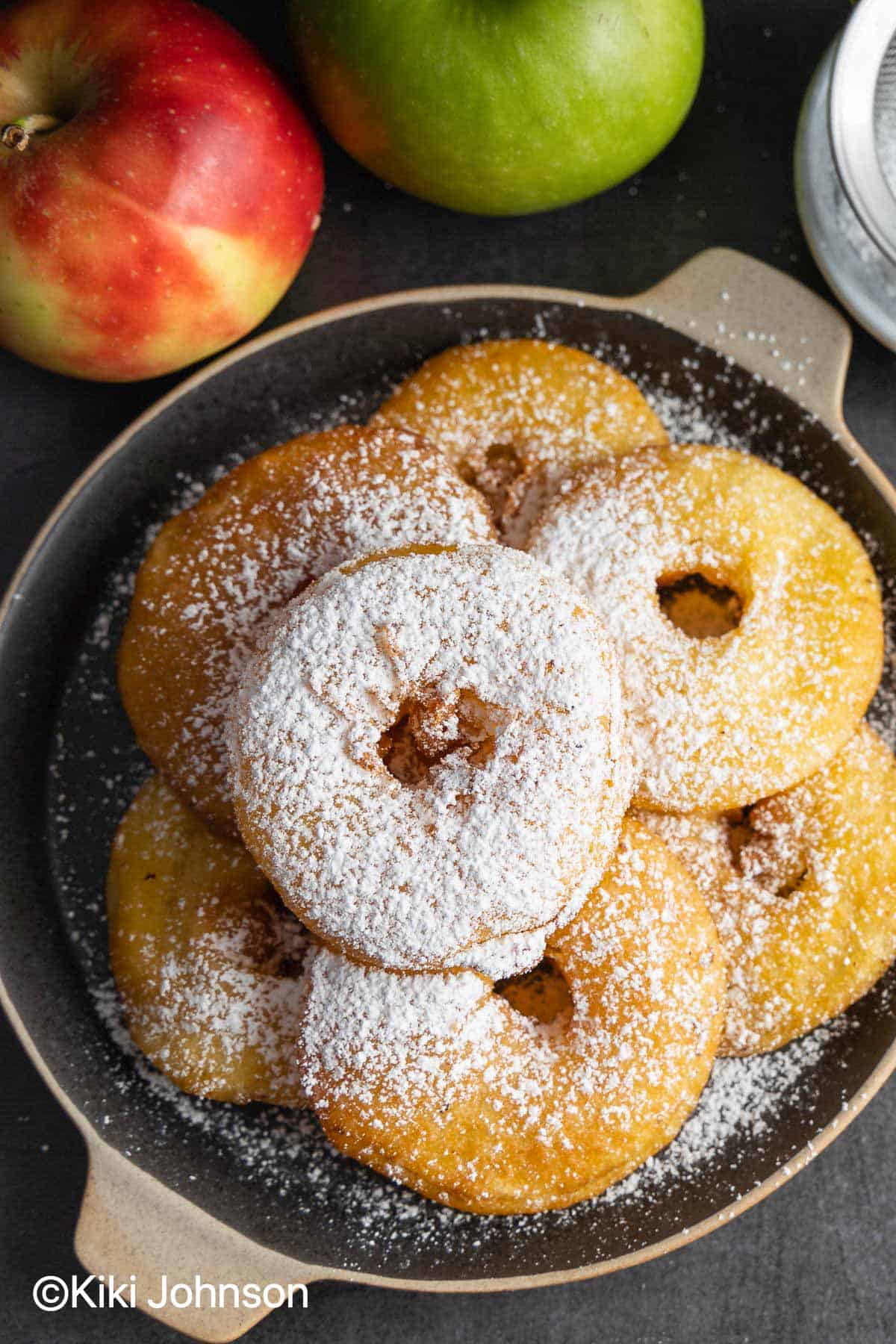 How to core an apple without an apple corer:
Take a pairing knife. Set the apple upright on your cutting board and hold it steady. Use the other hand to make four incisions around the center of the stem.
Each cut should be about 1/4 inch from the center depending on the size of the apple. As you make the cuts, wiggle the blade of the knife straight downward, so you're really slicing deep into the apple.
Turn the apple upside-down and repeat the whole process on the bottom. When slicing into the apple, try to make contact with the existing cuts. You'll know you got it right when the knife slides easily through on each side.
Use your thumb to push the core up from the bottom. Voila!
Tips:
I used German Hefeweizen. You can use a different beer and you can even use also use cider or sweet white wine.
If you do not want to soak the apple rings simply slice them just before you are about to fry them and start by making the batter.
I dusted the apple rings with some flour before frying them. That way the batter sticks better
You can use vegetable oil for frying these but they taste especially delicious fried in clarified butter
You can also leave the peel on if you don't mind it
For this recipe take a sour apple variety to contrast the sweetness of the icing sugar
Don't cut apples too thinly. You want thick rings of 1 – 1,5 cm. The apples lose quite a bit of liquid when frying and shrink and we still want something between our teeth when we bit into the apple rings.
The batter should not be too thin, so add the beer carefully towards the end, bit by bit.
Be sure to remove excess oil by placing the fried apple slices on a piece of kitchen paper
You can easily double the recipe. I would always calculate one apple per person.
Chef's trick for a smooth batter. If you mix the flour, baking powder, and sugar together first, there will be no lumps in the batter
More German Apple recipes:
Apple Cinnamon Mascarpone Parfaits
German Apple Custard Cake Recipe with Creme Fraiche
Spritzkuchen Recipe with Apple Cider Glaze
German Apple Fritters recipe
Granny's German Apple Fritters recipe is perfect for fall and Oktoberfest season but really, these old-fashioned beer-battered apple rings are a delicious dessert all year round!
Ingredients
2

tart apples

100

g

flour + more for dusting - 1/2 cup + 2 tbsps

1

egg

1/2

tsp

baking powder

1

pinch

of salt

1/4

cup

- 60 ml milk

2-3

tbsp

beer

2

tbsps

sugar

1/2

tsp

cinnamon

for frying - clarified butter frying oil

some powdered sugar or cinnamon sugar for dusting

homemade vanilla sauce

if you like
Instructions
Make ahead Tips: for extra delicious apple rings, prep the apples ahead of time and place them in a freezer bag with 1/2 cup to 3/4 cups of sugar and the juice of a lemon as well as a good splash of rum and let them sit in that mix for a couple of hours.

First mix flour, sugar, salt and baking powder. Then the milk is added and everything is mixed with a handheld whisk to form a smooth dough.

Add an egg, a pinch of salt and cinnamon, as well as the sugar and stir into a homogeneous mass.

Let the dough rest a bit while we prepare the apples.

Wash apples, pat dry and peel. Core the apples with an apple corer so that there is a hole of approx. Ø 2 cm.

Slice the apples about 1.5 cm thick and set aside. I get 4 slices out of each apple. Don't cut them cut too thin.

The apples lose liquid when frying and we still want something between our teeth.

If you don't have an apple corer, simply cut the apple into rings and then cut out the core with a small knife.

Drizzle the apple rings with a little lemon juice so they don't turn brown ( you can prep apple rings ahead of time, see tips).

Heat 1 l oil or plenty of clarified butter in a wide saucepan. The oil is ready for frying when you put a wooden spoon in the fat and small bubbles form around it (180 C)

While the fat is heating, mix the beer into the batter. 2-3 tbsp should be enough. Place the apple slices and the bowl with batter near the pan for frying. Prep a small shallow bowl of flour. Line another large plate with paper towels and set aside.

Turn apple tings briefly in flour, then batter the rings using two forks to move them in the batter and then carefully place them in the hot fat. Do this carefully and always away from you so that you don't get splashed.

Don't place all apple slices in the pot at once so that the slices do not stick together during frying. Fry for about 2 minutes on both sides until golden brown.

Carefully remove the apple slices and place them on a plate lined with paper towels.

Mix some sugar with cinnamon and roll the apple slices in the cinnamon sugar while they are still hot or dust them with icing sugar. Serve with a scoop of vanilla ice cream or vanilla sauce, if you like.
Recipe Notes
Double the recipe or triple. I always calculate 1 apple per person