Dieser Beitrag ist auch verfügbar auf:

Deutsch (German)
I love oranges and I have always found it a pity that most dessert recipes only ever use a tiny bit of orange zest leaving you with a sad, naked orange that can't even be peeled properly anymore. This flourless Almond and Orange Cake is quite different to any orange recipe I've ever tried as it uses the whole fruit! Yes, the whole thing. In this recipe whole oranges are boiled for two hours and then puréed with their skin, the pips and all. Not only does this make the cake incredibly moist, no you also get the most amazing natural orange aroma ! By using ground almonds instead of flour it is also gluten free!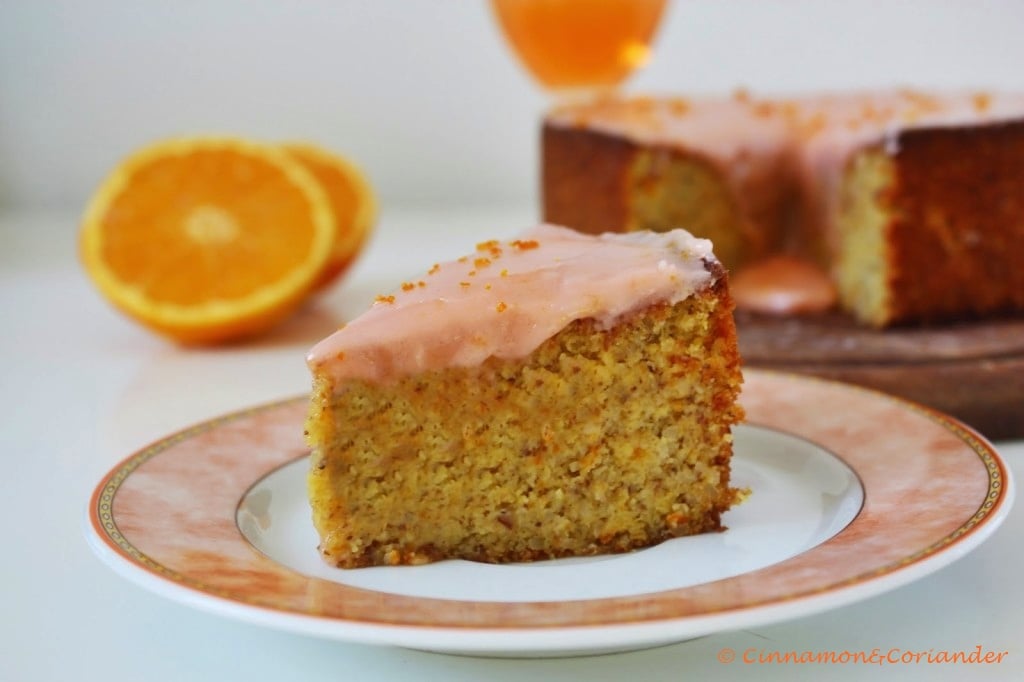 For a 23 cm springform pan
250g ground almonds
3 oranges (2 for boiling, 1 for zesting)
230 g sugar
2 tsp vanilla essence
1,5 tsp baking powder
6 eggs
1 pinch of salt
1 or 2 Tbsp cointreaux or aperol
3 Tbsp orange marmalade
For the glaze
200 g powdered sugar
2-3 Tbsp aperol
Wash 2 of the the oranges under hot water and put them in a pot. Cover them with water and let boil for about 2 hours. The oranges should always be covered up by the water up to 3/4 so you will have to refill a bit of water once in a while.
Don't get nervous if your orange water starts to smell a bit funny–My husband compared it to the smell of socks after hockey training. It's really quite strong but bear with me! This is ok!
Take the oranges out of the water after 2 hours and let them cool, then half them, remove seeds and stalks and blend the whole fruit in your food processor.
Preheat the oven to 175 Celsius and butter your pan. Roast the almonds and let cool.
Add the grates zest of the third fresh orange to the puree and stir in the cointreaux.
Beat the eggs and sugar until foamy and thick and mix almonds, salt and baking powder in a separate bowl.
Mix the orange puree and the vanilla with the eggs and add the almond mix until smooth.
Pour the dough into the mold and bake for 55 to 60 minutes. Let cool and spread the orange marmalade on the surface.
Mix the powdered sugar and the aperol, pour over the cooled cake and decorate with some orange zest.