Dieser Beitrag ist auch verfügbar auf:

Deutsch (German)
These Chai Spiced Snickerdoodles are fantastic and just perfect for the cold and cozy season. Especially when dipped into a hot and calorific beverage.

I love all things Chai. I know, it has become a bit of a fad to create a pumpkin or chai-spiced version of all your favourite recipes these days but let´s not try to swim against the tide today. Just let me tell you: These Chai Spiced Snickerdoodles are fantastic and just perfect for the cold and cozy season.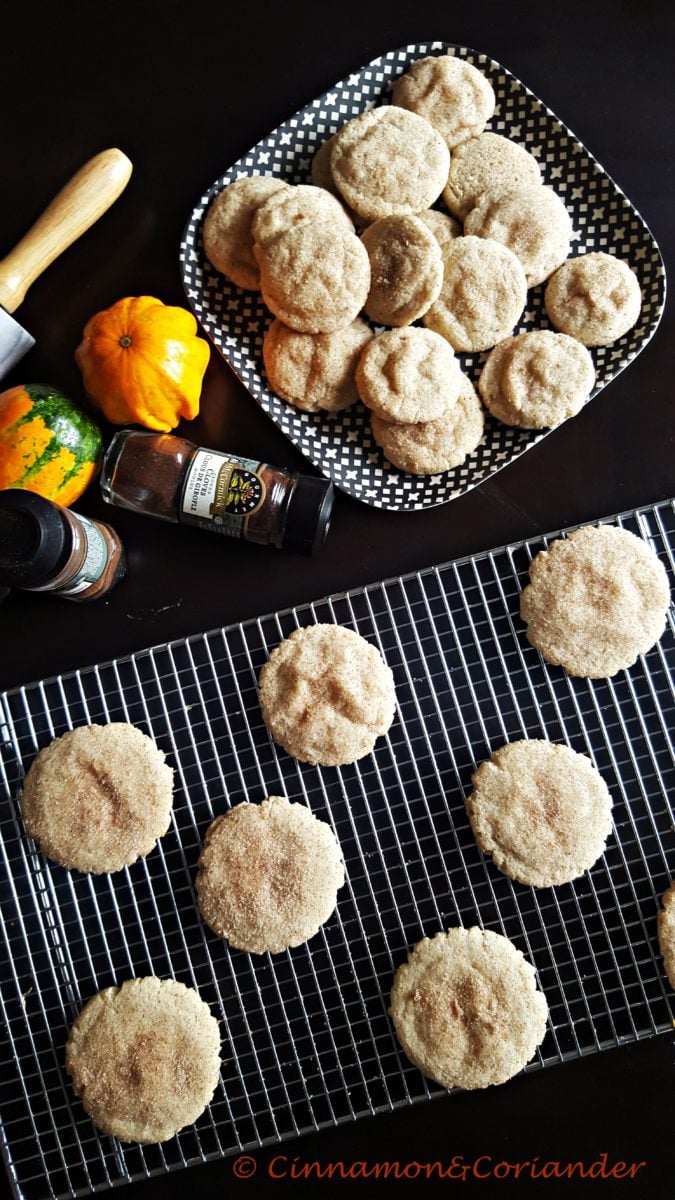 I got the recipe from The Year of Cozy
 – really, how can you not buy a cookbook with a name like that ???
I am such easy prey when it comes to marketing. I could picture myself listening to Frank Sinatra, sipping a Pumpkin Spice Latte and baking these Chai Spiced Snickerdoodles in a clean apron. All cozy. The reality looked differently. It always does.But the cookies turned out perfect and tasted fantastic. Especially when dipped into a hot and calorific beverage.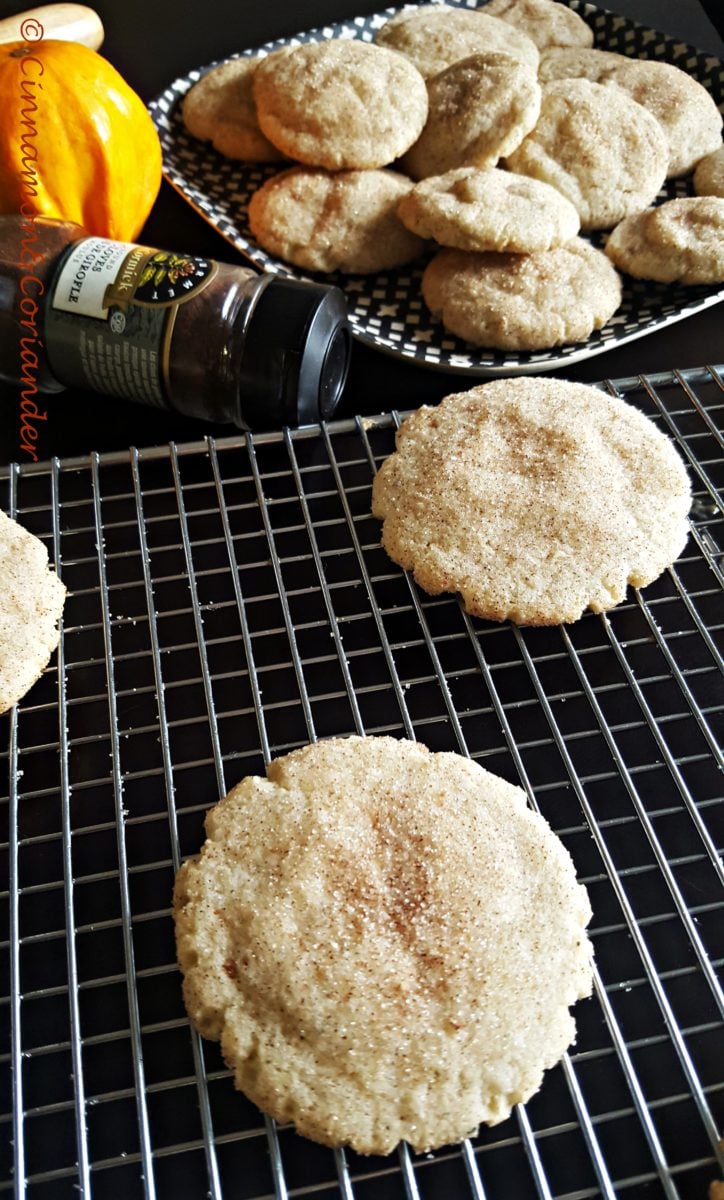 I baked way too many cookies for our little 2 people household so I had these every morning with my first cup of coffee for about a week. I call it my week of cozy. You should have one, too!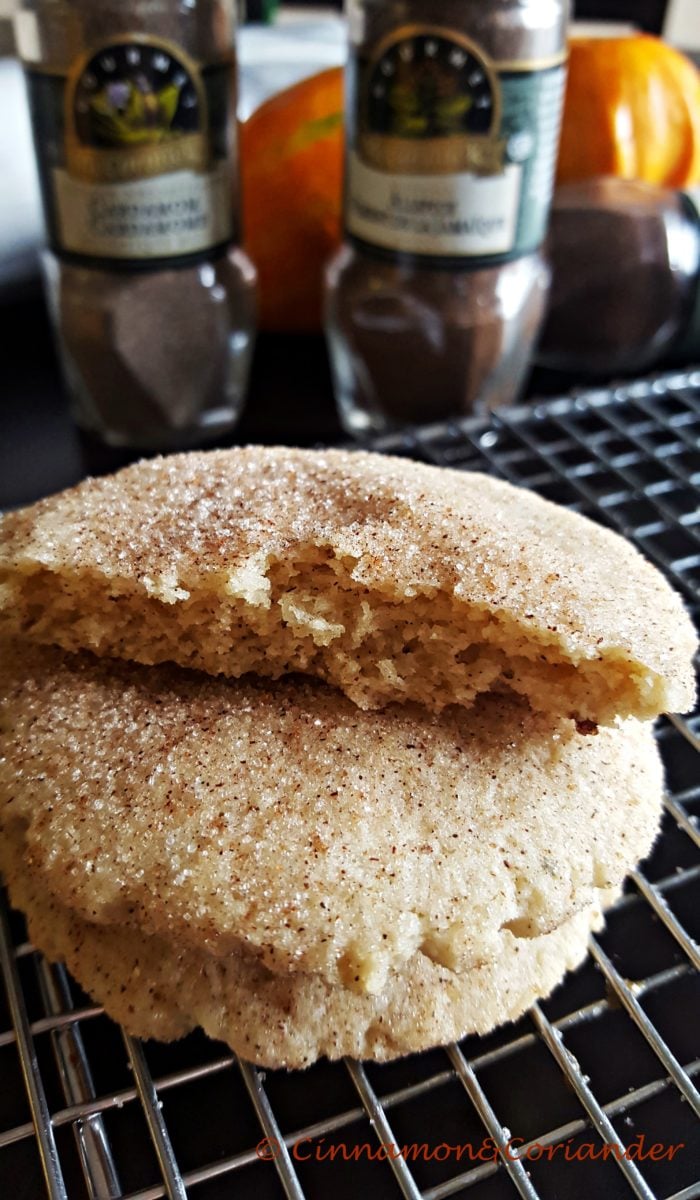 My Chai Spiced Snickerdoodles where quite big. I divided my dough into 24 equal balls before baking. If you go freestyle with your size you might have to adjust the baking time! When you see little cracks on the surface they are done! Baking time can be anything from 8 minutes for smaller cookies to 12 for big ones.
Chai Spiced Snickerdoodles
These cosy Chai Spiced Snickerdoodles are soft on the insides and slightly crunchy on the outside. The perfect cookies for pairing with a cup of tea on a cold winter night.

Ingredients
2 1/2

cups all-purpose flour

1

teaspoon baking powder

1/2

teaspoon baking soda

1/2

teaspoon salt

1

teaspoon ground ginger

1/2

teaspoon cinnamon

1/4

teaspoon ground cardamom

1/4

teaspoon ground cloves

1/4

teaspoon ground allspice

1/4

teaspoon freshly ground black pepper

1 1/2

cups sugar

2

ounces cream cheese

softened

6

tablespoons unsalted butter

melted and warm

1/3

cup vegetable oil

1

large egg

2

tablespoons milk

1

teaspoon vanilla extract

topping

1/4

cup sugar

1

teaspoon cinnamon

pinch of cardamom
Instructions
Preheat the oven to 350 degrees F. Line 2 baking sheets with parchment paper.

In a bowl, whisk together the flour, baking powder, soda, salt, ginger, cinnamon, cardamom, cloves, allspice and pepper.

In the bowl of your electric mixer, add the sugar, cream cheese and butter. Beat until light and fluffy, 1 to 2 minutes. Beat in the oil until combined. Add the egg, milk and vanilla extract untiled combined and smooth. Add the flour in two additions, scraping down the sides if needed and beating until just combined.

Mix together the topping ingredients (sugar, cinnamon, cardamom) on/in a large plate or bowl. Take the cookie dough and divide it into 24 equal pieces, rolling each into a smooth ball. Roll each ball in the topping and place it on a baking sheet, keeping the cookies about 2 inches apart. Use the bottom of a drinking glass to gently press the cookie balls into flattened pieces of dough. Sprinkle the tops with any extra cinnamon sugar mixture.

Bake the cookies for 11 to 12 minutes, turning once during cook time. Let the cookies cool for 5 minutes, then transfer to a wire rack to completely cool before serving.