Dieser Beitrag ist auch verfügbar auf:

Deutsch (German)
This is my go-to chocolate brownie recipe for the fudgiest brownies you will ever eat! The best part: it is incredibly simple to make!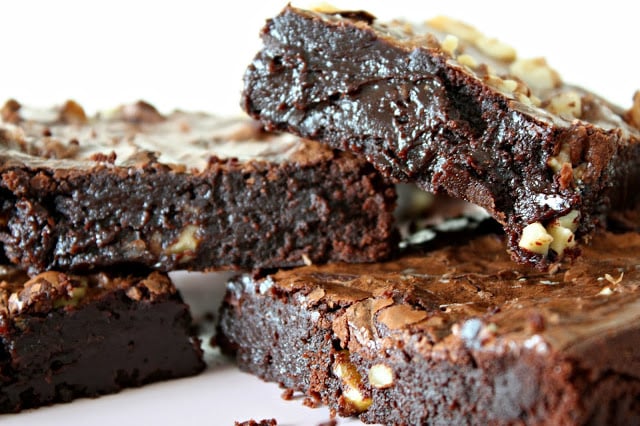 If you like your brownies dense, rich and fudgy, then this recipe is for you! The list of ingredients for these Fudgy Chocolate Brownies is short but powerful and the deliciousness of these brownies comes from a well-balanced mix of dark chocolate, unsweetened cocoa powder, sugar, butter and the secret ingredient coffee.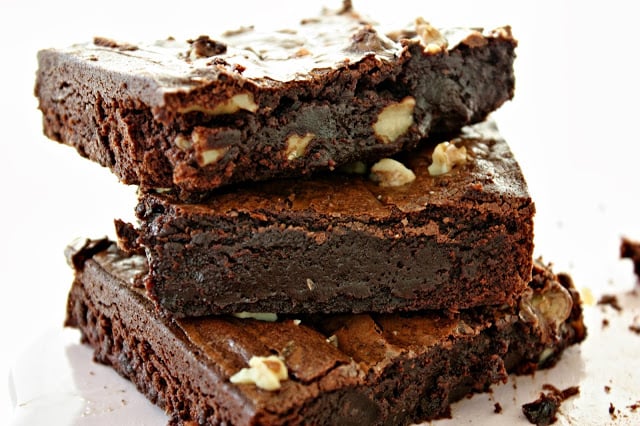 As to the optional add-ins: I like to add a pinch of chilli powder to these Fudgy Brownies to enhance the flavour of the chocolate even further. For a bit of crunch, I also like to add some walnuts or chopped pecans to the batter.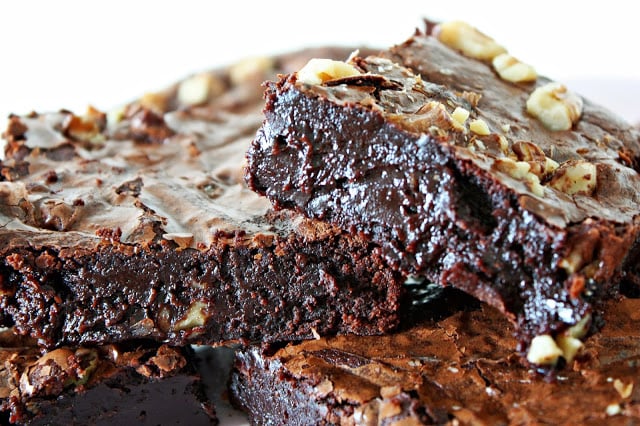 Believe me, these Fudge Brownies really live up to their name! They have the perfect crisp crackly top, a super fudgy centre, and are chewy or gooey in all the right places! Try them and be prepared to fall in love!
Recipe for my Fudgy Chocolate Brownies
195 g flour
60 g cocoa powder
1/2 tsp salt
450 g brown sugar
230 g butter
1 tsp vanilla essence
300g dark chocolate (70%)
60 ml strong, brewed coffee
2 cups chopped walnuts
4 eggs
Optional: a pinch of chilli powder
Mix flour, cocoa powder and salt in a bowl. In a separate bowl, microwave butter, sugar, vanilla and coffee until the mixture is hot. Stir well and let cool slightly before adding the chopped dark chocolate. Stir until the chocolate has melted completely and add the chilli powder if using.
Let cool further until it only feels slightly warm to the touch.Stir in eggs, then flour mixture. If using nuts, you can add them now as well.
Pout into a lined brownie pan and bake at 180 Celsius (375 F) for 15 to 20 minutes.
As soon as you see a crust forming on top, the brownies are done.
Let cool and enjoy!