Dieser Beitrag ist auch verfügbar auf:

Deutsch (German)
This easy healthy Sweet Potato Frittata is perfect for sharing – for cozy no-fuss winter dinners. You´ll love the simplicity and yet complexity of flavors in this meatless dish!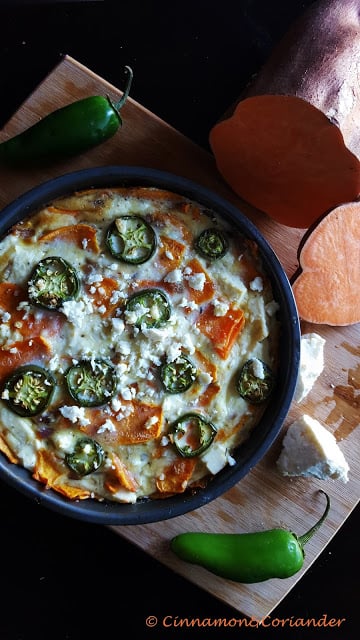 This easy Sweet Potato Frittata with Feta and Jalapenos Chilies is a quick meatless dinner you'll love!
This Mexico inspired Frittata is filled to the brim with caramelized sweet potatoes, green bell peppers, pinto beans and a very generous amount of salty feta.
The combination of sweetness and saltiness – of carbs and cheese –  going on in this frittata hit the same spot as pizza often does. You simply can´t stop eating! But other than with pizza, this protein-packed dish is also really good for you!
A few slices of mild, green poblano chilies add a bit of heat without overpowering the other ingredients!
Serve your frittata with chopped cilantro for a "Latin" feel or drizzle it with some maple syrup! So good! Why don´t you make this frittata for dinner tonight or make it for your next brunch ??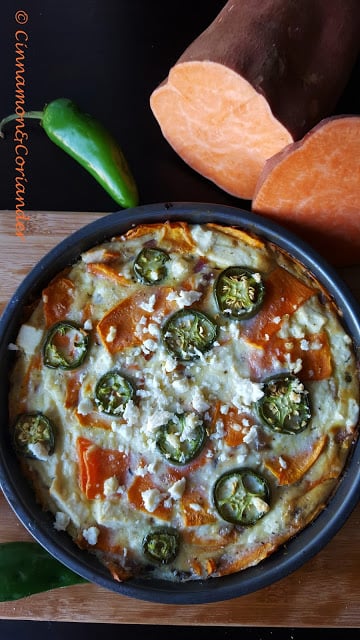 ★ Did you make and love this sweet potato frittata recipe? Give it your review below! And make sure to share your creations by tagging me on Instagram!
Sweet Potato Frittata with Feta and Poblano Chilies
This healthy vegetarian frittata is filled to the brim with caramelized sweet potatoes, creamy & salty feta and mild poblano chillies.
Ingredients
8

eggs

a few dashes of hot sauce

1

tbsp

maple syrup + more for serving

½

cup

full fat milk or cream

3

tbsp

chopped fresh cilantro leaves

optional

2

cloves garlic

pressed or minced

1

tsp

salt

freshly ground black pepper

1-2

mild poblano chillies

1

medium sweet potato

about 1 pound, peeled and chopped into ¼-inch cubes

1

medium red bell pepper

ribbed, seeded and sliced

1-2

tbsp

olive oil

1

tsp

ground cumin

1

tsp

smoked paprika

⅔

cup

cooked pinto beans or peas

200

g

of crumbled feta
Instructions
Preheat your oven to 425 degrees Fahrenheit.

In a large bowl, whisk together the eggs, hot sauce, maple syrup, milk, cilantro, minced garlic, the teaspoon of salt and several twists of freshly ground black pepper.

In a 10-inch oven-safe sauté pan or cast iron skillet, heat the olive oil over medium heat. Add the chopped sweet potatoes and red pepper and toss them, then sprinkle with cumin, smoked paprika and a pinch of salt and stir. Once the pan is sizzling, cover it and reduce heat slightly to avoid burning the contents. Cook until the potato is tender, stirring occasionally, about 8 minutes.

Uncover the pan and raise the heat back to medium and cook until the excess moisture has evaporated and the sweet potatoes are caramelizing. This will take about 5 to 10 minutes. You might want to add another little splash of olive oil if the potatoes start sticking to the pan.

Turn the heat down to low. Arrange the sweet potatoes and peppers in an even layer in the bottom of the skillet. Sprinkle your pinto beans or peas over the vegetables in an even layer. Whisk the egg mixture again and pour it into the pan. Crumble the feta with your fingers and sprinkle over the top of the frittata. Put the pan in the oven and bake until the middle is just barely set about 12 to 18 minutes.

Set the frittata aside for a few minutes before slicing it. Serve it with hot sauce, more cilantro, maybe some pickled jalapeños and maple syrup!
Recipe Notes
Serve it with chopped cilantro or with a few drizzles of maple syrup to enhance the sweetness of the potatoes!