Dieser Beitrag ist auch verfügbar auf:

Deutsch (German)
These Strawberry and Salted Macadamia Blondies are nothing less than divine and a great alternative to the good old brownie! 
The other day I made the mistake to buy one of those huge 300 g chocolate bars for a study session. One of those funky flavoured white chocolates from Lidl. Stawberry flavoured white chocolate! Awwww, I know!  But there's something about that chocolate that just tastes like a MC D's Strawberry Milk Shake. The sugar loaded ones that always make me smile like an insane person.
Seriously what was I thinking…of course I kept nibbling on the sickingly sweet and slightly artificial chocolate and before I knew I was feeling sick and had to take a nap instead of finishing my essay. I did have a fair bit of leftover chocolate though which I really wanted to get rid of before it could mess with my study plans again. And what is the easiest and unfussiest way to use up chocolate ? Well I would say making brownies or blondies!
The flavours were already predetermined by my choice of chocolate. It would have to be strawberry and white chocolate. And what would taste better with those flavours than buttery macadamia nuts? I had an opened bag of salted macadamias kicking around anyways so I decided to go for a sweet and salty kind of blondie. You can of course use unsalted nuts but I personally really like the saltiness of the nuts against the sweet blondie!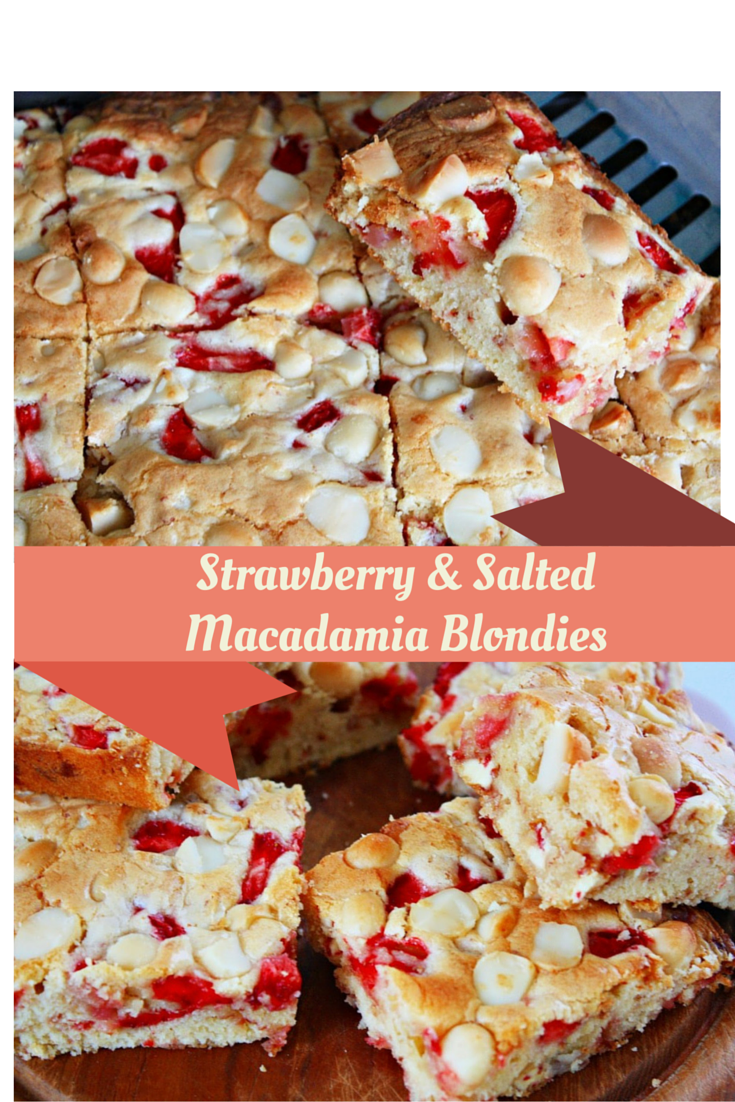 The Strawberry Salted Macadamia Blondies turned out so much better than I would have expected! I thought the strawberries would maybe get all soggy and gross but they kept their shape and tasted great. The blondies were all nice and chewy in the middle with crispy edges and plenty strawberry and nut pieces! Every bite is exciting! I cut mine in 9 big squares but next time I'd make smaller pieces. They are pretty rich after all!
The macadamia blondies are best eaten within 2 or 3 days! I personally like to warm them up in the microwave and eat them with a spoon of vanilla ice cream.
Recipe for a 8 inch square pan ( 22 cm )
200 g white chocolate
125 g Butter
100 g salted macadamias
125 g Chopped strawberries
2 eggs
100 g sugar
130 g flour
Melt the butter and let simmer over medium heat for about 5 minutes until slightly browned. Let cool slightlz and pour over half of the chocolate. Stir to dissolve.
Beat eggs and sugar for about 3 minutes and mix in the chocolate mixture as the flour. In a last addition stir in the strawberries and the leftover chopped chocolate as well as half of the macadamias.
Pour the dough into the prepared mold and scatter the rest of the nuts on top. Push them into the dough gently and bake the blondies for about 25 minutes.
Ich drücke euch,
Eure Kiki