Dieser Beitrag ist auch verfügbar auf:

Deutsch (German)
This Sour Cherry Bread recipe with Black Sesame Streusel & Lime is THE BOMB! A combination of coconut oil, lime juice and yogurt in the batter make this Sour Cherry Streusel Bread one of the moistest loaf cakes I have ever made!
Sour Cherry Cake with Sesame & Lime aka. Sour Cherry Bread Recipe
Today I am writing to you from Dawson Creek, BC! Our new home for the next couple of months! Yes, I know we just moved into a new apartment in Calgary just 2 weeks ago. And we'll be back for sure. But in The Husband's line of work that kind of thing just happens. At least most of our things were still packed.
Truth be told, we LOVE moving. Packing up our things, hitting the road, exploring a new place. Reinventing ourselves a bit every time we change location. We thrive on that.
Well, as I am writing this I am actually sitting inside of Tim Horton's ( of course ) consuming ridiculous amounts of caffeine as I wait for our landlord to hand me over the keys for the new place. EXCITING!
Despite all the donuts and muffins surrounding me I DO wish I had a slice of homemade loaf cake/bread left.
Of this Sour Cherry Bread with Sesame Streusel and Lime, to be more specific.
Cherry Season is almost over and I don't think I've ever posted that many cherry recipes in so little time! As we were literally drowning in cherries this year I reached out to my Instagram Followers for inspiration!
The lovely Shahla from My Berkeley Kitchen forwarded to me a recipe for a Sour Cherry & Poppy Cake which she found in Yossy Arefi's Book Sweeter off the Vine: Fruit Desserts for Every Season
. It looked so moist and had this rustic appearance that I love so much. I was sold!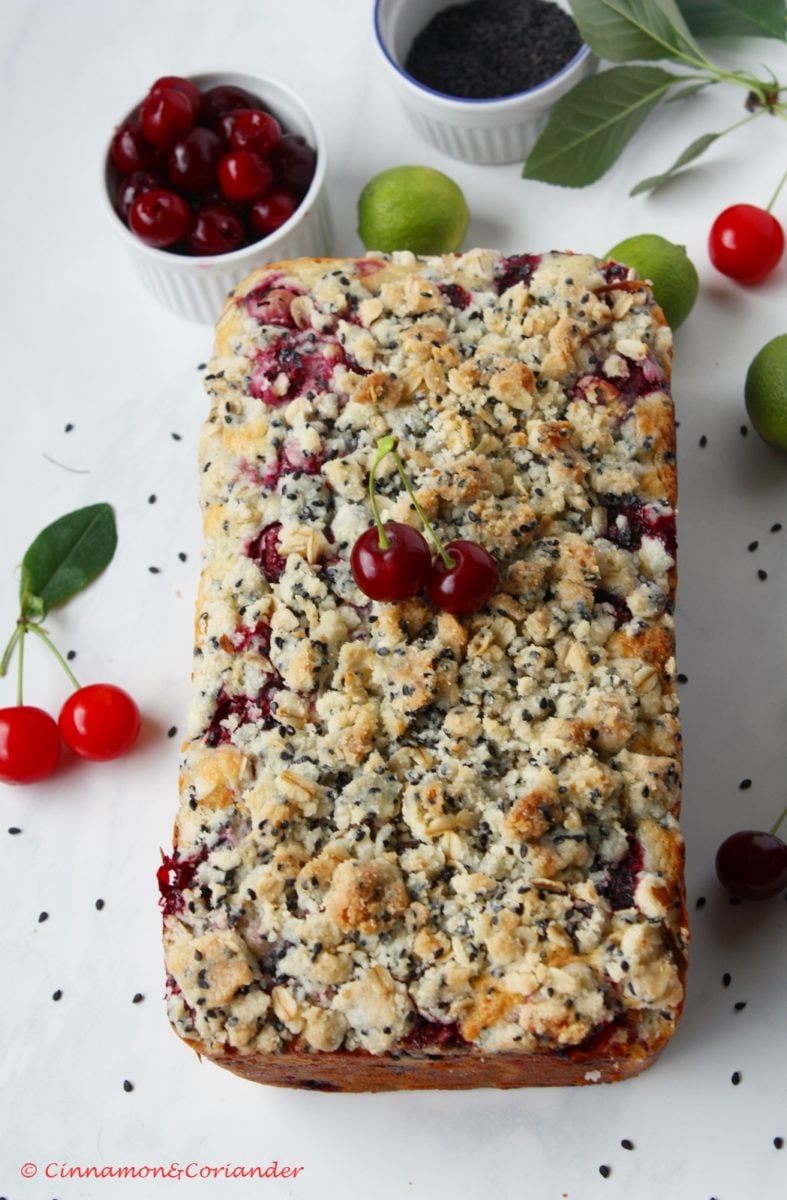 Why you'll love this easy Cherry Bread recipe:
First off I really like the simplicity of this easy loaf cake. It is so easy to make and it keeps for days and even gets better with time. I changed the recipe quite a bit.
Replacing poppy seeds with black sesame was the first tweak. I personally love this combination which you would also find in a lot of Middle Eastern recipes.
I also opted for coconut oil instead of canola oil, doubled the amount of added seeds and changed the streusel recipe! Because I wanted this Sour Cherry Streusel Bread not sprinkled but LOADED with crunchy, buttery Sesame Streusel!
The result was an incredibly moist, lime flavoured loaf cake with crunchy sesame streusel and little jammy sour cherry bombs in every bite!
Definitely one of the best cherry cakes, I have ever made!
You actually get a lot of lime flavour in this cake batter!
We achieve this by grating the lime zest directly into the sugar and rub it into the sugar with our fingertips! We are basically making out own lime sugar!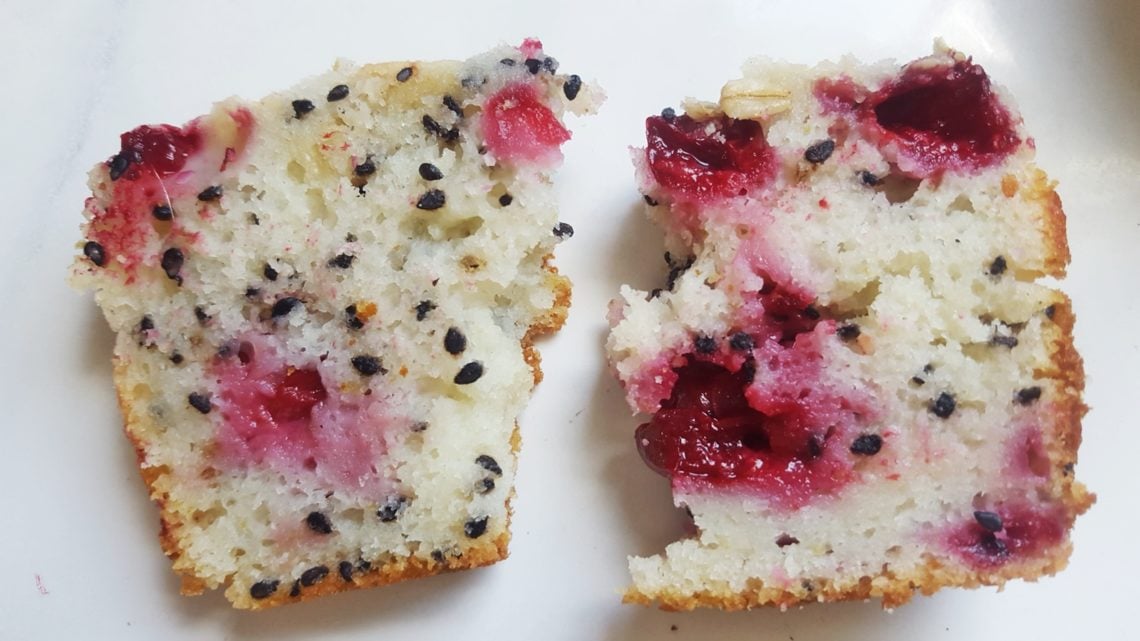 Now, with heavy, juicy fruits like cherries, you often get this nasty, soggy fruit bottom in your bakes! But see how evenly the cherries are distributed?
The secret is to toss half of the cherries in a bit of flour and only fold this half into the batter.
The other half we just scatter on top of the cake right before it goes in the oven. And there you go – Little cherry bombs in every single bite!
So grab the last cherries and make this moist & scrumptious Sour Cherry Cake with Black Sesame Seeds and Lime!
My product recommendations:
Disclosure: I am a participant in the Amazon Services LLC Associates Program, an affiliate advertising program designed to provide a means for us to earn fees by linking to amazon.com and affiliated sites
★ Did you make and love this cherry bread recipe? Give it your review below! And make sure to share your creations by tagging me on Instagram!
Sour Cherry Cake with Black Sesame Seeds & Lime
This Sour Cherry Cake with Black Sesame & Lime is THE BOMB! A combination of coconut oil, lime juice and yoghurt in the batter make this Sour Cherry Cake one of the moistest loaf cakes I have ever made! Try it today!
Ingredients
Streusel
75

g

flour

4

tbsp

sugar

4

tbsp

rolled oats

2

tbsp

Black Sesame Seeds

toasted and cooled

1

pinch of salt

65

g

butter

at room temperature

For the dough

180

g

flour

1,5

tsp

baking powder

0,5

tsp

salt

3

tbsp

black sesame seeds

150

g

granulated sugar

zest of 2 limes + 60 ml lime juice

120

ml

coconut oil

3

Eggs at room temperature

L

225

g

yogurt

plain or vanilla at room temperature

250

g

cherries

sour cherries preferable
Instructions
Preheat the oven to 350 Fahrenheit (180 Celsius) and line a 9 by 5 by 3-inch loaf tin. Toast your sesame seeds in a pan and set them aside to cool.

To make the streusel, mix all the dry ingredients in a bowl and rub in the butter to form streusel. Put the streusel in the fridge until later.

For the dough, mix flour, baking powder, sesame seeds and salt and set aside. Measure out the sugar in a mixing bowl and zest the limes directly into the sugar. Rub the zest into the sugar with your fingertips to infuse it. Now, add oil, eggs, yoghurt and lime juice and whisk well to combine. Add the flour mixture all at once and stir with a silicone spatula until just combined. Toss half of the cherries in a bit of flour and fold them into the dough carefully.

Pour the batter into the prepared pan and scatter with the remaining cherries. Sprinkle the streusel in an even layer and bake the cake for about 40 to 50 minutes until golden brown.

Let the cake cool completely before slicing it as it will cut cleaner that way.
Recipe Notes
The cooled caked can be stored in an airtight container for a t least a week.