Dieser Beitrag ist auch verfügbar auf:

Deutsch (German)
This easy Strawberry Tiramisu in a Glass is the perfect no-bake summer dessert made with fresh strawberries, ladyfingers, mascarpone, coffee, and without eggs! A light twist on the classic Italian dessert! Skip the alcohol to make it kids-friendly Jump to Recipe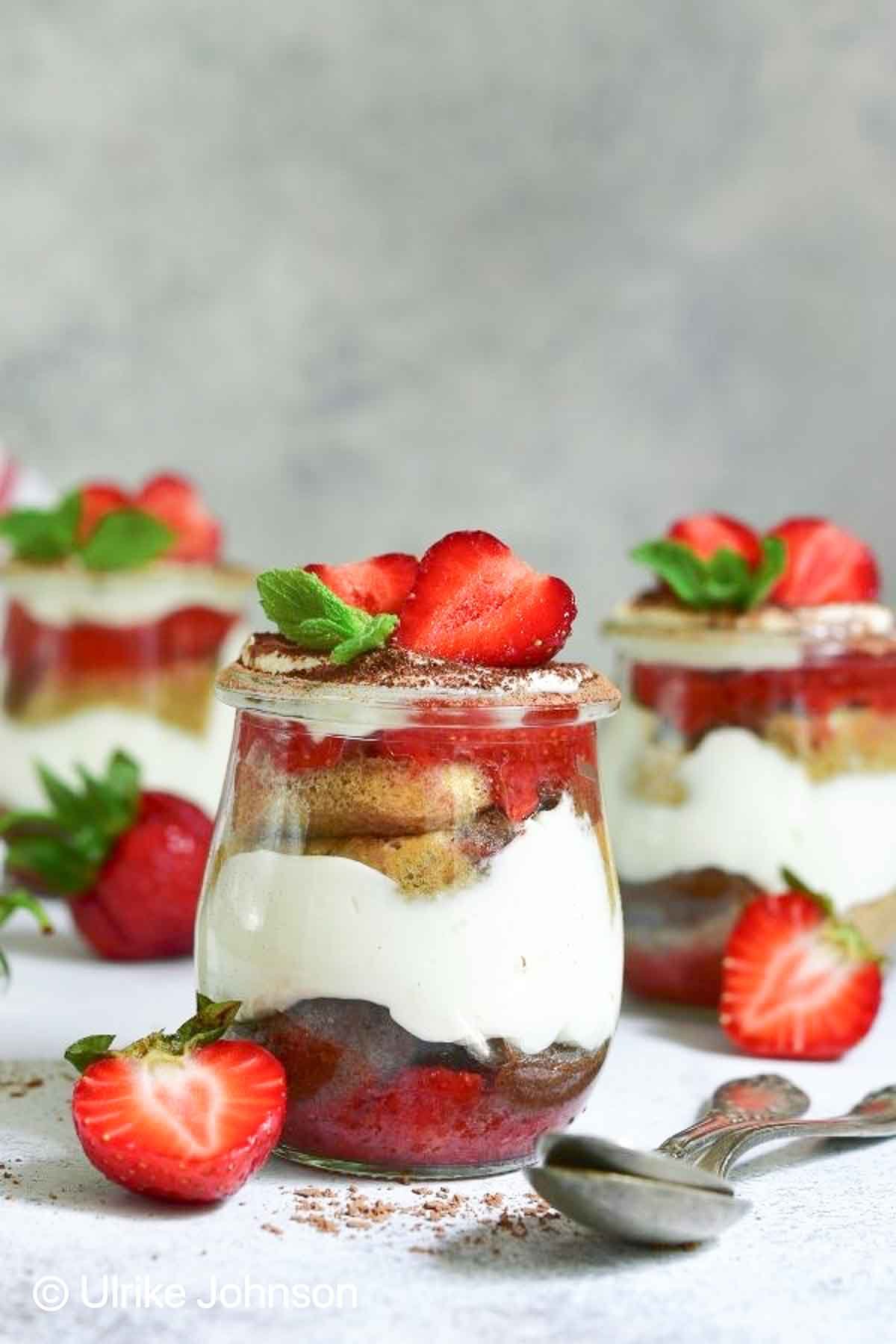 There are so many recipes for strawberry tiramisu out there! Giada has one, Jamie Oliver has another super popular one. This strawberry tiramisu in a glass is a simple summer dessert recipe that a German friend of mine makes for every potluck and that everyone loves! So one day I asked her for the recipe and I make it all the time myself now! Everyone always loves this easy strawberry dessert when I bring it to a party.
This strawberry tiramisu recipe isn't the real deal Italian tiramisu but it comes pretty close with a few adaptions to make it a bit lighter, and healthier – so perfect for summer. Authentic Italian tiramisu has raw egg, mascarpone cheese alcohol, and espresso-soaked ladyfingers. It's completely manageable to adapt the traditional tiramisu recipe into a healthy lifestyle with a few tweaks.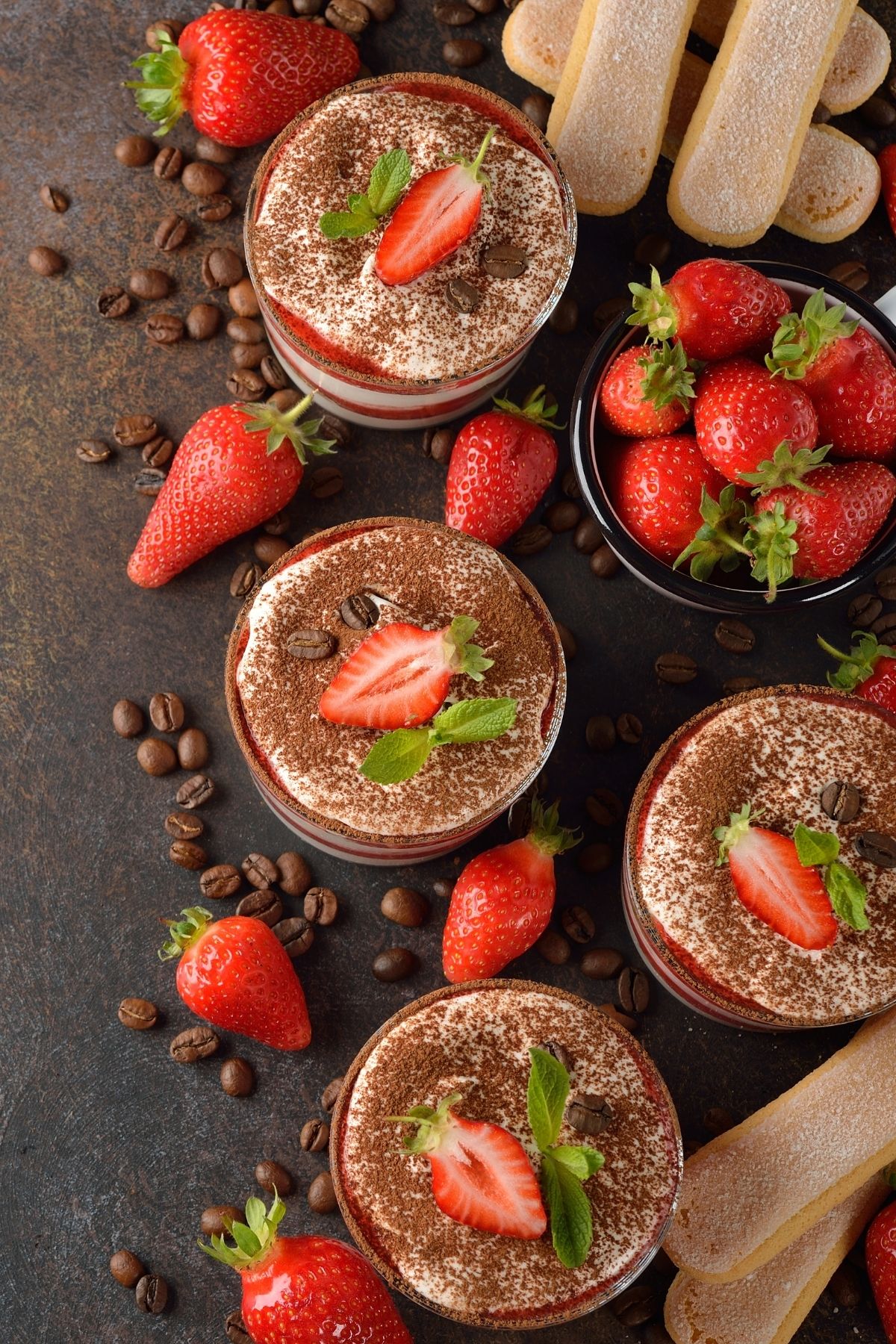 Replace part of the mascarpone with Greek yogurt or quark
I learned this trick from an Italian chef! If you have super thick Greek yogurt, you can use that. But most store-bought Greek yogurt is too thin and has too much water in it. To get the right texture, we need to strain the Greek yogurt for 3-4 hours or overnight to remove the excess moisture! And just like that, you've changed the texture of your Greek yogurt to a spreadable cream cheese-like substance.
You need cheesecloth and the other a fine-mesh strainer. NO cheesecloth? Use kitchen paper towels. If you find it, you can also use quark. That is what the original recipe asks for and when I'm in Germany I make this with quark as it's cheaper than Greek yogurt and does not need to be strained.
Ingredients for Strawberry Tiramisu
Mascarpone
strained Greek Yogurt or quark
vanilla
ladyfingers
Sugar or sweetener for sugar-free
Espresso
Amaretto oder orange liqueur – you can skip this and add some almond or rum essence
strawberries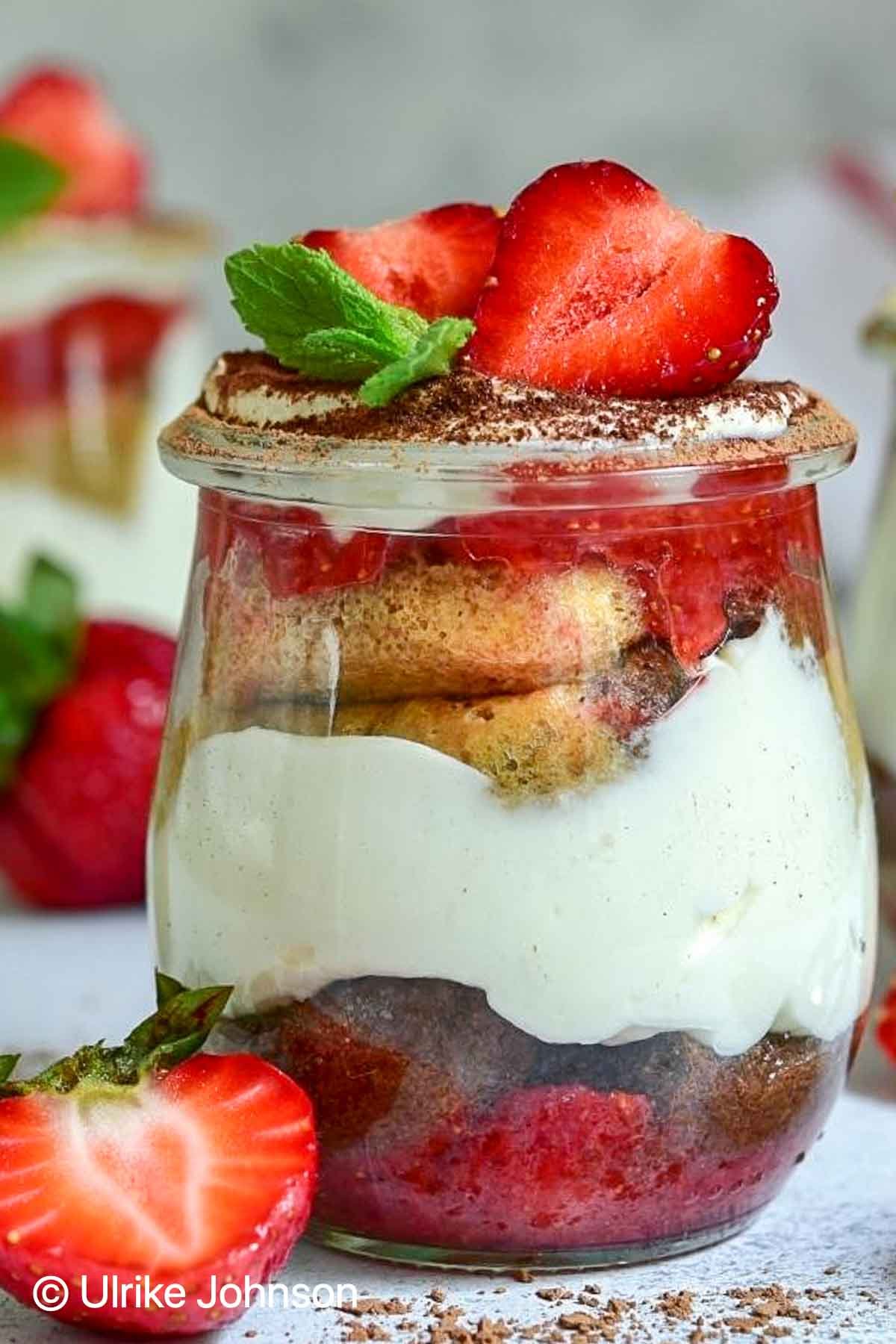 How to Clean Strawberries:
I always leave the stems on the strawberries while washing. This way the strawberries absorb less water
To wash them I place the strawberries in a large colander and rinse them under cold water.
While washing I move them very gently with my hand to remove any dirt.
Now, we pat them dry with a paper towel. Done!
Can I make strawberry tiramisu with frozen strawberries
Yes, frozen-thawed strawberries work but I would actually opt for raspberries or a berry mix if you don't have fresh strawberries as frozen strawberries are not as well fresh tasting.
Ladyfinger Substitutes:
If you cannot find ladyfingers your best substitutions are sponge cake, biscotti, or pound cake. You could also use Margherite cookies, Pavesini cookies, or panettone
Make-Ahead
Tiramisu is the best make-ahead dessert! It actually gets better if it has some time to sit in the fridge. Making it a day ahead is perfect.
Make this healthier
Saving calories when making tiramisu is tricky because the mascarpone is key and it is high-fat. We already cut down calories by replacing half of the mascarpone with Greek yogurt. If you want to save more calories somewhere, I'd recommend replacing sugar with erythritol, liquid stevia, or monk fruit sweetener.
How long does eggless tiramisu keep?
You can make strawberry tiramisu 1-2 days in advance as it will keep for up to 4 days in total, stored in the fridge … Freeze Note: The tiramisu can be frozen for up to 3 months.
More easy summer dessert recipes in a glass
★
Did you make and love this strawberry tiramisu in a glass recipe? Give it your review below! And make sure to share your creations by
tagging me on Instagram
!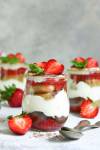 Strawberry Tiramisu in a Glass
This easy Strawberry Tiramisu in a Glass is the perfect no-bake summer dessert made with fresh strawberries, ladyfingers, mascarpone, coffee and without eggs!  A light twist on the classic Italian dessert! Skip the alcohol to make it kids-friendly
Total Time
4
hours
15
minutes
Ingredients
300

g

strawberries - about 10 strawberries + a few decorative berries

250

g

mascarpone

/ 1 cup

250

g

strained Greek yogurt

see notes - / 1 cup strained - see tips below or use quark

8

ladyfingers

- = approx. 2 ladyfingers per glass

3 1/2

tbsp

sugar

1

lemon - freshly squeezed

1

tsp

vanilla

100

ml

espresso

1/3 cup + 1 tbsp

3

tbsp

amaretto or rum

alternatively rum aroma or a few drops of bitter almond aroma

Mint and cocoa powder for decoration
Instructions
Strawberries: wash, pat dry and puree 10 with 1 ½ tablespoons sugar and a squeeze of lemon juice and refrigerate the puree.

With a hand mixer, combine the mascarpone, quark or strained Greek yogurt, a pinch of salt, 2 tablespoons of sugar or sweetener, one tablespoon of lemon juice and vanilla in a bowl. Refrigerate.

Mix the esresso with the amaretto.

Put some strawberry puree in the glass. Break 1 ladyfinger into pieces and place the first layer on top of the strawberries in the glass. Then sprinkle 1-2 teaspoons of the coffee mixture over the cookie - you can also do it the other way around. First biscuit, then berries. I just like it when the amaretto seeps into the strawberries.

Then you spoon a layer of the mascarpone cream on this first layer of ladyfingers and carefully top with a layer of broken ladyfingers. Sprinkle with 1-2 teaspoons of coffee again. Strawberries on top, then the last layer of mascarpone cream and a little cocoa powder for decoration. Chill the strawberry tiramisu in the glass for at least 2 hours.

Garnish with the remaining strawberries and mint to serve.
Recipe Notes
Strain yogurt: Layer cheesecloth over a fine mesh sieve and spoon in 1 1/2 cup of Greek yogurt. Pull the excess cloth over the top and squeeze gently to release the initial liquid. Set the sieve in over large bowl and place in the fridge overnight or for at least 3 h to continue straining.