Dieser Beitrag ist auch verfügbar auf:

Deutsch (German)
These Spiced Brandy Snaps are seriously swanky and festive! In a retro kind of way!
Growing up in Germany I had no idea what a Brandy Snap was until Mary Berry made them the technical challenge for the Great British Bake Off. Let me try to describe them to you.
They are a light cannoli-like crispy cookie typically filled with something creamy and dreamy! Really anything from buttercream to whipped cream. The cookies themselves not necessarily contain brandy- but being Kiki mine do. And while we´re at it why not add a boozy twist to the filling as well? With Christmas waiting just around the corner I opted for the German Classic Holiday Booze – Egg Liqueur. I make it myself and use it in a lot of my desserts. It´s divine! You can use eggnog instead!
These Spiced Brandy Snaps are so scrumptious and they look so pretty on a festive coffee table. The spiced cookie batter is actually made in a skillet or pot, and you need to be quick when shaping them little cigarres after baking!
It takes a bit of practice but don´t be scared – I really don´t like fiddly bakes so if I managed you´ll be just fine! Just try them today, then make them again for your holiday party. They'll wow your guests!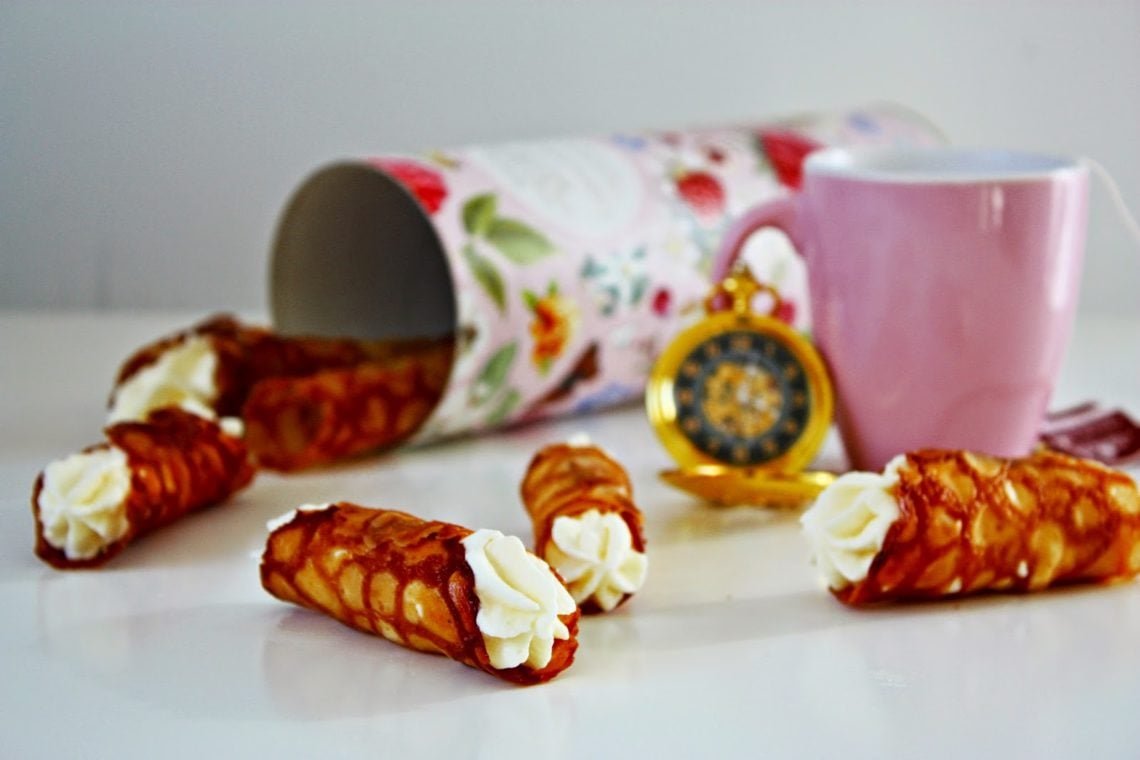 I decided to add some festive flavours to the Brandy Snap dough. Feel free to adapt the spices to your gusto.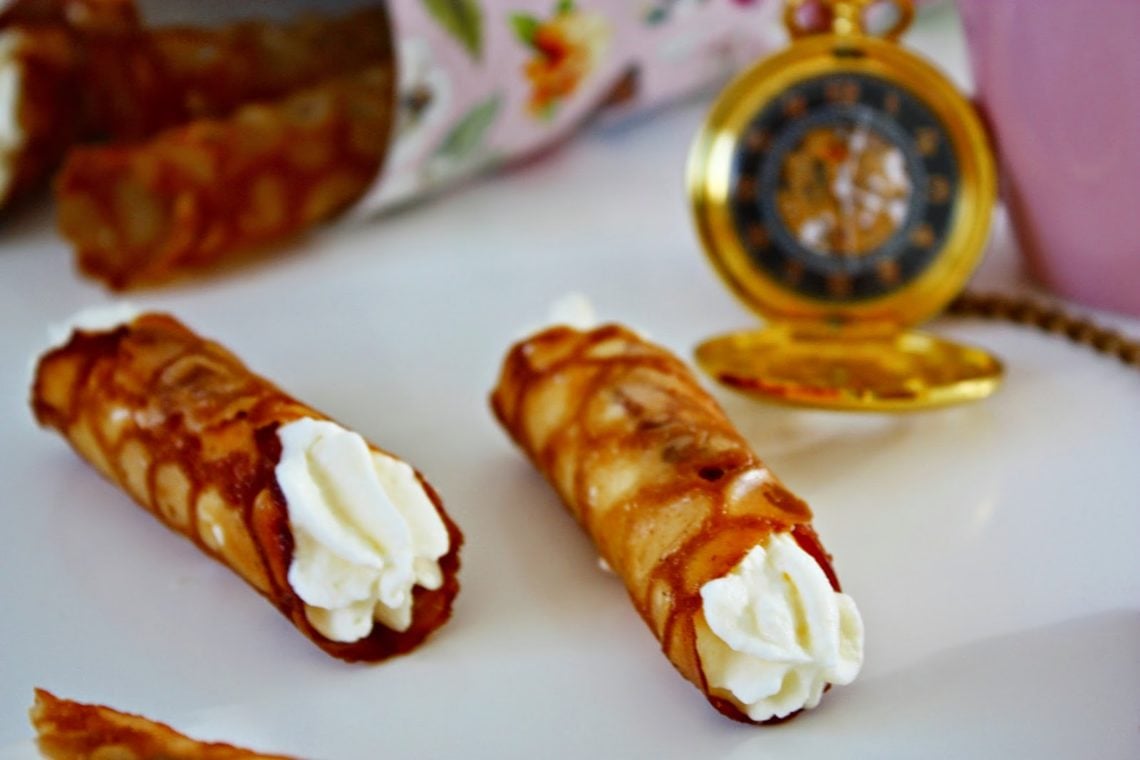 Make sure you bake them for about 10 minutes. They tend to turn out quite chewy when underbaked and we really really want them to be crispy.
Brandy Snaps filled with Eggnog Spiked Cream
These Spiced Brandy Snaps are so scrumptious and they look so pretty on a festive coffee table. The cream filling is spiked with eggnog which adds a festive touch to this classic English tea-time treat.
Ingredients
70

g

/2½oz butter

plus extra for greasing

70

g

/2½oz caster sugar

3

tbsp golden syrup

70

g

/2½oz plain flour

1

tsp ground ginger

1/2

tsp anis

1/4

tsp nutmeg

2

tsp brandy

½

lemon

zest only

300

ml

whipping cream

2-3

Tbsp of eggnog or German Egg Liqueur

2

Tbsp of powdered sugar

1

tsp of vanilla
Instructions
Preheat the oven to 180C/350F/Gas 4. Line two baking trays with greaseproof paper.

Melt the butter with the sugar and syrup, stirring over a low heat until the sugar dissolves. Remove the pan from the heat and stir in the flour, spiced, brandy and lemon zest.

Place four scant tablespoons of the mixture onto one of the baking trays, leaving plenty of room for the mixture to spread. Bake in the centre of the oven for 10-12 minutes or until bubbly and deep golden-brown. While the brandy snaps are cooking, grease two wooden spoons with butter and wrap an elastic band around them to bind them together. Place four more scant tablespoons of the brandy snap mixture on the second baking tray.

Take the brandy snaps out of the oven and put the second tray in to bake for the same amount of time. Let the brandy snaps rest for 30-60 seconds, then carefully lift one off with a palette knife and wrap around the spoons, overlapping it a little. Hold for around 30 seconds until the biscuit sets in a tube shape, then gently slide off the spoons and put on a rack to cool. Repeat the method with the remaining brandy snaps. If the biscuits become too hard to roll at any stage, simply return to the oven for a few seconds to soften them. Continue baking and rolling the brandy snaps until all the mixture is used.

Let the Brandy Snaps cool completely.

Whip the cream adding the sugar and vanilla as you do so. Once stiff, stir in the eggnog without mixing to long.

Fill the Brandy Snaps using a piping bag and enjoy right away or store in the fridge until serving.
Recipe Notes
Best eaten fresh!!
The unfilled brandy snaps keep well in an airtight container for 2 or 3 days.
Enjoy the holidays,
XoXo
Kiki