Dieser Beitrag ist auch verfügbar auf:

Deutsch (German)
Strawberries and Cream – this combination always takes me back to my childhood and to my mum's staple cake during spring and summer. A German Biskuit Sponge with fresh strawberries and whipped cream – served in the garden of course. You might not now that but Germans generally lose their shit when the sun comes out and as soon as the snow has melted we bring out garden furniture out. We might have our Kaffee and Kuchen  in boots and coat with an additional blanket close by but you won't see us eating inside when there's some sort of sunshine going on outdoors.
Her strawberry cake has marked the beginning of the Outdoor eating season ever since I remember and I still get sudden cravings for strawberries and cream each year when the days start to get warmer and when I was asked to make a festive cake for my Canadian grandpa's birthday I knew exactly what to make. A light and creamy layered Strawberry Mousse Cake.
This cake is just loaded with strawberry flavour! A German Almond Biskuit Sponge covered with strawberry jam, fresh strawberries and a rose scented strawberry mousse. I love the addition of rosewater to anything strawberry like my Strawberry Rose Ice Cream. I find that its floral delicate flavour pairs just beautifully with the fruity sweetness of the strawberries. The amount added can be adjusted to taste and when added carefully should not overpower the strawberries at all.
To take turn this cake into a real showstopper, we cover the sides of the cake with rolled out marzipan. I coloured the leftover marzipan with some food colouring and cut out hearts and leaves to decorate the sides.
This elegant Rose & Strawberry Mousse Cake is ideal for Mother's Day, Easter or any other Springtime celebration.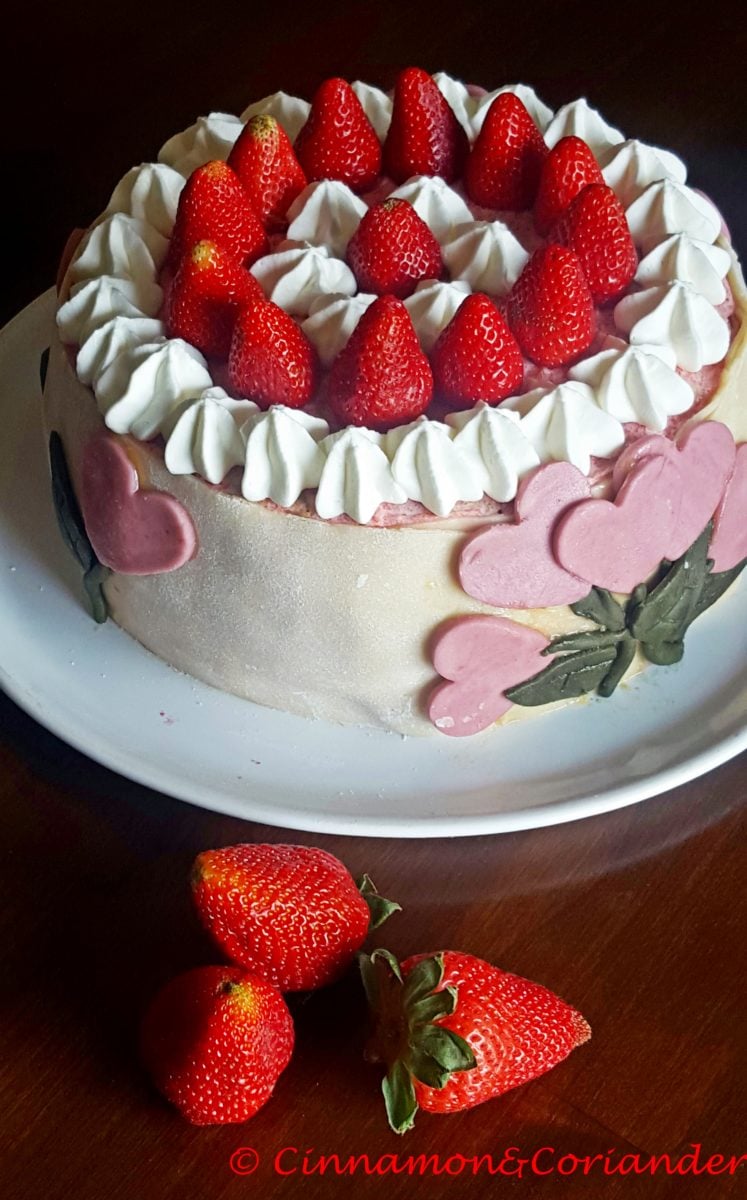 We start by making the almond sponge. I added some almond extract to enhance the flavour. Let it cool, cut it into 3 layers and soak with a rum and orange juice mix before you spread the jam on top. You can leave the rum out if you don't want to add any alcohol.
Cut your strawberries in half and put them on the sponge with the cut side down.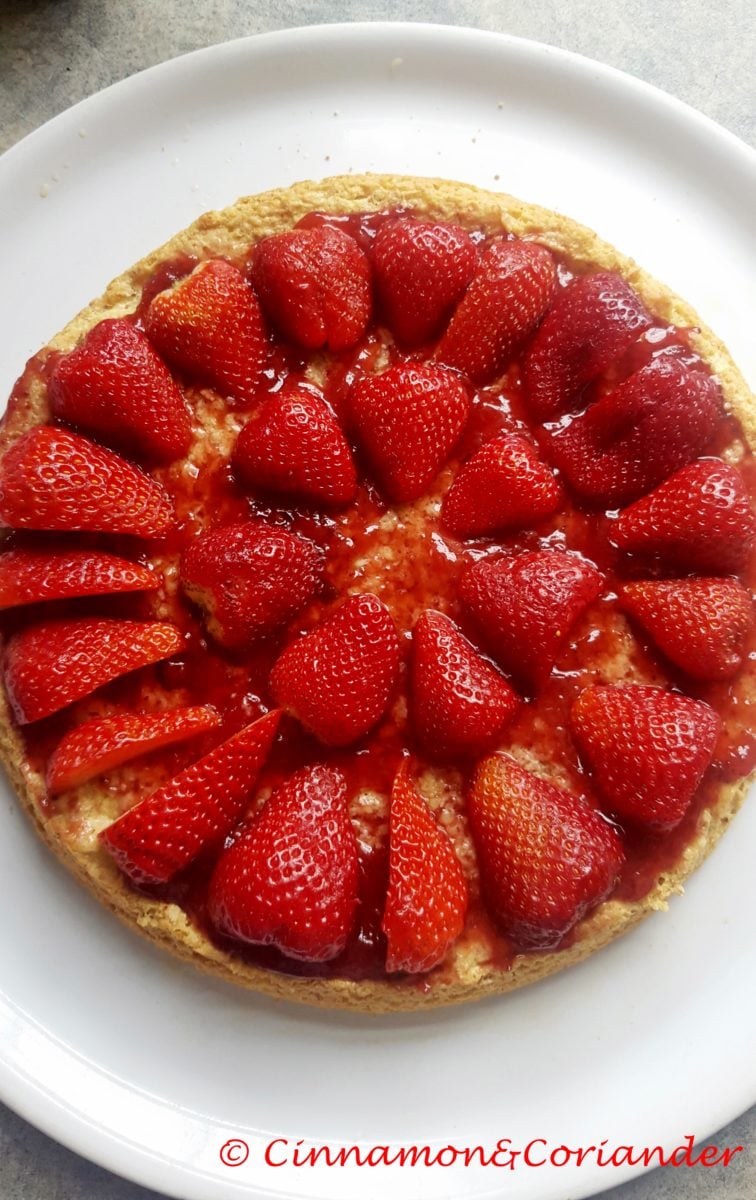 Put an adjustable ring around the cake and cover with a third of your mousse. I'm not a big fan of fake flavors so we use only fresh strawberries to flavour this delicate mousse. This results in tiny little fruit pieces here and there. Feel free to strain your strawberry puree before adding it to the whipped cream. I quite like the little fruit pieces in my mousse but that's a personal preference.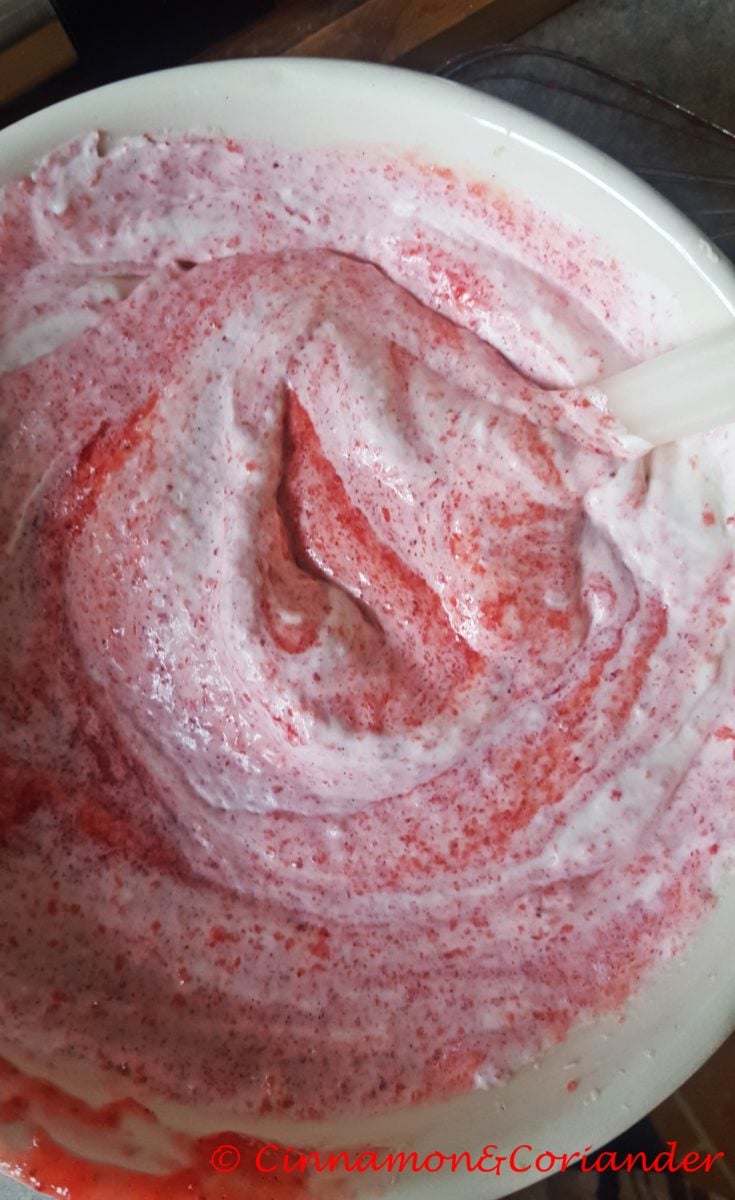 Repeat with the second sponge. Soak, spread jam, add berries and mousse. The last sponge only needs to be soaked. and covered with mousse. No strawberries, no jam.  Save the last bit of mousse for covering the sides later and refrigerate the cake for 2 to 3 hours.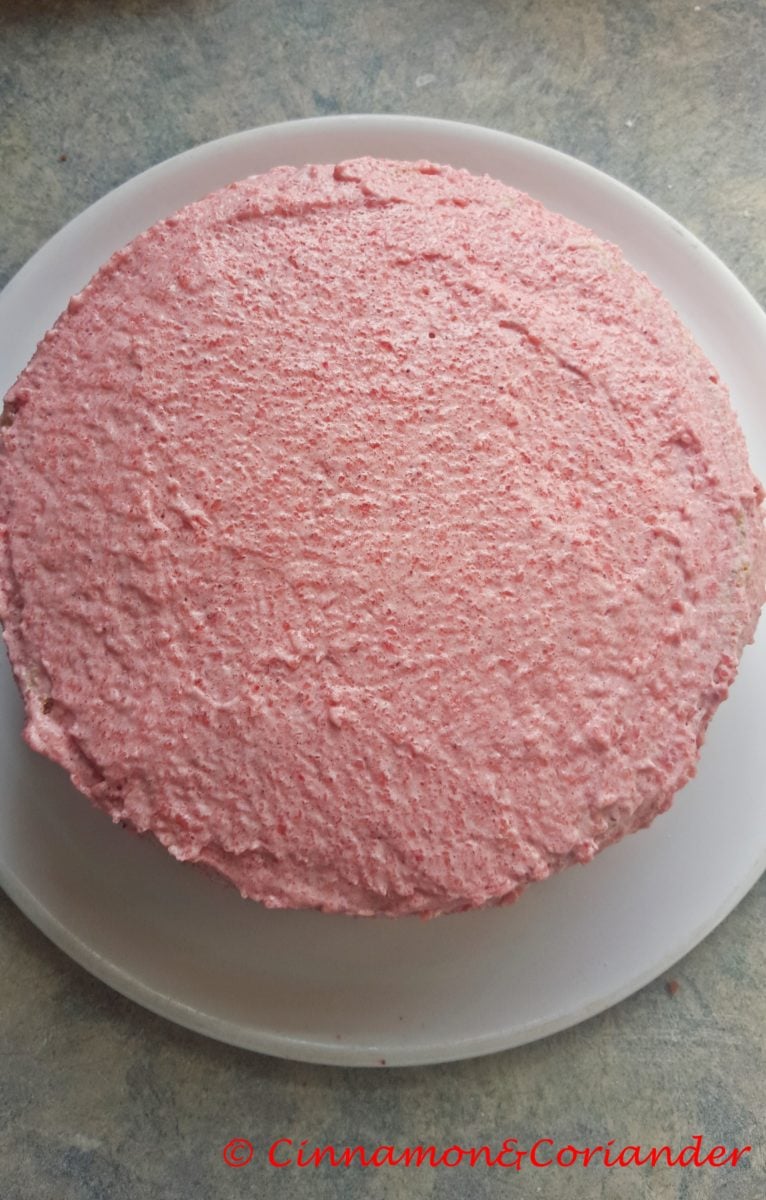 Roll out the marzipan and put it around your cake.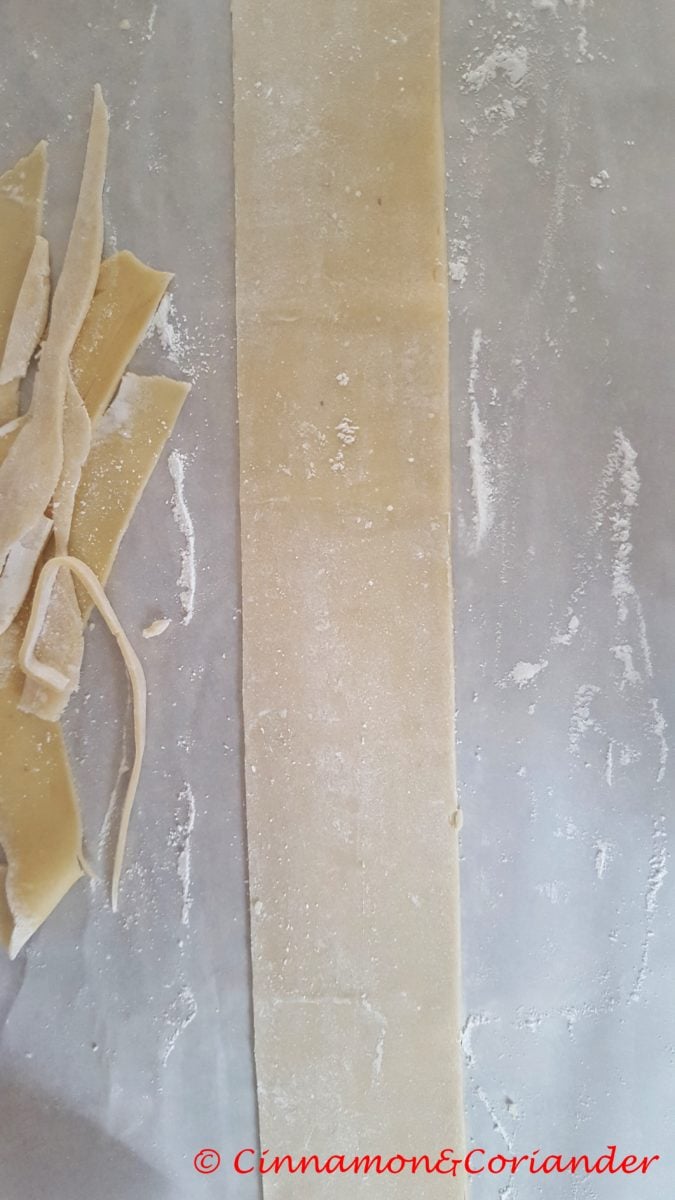 Use leftover marzipan for decoration by colouring it and cutting out little hearts and shaping leaves and stalks. Easy. Whip about 100 ml of cream with a tablespoon on powdered sugar and decorate the cake with cream tuffs and fresh strawberries.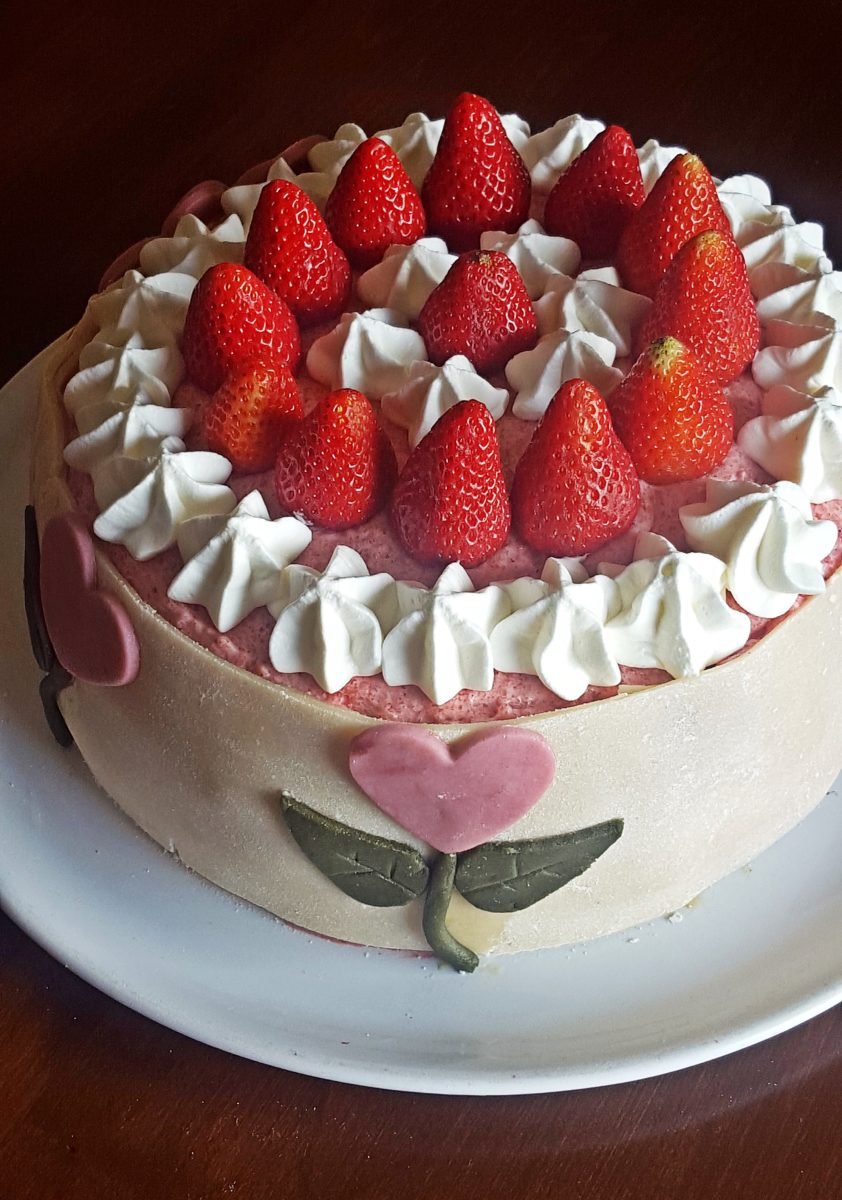 Believe me, this strawberry mousse cake will go down a treat with everyone. Have a printout version ready to hand out to your guests!
*A note about affiliate links in this post: some of these links will take you to Amazon where I may receive a small percentage of sales, at no extra cost to you
Rose & Strawberry Mousse Cake
This elegant Rose & Strawberry Mousse Cake is ideal for Mother's Day, Easter or any other Springtime celebration.
Total Time
1
hour
20
minutes
Ingredients
4

eggs

225

g

sugar

1/2

tsp almond extract

1

pinch of salt

75

g

flour

50

g

cornstarch

75

g

ground roasted almonds

2

tsp baking powder
for mousse and filling
10

leaves or 3 tbsp powdered gelatine

1,6

kg

strawberries

450

g

whipping cream

1

tsp rose water

1

tsp vanilla extract

8

to 9 tbsp strawberry jam
for soaking
3

tbsp rum and 4 tbsp orange juice

for decoration

300

g

marzipan

60

g

powdered sugar plus 2 tbsp for whipping cream
Instructions
Roast and grind the almonds to a fine powder. Separate eggs and whisk the whites with salt and 4 tbsp of water until foamy and keep on whisking adding the sugar slowly. Whisk until stiff peaks form and beat in the almond extract and egg yolks. Mix the flour, starch and baking powder, sift over the egg mix and carefully fold into the mix using a spatula. Add the ground almonds and carefully fold them into the dough. Pour into your prepared 26 cm springform pan and bake at 175 Celsius for 35 minutes. Let cool completely and cut into 3 equal layers.
Make the mousse
Soak the gelatine in cold water or rum.

Wash and trim strawberries and take away some nice ones for decoration. Puree 750 g berries with 125 g of sugar until smooth. Strain and stir in the rosewater. Dissolve the gelatine over low heat and mix with 3 tbsp of puree, then stir into the rest of the puree. Put the puree into the fridge for about 20 minutes.

Whip 250 g of cream with the vanilla extract. When the puree has started to set slightly fold the cream into the puree and put into the fridge until firm enough to spread.

Soak the first sponge with the rum orange juice mixture, spread with 2 to 3 tbsp of jam and cover with fresh strawberries as shown in the picture above. Put a metal cake ring around the cake and cover the strawberries with a third of your mousse. Repeat with the second sponge. The third sponge only needs to be soaked and covered with mousse. Make sure to save some mousse for the sides o the cake. Put the cake in the fridge for 2 to 3 hours.

Knead the marzipan with a bit of rum or rosewater and the 60 g of powdered sugar and shape into a 75 cm long roll. Roll it until 9 to 10 cm broad. You might want to measure out how high your cake is to make sure the marzipan will cover the whole sides. Using a ruler cut into a long long broad strip.

Take the cake out of the fridge, spread leftover mousse on the sides and put the marzipan around your cake. Whip the remaining 200 g of cream with 2 tbsp of powdered sugar and decorate the cake surface with little cream tuffs and your whole strawberries.