Dieser Beitrag ist auch verfügbar auf:

Deutsch (German)
These healthy Tiramisu Overnight Oats are an overnight oats recipe for coffee lovers! With that espresso swirl and topped with cocoa powder it tastes like an Italian dessert. An easy mason jar breakfast recipe that is refined sugar-free thanks to maple syrup and can be made vegan by using almond milk.Jump to Recipe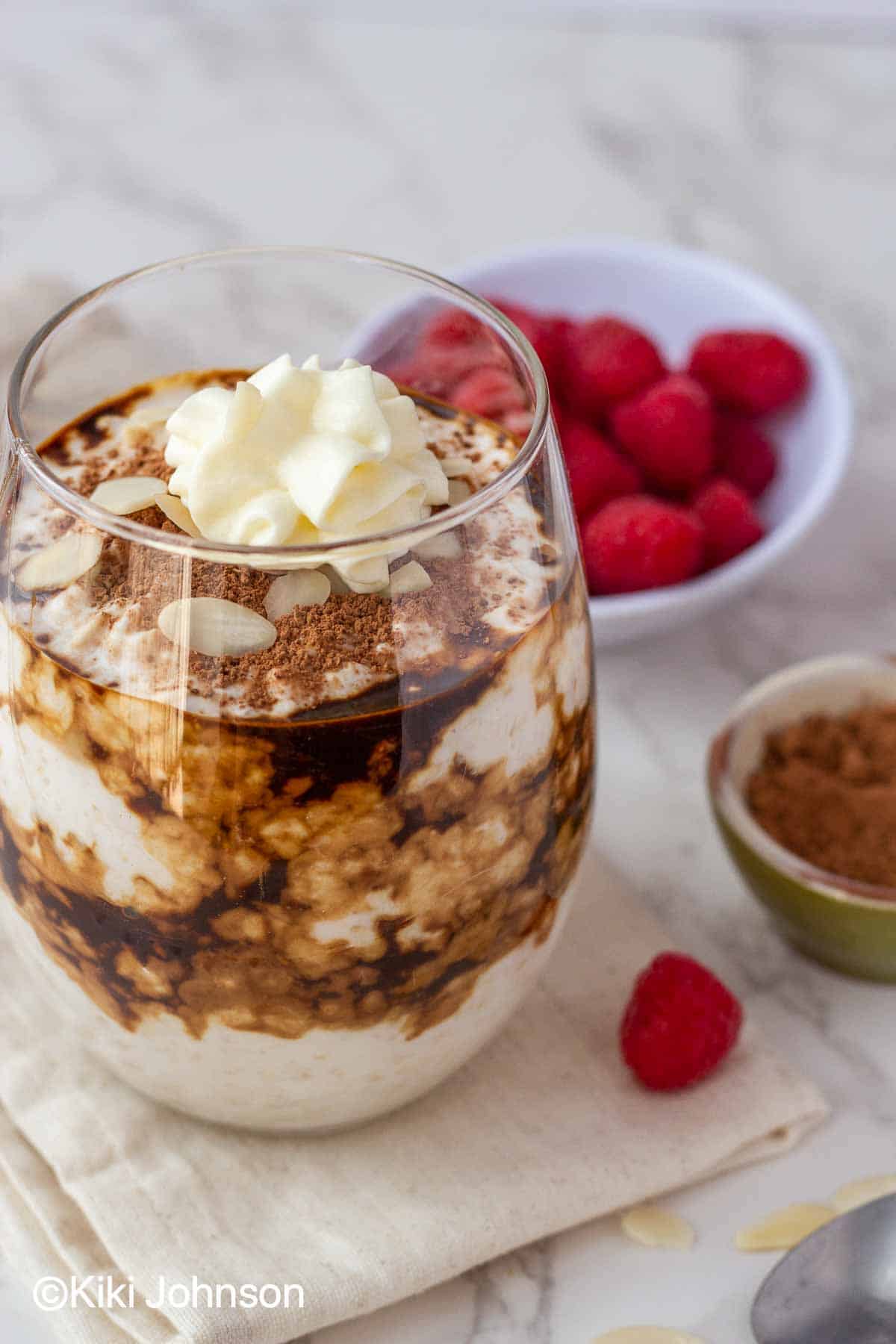 This tiramisu overnight oats recipe is an easy make-ahead breakfast recipe for coffee lovers and fans of the classic Italian dessert Tiramisu.
A delicious breakfast recipe that tastes like a slice of tiramisu but is sugar free, high protein, and gluten free! Bring out the mason jars!
The oatmeal base is super creamy and can be made dairy-free and vegan by using almond milk and plant-based yogurt.
So how do we incorporate the flavors of a traditional tiramisu recipe using simple ingredients? For the coffee flavor, I decided to add a coffee swirl to the tiramisu oats. It's made using instant coffee powder, so no need to bring out the espresso machine. SO GOOD.
For extra richness, I stirred a small amount of mascarpone into the base and flavored it with almond extract and vanilla.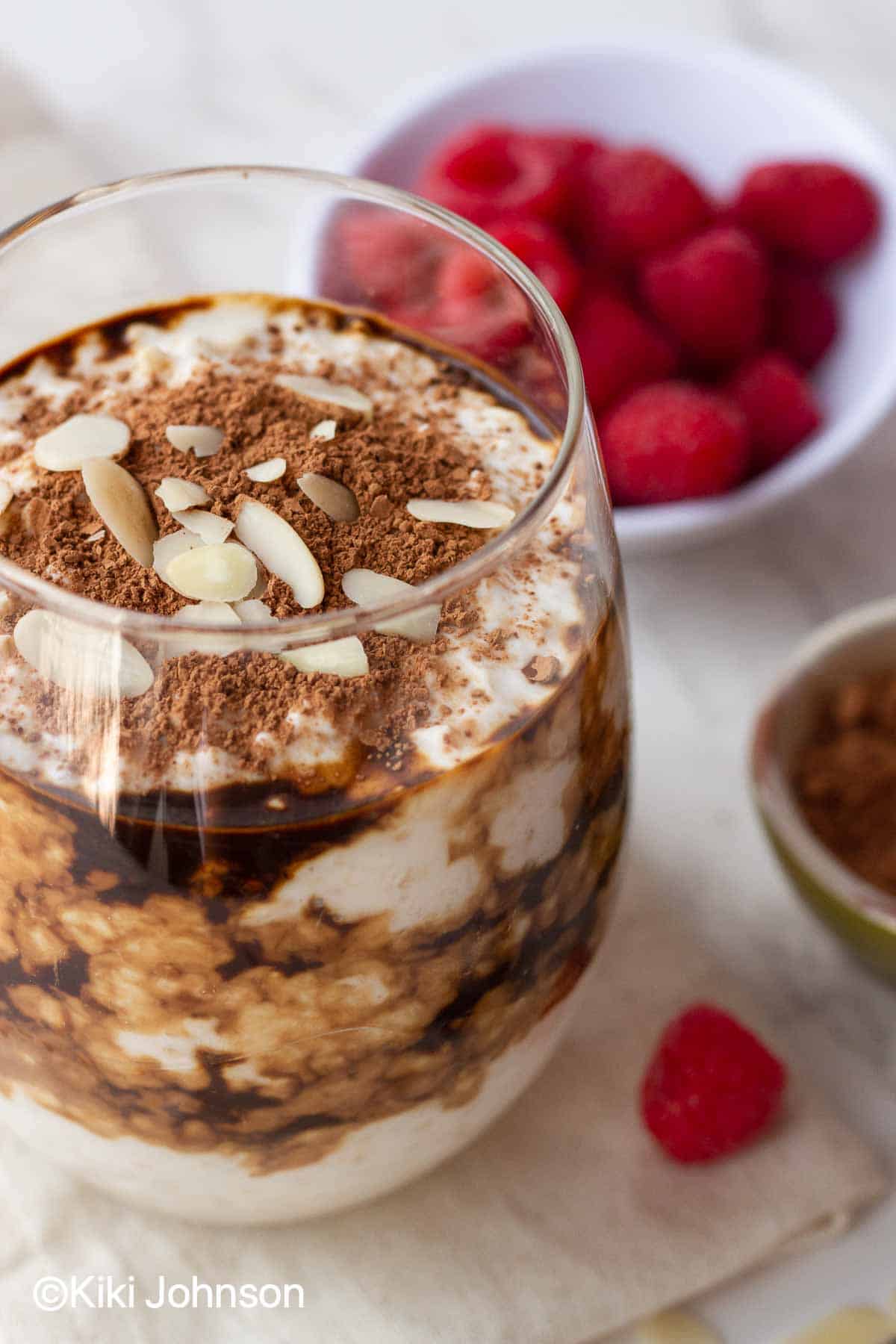 It really tastes like your favorite Tiramisu dessert! And without the ladyfingers and added sugar, this tiramisu oat recipe is much healthier, full of fiber and protein.
If you're looking for a healthy breakfast recipe – just a sweet recipe for something to have alongside your morning coffee, this one is a good option. Make it ahead of time and store in an airtight container for those busy mornings.
.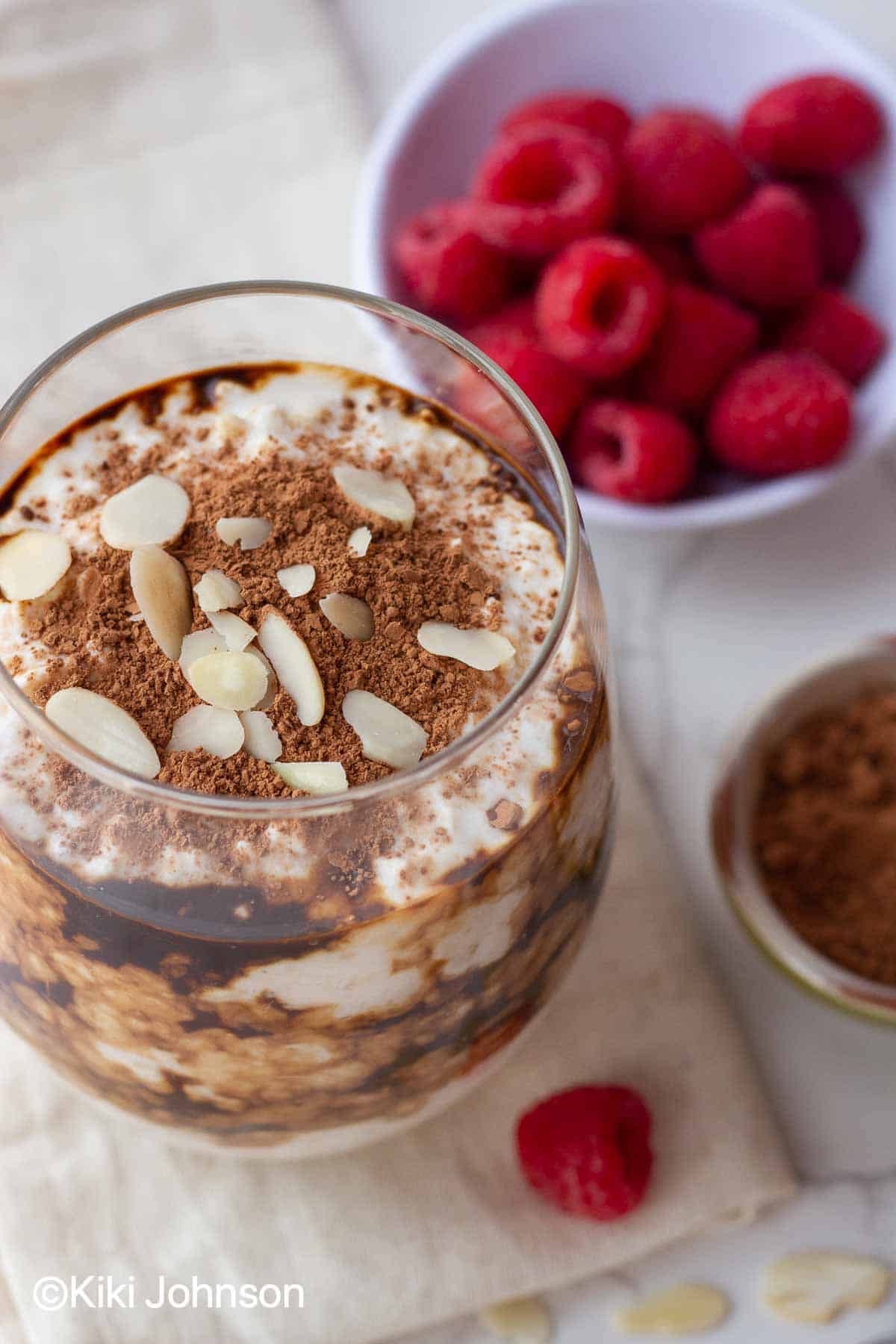 Ingredients:
Old-fashioned rolled oats work best for this recipe.
Almond Milk – or use oat milk, soy milk or rice milk
a pinch of sea salt brings out the sweetness
the oats are sweetened with maple syrup but you can use xylitol as well.
Greek yogurt boosts the protein content – or use Vanilla almond milk yogurt for vegan
mascarpone cheese for creaminess – for vegan use vegan cream cheese
I like a bit of almond essence as a healthy swap for the amaretto liqueur I usually add to my tiramisu recipe
Instant espresso powder for the coffee swirl – use decaf if needed
Vanilla extract – this helps dissolve the espresso powder
I sweetened my coffee swirl with some Liquid sweetener but a small amount of maple syrup also works.
Check out the recipe card for the full list of ingredients and make sure to watch my recipe video to see just how easy this is.
How to make Tiramisu Oats
This recipe makes 2 big servings or 3 smaller mason jars.
Stir together the rolled oats with salt, sweetener of choice, and milk of choice as well as yogurt and mascarpone or cream cheese. Add some almond essence. Anything from a couple of drops to 1/4 tsp is fine.
I love how mascarpone makes the oatmeal so rich but you can totally use cream cheese. Just make sure it's room temperature or it might not mix well into the yogurt. If your cream cheese is a bit hard still, stir it with the yogurt and some milk before adding it to the oats.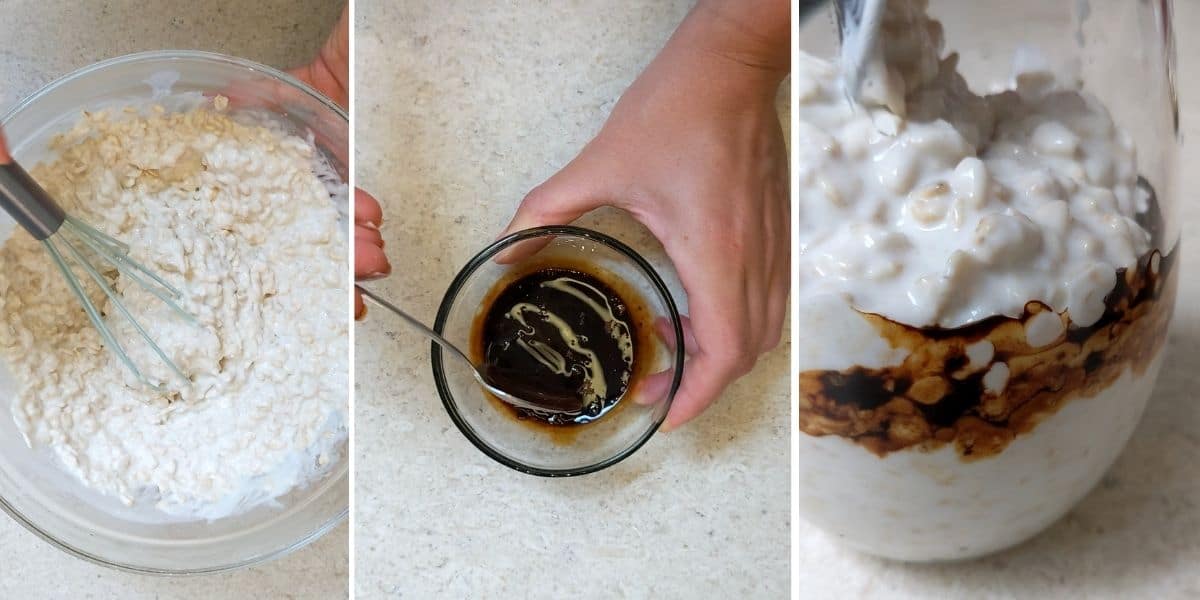 Stir until all ingredients are evenly combined, and the oats are fully coated with the liquids.
Close the container's lid and place it in the fridge overnight or for at least 5 hours.
After chilling: Make the coffee flavor swirl by dissolving the instant coffee powder in vanilla and some liquid sweetener. This mix is super potent but I like it that way. If you want it to be less strong, add in some maple syrup to dilute.
Spoon some of the chilled oats into glasses and layer with the drizzle. Top with coconut cream, berries, cocoa powder, cocoa nibs, or shaved chocolate.
Mason Jar Tiramisu Oatmeal
No time for layering in the morning? To make the tiramisu oats ahead of time in a mason jar, stir together the oatmeal mix and thicken with some protein powder and or chia seeds.
Layer as described above. Alternatively, stir the coffee drizzle into the oatmeal to flavor it.
Sieve unsweetened cocoa powder on top of the jar and enjoy immediately.
Make it Protein Tiramisu Oats
To turn this into a high protein breakfast recipe, stir 1 – 2 scoops of vanilla protein powder into the base.
Add some crunch:
For some extra crunch, stir some cocoa nibs into your base. Some teaspoons of chia seeds are also a great addition. I usually add about 1 tbsp to the base and add a splash of milk more
.
How do you keep overnight oats from getting soggy?
First, make sure to choose rolled oats instead of quick oats. Also, If you don't like soggy textures and want your oats to have a chew, don't make too much at once. I recommend making two days' worth and going easy on the milk or yogurt that the oats are soaking up
Homemade overnight oats are best consumed within 24 hours of preparation. At this point, they're soggy, but not too soggy
Are Overnight oats good to lose weight?
The health benefits of eating overnight oats for breakfast are endless. If you're looking for a filling breakfast that's healthy and can even help you lose weight, you've found a good option with overnight oats.
However, you can cut down calories even more by opting for a calorie-free sweetener and skipping the mascarpone or cream cheese. Just add plain Greek yogurt instead.
Another great healthy option would be to make tiramisu porridge, which is served warm and thereful, especially filling and satisfying. I will come up with that one soon.
More healthy oatmeal recipes:
Tiramisu Overnight Oats ( Healthy, Vegan Option)
These healthy Tiramisu Overnight Oats are an overnight oats recipe for coffee lovers! With that espresso swirl and topped with cocoa powder it tastes like an Italian dessert. An easy mason jar breakfast recipe that is refined sugar-free thanks to maple syrup and can be made vegan by using almond milk.
Ingredients
For the oats
1 1/2

cup

Old Fashioned Rolled Oats

6

packets Natural Sweetener

stevia, Truvia, etc. or 3 tbsp maple syrup

pinch

of Salt

1

cup

Unsweetened Vanilla Almond Milk or other milk of choice

½

cup

Nonfat Greek Yogurt or thick plant-based yogurt like coconut yogurt

1/4

cup

vegan cream cheese

if not vegan, use Mascarpone Cheese

2

tsp

Vanilla Paste

`⅛ tsp almond extract or some rum extract
For the swirl:
1

tbsp

Instant coffee or espresso powder

1

tbsp

water

1

tbsp

vanilla

liquid sweetener to taste
Topping
2

tsp

Unsweetened Dutch Processed Cocoa Powder for dusting

toppings: fresh berries

cocoa nibs, almonds etc
Instructions
In a bowl, stir together the oats ingredients. Cover and refrigerate overnight.

Make the coffee swirl by combining all ingredients in a small bowl. Stir to dissolve the powder. If you want, add some maple syrup.

Spoon some oats into a serving glass and drizzle with some espresso swirl mix. Top with more oats.

Dust the cocoa powder over the oats and sprinkle with almonds or add some fresh raspberries before serving, then enjoy!
Recipe Video