Dieser Beitrag ist auch verfügbar auf:

Deutsch (German)
Fudgy Cherry Brownies with Cocoa Powder and fresh cherries are a decadent treat for brownie lovers that combines dessert and post-dinner drinks! Simple and easy gooey brownies are a sweet treat ideal for the holidays or Valentine's Day. No nuts, no chocolate! Jump to Recipe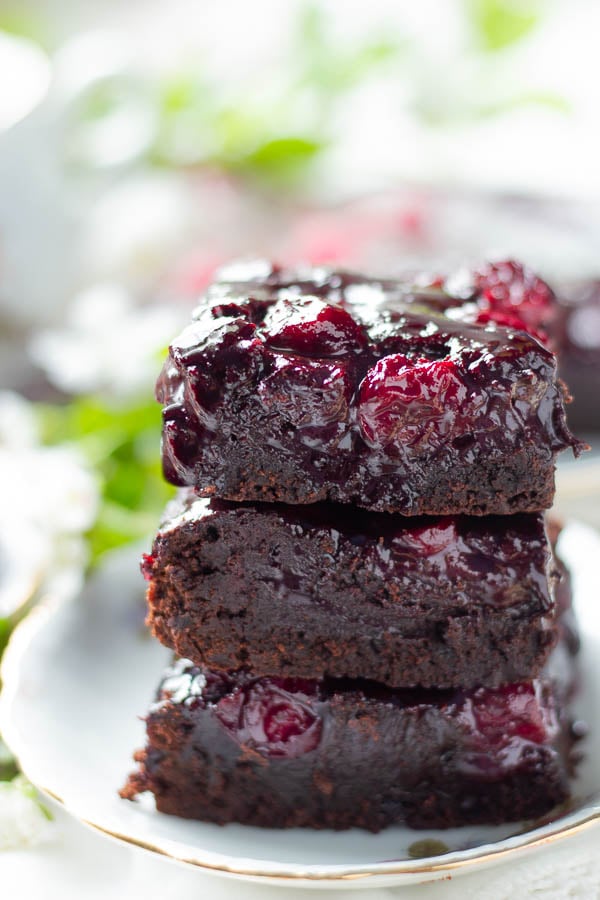 Fudgy Chocolate Cherry Brownies made with Cocoa Powder!
Ditch the brownie mix and learn how to make fudgy brownies with juicy cherries and a hint of brandy! The best part – the cherry glaze!
YES! The cherries are caramelized and their juice is reduced to a boozy cherry sauce with which we glaze the moist brownies.
The best easy homemade brownies for your sweet tooth.
Chocolate and cherries. I love this combination and already have a brilliant vegan chocolate cherry cake and a German marble cake with cherries on the blog.
Now, chocolate, cherries and brandy – that is a truly decadent combination that makes these little cherry brownies fun for adults!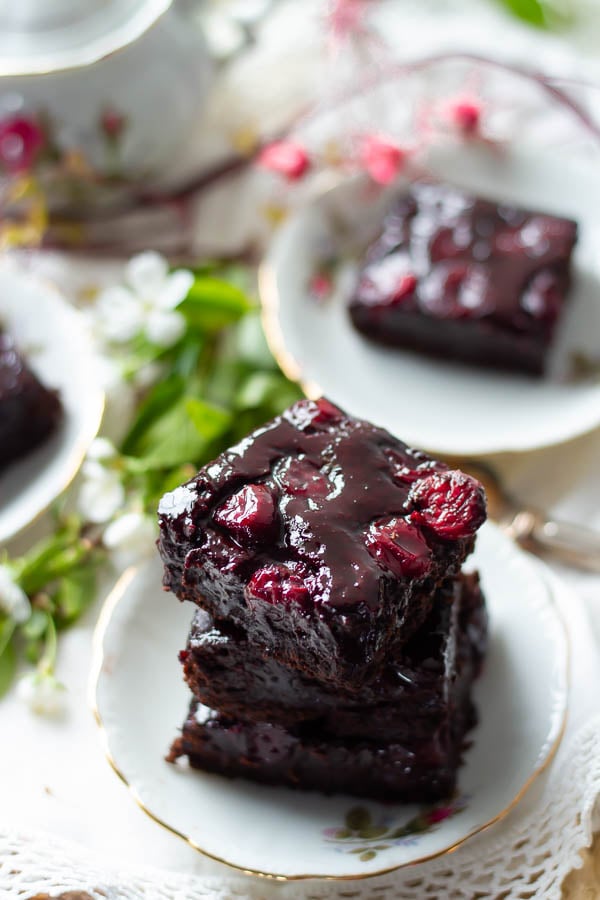 Everyone needs one of those easy-to-throw-together chocolate desserts that can be whipped up in minutes and just thrown into the oven quickly. The brownie batter comes together quickly and the baking time is pretty short!
Why these are so good:
These dense brownies are fudgy and gooey in the middle, with chunks of sweet and juicy delicious cherries on top of the batter! Oh trust me, these chocolate brownies tick ALL of the boxes and more!
My decadent brownies are a great idea for special occasions like Valentine's Day when cherry flavor anything has peak season. The bake time is short and it's a really simple recipe! You could probably top these with whipped cream and call them Black Forest Brownies.
I used frozen sour cherries from our garden but dark sweet cherries would also work. You want to caramelize the cherries with some brandy and we want to let them simmer a bit to get rid of excess liquid.
I would not use maraschino cherries in this recipe.
My Brandy Cherry Brownies are made with Cocoa Powder instead of dark chocolate. Yes you're reading this correctly: With Cocoa Powder.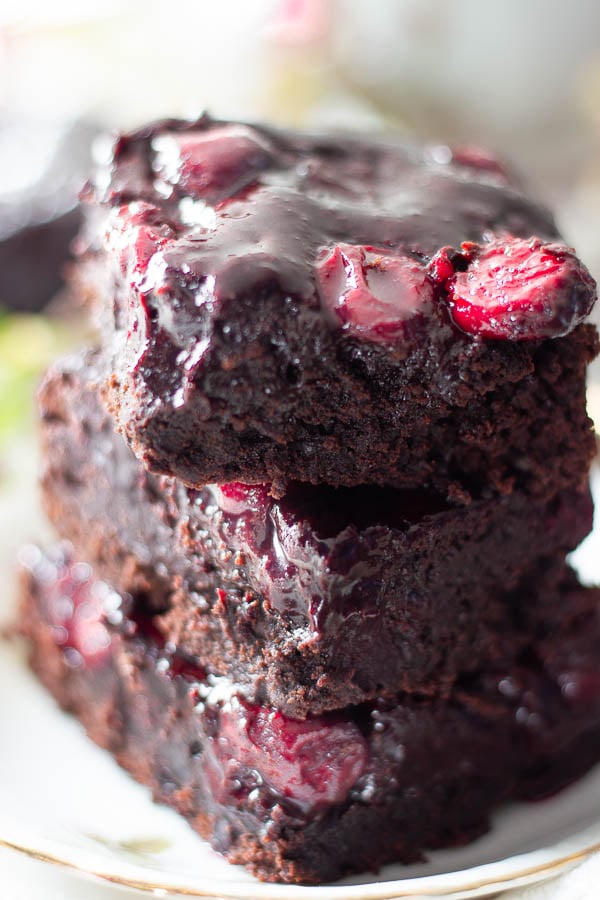 I'm not trying to sneak in the cocoa powder as some sort of cost-effective, health-conscious, boring-forward alternative to taking a nice, dark, and decadent bar of chocolate and magically transforming it into a baked good. No.
When it comes to finding the best brownie recipe, I have turned over every stone, I have checked under every cushion, and I have raided every tomb for all the brownie-related wisdom to be had out there.
And I have boiled it all down to one ultimate, unassailable truth: cocoa powder beats melted chocolate every time. Full stop. Mike drop. It's the best way.
Here are very good reasons why I use cocoa in this cherry brownies recipe:
Cocoa Powder vs Melted Chocolate in brownie recipes:
As beloved as our favorite chocolate bars are, the ingredient list on the wrapper contains far more than just "chocolatey goodness".
At the very least we're looking at added sugars, additional fats, vanilla, and often emulsifiers and stabilizers.
The real key here is the additional fats.
Chocolate bars most commonly use cocoa butter, while brownies made using cocoa powder require the addition of regular butter to make them work.
Regular butter is much softer than cocoa butter at room temperature. Also at straight-out-of-the-fridge temperature, if that's how you prefer to eat your brownies.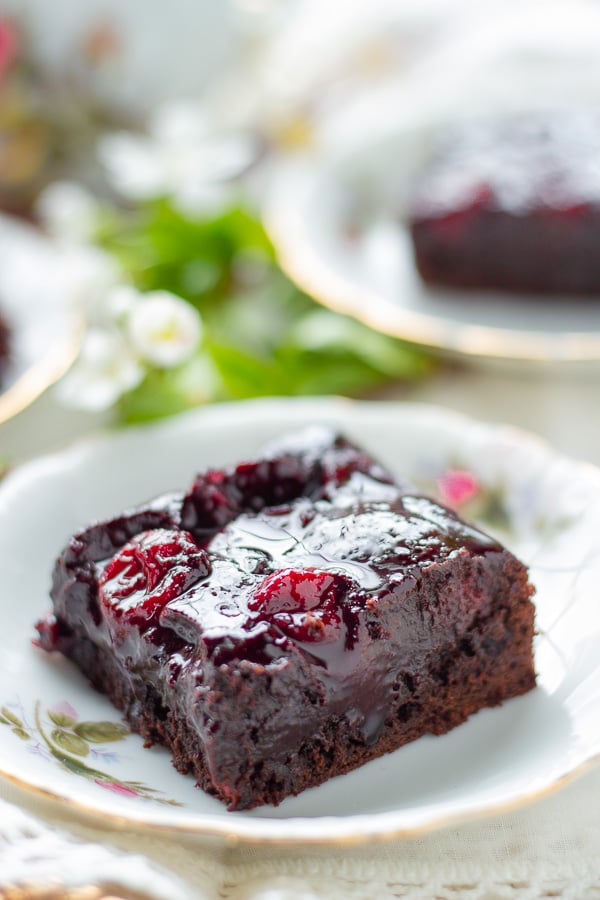 This means that on top of having a much smoother texture, cocoa powder brownies won't get dry and crumbly over time the way that batches of brownies made with melted chocolate will.
Using melted chocolate also means that you tend to have to use more flour in the dry ingredients of your recipe due to having a higher moisture content whereas cocoa powder actually partially takes the place of flour in bringing everything together.
You also get a much deeper, truer chocolatey taste using cocoa powder. After all, cocoa powder is 100% cocoa, whereas melted chocolate comes with all the other hangers-on we've previously mentioned.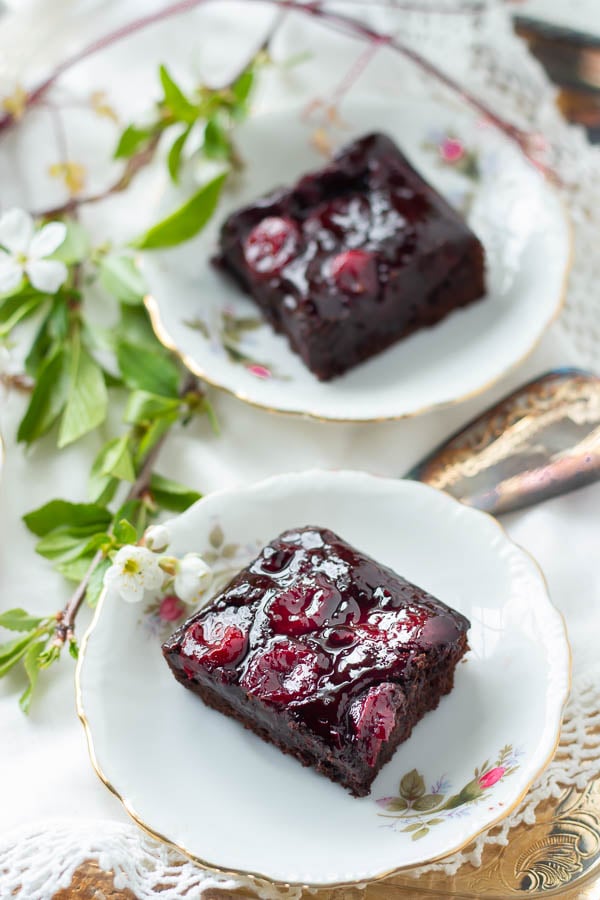 Which cocoa powder works best in cherry brownies?
Now, you have several options when it comes to different cocoa powders. Just so we're clear – being more expensive does not mean better always. I have had the best brownie results using the cheap no-name brand stuff we get in Canada.
For baking in particular you also have the option of using Dutch-process cocoa powder or even black cocoa powder.
It all comes down to preference and budget.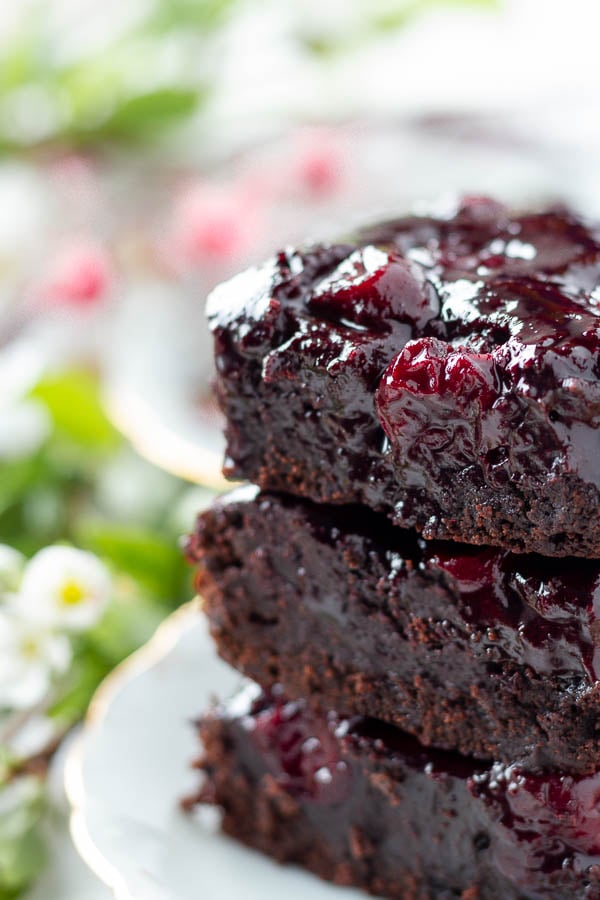 Tips:
If cherries aren't your thing, don't be afraid to experiment with other stone-fruit/liqueur combinations. Plums and port, peaches and calvados, or maybe apricot and Armagnac!
These tipsy cherry brownies are best enjoyed with sour cherries, but can also be baked with dark sweet cherries.
Make sure to use unsweetened cocoa powder / natural cocoa powder for the chocolate mixture
store brownies in an airtight container lined with parchment paper
serve these with my Brandy Cherry Ice Cream or a scoop of vanilla ice cream
More easy Brownie recipes you will love:
★ Did you make and love this easy cherry brownies recipe with cocoa powder? Give it your review below! And make sure to share your creations by tagging me on Instagram!
Brandy Cherry Brownies with Cocoa Powder
Chocolate, cherries and brandy - a truly decadent combination that makes these little chocolate bombs fun for adults! These tipsy cherry brownies are best enjoyed with sour cherries, but can also be baked with sweet cherries.
Ingredients
For the brandy cherries:
50

g

sugar

1/4 cup

40

ml

juice from the cherries

drippings from fresh cherries, or the liquid that forms around frozen thawed cherries, or liquid from a jar of canned cherries, use more brandy if you cannot get to the amount

60

ml

brandy

1/4 cup

150

g

sour cherries

fresh, frozen thawed or from the glass, drained
For the batter
140

g

butter

2/3 cups

200

g

sugar

1 cup

65

g

unsweetened cocoa

1/2 cup + 2 tbsp

1

pinch

of salt

1

tsp

vanilla extract

2

eggs

L

70

g

flour

1/2 cup + 1 tbsp
Instructions
Put the sugar in a medium-sized saucepan or pan with a heavy base and let it caramelize on medium-high heat without stirring. Deglaze with cherry juice and brandy, bring to a boil, stir and reduce the heat to a low simmer. Let the mixture boil for about 5 to 6 minutes so that the sugar dissolves and the sauce is slightly reduced.

Put the cherries in the hot brandy sauce. Simmer everything for 2 minutes, then switch off the stove and let the cherries steep for approx. 2 hours.

Preheat the oven to 180C (350F). Line a 20 x 20 cm baking pan with baking paper.

Melt the butter, sugar, cocoa and salt in a bowl over a hot water bath, stirring occasionally. When the mixture appears almost hot, stir everything with a whisk and remove from the water bath. The mixture looks like it has curdled at first, but that happens.

Let the mixture cool until the mass is only warm, then stir in the vanilla with a wooden spoon. Add the two eggs one after the other, stirring vigorously after each egg.

As soon as the batter appears shiny, stir in the flour and use a wooden spoon to stir the dough vigorously several times. Put the batter in the tin and smooth it out.

Now press the cherries lightly into the brownie batter. Save the thick sauce that has gathered around the cherries. Bake brownies for approx. 20 to 25 minutes or until a toothpick inserted in the middle only comes out with a few moist crumbs. Brush the brownie warm with the brandy sauce and let them cool completely before cutting.
Recipe Notes
If cherries aren't your thing, don't be afraid to experiment with other stone-fruit/liqueur combinations. Plums and port, peaches and calvados, or maybe apricot and Armagnac!

These tipsy cherry brownies are best enjoyed with sour cherries, but can also be baked with sweet cherries.
Make sure to use unsweetened cocoa powder.