Dieser Beitrag ist auch verfügbar auf:

Deutsch (German)
Vegan cherry chocolate cake – simple, moist, and chocolaty. The vegan fresh cherry cake can be made gluten-free and sugar free and can also be baked in a loaf tin or as muffins. So decadent and indulgent, but made from wholesome ingredients! Jump to Recipe

Vegan Cherry Chocolate Cake – super moist
Today we are making a vegan chocolate cake with fresh cherries. Fluffy on the inside, with lots of juicy cherries like my German granny used to make it.
This vegan fresh cherry cake is incredibly moist and chocolaty-delicious! Fruits in semi-sweet chocolate cake batter, I'm here for it.
The combination of chocolate and cherries is just pretty hard to beat and always a big hit, not only in Black Forest cake. Topped with powdered sugar, this simple chocolate cherry cake is the perfect cake for cherry season and might be my new favorite cake.
Served with a scoop of vegan coffee ice cream on top, you will convince every skeptic with this easy bake!
My vegan cherry chocolate cake is:
super moist and juicy
packed with cherries
chocolatey but not too sweet
can be made without sugar
gluten-free is also possible
stays fresh for a long time
I love baking with fresh cherries! They have the advantage that they lose relatively little liquid during the baking process. This way the cakes don't get soggy.
So you don't have to worry too much here if the batter will be baked after baking despite the cherries or if your cake will be soggy. I sprinkle the fresh cherries on top of the vegan chocolate batter right before baking.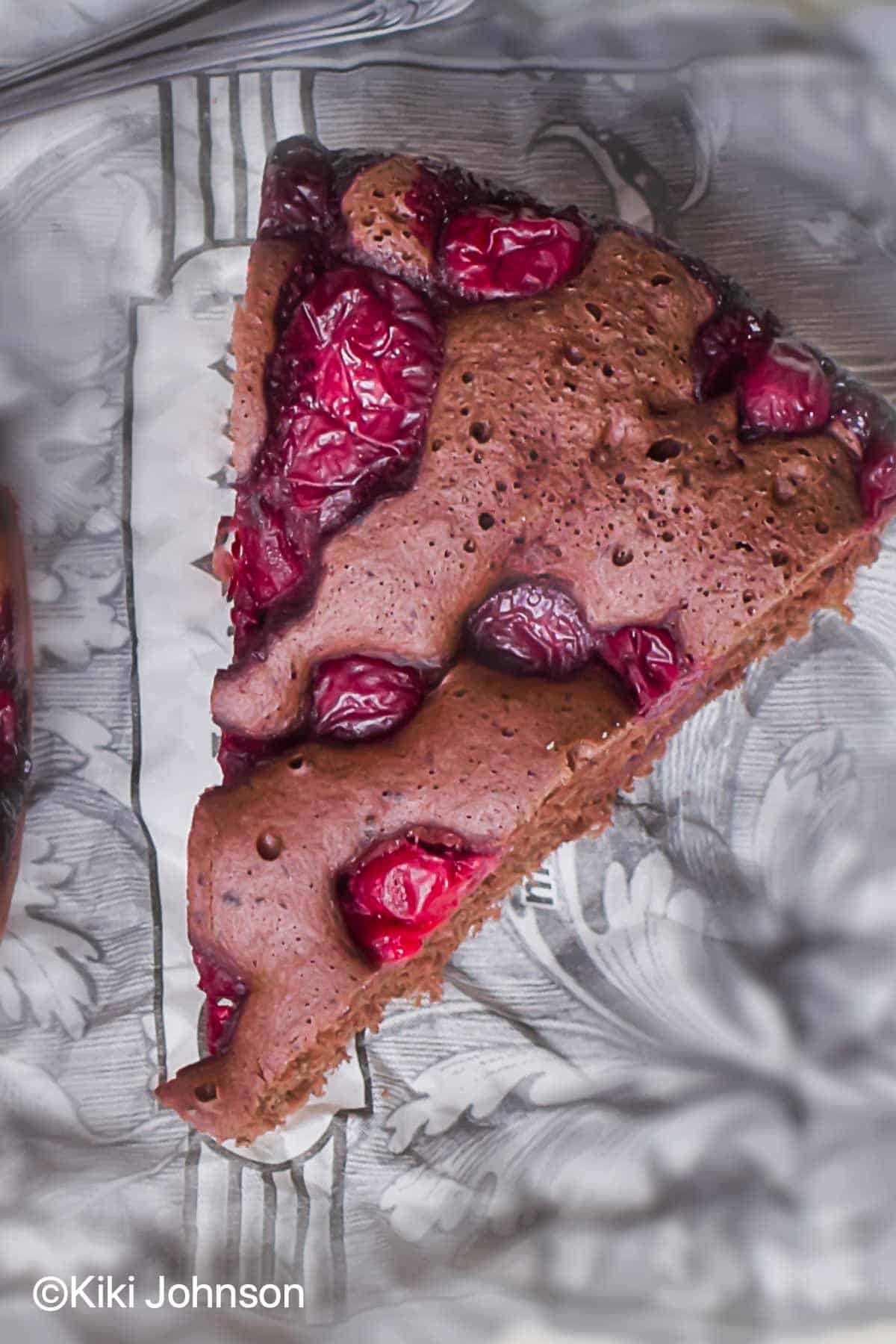 What makes this vegan chocolate cake recipe special?
This cake is made with cocoa powder and without actual melted dark chocolate. You get a much deeper, truer chocolatey taste using cocoa powder. After all, cocoa powder is 100% cocoa. For that reason, I also bake my brownies with cocoa powder!
I like to add coffee to my chocolate cake batter because it enhances the chocolate taste further.
If you take canned cherries from a jar ( and I mean cherries canned in juice, not cherry filling), you can replace the coffee with cherry juice from the glass.
Then I would reduce the amount of sugar slightly otherwise the cake will be too sweet.
Ingredients for making this easy recipe:
flour – plain flour or gluten-free flour (see below for substitutions)
baking powder and baking soda
cocoa powder
apple cider vinegar reacts with the baking soda helps the batter rise
Vegetable oil makes this a very moist cake without having to resort to dairy products
coffee for enhancing the flavor
I like to add some almond extract and vanilla extract to the cake batter.
cherries – fresh ones or canned. I like to use sour cherries but dark sweet cherries also work. Use whatever you have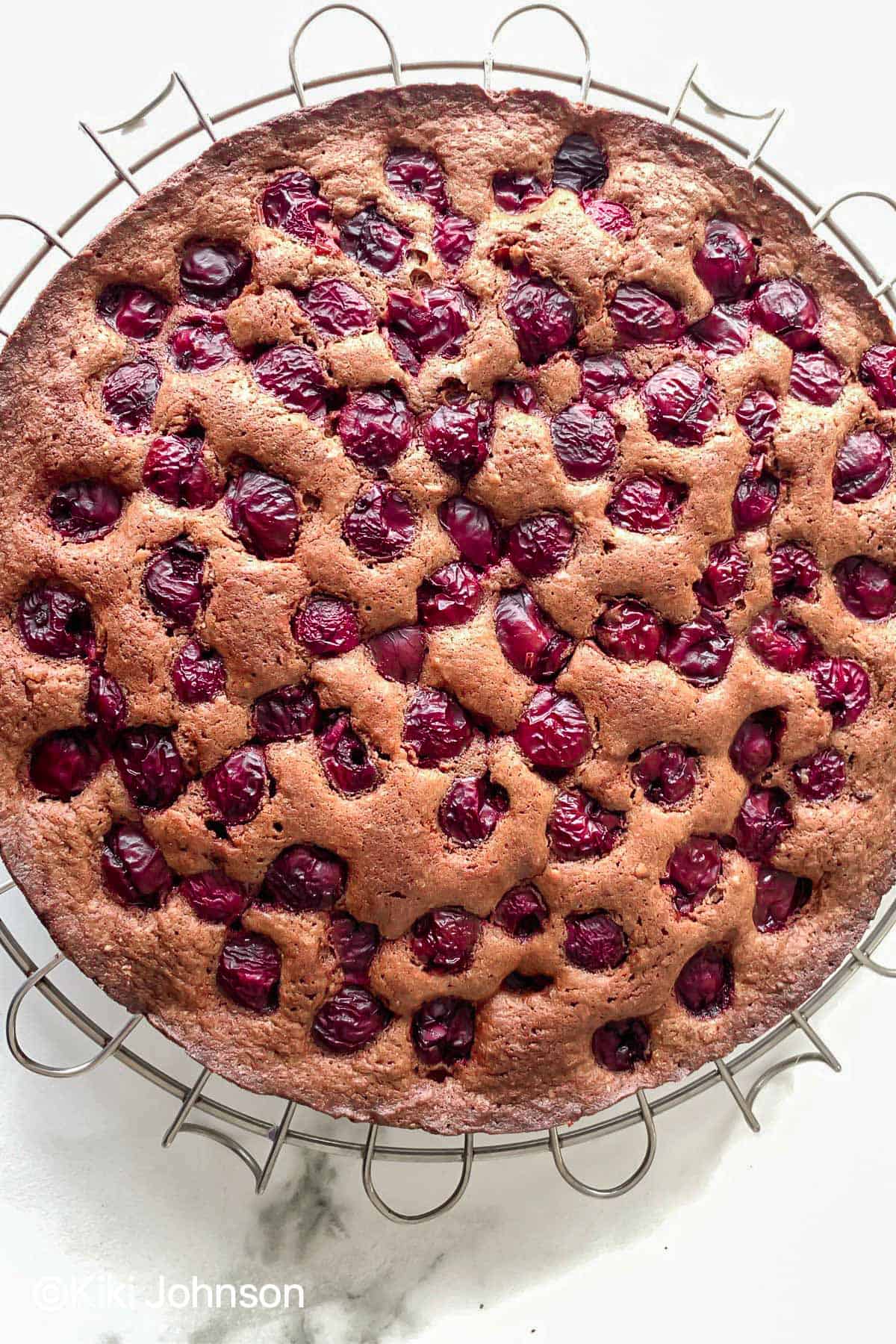 How do you keep cherries from skinking in a cherry cake?
To make sure they don't sink to the bottom, I cover them in cornstarch before adding them. Simply toss the cherries in a small bowl with a scoop of cornstarch flour and sprinkle the lightly covered fruit on top of the cake.
The light flour coating helps the fruit to 'stick' to the cake mixture better, stopping them from sinking.
Bake it in a loaf tin or as muffins
Let's talk about cake pans for a moment! This recipe works best in a 9 inch springform pan but you can also bake this in a loaf pan or as muffins
I used a 9 inch springform pan. If you only have a 10-inch / 26cm springform pan, then simply use 1 1/2 times the amount.
You can bake it in a big loaf pan but as it will be higher you might have to increase the baking time. After 60 minutes, check with a wooden stick to make sure everything comes out clean. If not, let the cake bake for another 15 minutes + use the residual heat.
The recipe makes 12 muffins – the chocolate cherry muffins then need 25 minutes.
Make it sugar-free
I used coconut sugar here, but you can use any sugar. Birch sugar / xylitol works great so does swerve. If you use syrup like maple syrup, you should use a little coffee / less juice.
Gluten-free chocolate cherry cake
Instead of wheat or spelt flour, you can also use a gluten-free flour mixture 1:1. Oatmeal 50% with 50% gluten free (store bought) flour mix also works.
NOT gluten-free but also delicious: 30% oat flour with 70% spelt flour
Always pay attention to the raw dough, it should have a good consistency, not too hard or too liquid. If using oatmeal, you may need a sip more plant-based milk.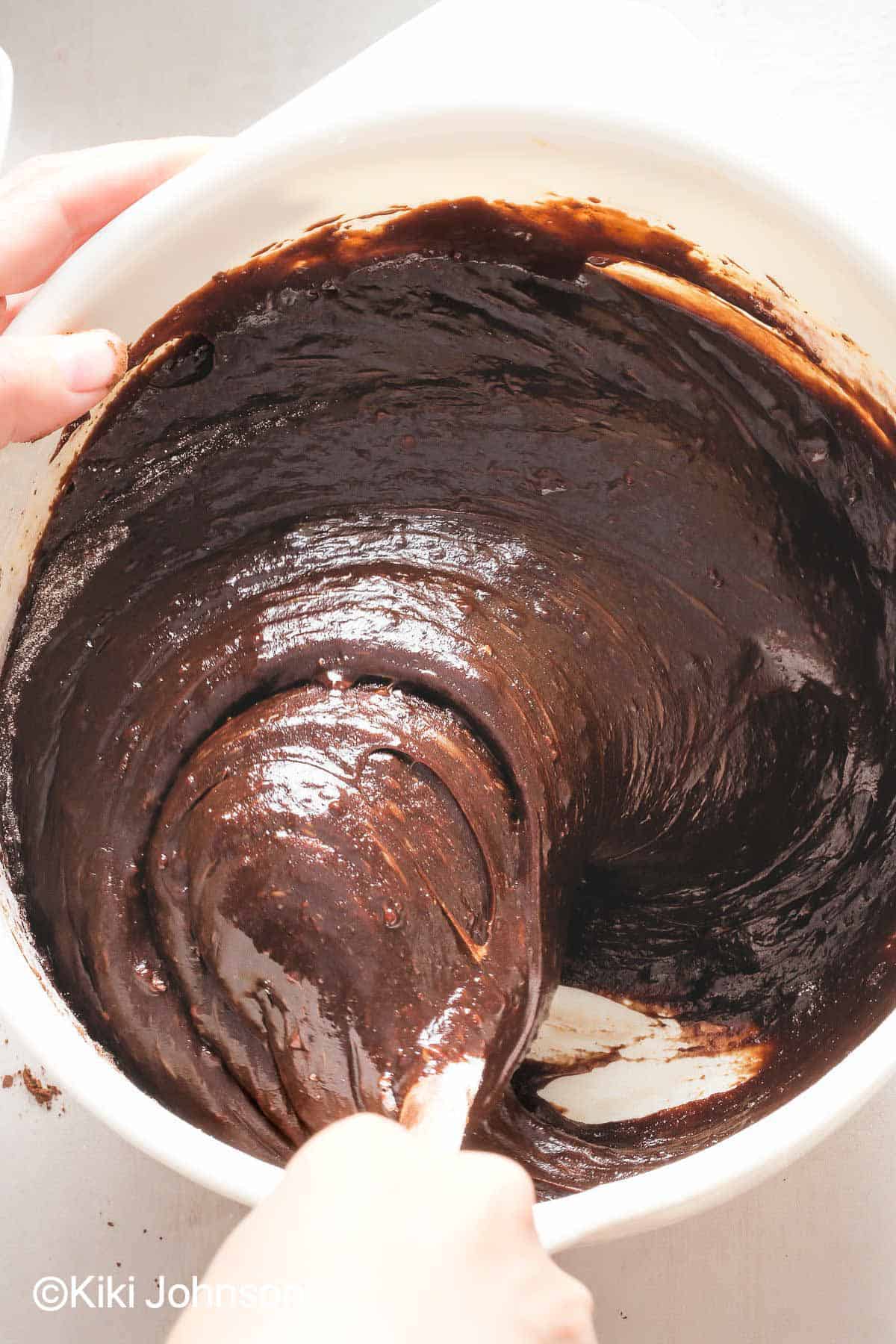 A mixture of light flour and whole wheat flour also works well for this recipe. Wholemeal flour alone works, but otherwise, the cake might be too compact.
STORAGE:
Cakes, whether kept at room temperature or in the refrigerator, should be stored airtight to keep them fresh and moist. This cake tastes best the day it is made but I always keep a slice of the cake for the next day.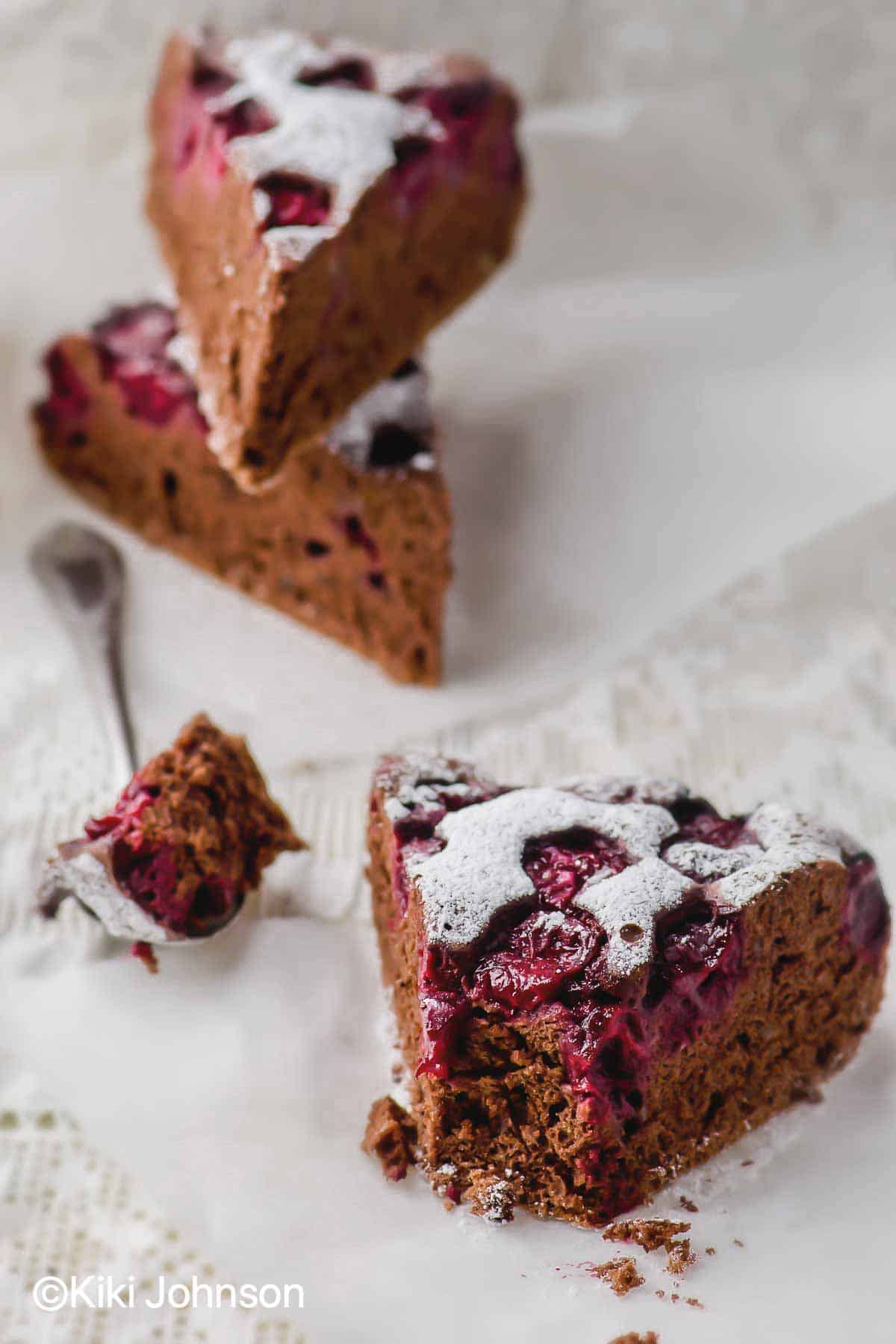 Tips:
If you want, you can also replace 70 g of the flour with ground almonds or wholemeal flour. I don't recommend using rye flour.
Don't stir the batter for too long. The raising power comes from the combination of apple cider vinegar and baking soda (and baking powder). If you stir too long, the raising power will literally be stirred out of the dough.
The consistency of the batter can vary depending on what kind of flour you use. Depending on the flour, the dough may behave slightly differently.
If you like, you can add a few pieces of chocolate, cocoa nibs or some chopped chocolate or nuts to the batter at the end.
Oil-free: Those on a low-fat diet could replace some of the oil with unsweetened applesauce.
If you like, you can spread some cherry liqueur, cherry syrup or cherry jam over it using a pastry brush so that the cake stays juicy longer
If you want to serve this vegan chocolate cherry cake for a very special occasion you could top it with a chocolate ganache or a vanilla frosting.
Guys this is one of the best cakes for cherry season.
More vegan cake recipes
★ Did you make and love this German Cherry Chocolate Cake recipe? Give it your review below! And make sure to share your creations by tagging me on Instagram!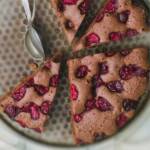 Vegan Cherry Chocolate Cake
Vegan cherry chocolate cake - simple, moist and chocolaty. The vegan fresh cherry cake can be made gluten-free and sugar free and can also be baked in a loaf tin or as muffins. So decadent and indulgent, but made from wholesome ingredients!
Total Time
1
hour
20
minutes
Ingredients
2

cups

all-purpose or spelt flour or gluten-free flour

240 g

7

tbsp

cocoa powder

45 g

1 ½

tsp

baking powder

8 g

1

tsp

baking soda or 2 tsp more baking powder

6 g

1

pinch

of salt

1

cup

coconut sugar

200 g

1

cup

offee or cherry juice - if using juice add 3/4 cups / 150 g sugar

240 ml c

⅓

cup

90 g vegetable oil e.g. sunflower or canola oil or melted coconut oil

1

tsp

vanilla extract

1/2

tsp

almond extract

optional

1

tbsp

apple cider vinegar

2

cups

fresh cherries or canned

350 g cherries / 12.3 oz drained weight or use fresh cherries

1

tbsp

cornstarch
Instructions
Preheat the oven to 356 °F (180 °C). Lightly grease a 9-inch (22-24 cm) springform pan and line the bottom with parchment paper. Read blog post for substitution of pan.

If using fresh cherries, pit them. If using canned, drain the cherries well and reserve the juice. Toss the cherries in the cornstarch to lightly coat them.

Sift the flour together with the cocoa powder, and baking powder into a large bowl. Then add baking soda, sugar, and salt and whisk together.

In a measuring jar, whisk together coffee (or cherry juice if using), oil, vanilla and almond extract and apple cider vinegar. Then pour it into the flour mixture and mix with a whisk or spoon until just combined. Do this by hand and do not over-mix, or the cake will be dense.

Pour half of the batter into the prepared baking pan and sprinkle with half of the cherries on top. Then pour the rest of the batter on top and finally spread the rest of the cherries on top.

Bake the cake in the preheated oven for about 55 minutes, or until a toothpick comes out clean.

Remove the cake from oven and let cool down completely (if you like, you can brush some heated black cherry jam on top which helps the cake to stay moist longer).