Dieser Beitrag ist auch verfügbar auf:

Deutsch (German)
These apple strudel cupcakes are a real treat! They are studded with apples and raisins and topped with a custard based German Apple Cinnamon Buttercream!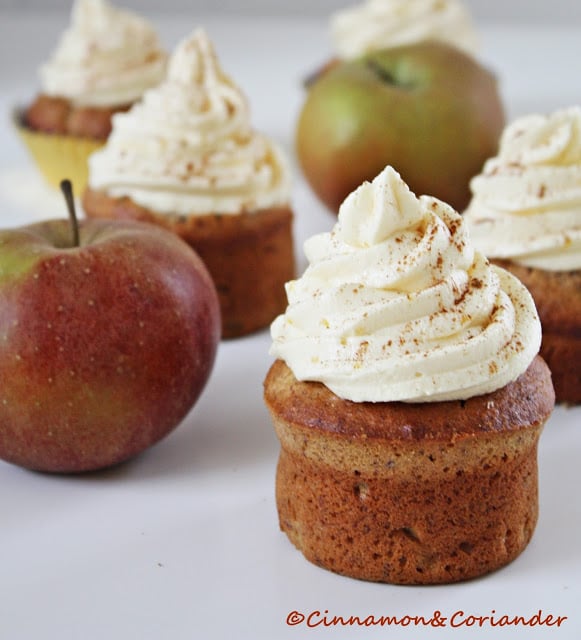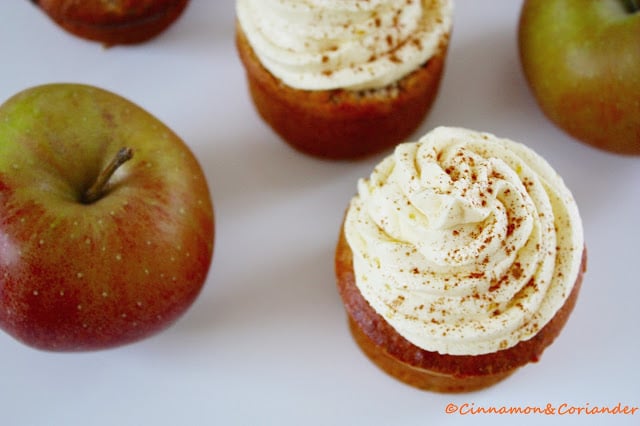 Apple Strudel Cupcakes with German Buttercream
For 12 to 14 apple strudel cupcakes
200 g flour
80 g ground almonds
3 tsp baking powder
1 pinch of salt 1,5 tsp cinnamon
1/2 tsp nutmeg
60 g raisins, soaked in rum over night
1 big apple (200g), I recommend Fuji
1 tbsp rum
150 g yoghurt or sour cream
2 tsp vanilla
1 tsp lemon juice
120 g sugar
2 eggs
8 tbsp oil
Line a muffin tin with paper molds or simply grease the muffin mold, omitting the paper molds altogether. Preheat oven to 180 Celsius or 350 F.
Mix flour, almonds, baking powder, salt and the spices, using only 1 tsp of cinnamon. Cut the apple in half, peel, and core it and chop up one half of the apple finely. Mix apple cubes with 50 g yogurt, rum, lemon juice and the leftover cinnamon.
Core, peel and grate the other half of the apple and mix with the leftover yoghurt, sugar, vanilla and oil. Add eggs and stir well. Add this mix to the dry flour mixture and combine. When dough comes together, add the apple yoghurt from before along with the raisins and, if dough is to dry another 1 tbsp of the rum from the raisins.
Scoop batter into muffin tins, filling them only 2/3 full. bake about 10 to 12 minutes, inserting a toothpick to check batter for doneness.
For the German Apple & Cinnamon Buttercream
200 ml apple juice
200 ml milk
3 tbsp sugar
40 g custard powder, vanilla flavor
250 g butter at room temperature
1tsp cinnamon
In a pot heat apple juice and milk on medium high heat. In a little bowl, make a slurry of sugar, custard powder and a couple of tbsp of the milk-juice-mix. Add slurry to hot milk, stirring with a whisk. Let custard bubble for about 2 minutes, stirring, then pour into bowl, cover with cling film and let cool to room temp. Butter and custard got to have the same temperature when making German Buttercream.
Pass custard through a strainer, if it is a bit chunky.
Beat butter using a whisk for about 2 minutes. Then add custard tbsp by tbsp while continuing to beat.  Add cinnamon.
Should the buttercream be to still, add a bit of warm coconut oil. If it curdles, heat it up in a baine marie and whisk until it comes back together.
 Pipe frosting on the cupcakes, using a star tip, dust with some cinnamon and serve.