Dieser Beitrag ist auch verfügbar auf:

Deutsch (German)
This authentic Viennese Sour Cherry Strudel recipe is a keeper! A tart cherry filling in a crisp & flaky pastry case ! To get the perfect flaky strudel, the dough needs to be stretched until paper-thin!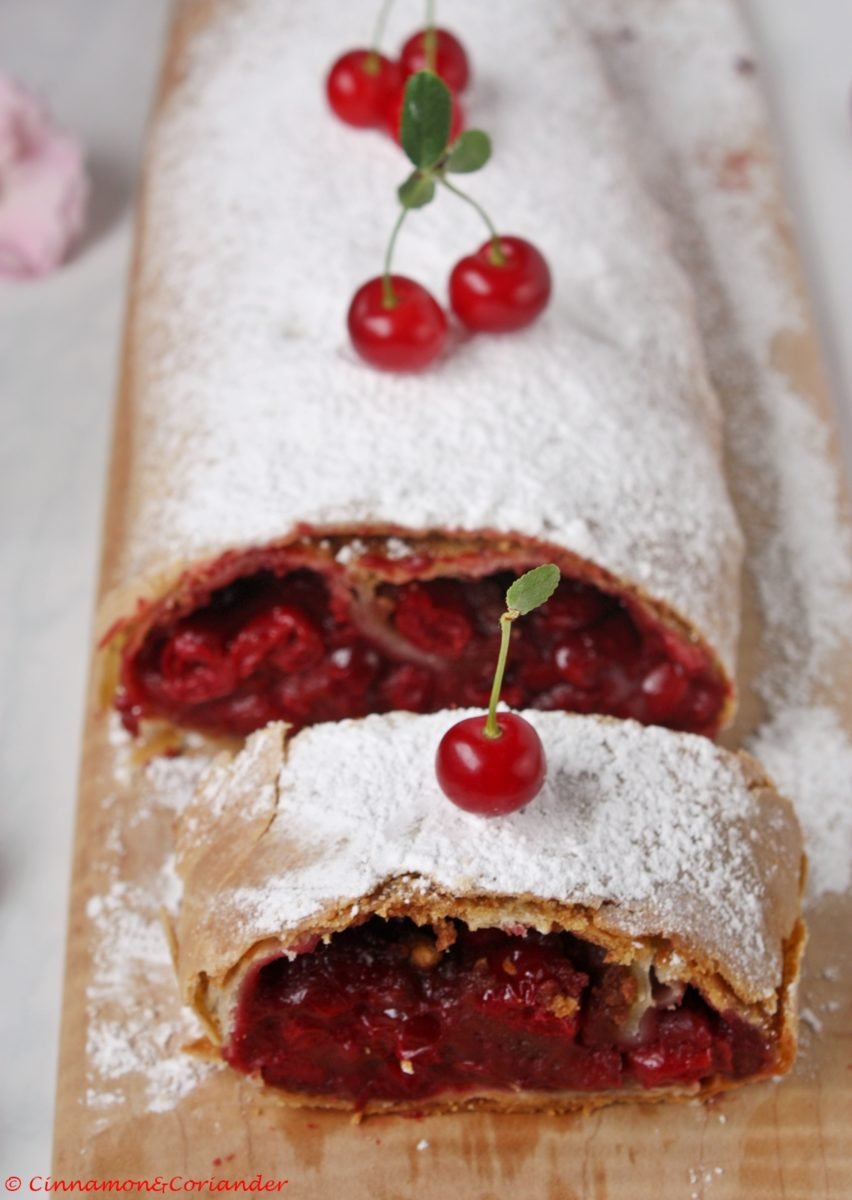 Learn how to make Traditional Cherry Strudel from scratch!
Today is all about one of my favorite desserts of all times. The Austrian Classic Strudel made from scratch!
We are not talking shop-bought filo dough or cheat puff pastry strudel. We are talking thin, flaky and crisp homemade strudel dough which needs to be stretched out by hand until paper thin!
I won't say it's the easiest thing I've ever done, but it is definitely one of the challenges worth taking! It's fun and rewarding. Plus, once you've gotten the hang of it you'll make it again and again and again.
I bet you'll find it surprisingly easy!
No huge amounts of butter, no yeast, no endless resting times and as filling you can take pretty much any fruit you happen to have in your fruit bowl.
In my case sour cherries! We've had a really good sour cherry harvest this year and Sour Cherry Strudel is one of my all-time-favorites!
Homemade cherry strudel is also a staple in every Viennese Kaffeehaus during the warm season! I just love the simplicity of a good Viennese Sour Cherry Strudel.
Who invented Strudel?
One of the most widely known German desserts is undoubtedly Apfelstrudel or Apple Strudel. But did you know that it really is more of an Austrian specialty? Uhu – It goes back a long time at least to the 17 century. There is an old handwritten Strudel recipe in the Vienna Library dating back to 1696.
The word Strudel is German for Whirlpool. Yeah, but we don't even think about that when we order a strudel to be honest – it's kind of like we have 2 separate meanings for this word.
You might have had apple strudel but guys- you shouldn't limit yourself to just that. There are other fruit strudels, sweet and savory – some with potatoes and sauerkraut, some with meat, some with spinach and cheese, or poppy seeds and plums ….and then there is Cherry Strudel! My favorite strudel!
How to make Traditional Austrian Cherry Strudel from scratch:
Classic Viennese – Style Cherry Strudel is surprisingly easy to make.
Traditional Viennese Strudel recipes contain very few and really simple ingredients: Cherries, sugar, a pinch of cinnamon, a splash of kirsch or cherry brandy and something to soak up some of the moisture, like ground nuts or sweet cake crumbs.
I added a generous amount of graham cracker crumbs which I fried in a pan with some butter and a pinch of cinnamon.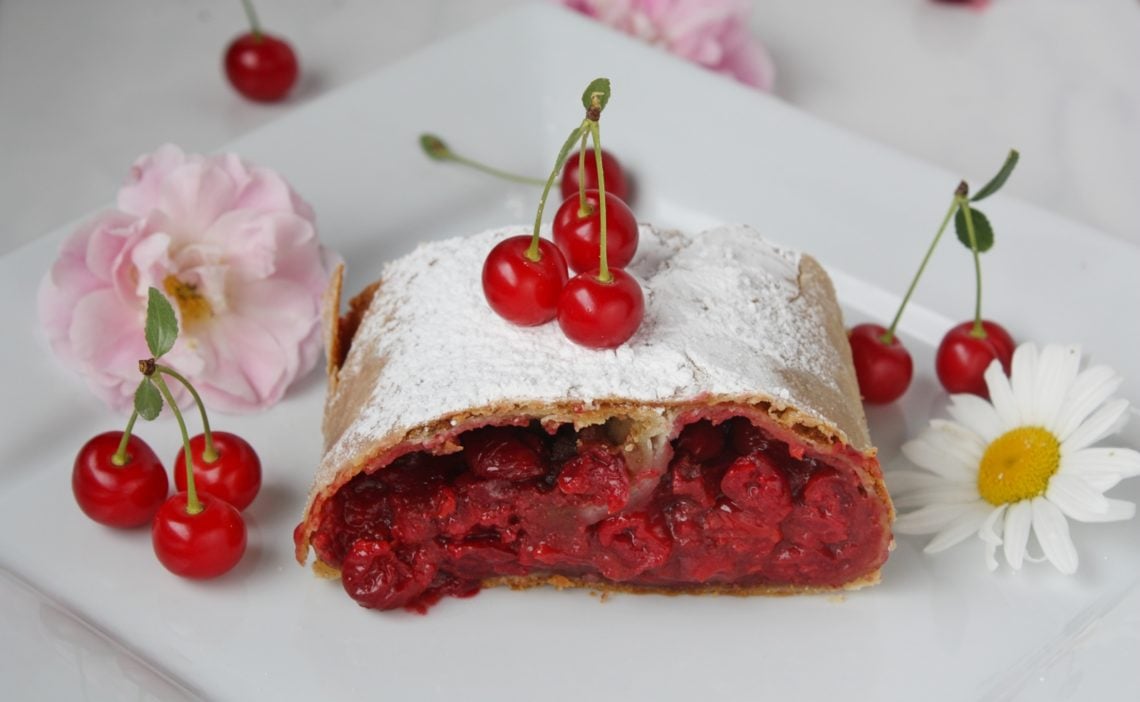 How to make the perfect strudel dough at home:
The tart sour cherry filling is encased in a paper-thin sheet of unleavened strudel dough.
The only difficult part in this strudel recipe is achieving an even, thin dough without any holes. The secret is to knead the dough for a good 5 to 7 minutes until very smooth and elastic.
Then, it needs to be brushed with a generous amount of oil and rest in a warm place for 45 minutes. You'll be surprised how easy it is to roll out after this resting time!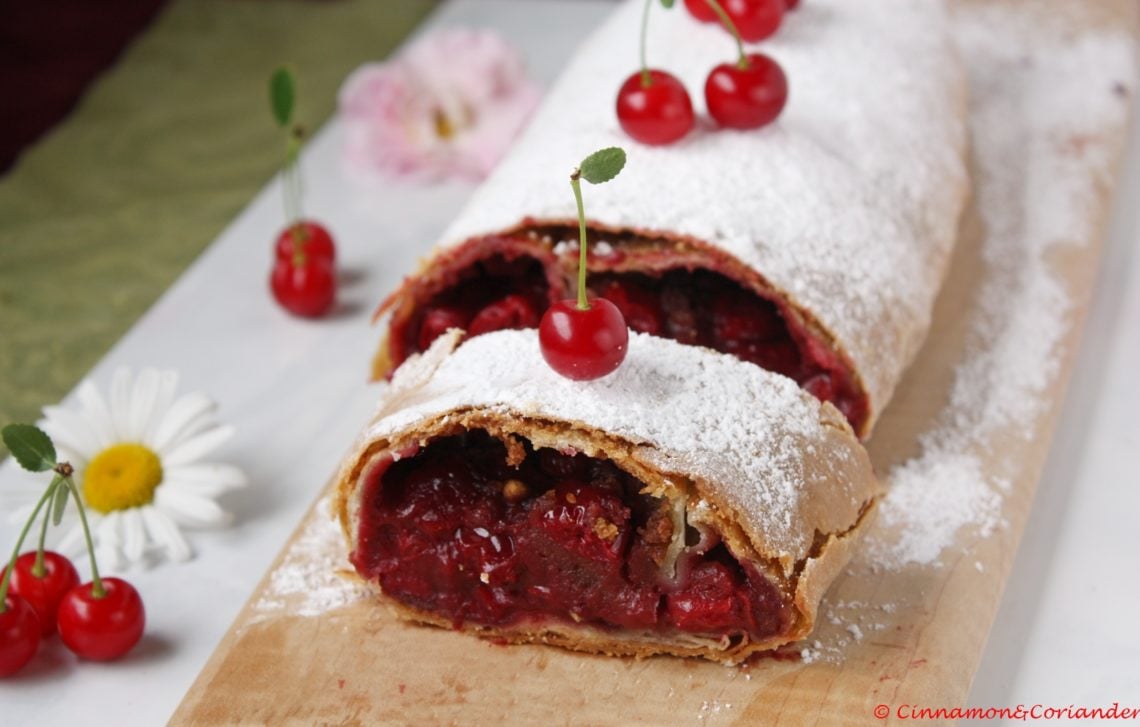 How to serve Traditional Viennese Sour Cherry Strudel:
A good Viennese Sour Cherry Strudel is perfect all alone on a plate with a generous dusting of powdered sugar.
This is how it would be served in a traditional Viennese Café!
If you're willing to go all the way I recommend eating it with some vanilla sauce, whipped cream, or a scoop of vanilla ice cream.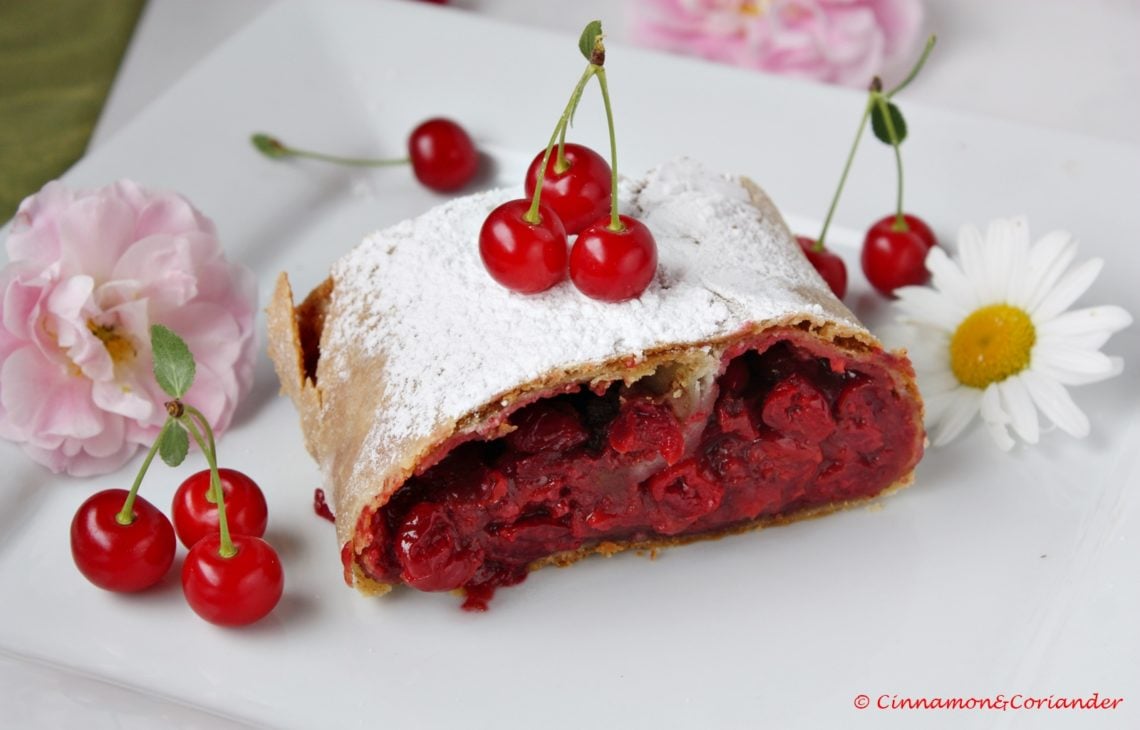 Can I use other fruits for this strudel recipe?
Yes – you can use:
chopped apples, ground hazelnuts, and rum raisins,
apricots and ground almonds,
pears and blueberries
a mix of frozen berries and apples
You can make this a Topfenstrudel my filling the pastry with a cream cheese filling. Here's a great Topfenstrudel recipe.
I really hope you give this Sour Cherry Strudel a try before cherry season is over! But even after cherry season, you can easily make it with frozen fruit!
Feel free to be creative with your strudel fillings! As long as you make sure your filling is not too juicy you can add pretty much anything you want.
★ Did you make and love this cherry strudel recipe? Give it your review below! And make sure to share your creations by tagging me on Instagram!
Viennese Sour Cherry Strudel
This recipe for Viennese Style Sour Cherry Strudel is the real deal! The dough turns out flaky and crisp. The filling is my
Total Time
1
hour
30
minutes
Ingredients
For the Strudel Dough

250

g

flour

20

g

vegetable or sunflower oil

1

pinch of salt

100

g

lukewarm water

50

g

eggs

sunflower oil for brushing

For assembly

150

g

butter

melted

70

g

crushed graham crackers

For the filling

750

g

sour cherries

pitted

60

g

sugar *

2

tbsp

kirsch

optional

120

g

ground graham crackers

1/2

tsp

cinnamon

3

tbsp

butter

2

tbsp

butter

melted for brushing

powdered sugar
Instructions
Add all the ingredients to the bowl of your kitchen aid and knead with the hook attachment for about 5 to 7 minutes until you have a very soft, very smooth dough. Shape it into a ball and brush it with a generous amount of oil. Put the dough in a bowl and let rest in a warm place for 45 minutes.

Put the 120 g of crushed graham cracker crumbs in a pan with cinnamon and 3 tbsp of butter and let them toast on medium heat for a couple of minutes. Set aside.

Mix the cherries with all the other ingredients and add the buttered cookie crumbs.

Once the dough has rested roll it out on a floured tablecloth or bed sheet until very thin. Yield at a roughly 10- by 12-inch rectangle. Now it's time to stretch the dough.

Starting from the centre, reach under the dough and begin to gently pull out towards the edge. Since it's soft, the dough should stretch fairly easily. You can use your fingertips to pull or reach into the dough with the top of your hand to then pull it out in larger swatches. Now grab a magazine or a recipe and slide it under the dough. If you can read through it, you've made it! Using kitchen shears or a knife trim off the thick edges around the edges.

Now brush the dough with your melted butter and sprinkle the 70 g of cookie crumbs on the lower half of the dough. Scoop the cherry filling onto the bottom portion of the dough in a narrow row that's about eight inches above the bottom edge and ends about three inches shy of either side.

Fold the bottom and the sides of the dough over the filling and lift up the end of dough by using the tablecloth. Bring it over the entire cherry filling to cover and continue rolling. About halfway through, tuck in the sides like a burrito and continue to roll until it's all rolled up. Make sure your seam is at the bottom of the rolled up strudel.

Now we need to transfer or strudel onto a big baking sheet.

If your strudel does not fit perfectly just curve the strudel slightly to fit— you can even go full on half moon. Once it's sliced, nobody will know the difference.

Brush the strudel with butter and bake by starting it at 180 Celsius for 45 to 60 minutes until golden brown!

Let the cherry strudel cool down before slicing to allow the filling to set a bit.

Serve it with a generous dusting of powdered sugar. If you want, you can add some whipped cream or vanilla ice cream! Enjoy!
Recipe Notes
* you can add a bit more sugar if you want a sweet cherry filling. I prefer mine on the tarter side as I prefer to serve it with ice cream and a lot of powdered sugar on top