Dieser Beitrag ist auch verfügbar auf:

Deutsch (German)
My Vegan Creamy Cucumber Salad with fresh dill,  juicy Blackberries, and toasted pepitas is the perfect easy and healthy recipe for late summer and fall! The vegan sour cream dressing is the perfect dairy-free salad dressing for this refreshing dish!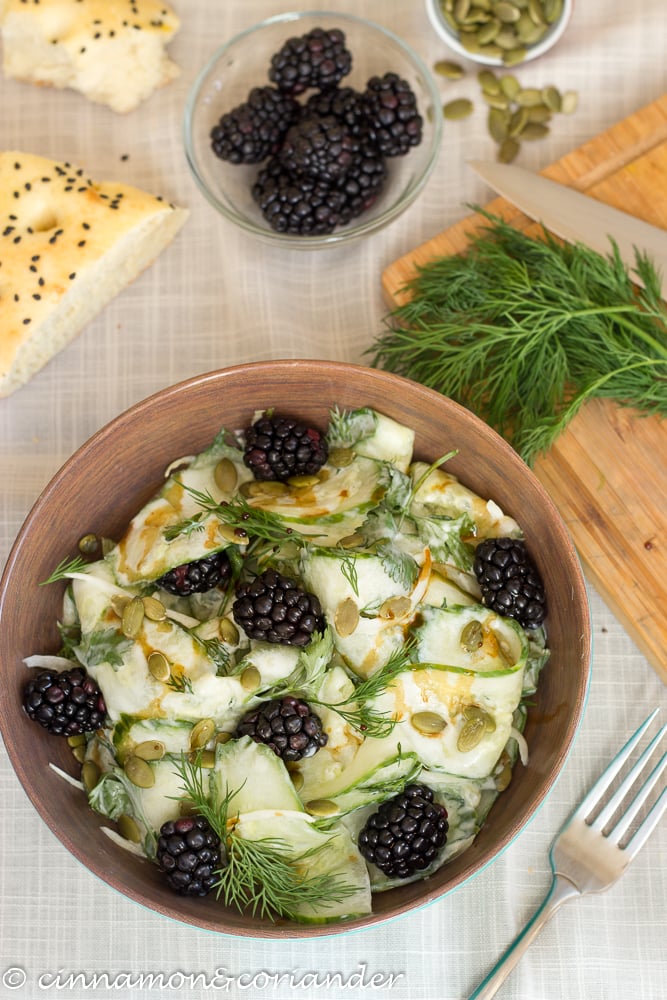 I am a participant in the Amazon Services LLC Associates Program, an affiliate advertising program designed to provide a means for us to earn fees by linking to amazon.com and affiliated sites.
My Vegan Creamy Cucumber Salad with Blackberries & Pepitas is the perfect healthy summer salad!
Going through my collection of cookbooks I came across one of my favorite books on Middle Eastern Cuisine, Silvena Rowe's Purple Citrus and Sweet Perfume
. Leaving through the pages, I got drawn in by her Smashed Cucumber Salad with Mulberries and pistachios.
I looked so refreshing, light and easy to make, yet special enough to serve it for a dinner party! I wanted to create a vegan version of this summer salad using fresh blackberries, which are in season right now.
This would also give me the chance to try my newest obsession, vegan sour cream, in a salad dressing!
The Vegan Sour Cream Dressing takes the cucumber salad to the next level!
As a dairy eater myself, I am sometimes a bit skeptical when it comes to substitutions like a homemade vegan sour cream. Especially when it is supposed to be made from cashew nuts! I mean, WHAT?
So I get it if you are a bit unsure about this at first. Bear with me! Cashew nuts are your best friend when it comes to homemade vegan dairy products. Here's a great article about Cashew Nuts as a dairy substitute! 
The other day, I made a cheesecake using soaked and ground cashew nuts instead of cream cheese and was gobsmacked by its rich and tangy taste! So why not try a Vegan Sour Cream made from cashews? I actually wrote a whole recipe post about it here!
I was so pleased with the result that I decided to use it as the dressing for my favorite creamy cucumber salad. It is easy to make and tastes so creamy, rich, and tangy, really just like regular sour cream. It works just brilliant on our Vegan Creamy Cucumber Salad.
Easy to make and so delicious! My Creamy Vegan Cucumber Salad is the perfect side dish for BBQs or Middle Eastern Themed Dinner Parties!
In summer, there is nothing better than a refreshing homemade cucumber salad! Everyone loves it and at BBQ parties or family gathering it is always a favorite!
When it comes to cucumber salads, I personally love mild and creamy salad dressings. This dairy-free creamy salad dressing is just perfect against the cold and crunchy cucumber slices.
The vegan sour cream adds a wonderful summery tang, which is counterbalanced by the toasted pepitas (pumpkin seeds) and the sweet ripe blackberries. Fresh mint and dill add extra freshness and pomegranate molasses ups the tarty and fruity.
Serve my Vegan Creamy Cucumber Salad as a starter with a slice of my Vegan Coconut Sandwich Bread or as part of a vegan mezze platter for a Middle Eastern-themed dinner party. For non-vegans, it also works beautifully as a side for with grilled seafood or meat -or, for vegans, grilled vegetables or marinated tofu!
How to Keep your Creamy Cucumber Salad From Getting Watery
Vegan or not – creamy cucumber salad can easily become watery. This occurs when the cucumber releases its water content after it has a chance to sit. To avoid this, we want to remove as much liquid as possible from the cucumbers prior to tossing the salad with the dressing.
Here are my tips for the perfect vegan creamy cucumber salad:
choose seedless cucumbers such as Lebanese cucumbers, or English cucumbers, which have smaller seeds.
 remove the seeds by simply scooping them out with a spoon.
to remove the remaining water from the cucumber without affecting the taste or texture, put your cucumber slices in a colander, salt them with 1 tbsp of salt and let them stand for 20 minutes. Press gently on the sliced cucumber to drain any excess liquid. Rinse quickly with cold water and let sit drip dry for 10 more minutes. Blot the cucumbers dry with some paper towels. They are now ready to be tossed with the vegan sour cream dressing.
I hope you get to try this great vegan salad recipe during blackberry season! Feel free to play around with the ingredients, add pistachios instead of pepitas or mix in some fried marinated tofu for extra protein!
Want some more healthy summer salad recipes? Try my Indian Rice Salad or my Vegan Purple Sweet Potato Salad!
For more blackberry recipes, check out this amazing Blackberry Peach Cobbler or this yummy Blackberry Bread!
★ Did you make and love this Vegan Creamy Cucumber Salad recipe? Give it your review below! And make sure to share your creations by tagging me on Instagram!
Vegan Creamy Cucumber Salad with Dill, Blackberries & Pepitas
An easy, healthy summer salad with cucumbers, fresh dill, blackberries, and toasted pepitas served with a Vegan Sour Cream Dressing made from cashew nuts.
Ingredients
For the Vegan Sour Cream
1

cup

raw cashews

soaked in water for at least 5 to 6 hours

½

cup

water

1/2

lemon

juiced

1/2

teaspoon

apple cider vinegar

1/2

teaspoon

fine sea salt

¼

teaspoon

Dijon mustard

optional

1/4

tsp

lemon zest

optional
For the salad
2

big

cucumbers

1

tsp

sea salt

½

cup

unsalted pepitas

3

twigs mint leaves

5

tbsp

chopped fresh dill

15

fresh blackberries

1/4

tsp

freshly ground black pepper
For the Vegan Sour Cream Dressing
1

cup

vegan sour cream

4

tbsp

pomegranate molasses

you really only need about 1/8 cup

salt

pepper to taste
Instructions
For the Vegan Sour Cream (prep in advance)
Drain and rinse your soaked cashew nuts until the water runs clear.

In a high-speed blender, combine the nuts with the remaining ingredients for the Vegan Sour Cream and blend until the mixture is very smooth and creamy. As you blend, stop to scrape down the sides as necessary.

Taste and add more vinegar or a grating of lemon zest, if you would like more tang, or additional salt if a more intense flavor is desired. Pour into a container and chill. This step can be prepared up to 5 days in advance. The sour cream will thicken up a bit more as you let it rest, so you might want to thin it by whisking in a small amount of water later.
For the salad
Wash the cucumbers and slice them. Put the pieces of cucumber into a large bowl and sprinkle 1 tbsp of salt over them. Let stand for 20 minutes, until they lose some water. Rinse them quickly and let stand for another 10 minutes. Put them on a plate with paper towels. Blot them dry.

While your cucumbers are resting, toast the pepitas in a pan on medium-high heat unit fragrant. Let them cool on a little plate.

Chop dill and mint leaves.

Return cucumbers to the salad bowl and add the vegan sour cream, 2 tbsp of pomegranate molasses, pepitas, and chopped herbs. Gently toss the ingredients to combine. Season with more salt and pepper if needed.

Spoon the salad into serving plates and drizzle with the remaining pomegranate molasses. Serve
Like my recipe for Vegan Creamy Cucumber Salad with Blackberries & Pistachios? Pin it